We use affiliate links, and receive a small commission if you make purchases through them.
Find out more here.
In this AmazonBasics 4-piece packing cube set review, we'll check out how well they're made, find out how much stuff fits inside them, and compare them to similar alternatives from other brands. I purchased them back in 2018, so I'll also share my own personal travel experience from using them.
Check Price on Amazon
The Good
Affordable. The AmazonBasics packing cubes are really cheap, which is good if you don't travel that often, and you won't be using them that much anyway.
Superb reviews on Amazon. This 4-piece set is one of the most popular, and well-reviewed packing cube sets on Amazon.
Zipper doesn't get stuck in the fabric. We tried zipping and unzipping the cubes when they were overpacked, and the fabric almost never got stuck in the zipper.
Retains rectangular shape when packed full. Even when overpacked, the AmazonBasics packing cubes retain their rectangular shape, which means that no space is lost in the corners.
The Bad
Affordable, but not the cheapest. Although they're quite affordable, for the same price you can get a 5-piece or even a 6-piece set from lesser-known Chinese brands.
The sizing of the cubes isn't perfect. The three largest cubes fit perfectly in my carry-on, but the smallest cube seems to be too long to be used efficiently.
The fabric seems to stain lightly-colored clothes. Although I didn't experience this myself, a lot of people complained that when the cubes get wet, the fabric leaves stains on light-colored clothes, so watch out for that.
The Verdict
Although the AmazonBasics packing cubes aren't the cheapest cubes, and nothing, in particular, makes them stand out, I'd still recommend them to anyone who's looking for a cheap packing cube set.
That's because I've used them personally for packing my suitcase while traveling for over a year now. And I still haven't noticed anything that I'd want to complain about. They do the job just as they're supposed to, and I'm happy with my purchase. Plus, it's nice to know that they're backed up by Amazon, not a lesser-known Chinese brand.
Overall, I'd say that the AmazonBasics 4-piece packing cube set is a safe purchase, even if you're planning on using them for frequent, long-term traveling.
Check Price on Amazon
Full Review
I purchased the AmazonBasics 4-piece packing cube set about one and a half years ago, back in 2018. I've used them on many occasions, and I've also lent them to a few of my friends to use while traveling.
And after such a long time, they still look in good condition. So far, I haven't noticed any major issues and nothing has broken.
Why Should You Even Use Packing Cubes?
I know that a lot of people don't see the point in using packing cubes, but personally, I always use them.
They don't really save that much space. In fact, I made an experiment once, and I saw that they save only about 5-15% of the total space, so nothing major.
My main reasoning for using packing cubes is that they enable me to be much more organized during the whole trip.
For instance, you can pack your socks and underwear in one cube, t-shirts in another one, and your sweaters, jackets, and pants in a larger cube. When you get to a hotel, you just take out your cubes, put them in the closet and you're good. No need to re-organize your whole suitcase just to get something from the bottom.
What's included in the AmazonBasics 4-piece packing cube set?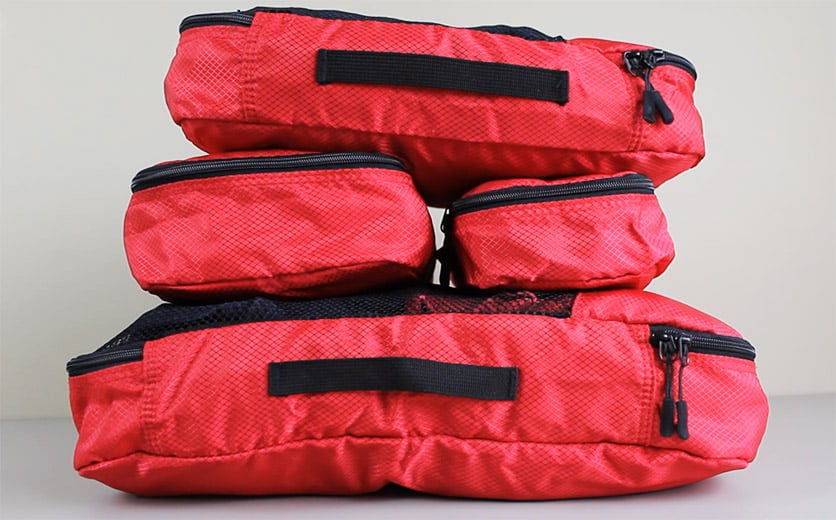 This 4-piece packing cube set comes with four differently-sized packing cubes:
1 extra-large packing cube (17.5 x 12.75 x 3.25 inches);
1 large packing cube (13.75 x 9.75 x 3 inches);
1 medium packing cube (11 x 6.75 x 3 inches);
1 slim/small packing cube (14 x 5 x 2.8 inches).
If you're packing a checked suitcase, then the four packing cubes will be perfect for you, and you'll even have a little room left for other things. But for those of you that are using only a carry-on, the three smaller cubes (or the three largest ones if the carry-on is on the larger side) will do just fine.
Personally, I find the dimensions of the smallest cube a bit weird – it's too long. I'd be much happier if the smallest cube would be replaced with the second-smallest one, which would make packing my suitcase a bit easier.
In total, they weigh around 350 grams or 12 ounces, which really isn't that much. Especially, when you compare the weight to similar alternatives from other brands. For instance, the Shacke Pak packing cube set weighs 500 grams or 19 ounces, which is almost twice as much.
Read Next: Amazon Basics 26-Inch Hardside Spinner Review (Model N989)
Materials and Stitching
The AmazonBasics packing cubes are made from nylon, which is great because nylon is much more durable than polyester, which is more commonly found in cheaper travel gear. The fabric doesn't wrinkle from extended use and is quite flexible. For instance, the Shacke Pak packing cube set comes with a much thicker and less flexible fabric, that wrinkles much easier.
The top part is covered with a fabric mesh panel, which is good for quickly seeing what's inside each cube – no need to unzip every cube to find out where you put your dress shirt.
I chose the red 4-piece set, but they're also available in black, blue, green, grey, and light blue options. I got the red option, only because I own packing cubes from other brands in different colors. Having them in multiple colors is great when I'm traveling with my girlfriend, so we can quickly distinguish between our packing cubes. For instance, I take the red ones, and she uses the green ones.
From the looks of it, the stitching on the fabric seems to be very well-done. After a year of use, nothing has started to come loose, which is good to see on affordable packing cubes.
I tried ripping the seams with both of my hands, and nothing seemed to break or come apart.
Zippers
The AmazonBasics packing cubes are equipped with generic, no-brand zippers. Similar options from Ebags or Shacke Pak use YKK zippers, which supposedly should be much more durable.
But so far, I haven't noticed any issues with the zippers. They unzip quite easily, and the fabric doesn't get stuck in the zipper when the cube is overpacked. By the way, it's rare to see a packing cube where the zipper doesn't get stuck in the fabric, which is definitely a big plus for the AmazonBasics cubes.
Side Handles
All four pieces also have these fabric handles stitched to one of the sides. I guess it's not an essential feature to have, but they might be useful on some occasions. For instance, if you'll be using them in a tightly compressed backpack, you'll have an easier time getting them out from the bottom of the bag.
How Much Stuff Fits Inside Each AmazonBasics Packing Cube?
Now, I'll show you exactly how much stuff fits inside each packing cube.
I won't be overstuffing the cubes, because overstuffing means more wrinkles. You could fit a bit more inside each cube if you'd want to.
Extra-large cube: I was able to fit 3 pairs of jeans and 4 sweaters inside. It's great for storing all the larger items, such as bulky sweaters, jackets, hoodies, dresses, jeans, e.t.c.
Large cube: I was able to fit 2 pairs of shorts and 3 folded long-sleeve shirts inside. Personally, I find this size to be best used for items that you don't want to get wrinkled, such as dress shirts, buttoned shirts, or anything else.
Medium cube: I managed to squeeze in 7 rolled-up t-shirts in there. You could also pack them regularly, but I've found rolling to be more space-efficient, it results in fewer wrinkles, and it's easier to get stuff from the bottom of the cube.
Small cube: Best-used for packing your underwear and socks. Alternatively, you could also store a pair of shoes in there. I was able to fit 7 pairs of men's boxers and 7 pairs of socks inside.
In total, I'd say that the AmazonBasics 4-piece set offers enough room for 3 – 4-week vacations for minimalist packers, and 2-week vacations for overpackers.
Do the AmazonBasics Packing Cubes Save Any Space?
I also did another test, where I packed the same amount of clothes in a carry-on with and without packing cubes, so you can see if they save any space. I used the three largest cubes for this test.
Here's how everything looked without using packing cubes…
And here's how the carry-on looked when everything was packed inside packing cubes…
I didn't get any significant space savings, but everything is much more organized when using packing cubes. It's much easier to pack and unpack everything when you arrive at a hotel.
How Do the AmazonBasics Packing Cubes Compare With Similar Alternatives?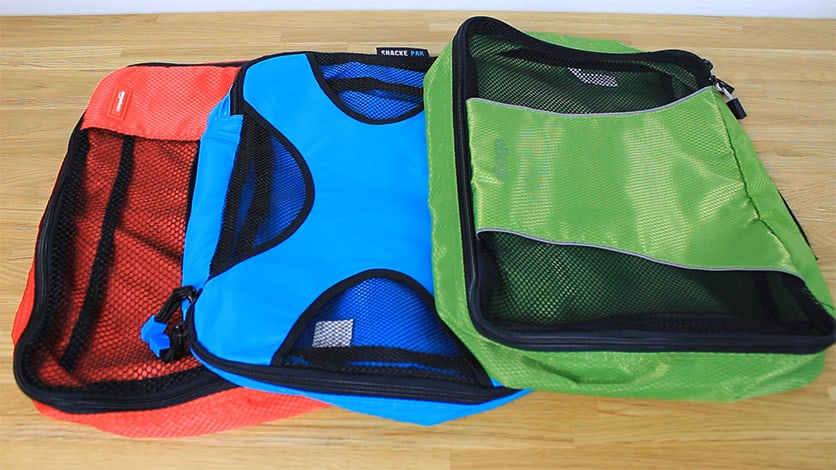 In my arsenal, I also have the Shacke Pak, eBags, and IKEA packing cubes, if you don't count any compression cubes. Out of all four, I'd rank IKEA cubes at the bottom, I'd tie AmazonBasics cubes along with Shacke Pak cubes in the second place, and I'd rank eBags cubes at the top.
They're very similar to the eBags packing cubes, just more affordable, less durable, and a bit weirdly sized. Compared to the Shacke Pak cubes, I definitely like the fabric on the AmazonBasics cubes much more. It's never wrinkled, and overall just looks better.
But if you compare the AmazonBasics cubes to the IKEA cubes, then they're a clear step-up. I'd compare the IKEA cubes with a fragile plastic bag for groceries, and the AmazonBasics cubes with a thick, well-made fabric bag that will last much longer.
Warranty
Now let's talk about the warranty. All AmazonBasics products come with a 1-year warranty against manufacturing defects and materials. This means that only the most essential defects will be covered, such as loose stitching or a faulty zipper. Any defects from accidents or misuse won't be covered.
Obviously, the warranty situation isn't the best one out there. For instance, the Eagle Creek compression cubes come with a lifetime warranty. But because packing cubes isn't really something that you'd use that much and because they're so cheap, that's not a huge deal-breaker.
Value
When you compare the price of the AmazonBasics 4-piece packing cube set to similar alternatives from other brands, they're definitely on the cheaper end, but they aren't the cheapest cubes out there. You can get a similar 5-piece or even a 6-piece set from a Chinese manufacturer, such as the Shacke Pak 5-piece packing cube set, which seems to be a better deal for your money.
But having said that, I still think that the AmazonBasics packing cubes are a really solid option. At least, they're backed up by Amazon, not some unknown manufacturer, which is better if you'll be needing to contact their support for warranty or returns.
From my own travel experience, the AmazonBasics packing cubes have performed really well, and I'd definitely recommend them for anyone else who's looking for a cheap packing cube set for organizing their suitcase while traveling.
Check Price on Amazon
Video Review
 
Subscribe to our Youtube channel for our latest videos.