We use affiliate links, and receive a small commission if you make purchases through them.
Find out more here.
2022 update: Chester luggage has stopped doing business, most likely due to post-pandemic supply issues. Their last social media update was in February 2021 and they've been out of stock since early 2021. If you're looking for something similarly durable and in the same price range, you should check out something from Travelpro, especially the Travelpro Maxlite 5 hardside.
Several months ago, I received the Chester Minima carry-on, and since then, I've been using it as my main carry-on. So far, it's held up really well, and there are no noticeable defects. In this Chester Minima 22-Inch carry-on review, I'll go into every little detail about this suitcase, and share my own experience. At the bottom of this post, there's also a video version of this review.
Check Price on Amazon
Check Price on ChesterTravels
The Good
Built from durable materials. The Chester Minima is built from polycarbonate, which is the most durable luggage plastic, and they've used durable wheels, zippers, and handles.
Sleek & Good-looking. Of course, it's subjective, but I think that the Chester Minima is one of the best-looking carry-on's out there.
Extremely good warranty. The Chester Minima is protected by a 10-year warranty that covers wheels, zippers, handles, cracks in the hard shell, transport damage, and shipping costs to and from the repair center.
The Bad
Simple. Overall, they're going for a minimal and simple look, so the Minima isn't packed with too many features.
Expensive. The Chester Minima is pretty costly. For the same price, you could get two or even three cheap carry-ons.
The Verdict
The Chester Minima 22-inch carry-on is extremely durable, good-looking, and protected by one of the best warranties out there. In fact, a warranty like this usually comes with 400$+ suitcases. Usually, airline damage isn't covered for suitcases in the medium price range. And even if it is, only for a short timeframe, not 10 years. So even though it's pretty pricey, the high price tag is justified.
I believe that the Chester Minima is currently the best hardside carry-on in the medium price range. Essentially, it's just as good as the Away carry-on, just cheaper. So if you're looking for a hardside carry-on in the medium price range, the Chester Minima is currently the best option out there.
Check Price on Amazon
Check Price on ChesterTravels
Full Review
I've owned this carry-on for several months now. I also gave it to my girlfriend on several occasions to test it out. And so far, it's held up great. There are no visible defects or scratches, which is nice.
That said, I'd like to disclose, that I received this suitcase for free. Though, it doesn't influence my verdict at all.
Chester Minima Color Options
The Chester Minima is available in 8 different colors – desert (light brown), fog (light gray), haze (navy), snow (white), spritz (pink), storm (medium gray), surf (light blue), and onyx (dark gray, which is the color that I have.) p.s., I have no idea why they've chosen such weird names for their colors. Most likely for branding purposes.
Anyway, I really like that they're available in so many different colors. It seems that they're following a very similar strategy to Away Travels – minimum variation between models, but offered in many colors. In my opinion, they look good both for men and women, just because they're available in so many different colors.
That said, I'd advise getting some of the darker colors, such as dark gray or navy because scuff marks and scratches won't be so visible on them.
Materials and Protective Features
The exterior material on the Chester Minima is molded into a diamond-like pattern. This is great because it absorbs some of the reflections and makes the suitcase somewhat matte. It also makes it more scratch-resistant. You won't be able to see all the little scratches.
The plastic shell itself is built out of polycarbonate, which is the most durable luggage plastic and is most commonly found only in premium suitcases. Polycarbonate in itself is quite flexible. But because of all the grooves and corners that this carry-on has, it's quite rigid.
I tried pushing it down with my hands from various angles, and it looks like the only place where the plastic gets bent is on the bottom, as seen in the picture above. So far no cracks have appeared, but I'd guess this would probably be the first place where they'd appear.
As for any protective features, it looks like the Chester Minima doesn't have many. The zipper stitching is protected with a rubber guard from both sides, but there are no skid-guards or corner guards. That's because they're going for a minimal look, and adding too many protective features would probably ruin it.
Dimensions and Weight
The Chester Minima is 21.8 inches in height, 13.7 inches in width, and 9 inches in depth with handles and wheels included. It's just below the most common carry-on restriction of 22 x 14 x 9 inches, which means that you won't have any issues with the airline staff. I tried fitting it in the measuring bins at the airport, and I managed to fit it in just fine.
In the product description, they've said that the Chester Minima weighs 7 lbs. However, our own weight tests revealed that it weighs slightly less – at 6.7 lbs.
In another article, we compared all the most popular carry-on's and found out that, on average, an empty carry-on weighs 7.9 lbs. That's 1.2 lbs more than the weight of Chester Minima, which means that it's lightweight. For comparison, their closest rival, the Away carry-on weighs 7.5 pounds.
Interior and Exterior Zippers
Unfortunately, the Chester Minima doesn't come with an expandable zipper. It would be a nice feature to have for those return flights when you've bought too many souvenirs, but it's not a big deal if you're a minimalist packer.
From the exterior, it's protected only with a single zipper that unzips the main compartment. The zipper is tough and feels quite rigid. It opens and closes smoothly, and it doesn't look like the zipper heads will fall off anytime soon because they're fully metal.
The interior zippers aren't as durable and massive as the exterior zipper. But they unzip fairly easily, and the fabric lining doesn't get caught in the zipper, which is nice.
The Retractable Handle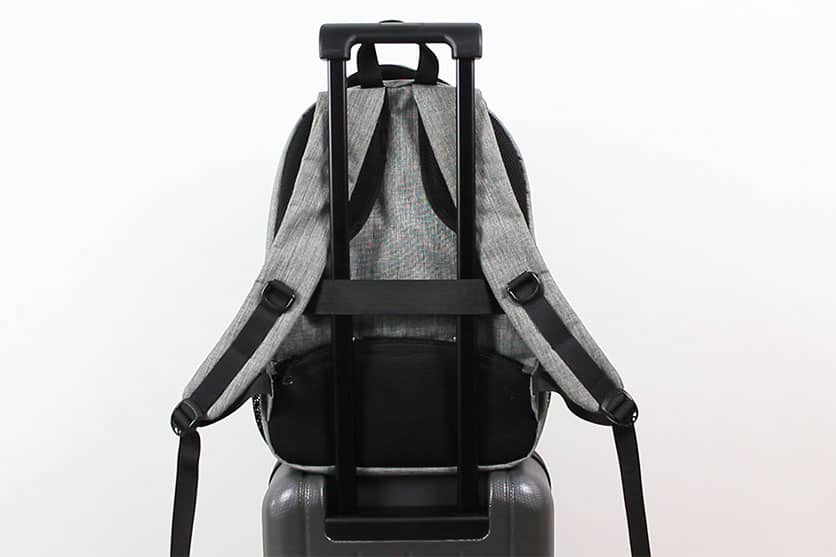 Like any other wheeled suitcase, the Chester Minima comes with a retractable handle on top. The handle locks in two positions, at 37.5 inches, and 41.5 inches from top to bottom. I'm 6 feet, 0.5 inches (184 cm) tall, and I most commonly use the shorter setting.
The handle is quite narrow, which means that you'll be able to fit most bags with a rear strap on top, as seen in the picture above. It's also made out of aluminum, which means that it should last a long time.
The only thing that I didn't like, is that the retractable handle feels somewhat wobbly when you retract it fully. Not too much, but it might cause some troubles in the future. When I compared the "wobbliness" of the retractable handle with other suitcases that I own, I noticed that it actually isn't that bad. The only difference in the Chester Minima is that there's a slight rattling sound when you wobble it, which makes the "wobbliness" effect easier to notice.
Top and Side handles
You'll also find handles on the top, and on the left side. At first glance, they don't look too comfortable, but they're actually okay. They're made from a rubber-like material, and they also have a spring-like mechanism that keeps the handle flat to the surface.
It would be nice to see another handle on the bottom, for lifting it up in the overhead bins on airplanes. But honestly, it's not a big deal, because you won't be using it that often anyway.
Double Spinner Wheels
On the bottom, the Minima carry-on is fitted with four double 360 spinner wheels. The wheels feel really durable, and they have a nice thick rubber exterior, which means that they'll last for a long time. Overall, they feel really well-made and you can definitely tell that they aren't cheap.
I've tried them out on cobblestone streets, gravel, and well as smooth surfaces, and they roll really nicely. Also, they're attached with regular screws from the inside, which means that they can be replaced quite easily.
The TSA-Approved Combination Lock
The main compartment is protected with a three-digit TSA-approved combination lock, which feels well-made, and works smoothly.
When I first got the suitcase, the combination was set to 0-0-0, but I changed it to a random number. You do that by pushing in the small, squared pin right next to the three digits. Then change to the new digit combination, open and close the lock, and the combination will be changed. By the way, later you can change the combination to a new one by repeating the steps.
Because the lock is TSA-approved, if the bag is checked in, the security agents will be able to get inside the for an additional inspection, without breaking the zippers or the lock. By the way, the airport security agents are authorized to break the zippers/locks on suitcases with regular non-approved TSA locks, and not pay for the damages. You can tell that it's TSA-approved because it has the red logo on it, and the text "TSA007".
Main Compartment and Packing Features
When you open the Chester Minima, it's split into two equal parts, and both are separated with fabric sheets. This is great for keeping all of your stuff organized. It also means that you don't really need packing cubes, because the main compartment is already organized.
By the way, if you're low on space, I found that you can also put another jacket in the middle, between both fabric sheets.
Inside, the Minima is fitted with two zippered pockets on the right side for all the smaller items, and another larger one on the left side, which is good for storing some larger items, such as tablets, books, folders, and others. I tried fitting a 14-inch laptop inside the larger pocket, but it wouldn't fit, so if you travel with a laptop, you'll have to keep it in the main compartment or in your backpack/personal item.
Because the carry-on dimensions are maxed out, the main compartment is quite large. It's able to fit 38 liters inside, according to the specifications.
Other Features
Another nice feature that comes with the Chester Minima is the dedicated laundry bag. After a few days of traveling, when you start to have some dirty clothes, you can take out the laundry bag, and put all the dirty and smelly items inside, so they don't mix with your clean clothes. When not in use, the laundry bag has a small dedicated pocket in the main compartment, which is nice.
And lastly, the final feature that's included with the Chester Minima carry-on is a black luggage tag, that you can wrap around one of the handles. The tag looks like it's made from genuine leather, and all the personal data is protected from sneaky eyes with a cover.
Although I do agree that the luggage tag looks pretty good, I don't really like to use tags that are attached to the handles. They dangle around and could fall off easily. A better solution is an integrated tag, (similar to the Travelpro Maxlite 5 carry-on) that's built-in on the backside of the suitcase or somewhere else.
Warranty
On our site, we've reviewed a lot of different luggage brands. And we can say, that Chester offers one of the best warranties out there. Their warranty is clear, understandable, and with no hidden rocks.
They cover cracks in the hard shell, broken wheels, handles, and zippers, and other defects that make the bag unusable. The damages are covered only from "normal use", which under their terms also includes transportation damage. Other manufacturers don't usually cover transportation damage, which makes the warranty pretty much pointless, because suitcases most commonly get damaged in transport (by airline crews or from the weight of other bags in the airline cargo hold.)
Also, it's worth noting that all shipping costs to and from the repair center are covered by them, which is uncommon for luggage manufacturers. The warranty itself is valid for 10 years, which is quite a lot.
The warranty terms are very similar to their closest competitors, Away Travels, but covered for 10 years, not a lifetime. Chester's warranty is definitely in the top three between all luggage brands, right after Briggs & Riley and Away Travels.
Value
Although the Chester Minima carry-on is quite expensive, I believe it's well worth it. It's very good-looking, made from durable materials, and covered by one of the best warranties out there. So if you can afford the high price tag, it's definitely worth it.
I'd say that in value, the Chester Minima is even slightly better than the Away carry-on. Essentially, the Minima is cheaper but comes with fewer extras and with a slightly worse warranty. In the medium price range, it's hard to find a better hardside alternative.
Check Price on Amazon
Check Price on ChesterTravels
Video Review
Subscribe to our Youtube channel for our latest videos.