We use affiliate links, and receive a small commission if you make purchases through them.
Find out more here.
In this eBags 6-Piece packing cube set review, we'll take a look at how well these cubes are made, show you how much stuff fits inside each cube, and I'll also share my own experience from one year of use.
Check Price on Amazon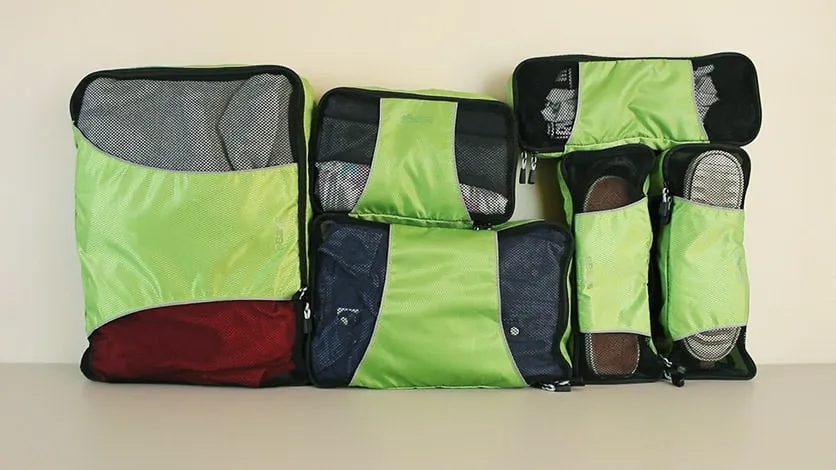 The Good
Well-made and durable. After more than a year of using them, they still don't show any signs of wear. That's because the eBags packing cubes are made from premium materials, which don't break down that easily.
Backed up by a lifetime warranty. These packing cubes are backed up by the eBags limited lifetime warranty. eBags is a popular travel gear brand with a good reputation, which means that this lifetime warranty is trustworthy.
YKK zippers. They're equipped with YKK zippers, which essentially is the best and most durable zipper brand on the market.
The Bad
Not the most affordable option. You can find a similar packing cube set from a lesser-known brand for about 10$-15$ less.
The three smaller cubes aren't too useful. In my opinion, the three smaller cubes are too thin to be used efficiently.
The Verdict
Let's start with the cons. The six-piece set isn't the most well-thought-out set on the market. The three thinner cubes aren't that useful in my opinion, so I'd recommend going with the 3-piece or 4-piece set instead.
Another con is that these cubes aren't the most affordable options on the market. For 10-$-15$ less, you can get a similar set from a lesser-known brand. Of course, they won't be as durable as the eBags cubes, but if you won't using them often, then it doesn't really matter.
And now let's talk about the pros. These packing cubes seem to be very durable, they're pretty lightweight, and best of all, they're backed up by a lifetime warranty from a well-known brand. If you can afford the extra 10$-15$, I think it's very well worth it. I'd say that the eBags packing cubes are probably the best overall option for packing cubes, especially if you're a frequent traveler.
Check Price on Amazon
Full Review
I got the eBags packing cubes back in 2018, and since then I've been using and testing them on my vacations. And so far, nothing has come loose, and they still look in a good condition.
I purchased them because, at the time, they were one of the most popular and well-reviewed options on Amazon. They were priced on the higher end, but I still got them because I wanted to see if they'd be any better than other cheaper options.
Should You Use Packing Cubes?
Now you might be asking – Why should you even use packing cubes?
Well, I've got an answer for that. In another article, I did a test where I tried to find out whether packing cubes actually save any space. And although they don't save that much space, they're really great for organizing your clothes in them.
Without them, everything gets messy and wrinkled real fast, but with packing cubes you're being organized for the whole duration of your trip. You can pack your underwear in one cube, your t-shirts in another one, and so on. Personally, I swear by them.
What's Included in the Ebags 6-Piece Classic Packing Cube Set?
I purchased the 6-piece classic set, but they're also available in many other sizes and variations. For instance, you can get a 3-piece or a 4-piece set. These sets also come in many different color variations, so you got a wide variety to choose from.
The 6-piece Classic set comes with:
1 extra-large packing cube (17.5 x 12.75 x 3.25 inches)
1 large packing cube (13.75 x 9.75 x 3 inches)
1 medium packing cube (11 x 6.75 x 3 inches)
3 slim packing cubes (2.8 x 14 x 5 inches)
To be honest, this set is too large for me, because most of the time, I use a single carry-on. All six pieces would be useful only if you'd be packing a large, 28-inch checked suitcase. Personally, I'd be fine with a 3-piece or a 4-piece set.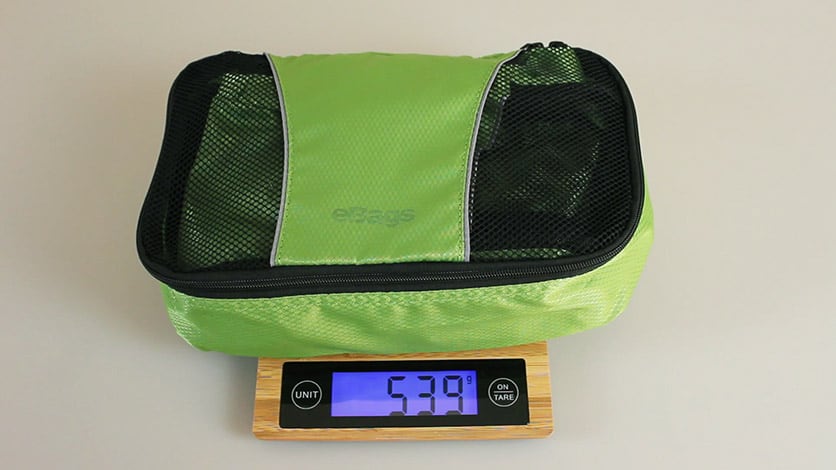 In total, all six pieces weigh roughly 500g or 17oz. They're pretty lightweight when compared to other options. For instance, the Shacke Pak 4-piece set, which comes with an additional laundry bag, also weighs 500g. So essentially, the Shacke Pack 4-piece set is just as heavy as the eBags 6-piece set.
Materials & Seams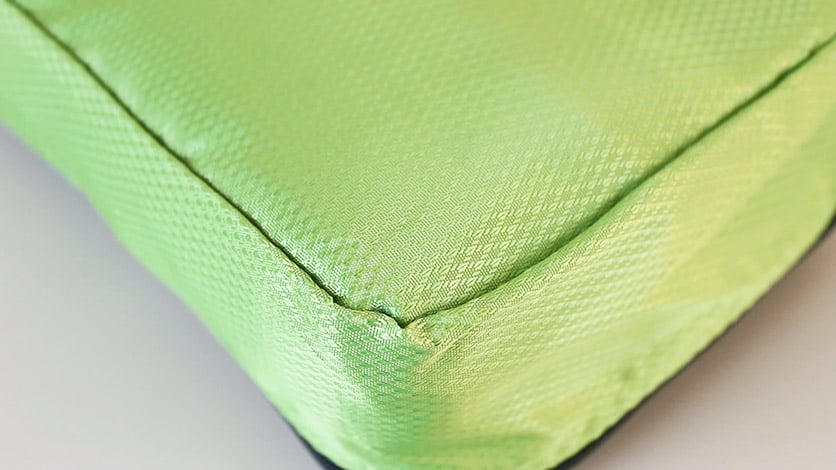 The eBags packing cubes are made from polyester fabric, which looks fairly durable. Although a better choice would have been nylon, polyester is still durable enough for packing cubes. The fabric is flexible and doesn't wrinkle too much.
The top part of each cube is covered by a fabric mesh panel, which is good because you can easily see what's packed in each cube without opening them.
All the seams look well-done, and there aren't any loose threads. Overall, it looks like they've done a pretty good job at everything because in life these cubes feel really durable. At least, after more than a year of use, nothing has broken for me personally.
Zippers & Handles
The eBags packing cubes come with YKK zippers. If you don't know what they are, essentially, YKK is the most durable zipper brand on the market.
The zippers open and close quite smoothly. When you're closing them, the clothes don't seem to get stuck in the zipper, which is a good thing.
All four pieces also have these fabric handles stitched to one of the sides. The side handles seem to be properly sewn to the fabric, and they don't look like coming loose anytime soon.
How Much Stuff Fits Inside the Ebags Packing Cubes?
And now, let's check out how much stuff fits inside each packing cube, so you can get a good idea of how large they are in real life, and how many you'd need.
By the way, I didn't overpack the cubes. You should always pack them so full that you're able to close them easily, otherwise your clothes will become too wrinkled.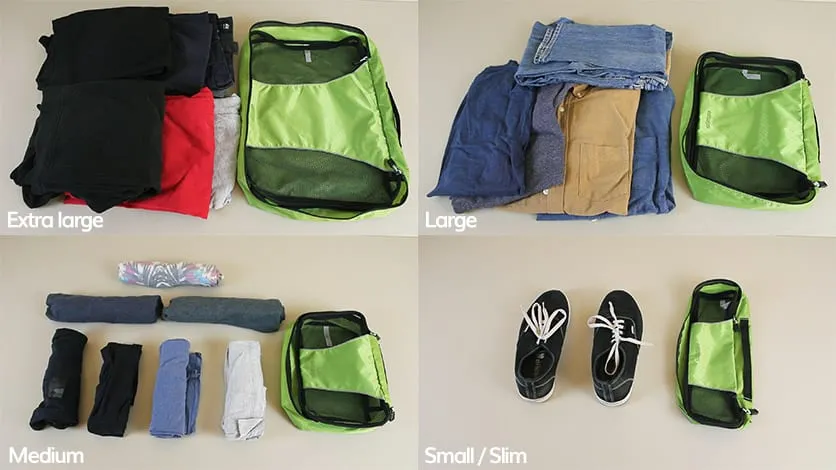 Extra-large packing cube: You can pack all of your larger items in there, such as bulky jackets, sweaters, jeans, e.t.c. I was able to pack 2 hoodies, 2 sweaters, and 2 pairs of long pants in there.
Large packing cube: The large packing cube is best used for folded items, such as buttoned shirts, dress pants, or any pants in general. I was able to pack 1 pair of jeans, 2 long-sleeve shirts, and 2 buttoned long-sleeve shirts in there.
Medium packing cube: The medium cube is just about the right size for packing your t-shirts. I was able to pack 7 rolled-up t-shirts in there.
Slim packing cubes: And the three thinner cubes are great for packing all the smaller items, such as socks, underwear, swim shorts, scarves, gloves, or a pair of casual sneakers. I was able to pack a pair of sneakers in each slim packing cube, or socks and underwear for 7 days.
Warranty
What's good about the eBags packing cubes is that they come with a lifetime warranty. The warranty is limited, which means that it covers only manufacturing defects and materials. This means that if any seam would start coming loose, or a zipper would become faulty at any point, you'd be entitled to a free repair. Accidents, misuse, and normal wear won't be covered.
The good thing about this warranty is that it's backed up by eBags, which is a popular travel brand. I've heard only good things about their warranty and support in general, so you can trust that they'll stick to their promises.
How Do the Ebags Packing Cubes Compare to Cubes From Other Brands?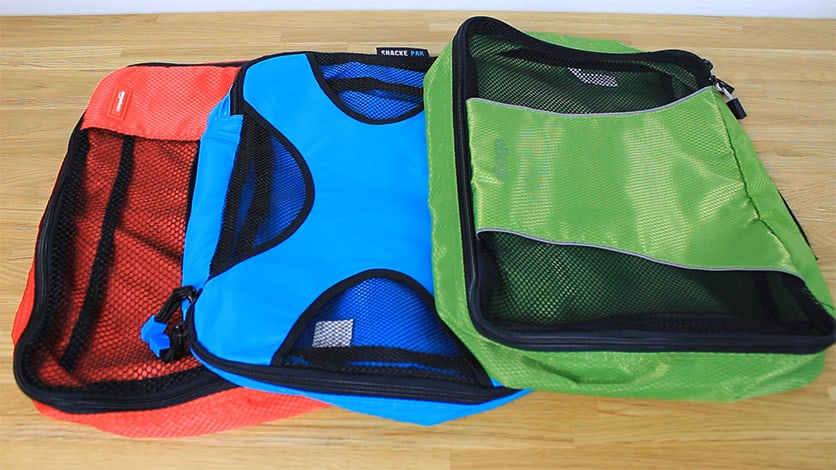 The eBags packing cubes look eerily similar to the AmazonBasics packing cubes. Maybe almost too similar… My guess is that AmazonBasics just copied the eBags packing cubes into a more affordable option. It's a known strategy for Amazon to make similar products to other best-selling models under their own brand. By the way, we've also reviewed the Amazonbasics packing cubes in another article, and even though they aren't as good as the eBags ones, they're still a very solid choice for the average Joe.
Compared to other packing cubes that I own, the eBags packing cubes feel the most durable. In real life, there's just something about them that makes them feel premium. No loose threads, the zippers don't get stuck in the fabric, e.t.c.
Value
Although the eBags packing cubes aren't the cheapest ones, they aren't too expensive either. They're priced roughly 10$-15$ above the most affordable options.
For 10$-15$ extra you get YKK zippers, no loose threads, or any other things that you'd normally get on cheaper cubes, and you also get a lifetime warranty from a trustworthy brand. In my opinion, that's a fairly good deal. If you'll be traveling frequently, I'd recommend you to get the eBags packing cubes over other more-cheaper alternatives.
Check Price on Amazon
Video Review
 
Subscribe to our Youtube channel for our latest videos.