If you've never been inside an airplane, you probably have tons of questions. I remember my first time flying; it was just dreadful! Not to mention, I was flying for the first time alone! Anyway, I'll help you have a great first flight with sharing my 20 amazing tips for first-time flyers.
To have a fantastic first flight, you should learn about the three stages of your first flight: Preparing, on the plane and upon arrival. I'd say that preparing for your trip is by far the most critical step to have a great experience.
Also, you will need to find your luggage or borrow one to take all of your stuff with you. If you don't have any luggage and your friends aren't sharing, I've made this excellent guide on how to choose the best luggage brand.
Things you should do before your flight
Prepare your documents
One of the most important tips for first-time flyers is checking your passport. See what expiry date it has and find out what expiry date is allowed by your destination country. For instance, some countries don't allow to enter if your passport expires in the following six months. Also, mail a copy of your passport to your e-mail in case it gets lost.
Check if you need a visa. Some countries do, and you should get this sorted at least a few months before your trip. Also, check the immigration requirements for your destination.
It's advised to buy travel insurance. You should print it out and get their number in case something happens.
Lastly, print out your airline tickets. Of course, you can show them through your smartphone, by opening your e-mail. However, if something goes south with your phone, you have a backup.
Understanding what's a carry-on and what luggage has to be checked
A carry on is a type of luggage that you can take with you on the plane. On the other hand, checked luggage has to be checked in, and you will not see it during the entire flight. You will receive it only after you land.
Usually, carry-ons are included in the ticket price and checked luggage costs 20-40 USD extra. However, if your carry-on is overweight, the airline staff may ask you to check it in for an additional fee. To avoid this you should be packing smart and leaving the bulkiest items behind.
The main difference between checked luggage and a carry on is that a carry on has to be within a certain airline size limit and a certain airline weight limit. Most commonly used carry-ons are backpacks, duffel bags, and carry-on luggage.
I always prefer to use only one carry on if the trip is shorter than 14 days. If you need to get a carry-on, here's a guide on how to buy the best carry on with laptop compartment.
Luggage restrictions for carry-ons
The size and weight limits are different for each airline. It's advised to always check the airline restrictions before packing your carry on. The most common carry on size for airlines is 22 x 14 x 9 inches, used by Delta Airlines, Southwest Airlines, United Airlines, and American Airlines. Here's an excellent resource for the most common airline carry-on restrictions.
For first-time flyers, understanding luggage restrictions can be hard, so I created this guide on how to measure luggage correctly.
Toiletries: Restrictions and what to leave home.
For safety reasons, there's also a limit for all liquids in your carry on. This is best described by the 3 – 1 – 1 rule, which means that you can take fluids in 3.4 oz (100ml) bottles, all packed in one quart-sized bag, and only one bag for each passenger is allowed. If you have some larger containers, you can put them in your carry-on. If you want to get more familiar with liquid regulations, you can check out this guide by TSA
Generally, I always advise bringing only essential toiletries. You can buy the shampoo and shower gel in your destination country, as it's pretty cheap (Mostly, hotels have them for free anyway). Before packing your toiletry bag, lay them all out and think about which ones you really need. Leave the rest.
Electronics: What you should know before flying for the first time
Remember to bring all of your electronics that you need with you, as well as their chargers. Also, remember to charge them before boarding fully, because most airplanes don't offer chargers.
When flying for the first time, the most common items that you should remember to take are DSLRs or digital cameras, phones, laptops, tablets, electric shavers, headphones, and power banks.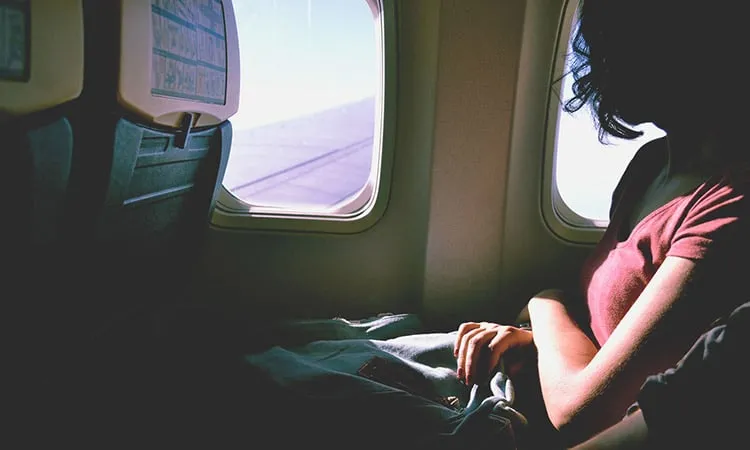 Preparing for comfortable sleeping
Generally, you don't know who will be sitting next to you. For all you know, it could be an annoying teen or an older person who wants to talk about when they were young the whole flight. So get ready so that you can have an excellent first flight.
For a comfortable sleep, you should bring:
A blanket (Although largest airlines offer them for free);
Earplugs or noise-canceling headphones;
A soft neck pillow;
Comfy socks for sleeping;
A pair of trainers for sleeping;
A sleep mask.
Entertainment: First time flying can get boring if not prepared
Be advised that some cheaper airlines don't offer many options for entertainment. Although, some larger airlines have built-in TV's for each passenger with loaded films, free headphones, and other exciting features.
I'd recommend coming prepared for your first time flying. If you like reading, you could bring books. For the movie watchers, download a few different movies or TV series on your laptop or tablet. Also, remember to download some offline music, as you probably won't be able to connect to wifi.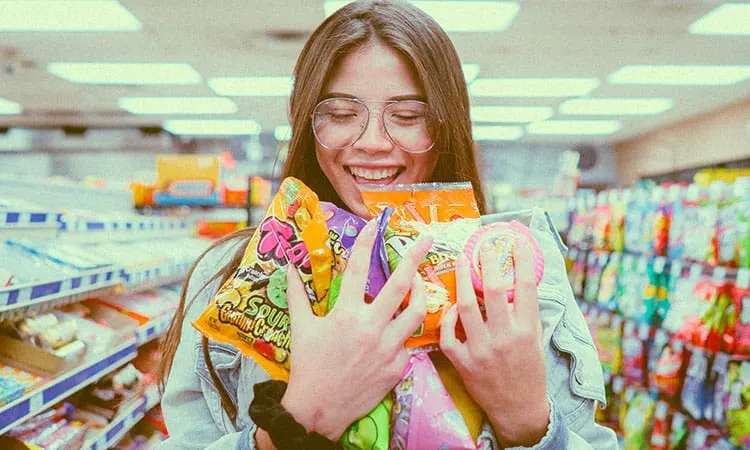 Pack some snacks and medicine
Some cheaper airlines offer lousy catering services. Also, the food on airplanes is always pretty expensive. So it's better to bring your own snacks. If you're not tight on space, bring some tasty snacks that will satisfy your sweet tooth between meals.
For medicine, I'd recommend packing aspirin and pain-killers, just in case you start having some problems during a long flight. Note that not all medication is allowed on flights.
Also, if you have an older suitcase, make sure to give it a good clean before packing food. Otherwise, it's just bad hygiene.
Online check-in is much better
Nowadays, most airlines offer the option to check-in online. You won't have to stand in the line for the check-in, which can be pretty long. You can simply go straight to the security gates. Although, if you have luggage that needs to be checked in, you still have to wait in the check-in line.
Arrive a few hours early
You never know what the traffic will be like or if there will be any accidents. Because airline tickets aren't cheap, you should arrive early. I advise you to arrive at least two hours early and spend your time in your laptop watching movies.
Also, if you're late, don't be shy and talk to the airport staff. They usually have a person who helps to go through the lines quicker for those who are late.
What if you miss your plane?
If you see that you are going to miss your plane, call the airline a few hours earlier and warn them. Often they will be understanding and book you for the next flight free of charge. Just be sure to inform them beforehand, not at the last minute.
Before your first time on a plane: Boarding
When you enter the airport, you have to find the check-in and get checked0in (If you haven't done that online). Prepare your documents and your airplane ticket. Also, you will have to weigh and leave your checked suitcases there.
Next comes security gate. Be prepared to take off your shoes, belt, accessories and empty your pockets. You will have to put all of it together with your carry-on on the x-ray belt. After that, you will have to walk through the x-ray machine yourself. Also, maybe someone will check your pockets and do an overall check.
After the security check, you usually go through several lounges, cafes, shops, and restaurants to your boarding lounge. If you arrived early, now you probably have an hour or two to spend either in the lounge or the restaurants.
Often people tend to stand in lines at the boarding lounge for thirty or more minutes. I'd advise against that. Just chill in the lounge while everyone starts boarding, and the line gets thinner. The only exception is if you have a big carry-on, that you need to have put in the cabins before everyone else.
First time on a plane: What to expect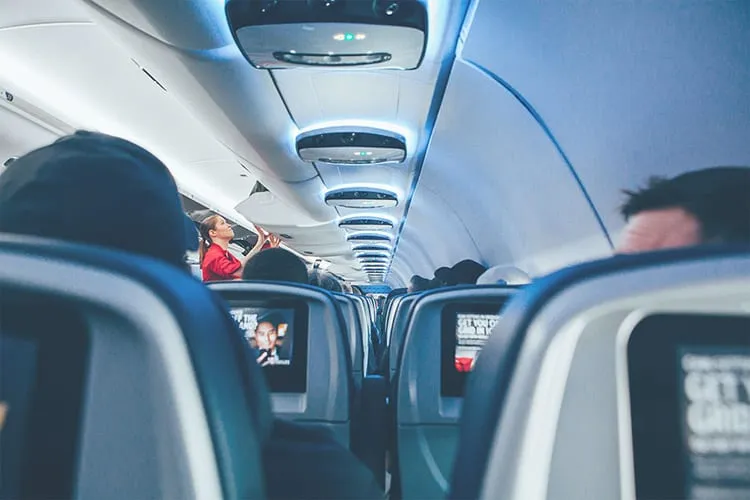 Find your seat and store your luggage
Alright. You've boarded and now it's your first time on a plane, and you're ready to take your seat. Take a look at your ticket to find out your row and seat. Above or underneath it, stack your carry on, depending on its size. (If you want to check out what size carry-on works the best, here are some tips & suggestions from the pilots and airline crews.)
Now take your seat and fasten your seatbelt. You will be allowed to unfasten it after 5-15 minutes in the air. Also, turn off the internet on your electronic devices or set to airplane mode during the take-off.
Getting through take off, landing and air pockets.
Now comes the hardest part. You must overcome your anxiety of first time flying (If you have any). Usually, the hardest parts are the takeoff, landing and sometimes air pockets.
Before take-off, listen to the crew member giving you instructions, which will calm you down. After that, the crew members will walk through the aisles and check if everyone has their belts fastened. If everyone is ok, the crew members will take their seats, and the take-off will start.
Try not to panic and be as calm as possible; you may even close your eyes. The first take-off may be the hardest. Afterward, it's easy. The plane will start to speed up, and when its wheels leave the ground, the aircraft will position itself at about 30 degrees, and it's going to feel weird. Your ears might feel weird, but the take-off will last only a few minutes. After that, the flight is pretty straightforward.
During regular flights, you may encounter air pockets. The plane may start to wiggle, and the pilot will ask you to fasten your seatbelt. It's completely common and nothing to worry about. Also, on windy days, the landing can seem pretty scary, but you should know that pilots are well aware of this and they know what they're doing.
Use water over alcohol
It's pretty standard for airlines to offer free beer and wine on longer flights. Although it may be tempting, don't drink more than one small bottle of alcohol. You don't want your whole flight being miserable because of headaches and low energy levels. Actually, you should drink even more water than usual, because dehydration can be a real pain combined with jet lag.
Eating on an airplane
If you're flying internationally and the flight takes more than 3-5 hours, you are likely to have one or several different meals. From my experience, they're usually pretty good. Think of it as a restaurant worth food that comes in plastic packaging (Especially KLM, I really loved their meals!).
If you want some snacks in between or you don't fancy their meals, you can order separately. Usually one of the crew members passes through the aisle once every 30 minutes with a food cart. If nobody is coming, you can go to one of the crew members and ask for the menu.
Also, they accept cash as well as credit cards. Just note that debit cards are usually declined, as they can't be processed offline. Other than that, the food often is good, but quite expensive, so you might be better off taking your own snacks.
How to sleep comfortably on an airplane
Before sleeping, I always change my clothes to something comfier. Usually, it's a comfy hoody and a pair of soft jogging pants. By changing, it helps to fall asleep more naturally and afterwards feel fresher when changing back to casual clothes.
Afterwards, I take off my shoes and cover myself with a thin blanket, just for comfort. Also, be sure to take out your headphones and turn on some calm music or leave it silent. It helps to cancel the background noise.
During international flights, it's common to turn all of the lights off during night time. Even though the lights are off, the person next to you might be watching a movie on a bright screen. That's why I'd recommend bringing a sleep mask for better sleep.
When you arrive
Don't exchange your cash in airports
Please follow this as the most important financial advice for a first-time flyer. The rate is always bad in airports, as well as some crowded tourist places. During the flight, you will likely be able to pay in your local currency. However, you can exchange something before departing if you want to be sure.
The rates get much better in your destination country. Usually, the best currency exchange rates are found at either the post office or local banks. Also, the rates aren't bad if you withdraw money through an ATM. However, you might get charged an ATM fee. You should call your bank and find out what are the costs for withdrawing through different brand ATMs.
Always pay in the destination countries currency
When you arrive, you will probably want to buy something right away. Either at the airport or on your way to the hotel. As a first-time flyer, I myself had no idea about this rule.
When paying with your card, most of the times you will be asked if you want to be charged in the local currency or your bank account currency. As weird as it may seem, the exchange is almost always better if charged in the local currency. You can trust me because I used to work in a bank and this is common knowledge between bank employees.
Be careful with the airport taxis
Upon arrival, you will have to get a taxi if other options aren't available. It's advised that you read what are the average fees before departing. This way, if you are getting ripped off, you will have something to argue with the driver.
Generally, if you're boarding a fixed-price taxi or the taxi company is popular, you shouldn't get ripped off.
If you have any more tips for first-time flyers, please do share them in the comments below! I will be extracting the best ones and update this post with your advice.