We use affiliate links, and receive a small commission if you make purchases through them.
Find out more here.
In this Matein 15-Inch travel laptop backpack review, I'll get into every little detail on this bag. I've used it daily in the office and while traveling for about 11 months now. During this time, there were some minor issues that popped up, but overall, I'm pleasantly surprised by this purchase.
Check Price on Amazon
The Good
Affordable. You won't find a better backpack than this below 50$.
Packed with many useful features. The Matein laptop backpack is stuffed with various organization, anti-theft, and tech features, despite its low price tag,
Deceptively spacious. At first glance, this backpack doesn't look too spacious. But whenever I'm going after some groceries, I'm always surprised how much fits inside the main compartment.
Retains shape when empty. It looks just as good when it's empty as when it's packed to the brim with stuff.
The Bad
Weak Stitching. After almost a year of daily use, one padding panel on the back has started to come loose.
Not water-repellant. Although it's advertised as water-repellant, in reality, it isn't. Whenever you pour some water on it, the fabric just soaks it right in.
Weak warranty. Supposedly, it comes with a lifetime warranty, but in reality, it's pretty much useless.
The Verdict
Although there are some flaws on the Matein travel laptop backpack, such as bad stitching and almost a non-existent warranty, I still think that it's one of the best purchases I've ever made on Amazon.
I paid only 30-something dollars for it, and I can't believe how well it's performed. After a year of DAILY use, it still looks great, aside from one back padding panel coming loose. Not to mention how spacious it is and how well-organized everything is inside.
So if you're looking for a new, affordable laptop backpack, then look no further. I doubt that you'll find anything better below 50$. There's a reason why it's the number one bestselling laptop backpack on Amazon.
Check Price on Amazon
Full Review
I bought the 15-inch Matein travel laptop backpack last January, because my old backpack had completely deteriorated over the years, and I needed a cheap replacement.
I bought this backpack because it looked good, it was only thirty-something dollars, and it had incredibly good customer reviews. And so far, I'm quite happy with how it turned out.
Color Options and Variations
Personally, I own the 15-inch laptop version of this backpack. But it also comes in a 17-inch version, which is slightly larger, and the laptop compartment opens all the way around, not only halfway. The 17-inch version is also TSA-approved, which means that you won't have to take your laptop out of the backpack when going through security.
The Matein laptop backpack is offered in blue, brown, charcoal black, grey, grey and black camo, and red colors. I chose the grey option, because, in my opinion, it looked the most minimalistic.
Because the grey color is so light, I thought that all the dirty spots would be clearly visible on the fabric, but it's actually not that bad. They kind of blend in, because they've used dark grey and light grey threads in the fabric, which create a grey-ish mix.
Dimensions and Weight
This backpack measures 18 inches in height, 13 inches in width, and up to 9 inches in depth when packed full. If you don't over-stuff it, you'll be able to use it as a personal item on airplanes, in addition to your carry-on. I've used it as a personal item many times, and I've never had any issues.
That said, the 17-inch version might be too large for a personal item because it's larger in height and width. To be precise, it's 19 inches in height and 13.8 inches in width. You might be able to sneak it in as a personal item sometimes, but occasionally they might ask you to use it as a carry-on instead.
Although in the product description they've said that it weighs 1.5 pounds, actually it weighs around 2.2 pounds. But for a personal item, it's still very lightweight, so it doesn't really matter.
Materials
The exterior fabric on the Matein laptop backpack is made out of polyester. It isn't the most durable fabric, but then again you have to remember how affordable this backpack is. Of course, nylon would have been a better choice, but it isn't common to find nylon in affordable backpacks because it's quite expensive.
After almost a year of daily use, it hasn't torn anywhere, and it still doesn't look worn down. Even at the bottom, where the backpack touches the floor, there are no visible signs of wear, which is pretty amazing for a 30-something dollar backpack.
One thing that I do have to note is that the fabric definitely isn't water-resistant. In the product description, they say that it is, and they even show a picture, where the water supposedly doesn't soak in.
But in reality, it's much different. As soon as you pour something on it, the fabric gets wet. It'll withstand light rain, but after 20 minutes of moderate rain, everything inside will be soaked.
Stitching
One thing that I don't like about this backpack, is the quality of the stitching. When I first received it, I noticed that in some places, there were a few loose threads, and overall, the stitching just didn't look too great.
After a year of use, one padding panel on the back has started to come loose, which you can see in the picture above. At the start, it was just a few threads, but now it's starting to look pretty bad, and I'll probably have to do something about it if I want to continue using this backpack.
There's another place where the stitching doesn't look great, near the top handle. But other than that, everywhere else the stitching is still holding up fine.
So to sum up – The stitching doesn't look great, and after a year of use, one padding panel on the back has come loose.
Zippers
Now let's talk about the zippers.
In all compartments, they've used the same kind of metal zippers. They do unzip fairly easily and look pretty well-made. Overall, I haven't had any issues with them.
The zippers on the laptop compartment and the main compartment are lockable. This is great for traveling because theft is pretty common when traveling. If you lock them with a small lock, you'll be safe.
The only thing that I don't like about the zippers is that they dangle around a lot. They're silent when you're walking normally, but when you jump or move the bag around with your hands, the metallic zipper heads will make a sound from hitting the metal zipper. Not a big deal, but it's something that slightly irritates me.
Laptop Compartment
Because I'm always taking my laptop with me everywhere I go, basically, I use the laptop compartment daily. Inside, it's fitted with a padded laptop sleeve that fits laptops up to 15 inches. The padding is okay, but it's not great. All around, the laptop compartment is padded, but not on the two corners on the top, so you have to be careful when using the bag.
In addition to a laptop, you can also fit a tablet in another smaller sleeve, and place several folders of documents inside the laptop compartment. But because I don't carry a tablet or any papers, I just put my laptop in there and its charger.
Main Compartment
Now let's take a look at the deceptively spacious main compartment.
At first glance, this backpack doesn't look too spacious, but actually, you can fit a lot of stuff in the main compartment. They haven't mentioned specifically how much fits inside, but I'd say it's around 30-40 l. Personally, I like to use it when I'm going after groceries. You can easily fit one large bag of groceries in there.
Other than that, the main compartment is pretty simple. It has these two zippered compartments on one side, and a large sleeve on the other, which is great for storing a notebook or something similar.
Three Front Pockets for Organizing Smaller Items
This backpack also comes with a few other pockets in the front, where you can organize all of the smaller items.
Personally, I use the largest one the most (in the picture above,) because it has several smaller compartments inside. For instance, I keep my mouse in the left pocket, a pen or two in the middle, and my earbuds in the right pocket. You can also keep some spare change in the zippered pocket, and attach your keys to the dedicated keychain.
There are another two pockets in the front, but personally, I don't use them too much. They're essentially just two regular pockets, without any organization features inside.
Side Pockets and the Anti-Theft Pocket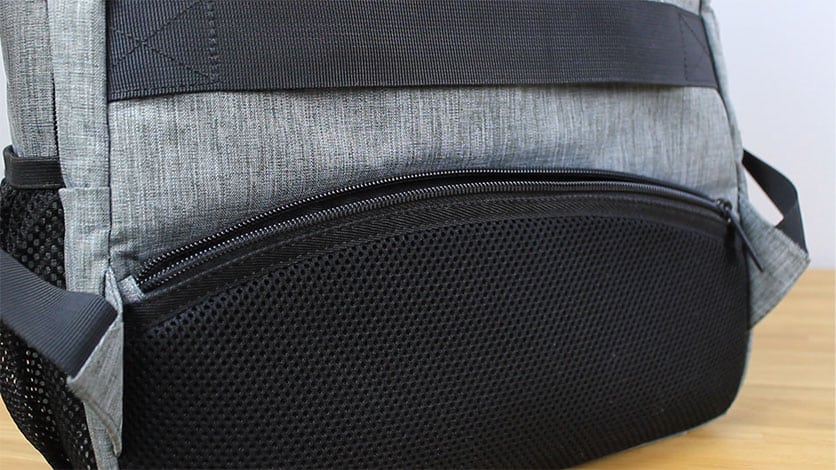 On both sides, they've also included these zippered mesh pockets which are great for holding an umbrella or a water bottle.
And on the back, they've included this hidden anti-theft pocket behind the bottom padding. I actually use it quite often, when I'm traveling or walking in crowded places for storing my wallet and passport in there. It's just much more relaxing for me, compared to checking your pockets every fifteen minutes.
Oh, and because the anti-theft pocket is hidden behind a padding panel when you put an overstuffed wallet in there, you can't feel it pushing against your back because of the padding, which is nice.
How the Matein Laptop Backpack Retains Its Shape When Empty
I really like that this backpack retains its shape when it's empty. Often, there's just a single laptop in there, and the backpack doesn't slide down.
It looks just as great when it's completely empty compared to when it's packed to the brim, which, in my opinion, is a very important thing to have on backpacks.
Shoulder Straps and Padding
Now let's talk about how comfortable this bag is. I wouldn't say that it's the most comfortable bag that I've used, but it's still pretty good.
On the back, it's padded in three places with soft panels. Also, both shoulder straps are fully padded. This makes the bag quite comfortable to wear.
However, if you put some irregularly-shaped objects in there, then they kind of stick out and push into your back. But if you're carrying a laptop, then it's fine, because it's placed between the main compartment and your back.
Both shoulder straps are adjustable, and they also have three places on each strap for attaching something there when traveling.
Rear Strap for Securing the Backpack on Top of Luggage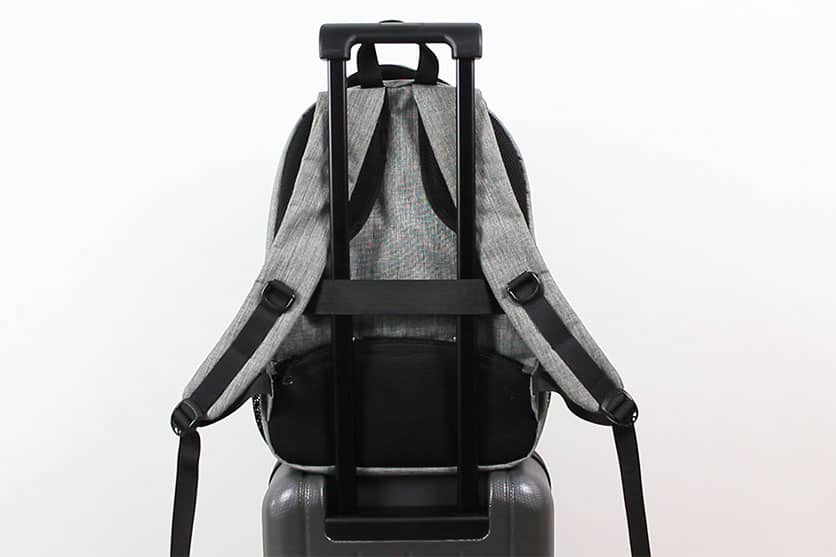 One feature that I use quite often, is the rear strap for securing the backpack on top of a suitcase. In the picture above, I've stored it on top of my Chester Minima carry-on.
I travel a lot, and this is really useful in airports and public transport because I don't have to carry the backpack on my back.
Handles
On top, the Matein laptop backpack has two handles.
One is padded, and I tend to use it the most for picking up the bag from the ground. And the other is there just for hanging the bag on a hanger, when not in use. The stitching on the main handle looks pretty good, and it doesn't look like it will come loose anytime soon.
Built-In USB Charging
This bag also comes with a built-in USB charger, but personally, I've never used it.
Essentially, there's just a wire that connects the power bank from the interior to the exterior. You can put your power bank in the dedicated power bank pocket in the main compartment, connect it to the USB cable, and BOOM, now you can charge your devices from the exterior port.
By the way, the bag doesn't come with a power bank, so you'll have to purchase a separate one.
Warranty
Supposedly, the Matein laptop backpack also comes with a lifetime warranty.
On their Amazon listing, they haven't mentioned this anywhere. But when you receive the backpack, it comes with a small label that tells you to register the lifetime warranty on their official site.
Having said that, I wouldn't count on the warranty working. It supposedly covers defects for a lifetime, but you'd notice any defects in the first few uses. It would be more correct to call it a "lifetime return policy for defected products".
In the Amazon reviews, many people complained that their warranty is essentially useless, so, personally, I wouldn't count on it.
Value
Even though the Matein laptop backpack comes with a useless warranty, and they could have done a better job at the stitching, I think it's one of the best purchases I've made on Amazon.
For the price that it's retailing at, it's a really solid purchase. And I understand why it's still the number one bestselling laptop backpack on Amazon. It's good-looking, packed with a lot of useful features, and it's held up great even after a year of daily use.
I have no doubt that if I fix the stitching on one of the back panels, it will easily last another two years. If I'd have to replace this bag every three years, the total cost of owning this backpack averages roughly 10$ per year. And if that's not a good deal, I don't know what is.
Having said that, because this backpack is so cheap, you do have to put up with occasional issues here and there. If you have the budget, it might be a smarter choice to invest in a well-made backpack in the 100$+ price range, so you don't have to put up with any quality issues.
Check Price on Amazon
Video Review
Subscribe to our Youtube channel for our latest videos.