We use affiliate links, and receive a small commission if you make purchases through them.
Find out more here.
The Shacke Pak 5-piece packing cube set is probably the most popular and well-reviewed packing cube set out there. We purchased a set of our own, and we must say that they do live up to our expectations. In this review, we'll share our own experience and tell you how they compare with similar alternatives from other brands.
Check Price on Amazon
The Good
Affordable. If you go on Amazon and search for packing cubes, you'll notice that the Shacke Pak packing cubes are one of the cheapest options on there.
Well-reviewed and very popular. On Amazon, the Shacke Pack 5-piece set seems to be the most popular option for packing cubes. They're also one of the best-reviewed options on there.
YKK zippers. YKK is known as the best and most durable zipper brand. We didn't expect these cubes to come with YKK zippers but they actually do, which is nice.
Puncture & tear-resistant fabric. The polyester fabric seems to be much thicker than what you'd see on other packing cubes from other brands.
The Bad
The fabric could be more flexible. Because the fabric is made puncture-resistant, it doesn't feel too flexible, it gets wrinkled easier, and it makes a "synthetic" sound when wrinkled.
The lifetime warranty doesn't really work. Supposedly Shacke Pak offers a lifetime warranty, but their website, where you need to register the warranty, seems shady, and some people reported that they don't respond to messages there.
The Verdict
If you're looking for a mid-range packing cube set for yourself, then the Shacke Pak seems to be one of the best options. They aren't the cheapest packing cubes, but they definitely aren't expensive either.
The materials, stitching, and zippers all feel well-made and it doesn't look like anything will break anytime soon. We also like that there's an additional laundry bag included in the set, which is great for storing dirty clothes.
The four packing cubes are actually quite large, and you probably won't be using all four. If you're packing a carry-on, the three smallest packing cubes will do just fine. All in all, a rock-solid choice for the average leisure traveler.
Check Price on Amazon
Full Review
On Amazon, the Shacke Pak 5-piece set has over nine thousand reviews, which is kind of insane if you think about it. At the time of writing, they're the most popular packing cube set out there.
Based on what I could find about Shacke Pak, they're a Chinese manufacturer. They offer packing cubes, duffels, and some travel accessories and their gear are available only on Amazon.
What's Included in the Shacke Pak 5-Piece Packing Cube Set?
The Shacke Pak 5-piece packing cube set come with:
One large laundry bag (Just about the same size as the Extra-Large packing cube.)
One extra-large packing cube (17.5 x 12.75 x 4 inches.)
One large packing cube (13.75 x 12.75 x 4 inches.)
One medium packing cube (13.75 x 9.75 x 4 inches.)
One small packing cube. (11 x 6.75 x 4 inches.)
So in total five pieces if you count the laundry bag.
I'll test out how much fits inside later in this review, but for now, let's check out the materials, and how well everything is made.
Materials and Stitching
The Shacke Pak packing cubes are made out of polyester, as it's the most common fabric in cheaper travel gear. Of course, a better choice would have been nylon, but I don't know if you really need that for packing cubes.
Compared to other packing organizers that I own, the fabric feels kind of stiff and rigid. Definitely not as flexible as you'd see on other packing cubes. It also sounds louder when you wrinkle it. It's made much thicker than usual, which is good for avoiding accidental tears and punctures.
On all four pieces, there's a fabric mesh panel on the top, which is great, because then you can easily see what's inside without opening the cube. The mesh panel feels more synthetic/plastic compared to other cubes, which is a good thing because it means it's more durable. On the top, they've got this x-shape going on, which I guess is there for durability purposes, and helps with keeping the cube rectangular when packed full.
I chose the aqua teal color, but they're also available in many other options, such as green, blue, purple, or red. If you're getting more than one set, I'd recommend you get them in different colors, so that you can easily distinguish between them. For instance, a green set for yourself, a red one for your travel partner, and a different color for each of your kids.
It's also worth noting that the Shacke Pack packing cubes aren't machine washable, and you should hand-wash them in cold water.
Obviously, the packing cubes aren't waterproof because of the zippered mesh panel on top. But I thought that the laundry bag might be. I tried pouring some water inside, and it looks like the fabric itself is almost waterproof (if not, then very water-repellant), but the stitching on the sides and the bottom let through some water. So realistically, you can put slightly damp stuff in there, and things around the laundry bag shouldn't get wet.
The stitching on the sides and the corners look pretty good. However, I've used them only a few times, so I don't really know how well they'd perform after a year or two. But based on an overall inspection, I don't think that the stitching should start coming loose anytime soon. I tried ripping the stitches apart with my hands, and they held together really tightly.
Dimensions and Weight
In my opinion, the extra-large packing cube is slightly too large to be used for regular trips. For instance, for a two-week vacation, the three smaller cubes are more than enough for me. In my carry-on, all four pieces wouldn't even fit inside. With the three smaller cubes, there's only a little space left for a pair of shoes or a hoodie. Personally, I think that swapping the extra-large cube for two smaller ones would be more useful.
What I do like about the Shacke Pak packing cubes, is that they retain their shape when packed full. The rectangular shape is really good for using them in suitcases because no space is lost in the corners. All pieces fit together nicely, without any large, unused gaps.
They can also be used in backpacks, but, personally, I like to use compression cubes there. For instance, the Eagle Creek compression cubes, which I've reviewed in another article, work much better there.
In total, they weigh around 19 ounces (500 grams.) For packing cubes, that's actually quite heavy, but it's still nothing to get worried about. It's like adding in an extra pack of sweets in your carry-on, which doesn't make much difference anyway.
Zippers
Because these cubes are so affordable, I didn't expect any branded zippers on them, but it looks like they're using YKK zippers, which is essentially the toughest zipper brand out there.
The zippers feel quite rigid and unzip fairly easily. I tried zipping and unzipping them several times, and the fabric doesn't seem to get stuck in the fabric, which is great. Also, they've attached these string extensions through the pulleys, so they're really easy to use.
Handles
All four pieces also have additional handles on one of the sides. It looks like they're properly stitched to the frame from the inside, and they don't feel like coming loose anytime soon.
From a practicality standpoint, they're not that useful in suitcases, but they're useful in backpacks when you're trying to get the cubes out from the bottom of the bag. That said, they'd be more useful if they'd be attached on the narrower sides, not the wider ones, because you're usually stuffing packing cubes vertically in your backpack, and the side handles aren't useful when stored vertically.
How Much Stuff Can You Fit Inside?
Now let's check out how much stuff fits inside each packing cube.
In the extra-large packing cube, I was able to fit:
4 pairs of hoodies;
1 bulky autumn jacket.
In the large packing cube, I managed to squeeze in:
3 pairs of shorts;
3 pairs of long trousers/jeans.
In the Medium packing cube I was able to pack:
And in the smallest cube I managed to fi:
7 pairs of men's boxers;
7 pairs of socks;
1 pair of swimming shorts.
By the way, I didn't overpack anything. If you'd want to, you could easily fit more inside. But remember that if you overpack in packing cubes, it usually results in more wrinkles. Also, I didn't roll my clothes, which means that they could be packed more efficiently.
As you can see, for one person, that's a lot of stuff. For a regular, two-week vacation, the three smallest cubes are more than enough, unless you're an over-packer.
Comparing Shacke Pak With Other Packing Cubes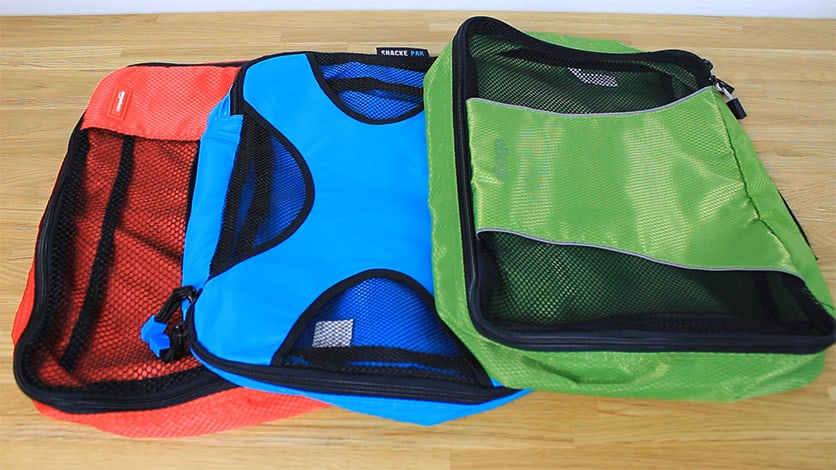 In the same price range, you can also find similar packing cube sets from other brands, such as Amazonbasics, Ebags, or from other Chinese manufacturers similar to Shacke Pak. I've used and tested some of them, and they all seem to be very similar, only with minor differences.
For instance, in the picture above, you can see how the Shacke Pack packing cubes compare Amazonbasics cubes on the left, and Ebags on the right.
The fabric on the Shacke Pak packing cubes seems to be the least flexible and feels more durable and puncture-resistant. The eBags packing cubes also come with YKK zippers, and out of all three, the Amazonbasics option feels the least durable.
But other than that, I wouldn't say that there are any major differences between all three. The only major difference is the price and popularity. Out of all three, the Shacke Pack is definitely the most popular option, and they also come with a laundry bag, which is really useful in my opinion.
Warranty
Supposedly, these packing cubes also come with a lifetime warranty. But personally, I wouldn't trust it too much. In order for the warranty to work, you have to register it on their website, which is essentially just a way for them to collect your email for a newsletter. The site is not secure, so I don't feel that comfortable entering my information there.
I checked out the reviews on Amazon, and I found a few people who said that they tried to contact their support, and got no responses. So yeah, they do come with a lifetime warranty, but because they're a Chinese Manufacturer, I wouldn't count on it actually working.
Value
All in all, I think that the Shacke Pak packing cubes are probably the best mid-range option. They're not the cheapest ones, but they definitely aren't expensive either. They seem to be very well made, and also come with an additional laundry bag, which is why I think they're a great option.
But truth be told, they're still very similar to the Amazonbasics and eBags versions, and the price difference is minimal, so it doesn't really matter that much which ones you get. It's more so a matter of preference.
Check Price on Amazon
Video Review
 
Subscribe to our Youtube channel for our latest videos.