Compared to suitcases, duffel bags are sometimes even better to use as carry-ons. They're much easier to pack into, they're lighter, and they're flexible, which means that even slightly oversized ones may fit in the overhead compartments.
In this article, we'll explain everything you need to know about using duffels as carry-ons. We'll cover the following topics:
Is it allowed to use duffel bags as carry-ons
Pros and cons of using duffels as carry-ons
Carry-on duffel weight and size restrictions
How to pack duffel carry-ons
Share the 4 best duffel carry-ons
Can You Use a Duffel Bag as a Carry On?
Yes, you can use a duffel bag as your carry-on. Furthermore, you can use duffels as carry-ons with any airline. Airlines don't really care what kind of a bag you're using, whether it's a duffel, backpack, suitcase, or even a shopping bag. The only thing they care about is whether your carry-on bag is within the carry-on size and weight restrictions. They worry about that because carry-ons need to fit in the overhead compartments on airplanes, and the space there is size-constrained. You can also use duffels as checked suitcases and underseat bags.
Size and Weight Restrictions for Duffel Carry-Ons
The size and weight restrictions for duffel carry-ons are identical to any other carry-on. Although the size restrictions are different for each airline, most carry-ons have to be under 22 x 14 x 9 inches (56 x 36 x 23 cm). When it comes to weight, some airlines have no weight restrictions to carry-ons and others between 15-25 lbs (7-11 kg), most commonly 22 lbs (10 kg).
Here are the size and weight restrictions for carry-ons on a few of the most popular airlines:
United Airlines: Under 22 x 14 x 9 inches (56 x 36 x 23 cm) / no weight limit
Delta Airlines: Under 22 x 14 x 9 inches (56 x 36 x 23 cm) / No weight limit
Southwest Airlines: Under 24 x 16 x 10 inches (56 x 36 x 23 cm) / No weight limit
Spirit Airlines: Under 22 x 18 x 10 inches (56 x 36 x 23 cm) / No weight limit
American Airlines: Under 22 x 14 x 9 inches (56 x 36 x 23 cm) / no weight limit
JetBlue: Under 22 x 14 x 9 inches (56 x 36 x 23 cm) / No weight limit
Note: Keep in mind that duffels are flexible, so one or two inches above this limit is usually fine, as long as you don't overpack it.
How Many Liters Should a Carry-on Duffel Be?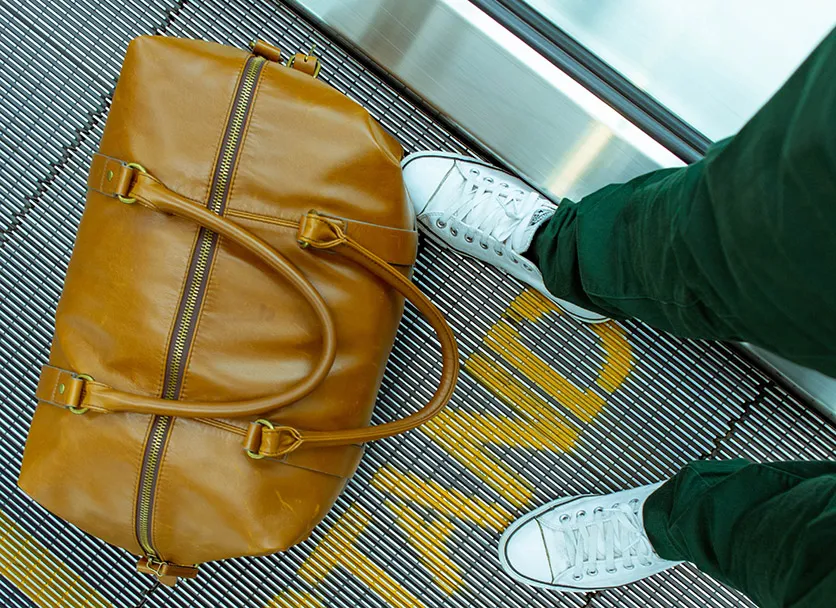 To understand how large a carry-on duffel should be, first let's calculate the largest possible volume in liters of any carry-on. If the carry-on would be perfectly rectangular-shaped and sized exactly at 22 x 14 x 9 inches (the largest possible carry-on within the size restrictions), it would be 2772 cubic inches or 45.42 liters in size.
This means that the largest carry-on duffels should be about 40-45 liters in size. Duffel bags usually are sized somewhat differently compared to suitcases, because the width and depth have to be pretty similar. So most commonly, you'll find carry-on duffels to be sized at about 22 x 12 x 10 inches, and they'll range between 35-45 liters in volume.
Read Next: 8 Best Convertible Garment Duffel Bags in 2022
How to Measure Duffel Carry-Ons
To measure a duffel, you first need to pack it full and then use a measuring tape to measure its dimensions. Here are the full steps on measuring duffel carry-ons:
Pack the duffel before measuring, because the size changes depending on how full it is.
Wrap a measuring tape fully around the narrowest end of the bag to measure its diameter.
Now divide this number by 2 to get the sum of width + depth. The end result should be below 23 inches (58 cm) to fit the carry-on size requirements.
Measure the longest size of the duffel to get its height. This number should be below 22 inches (56 cm) to fit the carry-on size requirements.
How to Pack Duffel Carry-Ons
In duffel carry-ons and carry-ons in general, you can't pack any dangerous goods that are banned on planes, such as explosives, firearms, objects resembling dangerous goods, and sharp objects. Also, all of your toiletries (any liquids, gels, and aerosols) must be in containers below 3.4 oz (100 ml) and all of them have to fit within a single, transparent, 1-quart-sized, sealable bag.
If you're also bringing checked luggage, as a rule of thumb, always pack your most needed items in your carry-on because checked luggage often gets lost or damaged. So keep your valuables, perfume, electronics, fragile items, medicine, and any items that you might need during the flight, in your carry-on duffel.
As for packing the duffel itself, remember that you'll have to remove some items (bag of toiletries, laptops, tablets, power banks, powders, and food) from the duffel when you go through security, so keep them on the top, where they're easily accessible. Also, avoid packing fragile items near the walls because the duffel might need to be squished in the overhead compartments to fit. To organize your clothing, you could use one or two packing cubes, which would reduce wrinkling. And lastly, remember not to overpack and measure your duffel when it's full to make sure that it's below the carry-on size restrictions.
Read Next: 8 Best Convertible Duffel Bag Backpacks in 2022
Which Ones Are the Best Carry-Ons – Duffels, Suitcases, or Backpacks?
You can use many different types of bags as carry-ons. Not only duffel bags, suitcases, and backpacks, but garment bags, briefcases, totes, and musical instrument cases as well. That said, most people choose to travel only with the three main ones – duffels, backpacks, and suitcases, and there are advantages to each one. So let's cover the pros and cons of each one.
Pros and Cons of Using Duffels
Duffels are super easy to pack into
They're much lighter than suitcases
They're usually more affordable than suitcases and backpacks
Duffels are flexible, which means that an inch or two above the limit is usually fine
They can only be carried by the handle or the shoulder strap, which means that they aren't good for trips where you need to carry them for long periods of time
Duffels offer pretty poor packing and organizing features
Due to soft outer fabrics, duffels don't offer much protection to the contents inside
Pros and Cons of Using Suitcases
Suitcases are the easiest to move around because they have wheels
They offer the best packing and organizing features
Due to the thick outer shell, suitcases offer good protection to the contents inside, especially hardside suitcases
Out of all three, suitcases are the most expensive
Suitcases are usually 2-3x heavier than similarly sized duffels and backpacks
They can be awkward to pick up for storing in the overhead compartments, especially for people with back problems
Even one inch above the size limit will cause issues and you might even be asked to check them in for additional fees
Pros and Cons of Using Backpacks
Backpacks are very easy to move around, but overpacked ones might cause shoulder pain when used extensively
Backpacks offer pretty good packing and organizing features
Slightly oversized backpacks will be fine because they have a flexible outer shell, which means that they can be squeezed into the overhead compartments
Backpacks are very lightweight
Due to soft fabrics, they offer little protection to the contents inside
Backpacks are usually less expensive than suitcases but more expensive than duffel bags
Best Carry-on Duffels
1. Best Overall Carry-on Duffel: Gonex Canvas Travel Duffel
The Gonex Travel duffel is one of the most popular duffel bags on Amazon and it's there for a reason. It's spacious, durable, and comes with plenty of packing features.
Although it's 0.8 inches over the width limit for most carry-ons (22 x 14 x 9), you won't have any problems using this duffel as your carry-on. The front and back pockets stick out, but because this bag is flexible enough, you'll be able to squeeze it inside the carry-on measuring boxes at airports.
What I really like about this duffel is that it's very spacious, offering about 40 l of storage room. And if you're running short on space, it's expandable in length, which increases the volume to 50l and the length to 24.4 inches (62 cm). It extends slightly above the carry-on limit, but it's really useful for occasions when I'm not traveling.
It's also a somewhat durable duffel because instead of polyester, they've used canvas as the main fabric, which is much more durable. Of course, it isn't made by a reputable brand and it's outsourced, which means you might experience a few quality issues, but overall, it's durable enough. Most people said that this duffel feels sturdy and well made.
In terms of storage, it has one large main compartment, which even fits laptops up to 15.6 inches, and several smaller pockets. It has one large pocket on each end, two smaller ones on the front, and a small pocket for passport and valuables on the back. Another important thing to mention is that this duffel comes with a shoulder strap, which is essential for any travel duffel.
The Gonex Travel duffel isn't offered only in grey – you'll also find it in green, blue, camouflage, brown, and light grey colors. It's targeted mainly at men but if you're fine with the rugged looks, it's also great for women. It's made in a classic, somewhat retro look, which looks really good.
2. Best Budget Carry-on Duffel: Dimayar Packable Travel Duffel
If you're looking for a budget duffel, you won't find a lot of cheaper options than the Dimayar Packable Travel duffel. Given the low price, I was skeptical of its durability at first, but it's surprisingly well-made. Of course, it won't last the abuse of frequent travel, but it's durable enough for occasional traveling, which most of us do anyway.
This duffel is great not just for traveling but for using as a gym duffel or a weekend-getaway bag as well. It's ridiculously lightweight and it packs down really small – you can fit it in the palm of your hand.
It's also very spacious, offering roughly 40 liters of packing capacity. Similar to most other duffels, it's also slightly oversized for the 22 x 14 x 9-inch carry-on size requirement, but it's very flexible, so you should be able to squeeze it inside the carry-on measuring boxes.
Although they say that this duffel is water-resistant, I wouldn't rely on that being true. The polyester fabric is coated with a water-resistant finish, which means that water won't instantly soak the fabric, but it will get wet and soak through eventually. Plus, this coating usually wears off pretty quickly.
As opposed to the Gonex duffel, this one isn't targeted just for men. It's offered in 14 different color options and overall, this duffel looks somewhat modern, instead of the classic, rugged look. And lastly, it's also worth mentioning that this duffel comes with a shoulder strap. It's held with plastic hardware, so don't expect it to last, but for occasional use, it's durable enough.
3. Best Rolling Carry-on Duffel: Travelpro Maxlite 5
This Travelpro Maxlite 5 duffel is a hybrid between a duffel and a rolling (inline) suitcase. On the bottom, on one end it comes with two rubber wheels and a retractable handle on the other, which allows you to use it as a rolling suitcase on smooth surfaces, and carry it by the top handle or the shoulder strap on other occasions.
Out of all the duffels mentioned on this list, the Travelpro Maxlite 5 is the most durable one. This also makes it a bit more expensive, but not by much. I've used Travelpro bags myself for a long time, and I'm very impressed with their quality. Travelpro is actually the go-to brand for frequent flyers and airline crews. They even offer a line of suitcases specifically designed for flight crews and they supply over 90 different airlines with their bags.
The only downsides to this duffel are that it's slightly too large for most airlines and that it's somewhat hard to keep straight when rolling. It's 10 inches in width instead of 9, but if you don't pack it full, you will be able to squeeze it inside the measuring boxes. That said, it will be a very tight fit because the construction is somewhat rigid. And when you roll this bag by holding it with the retractable handle, it has a tendency to incline to either side, which sometimes makes it fall to the side.
What I like about this duffel is that it's simple and spacious. It essentially has just one large main compartment with a zippered pocket inside, and two smaller pockets on the exterior. It also has a shoulder strap and another back-strap, which lets you secure this duffel on top of other suitcases, by wrapping the back-strap around the retractable handle.
As with all Travelpro bags, this one is also designed in the same minimal, classic look. It's also offered in blue and grey, and all three options look very professional.
4. Best Carry-on Duffel Backpack: Gonex 40l Heavy Duty
This Gonex duffel is a hybrid between a backpack and a duffel bag. It has two shoulder straps, with which you can carry this duffel on your back (like you would any typical backpack). The two shoulder straps can also be held together to use as a regular duffel bag and tucked away in a dedicated compartment when not needed.
The Gonex duffel is made as a cheaper alternative to branded duffel backpacks from better-known brands, such as Osprey, Patagonia, and Thule. It costs roughly half (or even less) of what you'd pay for a branded one, so obviously, it isn't as durable. But honestly, I'm surprised by how durable it is. It's durable enough for occasional use and even light frequent travel.
It's made from a thick, 1200D fabric, which is very good at resisting water. That said, it isn't waterproof because the zippers and seams aren't sealed. Although the fabric is pretty thick, this duffel can also be folded and packed into a smaller size when not in use.
As with most other duffels, this one is also slightly too large to use as a carry-on, but because it's so flexible, you won't have any issues as long as you don't overpack. It offers 40 l of packing space with one spacious main compartment, two smaller exterior pockets, and a shoe compartment at the bottom.
In terms of design, it's targeted at adventure travelers, both men, and women. It's offered in four different colors – black, blue, green, and orange. Personally, I love the classic black, but other options also look really good.
Final Words
You can use duffel bags as carry-ons but they have to be within 22 x 14 x 9 inches (56 x 36 x 23 cm). Sometimes, using duffels is even better than using suitcases because they're more spacious (usually 40-45 liters in volume), they're flexible, so it doesn't matter if they're an inch or two above the limits, and they're incredibly lightweight, usually weighing half of a similarly-sized suitcase. Duffel bags make up for great carry-ons, which is why a lot of people use them instead of suitcases.
Also read: Airplane carry-on restrictions