It can be challenging to keep your hair under control on a vacation. First of all, if you're traveling only with a carry-on, you have limited space, so there's not much room left for hair styling tools and products. In addition to that, you also have to follow the TSA rules. If you go unprepared, the security could confiscate some of your items, which would make your trip much harder than it needs to be.
But don't worry, because here we'll explain which hair styling tools and products are allowed on planes. In this article, we'll cover the TSA rules for hair dryers, curling irons, hair straighteners, cordless butane curling irons and hair straighteners, hot rollers, hot-air brushes, hot combs, hairspray, hair gel, combs/brushes, and bobby pins. We'll also tell you whether your tools will work in Europe as well as internationally. Finally, we'll discuss which hair styling tools are the best for traveling.
Can You Bring a Curling Iron on a Plane?
According to the TSA, you can bring curling irons with a cord in checked luggage and in hand luggage. There are no restrictions, so you can bring any brand and any type, as long as it has a cord. Just like hair dryers, remember that you might have to pack your curling iron inside your luggage while it's still hot, so bring an extra towel to wrap it up. You could also purchase a heat-resistant pouch.
If you have an event during your trip and you need to get your hair done, you don't have any other options except to bring a curling iron with you. Hotels don't have these available in the bathrooms, just hair dryers. If your current curling iron is bulky, make sure to check out our recommendation for the best curling iron to use while traveling. In fact, it's a curling iron combined with a hair straightener, which would save you a lot of space when you need both!
Best Travel Curling Iron (from our research): AmoVee Mini Curling Iron/Hair Straightener
Can You Bring a Hair Straightener (Flat Iron) on a Plane?
According to the TSA, you're allowed to bring hair straighteners with cords in checked luggage and hand luggage. There aren't any additional terms, so you can bring any type and any brand, as long as it has a cord. We'll cover butane-powered cordless hair straighteners further down in the article.
Editor's Note: Make sure to also read the last section in this post to make sure that your hair straighter, hair dryer, and curling iron will work in other countries because more often than not, they won't work at all.
Best Travel Hair Straightener (from our research):AmoVee Mini Curling Iron/Hair Straightener
Can You Bring a Hair Dryer (Blow Dryer) on a Plane?
According to the TSA, you can bring hair dryers in your hand luggage as well as checked luggage. You're allowed to bring any brand and any model, and you can bring unlimited quantities because there aren't any limitations. TSA only limits hazardous items which can ignite, combust, or could be used as weapons. Hair dryers can become unsafe when plugged into the grid but when they aren't plugged in, nothing can happen. They're just filled with a bunch of plastics, wires, and electronic components, which are perfectly safe.
When packing a hair dryer, keep in mind that you might be using it right before your check-out. Most likely, you'll have to put it in your luggage while it's still hot. So bring a spare towel, or make sure that you have a large hoodie or something to wrap it in so that it doesn't damage other items.
Should You Pack a Hair Dryer For Your Vacation?
Even if you're allowed to bring a hair dryer on a plane, it's not always the best choice to do so. Here's a rule of thumb that we recommend you to follow: If you're staying in good, expensive hotels, don't bring a hair dryer. Most of the time, they'll have good hair dryers available for their guests. If not, you can always ask at the reception.
But if you're staying in hostels, apartments, or cheaper hotels, you should consider bringing a hair dryer. Our staff member recounted a previous vacation in which she booked a last-minute, cheap hostel in Barcelona, Spain. It was pretty expensive anyway because she booked so late. There were hair dryers in the bathroom, but they were so bad that it took her 20 minutes to fully blow-dry her hair!
Can You Use a Hair Dryer on a Plane?
No, you can't. We found quite a few people who were asking that on Google, and we were kind of surprised that anyone would even think to do that. You're definitely not washing your hair on an airplane, right? Anyway, don't use your hair dryer on a plane, even if there are sockets available. In addition to annoying others, you'll also alert the crew members, and you could get detained.
Best Travel Hair Dryer (from our research): Conair 1600 Watt Compact Hair Dryer on Amazon
Can You Bring Cordless Butane Curling Irons and Cordless Butane Hair Straighteners on a Plane?
According to the TSA, Butane-powered, gas-powered curling irons, and hair straighteners are allowed in hand luggage but are prohibited in checked luggage. Butane and gas are both highly flammable, which is why there are additional restrictions for bringing butane-powered tools in your hand luggage. Each passenger can bring only one butane or gas-powered tool, so you can't pack a butane curling iron and a butane hair straightener in the same suitcase. Also, no additional cartridges are allowed, so be sure to keep all of your refills at home.
Additionally, your butane-powered hair styling tools have to be safely packed, so that they don't accidentally turn on while they're inside of your bag. TSA states that a safety cover must be fitted over the heating element, which means that it should be put inside the box it came in, or at least inside of a heat-resistant pouch.
Here's the full statement from TSA:
Cordless curling irons containing a gas cartridge and butane fueled curling irons are allowed in carry-on bags only.

A safety cover must be fitted securely over the heating element. The device must be protected from accidental activation.

Gas refills (spare cartridges) are not allowed in either checked or carry-on bags.
What About other Hair Styling Products?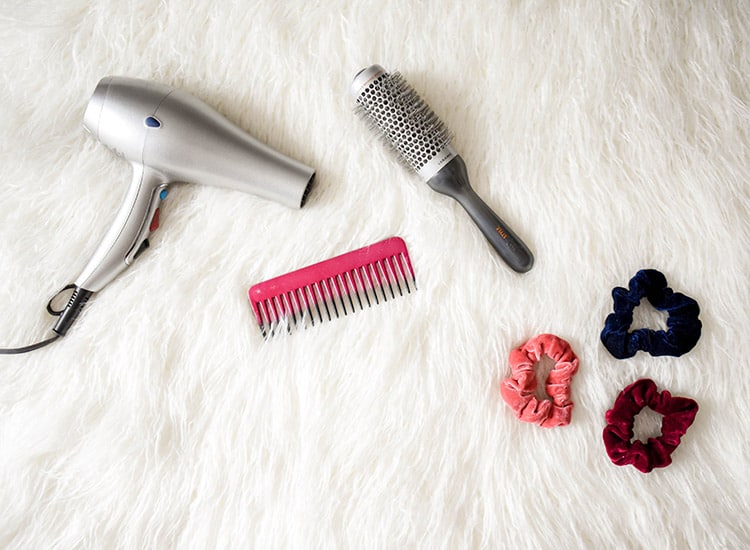 Electric Hair Rollers (Hot Rollers)
Electric hair rollers, or hot rollers, are allowed on planes in hand luggage and checked luggage. As long as they come with a cord and are powered by electricity, they're safe to pack in your luggage. There aren't any additional limits so you can bring as many as you want, any type, and any brand. TSA doesn't specifically mention hot rollers in their prohibited items list, so as long as they aren't powered by butane, gas, or lithium batteries, you can bring them on board.
Electric Hot-Air Brushes
Hot-air brushes that are powered by electricity and have a cord are allowed on planes in hand luggage and checked luggage. While these brushes aren't specifically mentioned by the TSA, as long they're cordless, they should be allowed on planes. Butane or gas-powered, cordless hot-air brushes have the same limits as other butane-powered tools. For more info, check the section above about butane-powered tools.
Electric Hot Combs
Electric Hot combs are treated identically to electric hair straighteners. If they have a wire, you can bring them on planes without any limitations. Butane/gas hot combs are allowed only in carry-ons, no refill cartridges are allowed, and the heating element must be safely secured.
Hairspray
According to the TSA, hairspray is allowed in hand baggage but must be in containers smaller than 3.4 oz (100 ml) and has to be stored together with your other toiletries in a transparent, quart-sized, ziplock bag. Hairspray in checked baggage can't exceed 68 oz (2 l) in total, and each container can't exceed 18 oz (530 ml) in size.
Aerosol cans, such as hairspray won't explode in planes under normal conditions. The cargo area of the plane is pressurized, which means that aerosols are exposed to almost identical conditions to what they would normally. They'll explode only once the pressure inside the hairspray goes above a certain level. This could happen due to heat, which would cause the aerosol to expand, or due to other external physical factors, such as someone crushing the can. None of these things are likely to occur on airplanes.
Hair Gel
According to the TSA, Hair gel is allowed both in checked baggage and hand baggage. If stored in hand luggage, hair gel must follow the TSA 3-1-1 rule, which is 3.4 oz bottles, 1 quart-sized bag, 1 bag for each passenger.
Combs and Brushes
Generally, you can bring combs and brushes, as long as they don't have a sharp end and are made out of plastic. For instance, rat tail combs often have a sharp end that's made out of metal. TSA would most likely confiscate those, so if you're bringing a rat tail comb, make sure that it's all plastic.
Bobby Pins
According to the TSA, bobby pins are perfectly fine in checked luggage and hand luggage. That said, you should remember to remove them from your hair when you're headed into security because they might cause the alarm to go off as you pass through.
Tip: Don't Bring Your Most Expensive Hair Styling Tools
It's best to keep your most expensive styling tools at home. Not only can they get lost or damaged, but the TSA agents are also allowed to toss them out. If they deem them unsafe for travel, they're well within their rights to confiscate the item. You can try to talk to the agent about it but, in the end, the final word is up to the security agent. Even if the item is listed as allowed in TSA's rules, you might still lose it if that particular agent decides to take it. It might be a good idea to invest in tools that you only use while you're traveling and just keep them inside of your luggage.
Will Your Hair Dryer, Curling Iron, and Hair Straightener Work in Europe And Other Countries?
Whenever you're traveling with electronics internationally, you should double-check that they'll work there. There are two factors that you should check. First, you should make sure that your hair dryer, curling iron, and hair straightener all have the same voltage as your destination. The U.S. voltage grid runs on a 110V and EU on 220V. Plugging a 110V device in a 220V socket will make it fry in seconds.
You should make sure that all of your devices are dual-voltage. If you look at your device, usually on the back or on the cord, you will find all of the voltage information. Make sure that it says something along the lines of 100-240V or 110V-220V, which means that it's dual-voltage.
If your device works only on 110V, then you shouldn't bring it to Europe or you could purchase a voltage adapter, which essentially converts 220V voltage to 110V.
The second factor that you should check is what type of outlets your destination country has. Electricity sockets are different across the world – even in Europe, there are at least three different socket types. Make sure that you bring an appropriate adapter. New York Times Wirecutter took the time to rate several different adapters. They found that the EPICKA Universal Travel Adapter was the best choice. This adapter works everywhere in the world and is pretty cheap, so it's a smart thing to invest in if you're traveling internationally!
What about Individual Airlines and Other Airline Regulators?
TSA is only a single regulator that covers flights within the USA. In addition to TSA, each individual airline or airline regulator could set their own rules for hair styling tools. We researched the most popular airline regulators (FAA, IATA, CTA, and others) and the rules for various airlines, and we didn't find any additional rules in regards to hair styling tools. This means that everything written in this article can be applied to international travel as well, not just within the US.
Final Words
To sum it up, you don't have to worry about bringing regular hair dryers, curling irons, hair straighteners, and other tools that are powered by electricity as long as they have a cord. The problems start once you start using butane and gas-powered tools, which have quite a few limitations. You should also avoid bringing any rat-tail-style combs with sharp metal ends.
If you're planning on bringing hairspray, make sure to read the TSA limitations first and follow the TSA's 3-1-1 rule for packing liquids. Before leaving, remember to double-check that your electronics are capable of double-voltage, and to bring appropriate travel adapters when traveling internationally. Also, consider leaving your expensive tools behind just in case a security agent decides to confiscate it. Having travel-specific hair styling tools will save you from a lot of headaches in the future!
Other Frequently Asked Questions
We get questions about bringing stuff on planes all the time. So we've written a lot of other guides, where we answer the most commonly asked questions.
You can check them out over here: