If you're looking for a check-in suitcase that offers a luxury feel and innovative features, the Delsey Paris Chatelet 28-inch checked suitcase is perfect for you. The Chatelet offers a classic, yet modern design with supporting elements for durability.
Since Delsey Paris sits among the top baggage brands in the world, it comes with a premium price tag, so you'll want to be certain you're getting the best value for money with your purchase. We've explored some of the key features, including materials, dimensions, moveability, and more to help solidify your choice.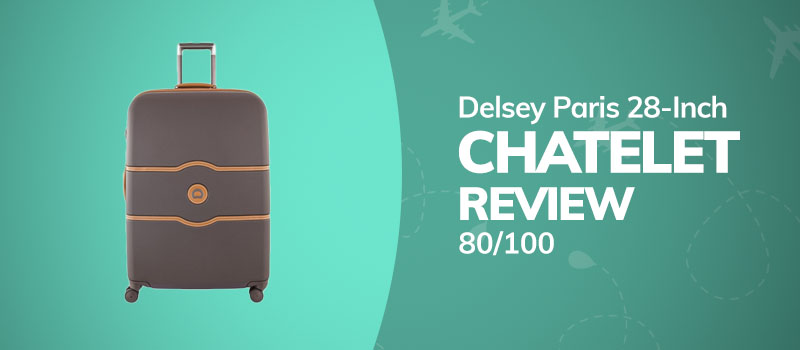 The Good
The reinforced corners on a strong, polycarbonate shell provide next-level durability
Well-received by travelers, with mostly only positive reviews
The smart compartments are well-designed for optimal packing
Faux-leather accents and a quality, odor-controlled interior exude elegance and class
The Bad
When not on sale, is far more expensive than similar suitcases offered by competing brands like Samsonite
The warranty extends only to manufacturing defects, so no claims against wear-and-tear or accidental damage are covered
Delsey's after-sales customer service has not been too well-reviewed by travelers
Quick Take
The Delsey Paris Chatelet may not be the strongest suitcase on the market, but it certainly offers a decent level of durability for its classic style and luxurious finishes. It's ideal if you're someone who wants to look and feel their best while traveling, yet remain confident that your belongings are secure and well-protected.
The price of the suitcase may seem a little high when compared to competitors' products with similar specs, however, the Chatelet does have its merits. With nifty features, like a tracking plate and interior bags, this gorgeous piece of luggage takes its premium value to the next level.
Full Review
Dimensions & Weight (6/10)
This model comes in slightly larger than the desired airline size requirements, being 30 x 20.75 x 12.75 inches (76.2 x 52.7 x 32.4 cm) and totaling 63.5 linear inches. Although most airlines prefer checked baggage to remain under 62 linear inches, the difference is unlikely to be noticeable enough to warrant a closer look, and the wheels are not usually included in the measurement taken by ground staff.
The 28-inch Chatelet weighs 11.1 lbs (5kg) when empty, which is a bit over the average weight of hardside suitcases in this size category (10.93 lbs). That said, it's only a little bit over the average weight and the weight restrictions for checked luggage are usually very forgiving – 50 or 70 lbs, depending on the airline.
Materials & Water-Resistance (13/15)
The Chatelet is made from virgin polycarbonate, which is the most popular material used in high-end suitcases since its flexibility makes it resistant to cracks and impact. However, it is also quite expensive, which ultimately contributes to the price of the luggage.
The materials used in this piece not only make it almost completely waterproof but resistant to extreme temperatures too. Apart from the strength offered by the polycarbonate shell, any embellishments made of faux leather are also unlikely to become tarnished by the elements, preserving the new look of your suitcase for as long as possible.
The interior lining is coated using SILVADUR technology, which involves utilizing charged silver ions to provide odor control. This also prevents the growth of microbes like bacteria, viruses, and mold that cause contamination – a handy feature during a pandemic.
Durability (17/20)
Although the majority of people who bought this product were completely happy with their purchase, there have been complaints about durability issues and the lack of customer service received when contacting Delsey support – yet the warranty is quite clear on what is covered and what isn't.
The most common complaint was that the exterior shell scratches quite easily and, especially with lighter colors, begins to look run-down after just a few uses. However, some customers have been able to remedy this issue by making use of a magic eraser or other suitable detergents. It may also be worthwhile to consider purchasing a luggage cover or opt for a darker shade if you'd like to preserve the aesthetic appearance of the suitcase for as long as possible.
The zipper is a specially-designed SECURITECH® 2 zip, and although most buyers were happy with the additional security it provides, there has been mention of the zipper tearing away from the fabric of the inner lining. It's possible, however, that this experience comes from overloading the suitcase, so this feedback should definitely be taken with a grain of salt.
Even though it is a notably strong material, it would be impossible for the polycarbonate shell to withstand breakage altogether, so while some customers have complained of cracks, thousands more have praised the strength and quality of the luggage and commented on how well made the Chatelet is.
Moveability (14/15)
This suitcase is fitted with four double-spinner wheels, which are a top-of-the-range option for smooth and silent rolling. The double-spinner design offers better rotation, making it easy to maneuver your Chatelet in various settings. Rolling on flat surfaces is a breeze, and there's very little resistance on rough terrain or carpet.
While there have been complaints about other components manufactured by Delsey, there has been no mention from customers of wheels seizing or breaking, which really speaks to the strength of the mechanism.
The no-brake model of the suitcase is slightly lighter, but opting for the braked version gives you the added benefit of preventing your luggage from rolling away if you're standing on an incline. For lifting up the Chatelet to overhead compartments, you'll be able to carry it using the ergonomically-designed faux-leather or trolley handles fitted on the top or side of the suitcase.
Additional Features (8/10)
Being a high-quality premium brand, it's important that the Delsey Paris Chatelet offers a little more than the standard features you can expect in a check-in suitcase. Here are a few ways the brand stands out:
Security
It's clear that security is a high priority for Delsey since they've gone above and beyond to reinforce an already-impressive TSA-approved lock. The standard feature lock allows you to secure the zip with a code while still allowing it to be unlocked by TSA agents with a special key that prevents unnecessary damage to the mechanism. The ​​SECURITECH® 2 zip also offers additional resistance to intrusion and, when combined with ultra-strong pullers, it becomes extremely unlikely that anyone will be illegally prying into the contents of your luggage.
Luxurious Interior
Of all the positive reviews on this product, the aspect that has been commented on the most has undoubtedly been the soft, deluxe feel on the interior fabric. The suitcase opens into two separate zippable compartments, both featuring mesh pockets on top for easy access to smaller items. A removable hanger and two laundry/shoe bags are added bonuses that make organization simple and convenient. The tie-down straps ensure that your clothes remain neat and secure throughout your journey.
Tracking Plate
Each Delsey unit is fitted with a tracking plate that can be registered on the website. This becomes super useful if the airline loses your luggage or if it gets stolen during your journey. All you'll need to do is make sure that it's been activated before your trip starts.
Design (10/10)
One of the Chatelet's top-notch features is its aesthetic appeal. The faux leather trims soften the harshness of a hardshell exterior, creating an opulent piece of luggage that gives you an air of confidence as you walk through the airport.
The design is well-suited for both business and leisure travel, with a variety of colors and patterns to choose from. The most popular choice has been the angora, which is a cream color that tends to dirty or scuff very easily. Most customers express regret over this color choice, so if you'd like to avoid unnecessary cleaning, or simply want to opt for a more professional look, the brown, navy, and black versions of the suitcase offer the same beautiful design without the hassle of dealing with obvious blemishes to the exterior.
The interior of the Chatelet is lined with a luxurious peach touch fabric that oozes elegance and class. If you're looking for grandeur, you won't go wrong with Delsey Paris.
Warranty (6/10)
The 10-year warranty offered by Delsey might not be as comprehensive as some of their competitors, but there's no doubt that if there's an issue with the suitcase caused by defective manufacturing, they've got you covered.
If your complaint falls within 30 days of purchase, you're in luck. Delsey will cover the full cost of shipping to and from their nearest dealer, as well as the cost of the repair if your claim is valid. Once this time frame has passed, however, you'll be liable for shipping costs to the repair center regardless of whether there is a manufacturing fault involved or not.
After the suitcase has been assessed, Delsey will either accept blame and repair or replace the suitcase, or else offer to repair it at your cost, or ship it back to you for free. The customer support agents will not accept any liability for damage caused by wear and tear, airline negligence, or accidental breakage, so it wouldn't be advisable to pay for shipping to the repair center if you're fully aware that the fault occurred in one of these ways.
Value (6/10)
Unless you catch it on sale, the Delsey Paris Chatelet is by no means cheap, however, it seems to have wowed customers and, in many ways, exceeded their expectations. The suitcase may not be as expensive or high-end as a brand like Louis Vuitton, but it affords customers a semblance of luxury and quality that can take a vacation to the next level.
If you aren't one of the unlucky few who've encountered cracks and breaks caused by rough baggage handling, it's more than likely that your Chatelet will last you a good few years. For the added convenience of a built-in tracker, secure locking mechanism, and easy-to-organize interior, it certainly is worth lavishing a few extra bucks on.
How Does Delsey Paris Chatelet 28-Inch Checked Suitcase Compare to Similar Suitcases?
If you're trying to decide between the Chatelet and any other Delsey product, you're going to be spoilt for choice, since the aesthetic design and luxurious feel come stock-standard with this brand.
The St. Tropez is a suitcase offered by Delsey Paris that appears to incorporate a very similar style and elegant design to that of the Chatelet. While the interior may not be as luxurious, this piece is far more lightweight and expandable, with the same security features available too. It's more or less the same price, so deciding between the two will most likely come down to your personal preference.
On the other hand, when compared to products offered by competitors, such as Samsonite's Omni PC, the Chatelet's durability pales in comparison. The Omni PC is made from identical materials and shares similar durability, only costs much less. Delsey Paris certainly does, however, offer a level of chic that starkly contrasts the bright, rigid feel of Samsonite's suitcases. It also includes far better additional features, which can be expected with the difference in price.
Our Verdict
There's a reason why Delsey Paris is the third most popular brand for luggage worldwide. The Chatelet offers style, security, and durability all in one, with a few extra fine touches that take its value to the next level.
The Chatelet provides excellent mobility features for easy transport through the airport and allows you to travel without fear of your luggage being lost by the airline. Although the Chatelet may not be as cheap as some of its counterparts, it may be a worthy investment if you're looking for a model that offers luxury, longevity, and practicality.