If you're new to traveling, you should learn the basics of checked luggage, so you could efficiently use up all of the space and become a smarter traveler. We have a more in-depth guide on luggage sizes over here but in this article, we'll talk only about checked luggage.
In this article, we'll cover the size and weight restrictions for checked luggage, how to measure checked luggage, what size checked luggage is oversized and overweight, what are the fees for oversized and overweight luggage, and talk about the most common checked luggage sizes – 28, 29, 30, 31, and 32 inches.
What Are the Size and Weight Restrictions for Checked Luggage?
Most airlines will allow passengers to have one or two checked bags within 62 linear inches and 50-70 pounds. These limits are set by airline regulators, and they're there to keep the baggage handlers from working with too heavy or oversized bags.
If your bags are beyond the required limits, you don't need to worry. You'll still be able to take your oversized or overweight bag with you but you'll have to pay an additional fee. This fee can be quite expensive though – ranging between 100-300$ per bag.
The restrictions are different for each airline. The more expensive ones will allow more checked bags for free, with more sensible size and weight restrictions. Budget airlines, on the other hand, usually have stricter rules for checked luggage. Before you fly, and even as you are in the planning stages of your trip, it's best to check with the airlines to avoid paying extra fees.
Tip: If you need to maximize the amount of space that you can use in a checked suitcase, get one that's just below 62 linear inches. Some solid options are the Travelpro Bold 28-Inch (full review), which is 59.5 linear inches, the Samsonite Freeform 24-Inch checked suitcase, which is 61 linear inches, and the Pelican Air 1615 checked case, which is exactly 62 linear inches in size.
Instead of Height, Measure Linear Inches (Height + Width + Depth)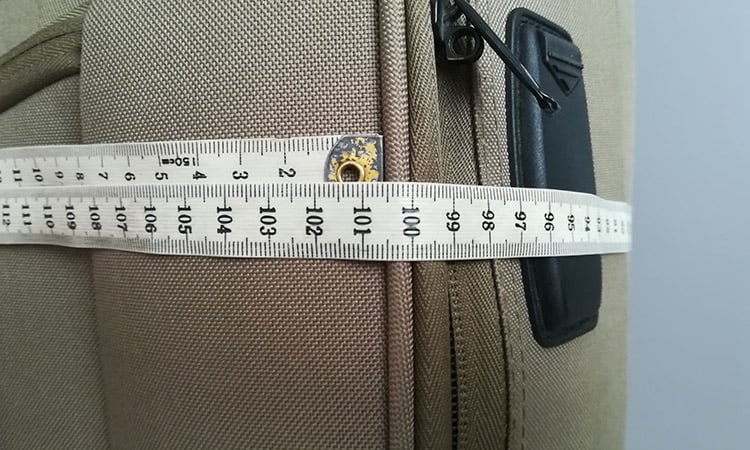 When travelers search for checked bags to buy, the easiest mistake they often make is measuring just the height. That's why it's easy to think that bags anywhere between 28 to 32 inches can serve as checked luggage, only to find that some of them are bigger than expected. As a result, some travelers who buy larger luggage end up paying excess baggage fees.
Airlines measure checked luggage in linear inches, meaning the total dimensions of the whole luggage, wheels, and handle included. When you are searching for a bag or you're in a travel shop and checking the various sizes of the bags there, don't just ask for the dimensions of the height. Ask for the height (top to bottom), the width (side to side), and the depth (front to back), and make sure that the total sum is below 62 linear inches.
Don't forget to include the wheels, soft handles, and even retractable handles as well. You should always measure each dimension in the widest point, not the narrowest.
Since most airlines require a linear measurement of 62 inches, bags that go beyond this will most likely be subject to additional fees. Even if some airlines may allow a few more inches, it's better to get checked luggage that is 62 inches or under so you can use them across all airlines.
Read next: Can Checked Luggage Fly Without a Passenger?
Is 28, 29, 30, 31, or 32-Inch Luggage Generally Considered Oversized?
While 28, 29, 30, 31, and 32-inch luggage has more or less the same dimensions, some of them are over the 62 linear-inch checked luggage limit and some aren't. Generally, all 32, 31, and 30-inch, most 29-inch, and about half of 28-inch checked luggage is considered oversized, or over the 62-inch limit.
At first glance, most 28 and 29-inch suitcases seem just below the 62-inch limit – they usually range between 60-62 inches. However, most of the time, the manufacturer hasn't included the wheels and handles, which should always be included in the measurements. So before getting a 28 or 29-inch suitcase, make sure to read the fine print and look for the "overall dimensions" with wheels and handles included.
Read Next: What if Your Carry-on Is 1 Inch Too Big?
What's the Largest Luggage Size for Check-In?
All checked suitcases need to be below 62 linear inches in size (height + width + depth). If you're looking for a checked suitcase that isn't oversized, look for 25, 26, or 27-inch checked luggage. Most of these will be just below the 62-inch limit, which is just what you're looking for if you want to efficiently use up the space in your checked suitcase.
Of course, some 28 or even 29-inch options might also be within the right size but from our own research (we checked the dimensions for about 50 popular checked suitcases,) most of them were oversized with wheels and handles included in the measurements.
A really good option for maximizing the total amount of packing space is Pelican Cases. They're pretty expensive but they're made just within the size restrictions and they're extremely durable. Pelican cases are usually used by crews who need to protect their filming, sporting, or any other gear when traveling. For instance, the Pelican Air 1615 checked case is 32.58 x 18.4 x 11.02 inches in size, which ends up being exactly 62 linear inches in total.
Read Next: 8 Best 62-Inch Checked Suitcases in 2022
How Strict Are Airlines About Checked Luggage Size in Reality?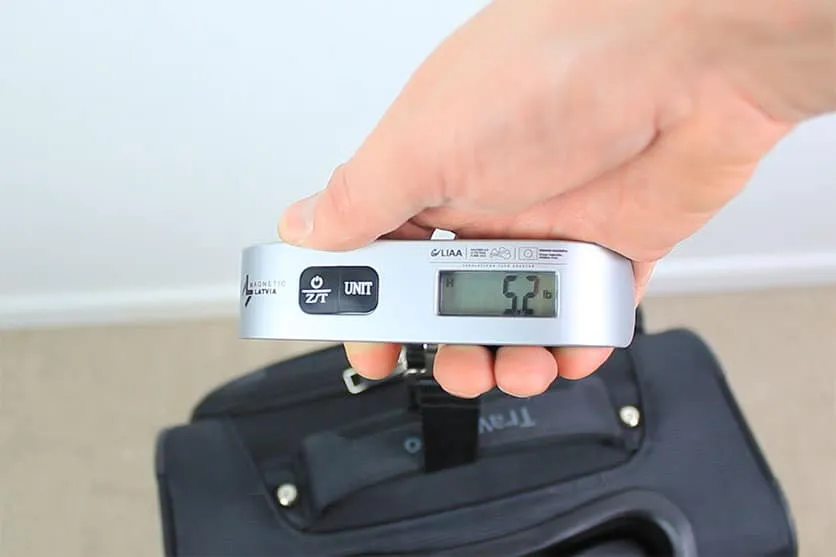 Some airlines are really strict about checked baggage size, while others are looser and will let you through even if your checked luggage is a bit heavier or a bit bigger than required. Usually, airlines that operate international flights tend to be stricter in terms of baggage size and weight than domestic airlines. Also, more expensive airlines usually won't care as much compared to budget airlines, who want to cash in every penny they can.
Generally though, if the suitcase itself is below the 62-inch limit, and only the wheels go slightly above, airlines will still let you check it in. That's because checked luggage is put in the cargo hold, which is essentially a large storage unit, and a few inches don't change anything in the big picture. For carry-ons and personal items, the rules are enforced much stricter because they have to fit within the tight overhead compartments or under the airline seats.
Read next: 12 Benefits of Online Check-In
Can You Bring Oversized or Overweight Checked Luggage?
If checked luggage is over 62 linear inches or over 70 pounds, most airlines will let you bring it anyway. However, you'll have to pay the oversized or overweight luggage fees, which can get fairly expensive. This luggage will be labeled oversized or overweight and because of this, it will be loaded by more baggage handlers to protect them from any health-related problems.
That said, there are size and weight limits even for oversized and overweight checked luggage, and they're different for each airline. For instance, for American Airlines, it's 100 lbs for overweight luggage and 126 linear inches for oversized luggage. They won't allow you to bring anything over that.
Some items are treated differently than normal checked luggage, such as:
Bikes
Sporting goods and equipment
Musical instruments
Mobility aids (wheelchairs)
Assistive devices (travel oxygen, walkers, crutches, etc.)
Items for babies and young children (strollers, infant car seat)
These items will most likely be either allowed for free (mobility aids, assistive devices, strollers) or the overweight and oversize luggage fees will be much smaller (bikes, musical instruments, sporting goods). You'll have to inquire each airline about them individually.
Tip: If you're bringing special equipment that's expensive and needs to be protected, consider getting a Pelican case, which is a well-known checked suitcase (or rather, a trunk) brand that's basically indestructible.
What Are the Fees for Oversized and Overweight Checked Luggage?
The fees for overweight luggage vary between airlines and usually, they're about 100$-300$ per bag. For instance, for American Airlines, they are as follows: 100$ for any bags between 50-70 lbs, 200$ for 70-100 lbs luggage on flights in the US, South America, Canada, Mexico, Caribbean, and Puerto Rico, and 450$ for 70-100 lbs luggage on flights to China, Japan, South Korea, and New Zealand.
Similar to overweight fees, the oversized fees also vary between different airlines but usually, they're about 100-200$ per bag. For instance, for American Airlines, they range between 150-200$, depending on the flight destination.
How Many Checked Bags Are You Allowed to Bring?
On most international flights, you'll be allowed to bring one or two checked bags for free. On domestic flights, you'll get one or two free bags on more expensive airlines, and usually none for budget airlines.
Additional checked bags over this limit will have to be paid for with additional fees for each checked bag. And usually, the fees increase by the total bag count. They might start with 30-50$ for the first bag and cost upwards of 100-200$ per bag for the second, third, and fourth bag. If you're flying as a family or together with friends, a good idea would be to split all of the bags evenly for each person, which would result in lower checked baggage fees.
Usually, you're allowed to bring a maximum of 10 checked bags per passenger. On some destinations, the total count might be lower due to country-specific restrictions, such as 2-7 bags.
Final Words
When shopping for a new checked suitcase, it's really important to nail the correct size. Otherwise, you'll end up paying oversized luggage fees down the line, which often can be higher than the cost of the suitcase itself.
So always remember to get a suitcase below 62 linear inches and make sure that the wheels and handles are included in these measurements. Most 32, 31, 30, 29-inch and about half of 28-inch bags will be over this limit. Usually, 25, 26, and 27-inch suitcases are just one or two inches below 62 linear inches, which is what you're looking for.