Luggage tags play an important role in finding lost luggage. They're one of the most important accessories to have when it comes to traveling.
You see, when luggage gets misplaced, it's usually because the plastic label that identifies your suitcase somehow gets torn off. This can happen quite easily during transit between different airports. The barcode on the label contains who the suitcase belongs to, where it's supposed to be, and other important information. If that label is removed from the luggage, the airlines can no longer identify who it belongs to or where it needs to go.
That's why it's important to attach a separate luggage tag with all the necessary information to ensure that your luggage gets to where it belongs. At the same time, you don't want to reveal too much personal information in case your suitcase gets stolen. In this guide, we'll tell you exactly what you should write on luggage tags and what you should avoid writing down.
What to Write on Luggage Tags for Checked and Carry-On Luggage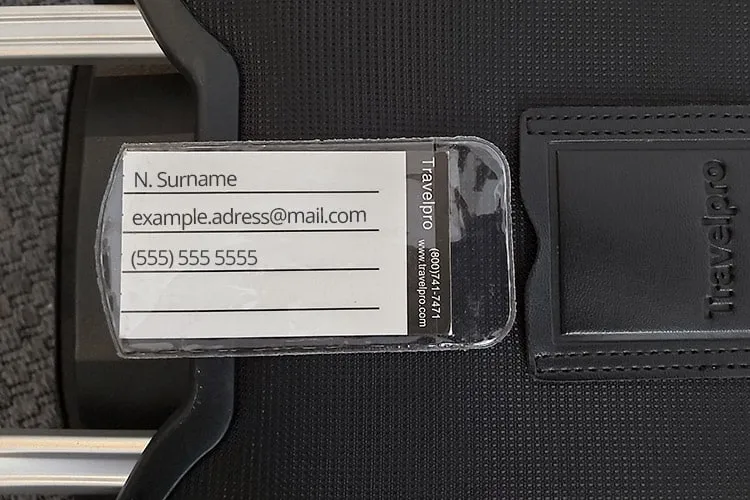 For checked and carry-on luggage, your luggage tag should contain the following information:
Your name and surname, with your first name shortened to one letter.
Your e-mail address should be on the next line. Use a secondary e-mail address to avoid phishing attempts in case your bag gets lost.
Your mobile phone number with the proper country and area code.
In the above picture, we've shown an example of what you should write on your luggage tag. As you can see, we purposely have only included the most essential information to get in contact with you. Since the luggage tag is attached to the exterior of your bag, you need to be careful of what information you're sharing.
You may be thinking, "What's the point of luggage tags on carry-on luggage?" The reason might surprise you! Quite often, cheaper airlines will overbook flights and allow too many carry-on bags on a plane. Naturally, the overhead compartments won't be able to fit everything that passengers are bringing onto the plane.
In those cases, the airlines will ask some passengers to check in their carry-on bags, free of charge. And, if it gets checked in, it could potentially get lost. Also, you could forget your carry-on in the back of a taxicab or at a hotel, so having tags to identify your bags is a great way to avoid possible complications.
What to Write on Luggage Tags for Your Child's Luggage
On your child's luggage tags, you should avoid writing their names for security reasons. Instead, write your own name and contact details, and add a mobile phone number just in case. It's important to protect your children's identity!
Also, you should include more than one luggage tag. For instance, if your child has a backpack and a suitcase, it's a good idea to put one tag in the suitcase, one in the backpack, and one in their pocket. This will help you to be reunited with your child in case you get separated.
Should You Use Luggage Tags?
You should consider attaching tags to your items anytime someone else is going to be handling your luggage. You can easily avoid having misplaced baggage if you attach a well-made and durable tag to your bags. Also, providing this kind of information might help ensure that someone else doesn't steal your luggage from the airport.
luggage tag come in plenty of different colors so you can choose one that will make your bags easy to spot from the baggage claim area. You can't deny how much more efficient flying is by having luggage tags! All things considered, tags are an inexpensive way to give you some peace of mind while you're traveling.
Tip: Never Put Your Home Address on a Luggage Tag
A lot of travelers write their home address and home phone number on their luggage tags. It's not a great idea to do that because you never know who is looking for other people's information. Theft of personal items or even your identity begins when we aren't careful with what information we put out into the world.
This kind of information is exactly what thieves want. Robbing an empty house while the owners are on a vacation is as easy as taking candy from a child. Since your luggage tag is attached to the outside of your suitcase, potential thieves could easily take a picture of your tag and rob your house while you're away.
That's why you shouldn't write your home address, home phone number, or your friend's address there. Provide just your contact details and nothing else. While we're at it, let's also put a stop to writing things like, "I'll be on a vacation for the next two weeks and my house is completely unguarded!" on your Facebook timeline. We live in the age of social media and many people tend to overshare information, opening themselves up to danger.
Tip: Place a Secondary Tag Inside Your Checked Suitcase
In addition to attaching a regular luggage tag outside, some people like to put more information inside of their bags. If the exterior luggage tag somehow gets accidentally ripped off, the additional information inside would work as a backup. If this appeals to you, we can help you with the process.
Write your contact information (name, surname, phone, and e-mail), your flight information, and contact details for the hotels you'll be staying at on a regular piece of A4 paper. Put the paper in the zippered pocket in the main compartment so someone can easily spot it when they open the bag. Because it's stored inside, you can write more information there than you would on the tags that sit on the outside of your luggage. If your suitcase happens to get lost, the airport security would open your bag and look for anything that could identify the owner.
Tip: Always Remove Any Airline Stickers Before Checking Your Bag
We all have seen that one guy who has twenty different luggage labels on his suitcase because he thinks it makes him look super cool and well-traveled. Or maybe you've seen the same thing with people who have twenty different passport stamps constantly visible to everyone at all times. In reality, this just isn't a good idea.
Having too many labels on your suitcase makes it significantly harder for the baggage handlers to find the right label, so the chances of your baggage getting misplaced rise significantly. That's why you should always remove all labels when you get home. Having one or two labels that you forgot to remove is okay but don't go overboard!
Tip: What You Shouldn't Write on Luggage Tags When Traveling Internationally
If you're traveling internationally, you need to be extra careful. You should avoid writing anything that shows your nationality, especially if you're from America and traveling to the Middle East. Unfortunately, a lot of nationalities are frowned upon in some parts of the world, and explicitly stating your nationality might make you a more fruitful target. It's better to be safe than sorry!
Where's the Best Place to Attach Luggage Tags?
If your suitcase has a lock, it's best to attach a luggage tag to the exterior of your suitcase. The best places for attaching your tag are usually around the top or side handle so it's more noticeable. Some suitcases come with dedicated luggage tag holders on the backside which work better because they can't get detached from your bag (as seen in the picture above.)
However, if your suitcase isn't locked, you could just store your luggage tag inside. Just make sure to put it in a place that you can spot it quickly, such as the zippered mesh pocket in the main compartment. Attaching a luggage tag in the main compartment is arguably even better because it can't be accidentally lost and other people won't see it when you're in a public space.
Can You Use Metal Luggage Tags?
Some people prefer to use metal luggage tags because they won't get squished and will last longer. They're perfectly fine to use on carry-on's and personal items if you wish. We looked around and couldn't find any information from the TSA or FAA stating that they're prohibited. People who use them said that they've never had any issues with airport security.
Are Electronic Luggage Tags With Barcodes Allowed?
Recently a lot of startups have popped up that promise electronic ink-based luggage tags in the near future. Some have already started selling them even though it's still a new technology. Should you jump on the bandwagon and start using these now?
Electronic luggage tags have an ink-based screen that shows your contacts and a barcode with the current flight information. They replace the regular sticker labels that airlines use currently. Although the idea seems promising, right now they're still very expensive and aren't compatible with most airlines. We have high hopes for the future of these tags, though!
Can You Buy Luggage Tags at the Airport?
Most airlines will offer their passengers free luggage tags at the check-in or ticket desks. They won't be as durable as regular luggage tags, though. It's just a piece of cardboard with a flimsy piece of string attached to it. They'll work for a single flight but aren't considered to be long-term. That said, many smaller shops inside airports will also sell regular luggage tags. They'll cost around $5-$20 but they'll be much more durable and last longer. So if you forgot to attach a luggage tag and you're about to leave for the airport, don't worry. You will most likely be able to get one at the airport.
Read Next: Luggage Straps: Are They Actually Useful For Securing Your Suitcase?
This post is also available in:
English