Did you know that choosing a suitcase (or multiple cases, for that matter) in the right size can save you some money in luggage fees and help you become a more organized traveler?
On one end, unused space in your luggage will result in wrinkled clothes and a messy suitcase. Not to mention the extra weight and possible luggage fees. And on the other – having too little space will limit your packing capacity. That's why nailing the correct luggage size is very, very important.
In this guide, we'll tell you everything you need to know about all the different luggage sizes, restrictions, and more, so you can understand what size luggage is better for you. Make sure to check out our FAQ section at the bottom if you still have any questions!
Luggage Size Chart
But before we begin this article, down below you can check out our infographic and table with the most common luggage sizes, which will offer an easier way to grasp the differences between them.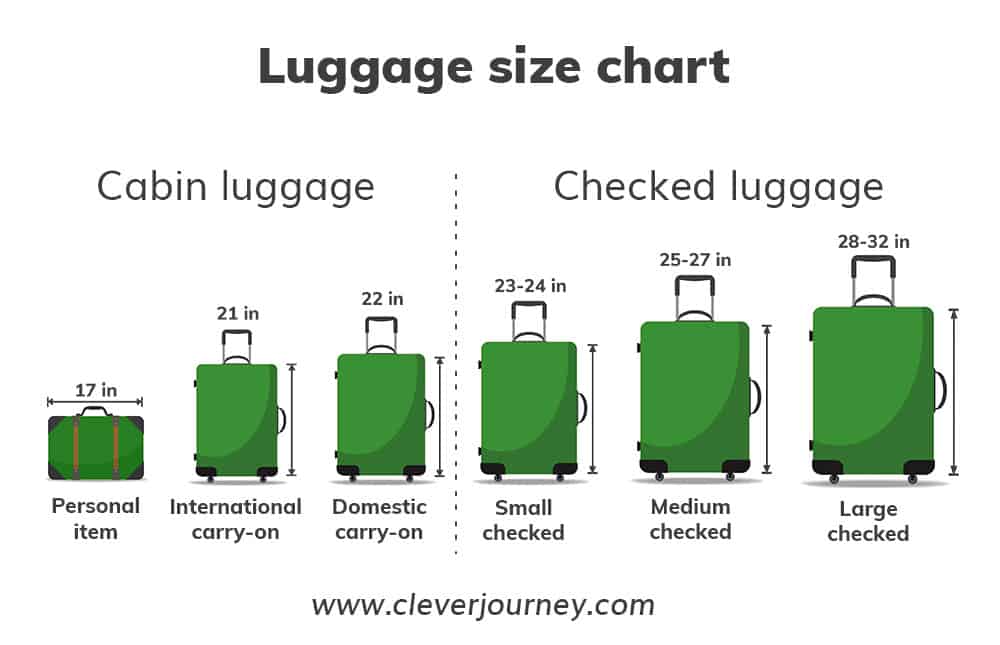 | Name | Size (Longest End) | Capacity | Fees |
| --- | --- | --- | --- |
| Personal item | Under 17 inches | Essentials | Always free |
| International carry-on | 18-20 inches | 5-14 days | 0-50$ |
| Domestic carry-on | 21-22 inches | 7-14 days | 0-50$ |
| Small checked luggage | 23-24 inches | 2-3 weeks | 20-100$ |
| Medium checked luggage | 25-27 inches | 2-4 weeks | 20-100$ |
| Large checked luggage | 28-32 inches | 3-4 weeks | 20-100$ |
Measuring Luggage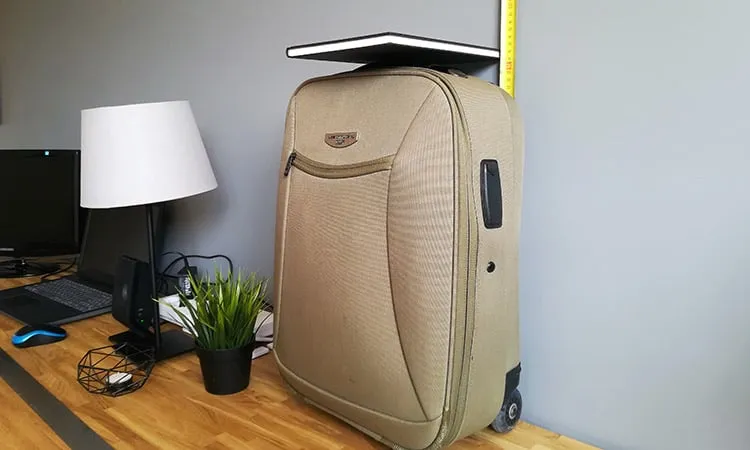 Before we talk about different luggage sizes, you should learn how luggage is measured.
Basically, each airline has different size and weight restrictions for hand and checked luggage. Usually, premium airlines will allow slightly larger bags, and cheaper ones will allow smaller ones with tighter weight limits. Your job as the passenger is to find out the restrictions yourself because they change all the time, and it would be impossible for us to list and update each airline individually.
There are two types of size restrictions that you need to know. The first one is dimensions – height (top to bottom), width (side to side), and depth (front to back). It will usually be applied for personal items and carry-ons and could be stated as follows: 55 x 35 x 25 cm (22 x 14 x 9 inches). Airlines will usually offer measuring boxes inside airports, where you can put in your bags to check if they fit.
The second measurement is linear inches. Linear inches just means the total sum of height, width, and depth, and it's mainly used for checked luggage, which needs to be under 62 linear inches. So to get linear inches, measure the height, width and depth individually and add them all up.
To measure the dimensions of your suitcase, you can place it next to a wall and measure the height, width, and depth by placing a measuring tape next to the wall. To get a more exact measurement, you can place a book or something flat on the other end of the measuring tape. Make sure to include the wheels, handles, and anything else that's sticking out! Another thing to keep in mind is that fabric suitcases might become a bit larger once they're packed to the brim, so before measuring, pack your suitcase full and measure in the widest end.
Hand Luggage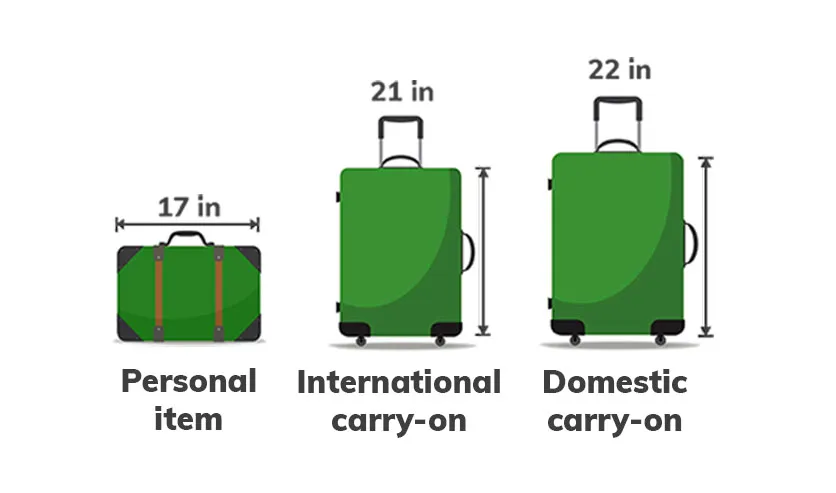 Hand luggage means all the bags that you're allowed to take with you on the plane without checking them in. Usually, it's a carry-on, a personal item, and any other items that aren't counted towards the allowance, such as duty-free items.
Hand luggage has to be stored under each passenger's front seat or in the overhead compartments, which are located above each seat. You won't be able to access it during take-off and landing because they have to be tucked away securely in case of an emergency.
When you arrive at the airport, you won't need to go to the check-in desks if you have just hand luggage, and you've already printed your tickets back home. You'll be able to go straight to security, where TSA (Transport Security Agency) will screen your hand luggage for any prohibited items. After that, you're free to do duty-free shopping or wait at the designated gate until boarding starts.
Carry-on Luggage vs Personal Items
The main difference between carry-on luggage and personal items (other called "underseat luggage") is that carry-ons need to be stored in the slightly-larger overhead compartments and personal items under each passenger's front seat. Usually, most people choose smaller rolling suitcases as their carry-ons and backpacks, duffels, or tote bags as their personal items. That said, you can use any type of bag as a carry-on or a personal item, whether it's a briefcase, rolling suitcase, duffel bag, backpack, tote, or even a regular shopping bag.
You won't really be able to access stuff from your carry-on during the first and last 15-30 minutes of the flight, as well as any turbulence, so pack your most necessary items in your personal item, such as your laptop, headphones, e-reader, any medicine, e.t.c.
Personal Item Size and Weight Requirements
Most airlines won't specifically mention an exact size requirement for personal items, and instead, they'll just say that it has to fit under the front seat. On average though, it should be 6-9 inches in width, 10-14 inches in height, and 17-18.5 inches in length. They avoid stating the exact measurements because each airline has different types of aircraft in their fleet and each aircraft has a different amount of space under each seat. To get the exact personal item size requirements, you should probably ask the airline directly, or check our list where we compiled personal item restrictions for most popular airlines.
Some airlines also have individual weight restrictions for personal items. But most of them just have some kind of weight limit for the total weight of your personal item and carry-on.
Tip: Looking to purchase a personal item? Check out the Matein Travel laptop backpack, which I've used as my personal item on multiple flights without any issues. It always fits under the front seat and it's surprisingly spacious.
Carry-on Size and Weight Requirements
On average, carry-ons usually have to be 8-10 inches in width, 13-15 inches in height, and 19-23 inches in length. Each airline has different carry-on size requirements, however, the most popular one is 22 x 14 x 9 inches. The restrictions are so different between airlines because the overhead compartments tend to differ in capacity across different aircraft.
In terms of weight, each airline has different weight requirements for carry-on luggage. Most airlines in America don't have any weight requirements for hand luggage but some do, especially budget airlines. If the airline has a carry-on weight limit, it's usually between 15-35 lbs (7-16 kg). Some airlines will also have a specific weight limit for the total weight of carry-ons and personal items.
Tip: Looking for a new carry-on? I've used the Travelpro Maxlite 5 19-inch fabric carry-on for a while now and I love it. It's spacious, lightweight, and very durable. Even though it's slightly over the limit in width, I've never had any issues with that on international flights.
Domestic Carry-Ons vs International Carry-Ons
When you'll be shopping for a new carry-on, you'll notice that some of them will be marked as "international carry-on" and some as "domestic carry-on." That's because carry-on size restrictions are usually stricter for international flights and looser for domestic ones. If you're flying domestically, you might get away with a 23-inch (longest side) carry-on, but on an international flight, you'll probably be limited to 19-21 inches.
So essentially, domestic carry-ons will be slightly larger than international ones. If the carry-on is too large, you will be asked to check it in, and you'll have to pay additional fees. That's why it's important to buy a smaller carry-on if you're planning on flying internationally. Usually, international carry-ons will have to be under 22 x 14 x 9 inches.
Hand Luggage Fees
Almost all airlines will allow bringing one personal item completely for free. When it comes to carry-ons though, most airlines allow bringing one for free, but budget airlines might charge a fixed fee depending on your class, which could be anywhere from 10$ to 50$. For instance, Spirit airlines will charge 31-50$ for carry-on luggage and Ryanair will charge about 6-20 EUR.
Keep in mind that most of these items are usually allowed for free in addition to other hand baggage:
Assistive devices for the disabled
Jackets
Umbrellas
Diapers
Other wearable clothes
Walking canes
Food in disposable containers meant to consume on the airplane
Child restraint seats
Strollers
Duty-free items
Reading materials
Cameras (some airlines consider cameras as personal items, while others don't.)
Pet carriers (Some airlines consider pet carriers as personal items, while others don't.)
Read Next: 12 Best Underseat Bags Without Wheels in 2022
Hand Luggage Advantages and Disadvantages
Using only hand luggage and avoiding checked luggage altogether is a technique used by many, me included because it offers many benefits:
No need to wait in line at the check-in counter
Most of the time, completely for free
Less likely to be stolen or lost because it's on you at all times
Easier to carry around, especially if you use a backpack as a personal item together with a carry-on suitcase
The best place for keeping valuables and fragile items
You can access all of your items during the flight
Less likely to break because it isn't exposed to baggage handling
However, there are some drawbacks to using only hand luggage, such as:
Less packing space
Harder to manage for families because they usually need to bring more items
It needs to be lugged around the airport after security instead of being handed over at the check-in desks
Usually, has much stricter weight limits
Tips for Buying Hand Luggage
If you're flying on short flights, consider using only an underseat rolling suitcase or backpack. People who fly for business often only need to fly out domestically for a quick meeting, so a lot of them travel with only a personal item. You can easily fit a spare shirt in there as well as some toiletries and a laptop, which is really all you need.
For up to two-week vacations, a carry-on and a personal item offer more than enough space. Personally, I'm a light packer, and I can travel for up to three weeks or even a month using only a carry-on and a personal item. For most people, this offers enough space.
Consider getting a backpack with a back strap as your choice of personal item. That way, you can secure it around the retractable handle on top of your carry-on, which makes it incredibly easy to lug around. Especially in crowded areas, such as public transport and airports.
If you'll be flying internationally, get a carry-on under 22 x 14 x 9 inches with wheels and handles included. On domestic flights, you'll probably be able to use something larger, but if you want to avoid paying extra fees down the line, make sure your carry-on is under this limit.
Make sure to get lightweight hand luggage. The weight restrictions are pretty strict as it is already, so make sure to get a lightweight carry-on and personal item. Especially the carry-on, because you'll have to stow it in the overhead compartments. So instead of going with a hardside carry-on, get a fabric one instead, which will most likely be lighter.
Read Next: Airport Travel Terminology 101 – The Ultimate Guide
Checked Luggage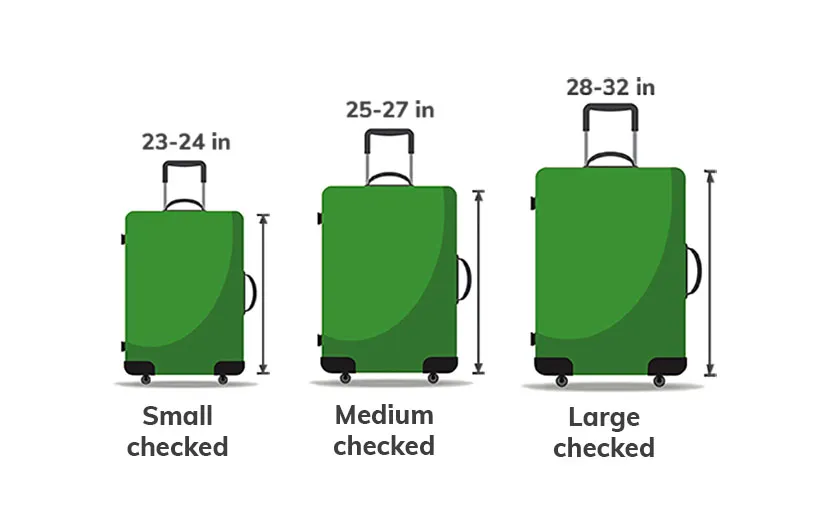 Checked luggage is all baggage that's too large or too heavy to be carried on the flight, and has to be checked in instead. This means that you'll need to hand it over at the check-in counters at the airport. The baggage will then be transferred over to baggage handling and it will be loaded in the cargo hold of the airplane. When you land, you'll have to pick up your checked luggage from the luggage conveyor belts in the baggage reclaim area.
You can use other kinds of baggage as well for checked luggage, not just suitcases. You can also use large backpacks, duffel bags, totes, musical instruments in their cases, large trunks, and other oversized items. A lot of times, you'll have to check in specialty items, such as large musical instruments and all kinds of sporting equipment, such as bicycles, snowboards, golf clubs, e.t.c.
Read Next: What to Put in Carry-on and What in Checked Luggage (Guide)
Checked Luggage Size and Weight Restrictions
Most commonly, checked luggage will have a size restriction of 62 linear inches (height + width + length) and a weight limit of 50 or 70 lbs. These are the IATA guidelines that are enforced in the EU and US which are there to keep the baggage handlers from handling too heavy bags. Oversized and overweight baggage will be accepted, but it will be labeled as oversized/overweight and you'll have to pay a fee for that unless it's sporting equipment. For instance, American Airlines will accept oversized bags up to 126 linear inches (320 cm) and overweight bags up to 100 lbs (45 kg.)
Small vs Medium vs Large Checked Luggage
Checked luggage comes in different sizes, and usually, the longest dimension is 23-32 inches long. Depending on the longest side, checked luggage is usually divided into three sizes, which are small, medium, and large. Small checked suitcases usually are 23-24 inches on the longest size, medium ones 25-27 inches, and large ones in 28-32 inches. Quite often, suitcases above 30 inches will actually be oversized, because they're over 62 linear inches with wheels and handles included.
For most people, a medium checked suitcase will be the best option, because it will be just within the checked luggage size limits and offer a large amount of space for all of their items.
Read Next: 8 Best 62-Inch Checked Suitcases in 2022
Checked Luggage Fees
On most international flights, airlines will allow you to bring one or two checked bags completely for free. On domestic flights, usually, they'll offer either one free checked bag or none at all. This depends a lot on the airline though. Additional bags will cost on a per-bag basis, starting with cheaper rates and continuing with more expensive ones. For instance, for American Airlines on domestic flights, the first checked bag will cost 30$, the second 40$, and the third one 100$.
If you aren't flying alone and you're carrying a lot of checked bags, it's usually a better idea to split them evenly among all the passengers to save some money on the checked baggage fees. It also isn't advisable to bring more than two checked bags because the fees start to get pretty costly after that.
The fees for overweight and oversized luggage can get very expensive, upwards of 100-200$ for each bag, so before you arrive at the airport, make sure that each bag is under the weight limit.
Checked Luggage Advantages and Disadvantages
Although there are a lot of disadvantages for flying with checked luggage, there are some advantages as well, such as:
Checked bags offer much more space
Better for families who carry a lot of items
Checked bags don't need to be carried around the airport after checking them in
No need to worry about size and weight, as the restrictions are pretty hard to reach
You should be able to get away with a slightly oversized checked bag because they're rarely measured
However, there's a reason why I don't travel with checked luggage. In my opinion, it has more disadvantages, such as:
With a personal item, carry-on, and a checked suitcase, it's much more difficult to use public transport
Checked luggage is mostly a paid service, especially with budget airlines
There's just too much space if you're a light packer
Checked bags can get damaged from baggage handling
Items get lost or stolen much more frequently when packed in checked luggage
You won't be able to access the contents of checked luggage during the whole flight
In case checked baggage gets lost, you'll be left without a lot of items and your trip might be ruined
You'll have to wait in the check-in line at the airport
Tips for Buying Checked Luggage
Avoid plastic checked suitcases. Hardside ABS, Polycarbonate, or Polypropylene suitcases can crack pretty easily. When they're thrown in the baggage area under a pile of other suitcases, this can happen very easily. That's why you should choose an aluminum checked suitcase or a fabric one, which will be much less likely to break.
Before buying a checked suitcase, double-check that it's below 62 linear inches. Oversized checked luggage fees can get pretty expensive, usually between 100-200$. To avoid this hefty fee make sure that your suitcase is below 62 linear inches (height + width + depth) with handles and wheels included. A very large amount of large checked suitcases, in fact, about 50-80% of them are oversized, so pay close attention to the dimensions.
A medium checked suitcase (25-27 inches) is more than enough for most people. Usually, medium checked suitcases are 58-61 linear inches in size, which is just below the 62 linear inch size limit, so when you're looking for a checked suitcase, get one in this size.
Get a bright or patterned checked suitcase. Checked luggage gets lost much more frequently. So when you're shopping for a new case, make sure to get one that's colorful and easy to recognize. It will be much easier to spot on the baggage carousel and if it gets lost, the chances of finding it will be much better because you'll be able to describe it better. If you already own a dark checked suitcase, get a colorful patterned luggage cover.
Avoid checked luggage with spinner wheels. Rolling, inline (2 wheels) suitcases are better options for checked suitcases because they're much less likely to break while the bag is checked in. Spinner wheels are much more likely to fall off because they're extended out from the main shape of the suitcase. It's actually one of the most common things that break on checked bags.
Consider getting a pelican trunk instead of a typical checked suitcase. They're basically indestructible and they're one of the most popular choices for climbers, camera crews, and other people who need to bring a lot of expensive checked gear.
What Size Luggage Should You Get?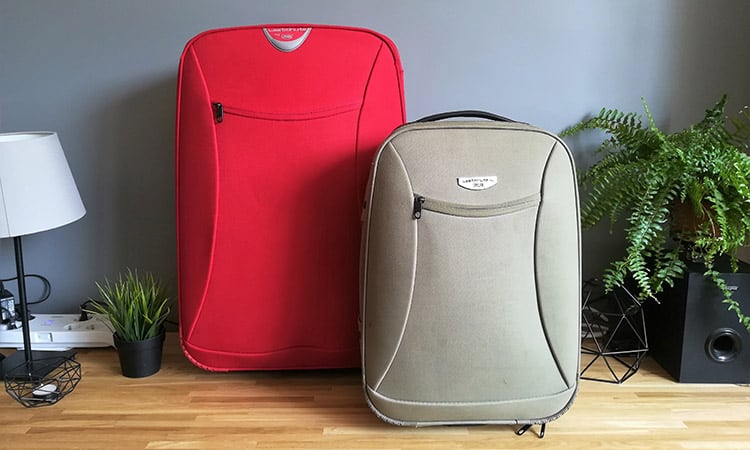 There are all kinds of different factors that determine what kind of suitcase you should get. Before buying any luggage, you should understand how often and where you'll be traveling, how many people you'll be flying with, what are your packing traditions, and so on.
Are You an Over-Packer?
There's nothing wrong with being an over-packer, but it will affect what kind of luggage you should choose and how much you'll be paying in fees. Most over-packers like to travel with a checked suitcase and a personal item, such as a small backpack, skipping the carry-on entirely. You'll be able to pack your valuables and essentials in the personal item and be left with a very large amount of space in your checked suitcase, where you can pack all of your clothing and anything else you'd need. A medium checked suitcase will usually offer about 90-100 l of space while a carry-on only 35-50 l, so the difference is pretty significant.
How Long You'll Be Traveling?
The length of your trips/vacations also determines what kind of luggage you should get. If you'll be traveling for months, unless you're an extreme minimalist, you'll need to bring some kind of checked luggage. But for two to three-week trips, it's perfectly fine to bring only a carry-on and a personal item, unless you're an over-packer or you need to bring other kinds of gear for your job, planned activities, e.t.c.
Where You're Flying to and What Are Your Planned Activities?
Think about what you'll be doing and what gear you'll need. Do you need scuba diving or skiing gear? Are you into photography and need to bring a large tripod? Are you flying to a cold-weather country and you need to bring a lot of extra warm clothing? The kind of travel that you'll be doing, determines what size luggage you should get.
Think about valuable and fragile gear specifically. Try to keep the most valuable items in your hand luggage. If that isn't possible, remember to ensure your gear and invest in a durable, large enough, checked suitcase or trunk. A good option for that is the pelican trunk, which is the industry standard for professionals.
Tip: It's Better to Buy a Smaller Suitcase, Instead of a Larger One
Many people will probably disagree but I personally think that it's always a smarter choice to buy a smaller suitcase instead of a larger one. This will make you become a lighter packer, which could end up saving you some money in the long run on checked baggage fees.
A lot of times, people are bringing gear that they don't really need and end up with heavier, oversized suitcases. Remember that you'll also have to carry your luggage around the town and to the airport. You're on a vacation to get new experiences, not buy a lot of unneeded stuff, and be exhausted from carrying an oversized suitcase. Of course, if you're traveling for work, that may not be true, but for general leisure travel, it's a better idea to get a slightly smaller suitcase than you think you'd need.
What Size Luggage I Use Personally
I usually travel one or two weeks at a time, so a personal item (backpack) and an international carry-on are more than enough to fit in everything that I need. I rarely use checked luggage because I'm a minimalistic packer.
My favorite has become the English
Deutsch