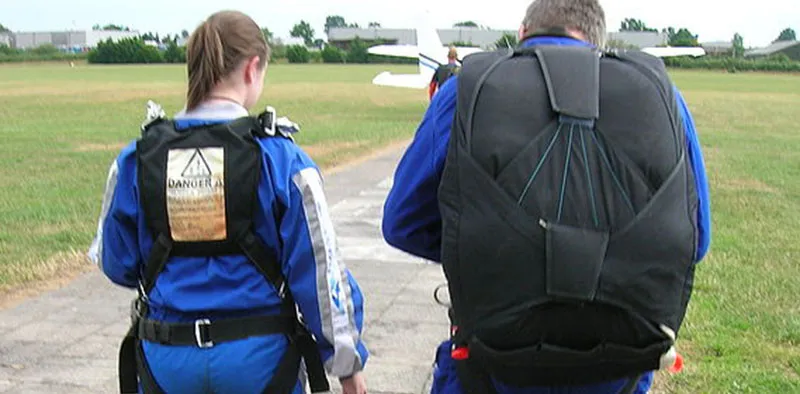 Rules for Flights in the USA
United States flight authorities allow parachutes in hand can cargo baggage with certain restrictions. TSA states parachutes are welcomed in hand and checked baggage, regardless of whether they have an automatic activation device.
The only restrictions for parachutes are that they must travel in their own backpack without any other equipment, and they must comply with the airline's luggage size standards. You must also be present when the inspection of your parachute takes place. If you're not, your parachute will not be allowed on the plane.
Rules for Flights in Other Countries
Canada, the United Kingdom, and China
On Canadian, United Kingdom, and Chinese flights, parachutes are allowed in hand and cargo baggage. When traveling in carry-on they should meet the airline's size restrictions.
Europe and Australia
On European and Australian flights, parachutes are allowed in hand and cargo baggage, but they should be an authorized model by the air carrier. 
New Zealand
On New Zealand and Indian flights, parachutes aren't listed as banned items on planes, but their rules are almost identical to the US, and parachutes are allowed in hand and cargo baggage.
Sources: For writing this article, we took information only from official sources, like airline regulators, government websites, and major airlines. If you want to confirm that our information is accurate and up to date, click on any of the links mentioned above. We linked out to where we found this information for each country.
Disclaimer: The final decision of whether you can bring parachutes on planes always rests on the security officer. Some airlines also have additional rules that may be different.
Frequently Asked Questions About Bringing Parachutes on Planes
Are parachutes considered dangerous items on airplanes?
Generally, parachutes aren't considered dangerous items on airplanes. Whether they have an Automatic Activation Device (ADD) or not, they are usually considered harmless. As a result, they are welcomed both in cabin and cargo baggage as long as they fit the airline's standards and size restrictions. However, some airlines might restrict parachutes with an automatic activation device to a list of pre-approved models. Always check with your air carrier if you're allowed to travel with parachutes, and confirm the specific model.
Is it better to pack parachutes in hand or checked luggage?
Overall, it's best to pack your parachute in hand baggage when traveling in the United States. TSA allows parachutes in both hand and cargo baggage, with or without automatic activation devices. Although parachutes aren't considered entirely fragile and can travel in checked baggage, they are valuable. Packing a parachute in checked baggage comes with the risk of losing it due to theft or lost luggage. And assuming you're traveling with a parachute to use at your destination, not only you will be losing something valuable, but the chance to execute skydiving or base jumping at your final destination. If your air carrier allows it, it's best to travel with your parachute inside the cabin.
How do I pack my parachute for air travel?
For traveling by air in the United States, you should pack your parachute in a single bag. Keep other skydiving equipment like helmets, goggles, and jumpsuits in a different bag. If you're taking the parachute inside the cabin, then make sure your parachute bag complies with the airline's carry-on standards and fits in the overhead bin. The usual carry-on dimensions are around 22 x 14 x 9 inches (56 x 35 x 23 centimeters) and the weight allowance is between 15-45 lbs (7-20 kg). If your bag is screened by security, you'll be given time to re-pack your parachute. You can carry an additional bag with other skydiving equipment either in the cabin or as checked baggage.
Do I have to take out my parachute when going through security?
In theory, you don't have to take a parachute out of your bag when going through security in the United States. The general rule is that only liquids and large electronics must be taken out of the bag when going through airport security. However, if the security agent decides to inspect your parachute bag, you have to be present during the screening process. If you are not present for the screening, then your parachute won't be allowed on the plane.
What other skydiving equipment is allowed on planes?
Generally, other skydiving equipment like helmets, skydiving goggles, altimeters, jumpsuits, and automatic activation devices are allowed on planes. All this skydiving equipment is allowed in carry-on and checked baggage without any restrictions. Yet, these things should not be packed together with a parachute in the same bag. Other items like lead weights and hook knives aren't particularly forbidden but are better off in checked baggage. Although life vests with CO2 cartridges are generally allowed onboard, a usual skydiving flotation gear like the Restube inflatable water safety buoy might have problems going through security. Therefore it's best to keep the flotation gear and ditch the CO2 cylinders.
Read Next: Can You Bring Bike CO2 Cartridges on Planes?
Find Out the Packing Rules for Similar Items
This post is also available in:
English