Tumi makes some of the most durable suitcases out there, which are ideal for frequent travelers. They also come with some of the best features when compared to other brands. But is it really worth it to pay so much when you can get a Samsonite suitcase for 1/5th of the price?
In this article, we'll compare Samsonite with Tumi to find out which one should you go with. We'll compare their durability, warranty policies, features, average weight, and also share the best models from both of them.
A Brief Summary of Samsonite
Samsonite is one of the oldest luggage brands, established back in 1910. Today, they're by far the most popular luggage brand worldwide when it comes to luggage sales. They make luggage in the medium class for leisure and business travelers. Although their main sales come from suitcases, they also offer backpacks, duffel bags, totes, messenger bags, and various other travel accessories. One benefit for Samsonite is that they have a really large network of stores and authorized dealers, which means that you can probably check out some of their suitcases in real life if you live in a large city.
A Brief Summary of Tumi
Tumi is another somewhat old luggage brand (although not as old as Samsonite), established back in 1975. What a lot of people don't know is that nowadays, Tumi is actually owned by Samsonite. They acquired Tumi back in 2016 to expand into high-end travel accessories. This acquisition was successful because now their sales from Tumi are already bringing in 45% of Samsonite's sales volume. So in terms of sales, Tumi is actually the second largest luggage brand. Instead of medium class, their luggage targets frequent and business travelers. Tumi's main revenue comes from suitcases, but they also offer garment bags, backpacks, and other travel accessories.
Key Differences Between Samsonite and Tumi
Does Samsonite Make Lighter Luggage Than Tumi?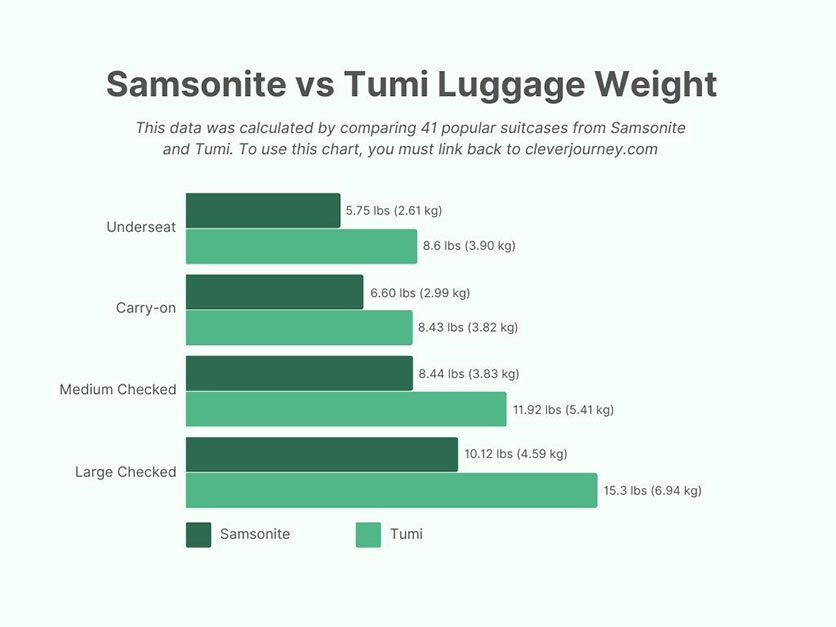 On average, Tumi luggage is 36% heavier than Samsonite. That's because Tumi uses much more durable and thicker materials, which obviously weigh much more. That said, Tumi's suitcases are often heavier than the ones of their competitors, which are made from similarly durable materials.
In fact, we compared 32 different luggage brands, and Tumi took the last, 32nd place in weight, which means that their luggage, on average, is the heaviest of all luggage brands. Samsonite, on the other hand, took 11th place, which is a really good result. For context, their closest competitor, Delsey Paris, scored only in 25th place. Some Samsonite suitcases are exceptionally lightweight – specifically, the Samsonite Base Boost, which weighs only 4.4 lbs (2.0 kg).
So if you'll be flying with budget airlines, where the weight restrictions for hand and checked luggage are much stricter, you should definitely go with Samsonite instead of Tumi because you'll have much more room left to pack your things.
Read Next: Samsonite vs American Tourister Luggage – Which One Is Better?
Are Tumi Suitcases More Durable Than Samsonite?
Tumi's suitcases are definitely much more durable than Samsonite's, although Samsonite's suitcases are pretty durable as well. Right from the get-go, Tumi has focused on creating luggage for frequent travel, so they've always used only the most durable materials for their luggage. Their softside suitcases are usually built from ballistic nylon, which is the most durable fabric used in softside luggage. Their hardside bags are made from polycarbonate and aluminum, which are both the most durable options for hardside luggage. They've also introduced two new materials – Tegris and FX Ballistic, which are made from 100% polypropylene, but it's weaved and layered to increase strength. This makes its durability comparable to polycarbonate but much lighter.
Samsonite, on the other hand, mainly focuses on luggage for the average traveler, which doesn't need to be as durable. That said, in the medium class, their luggage is still considered to be one of the most durable options. For softside luggage, they usually go with polyester, which is less durable than nylon, but, if manufactured properly, can be almost as durable. Their hardside bags are made from polycarbonate or polypropylene, which both are somewhat durable options, although polypropylene is a bit less durable.
You can expect a Samsonite suitcase to last 2-5 years when used extensively, while a Tumi suitcase could easily do over 10 years. However, when used only a few times per year, which is the case with most travelers, a Samsonite suitcase can also last over 10 years.
From all the customer reviews that we researched, people almost never complained about durability issues for Tumi suitcases. Instead, they complain about the warranty, size, and design flaws. For Samsonite cases, we found quite a few reviews that complained about broken wheels, handles, zippers, cracks in the hard shell, and the stitching coming loose. That said, these reviews weren't common.
Which Brand Is Better at Staying Within the Airline Size Restrictions?
Tumi does a much better job than Samsonite when it comes to making luggage that fits the size restrictions for hand and checked luggage. All of Tumi's carry-ons that we looked at are within the most common carry-on size limit of 22 x 14 x 9 inches. For Samsonite, all of them were over this limit. On average, Samsonite's carry-ons are 1.81 inches (4.6 cm) over the limit, which means that sometimes, you'll have to pay fees for oversized luggage.
For checked luggage, where the main size restriction is 62 linear inches, the situation is very similar – most of Samsonite's bags are oversized. We found only 1 checked large suitcase from Samsonite which was within this limit – the Base Boost checked large suitcase. All of Tumi's checked large suitcases are within this limit.
Which Brand Has Better Reviews – Samsonite or Tumi?
On average, Samsonite has received 4.64 stars out of 5 for their suitcases, and Tumi only 4.29 stars. Out of all the 32 luggage brands that we collected data on, Samsonite ranked #11 in customer reviews and Tumi only #28. Most of Tumi's poor reviews are about their suitcases not having good enough warranty terms, certain design flaws, and other minor issues. For Samsonite, though, most of them are about defects that limit the usage of the bag, such as broken wheels, zippers, handles, and so on. Essentially, Tumi doesn't struggle with durability, but because they're so expensive, people expect every little detail to be perfect.
Read Next: Ricardo Beverly Hills vs Samsonite Luggage
Do Tumi Suitcases Come With Better Features?
As you'd already expect from a high-end brand, Tumi suitcases come with much more features than Samsonite. We'll share the most important ones for each one down below.
Samsonite Suitcase Features
TSA-approved combination locks. Almost all (even softside) Samsonite suitcases come equipped with TSA-approved locks, which means that if they're checked in, the TSA agents will be able to open the bag for any additional checks without breaking the lock.
USB charging ports. Some of Samsonite's high-end models have built-in USB charging ports. You can connect your power bank to them and charge your phone without taking it out.
Expandable zippers. Although not all, most of Samsonite's suitcases have expandable zippers, which let you expand them by additional 1-2 inches.
Simple interior. Most Samsonite suitcases have very basic interiors. When you open them up, one side will be separated with a fabric sheet, and the other one will be open, but it will have an additional pocket and tie-down straps for keeping everything in place. So if you're looking to better organize your stuff, you'll need to use packing cubes.
Single or double spinner wheels. Most commonly, Samsonite uses regular spinner wheels, but on some of their more expensive models, they use better ones (double wheels with a rubber coating for smoother and quieter roll).
Tumi Suitcase Features
Advanced expansion systems. Most Tumi cases come with expandable zippers, but the 19-degree aluminum features an expansion/compression system with latches, which helps you pack more inside and reduces wrinkles.
Tumi tracer. All tumi suitcases have a built-in 20-digit code attached to the bottom of the exterior, which is called the Tumi Tracer. If your bag gets lost, anyone can contact Tumi, name the 20-digit code, and Tumi will get in touch with you. This basically acts as an anonymized luggage tag that doesn't reveal any sensitive info.
Suiter compartments. Most of their suitcases have either hanger brackets with garment sleeves or fully dedicated garment compartments. This is super useful for business travelers because it reduces wrinkling on your suits.
Double spinner wheels. All of Tumi's suitcases come with eight spinner wheels instead of four. This helps with maneuvering, as double spinner wheels turn much quicker on sharp corners.
Dual-access main interior. Some of Tumi's bags have another zipper in front of the bag, which lets you access the main compartment without fully opening the bag.
Omega Closure zippers. Tumi's zipper heads are built to fall off quickly and be easily replaced. When suitcases get checked in, their zipper heads sometimes get stuck on the conveyor belts, which might ruin the zipper entirely. This won't happen with Tumi's Omega zippers.
Luggage tags. All of their bags have luggage tags attached to the interior and exterior, where you can fill in your own details in case they get lost.
TSA-approved combination locks.
USB charging ports.
Read Next: Tumi vs Away Luggage: Which One Should You Get?
Which Brand Offers More Value?
On average, Tumi suitcases are 456% more expensive than Samsonite, which means that for a single Tumi suitcase, you could buy 5 Samsonite cases. Even though both of them are owned by the same parent company, the price differences are incredibly huge.
We think that Tumi suitcases are overpriced by at least 50-100%. So instead of costing 1000$, they should be priced closer to 500$. After all, their bags are still incredibly durable, built from premium materials, and come with a lot of useful features. For roughly 500-700$, you can get a similarly durable suitcase from Briggs & Riley that comes with even better features and has better warranty terms, which is why we think Tumi is overpriced.
In terms of value, Samsonite suitcases are a much better deal compared to Tumi. In terms of durability, you can expect a Tumi bag to last twice as long as Samsonite. Because Tumi's bags are 5x more expensive, it's cheaper to buy Samsonite instead, even for frequent travel. Samsonite's bags are also somewhat durable, so it isn't really such a big issue to switch to a new one every few years.
Samsonite Warranty Terms vs Tumi
At first glance, Samsonite's 10-year warranty might seem better than Tumi's 5-year one, but Tumi's warranty is actually much better. That said, for a premium brand, it still isn't ideal. For instance, Briggs & Riley, which also makes luggage for frequent travelers at much cheaper prices, has an unlimited lifetime warranty, which covers any defects that make the bag unusable.
During the first year of ownership, all defects on Tumi bags are fully covered, including all shipping costs. In years 2-5, only manufacturing defects are covered, and the shipping costs to their repair centers will need to be covered out of your own pocket. This means that after the first year, defects from accidents, transportation damage, misuse, and normal wear and tear aren't covered. Tumi used to offer an unconditional lifetime warranty until 2004, but that changed when they got acquired by another company.
Samsonite covers only manufacturing defects and only pays for the return shipping, which is a pretty standard warranty for most medium-class brands. The good thing for Samsonite is that if you need to send your bag over to their repair center, you can just hand it over to any authorized Samsonite dealer (and there are a lot of them), and they'll do it for you for a small fee.
Conclusion: Should You Get a Suitcase From Samsonite or Tumi?
Tumi suitcases aren't bad – in fact, they make some of the most durable bags from all luggage brands. However, because Tumi luggage is so overpriced, we would definitely recommend going with Samsonite instead. Although Samsonite's cases are mainly meant for leisure travel, they can also withstand light frequent travel.
Samsonite's luggage costs 5x less than Tumi on average, which means that you can buy a new bag every few years if it breaks, and it still ends up being much cheaper than Tumi. Their luggage is also 26% lighter than Tumi's and reviewed much better (4.64 stars on average for Samsonite vs 4.29 for Tumi). Tumi has a few upsides, though, like its 1-year unconditional warranty, more innovative features, and their luggage is usually sized just within the most common carry-on and checked luggage size restrictions.
That said, there are better options than Samsonite and Tumi from other luggage brands. In the high-end price range, the best luggage brand definitely is Briggs & Riley. By going with them, you'll get the same durability as Tumi, better features, and an unconditional lifetime warranty – all that for about 40% lower prices. This makes them the best choice for frequent travelers. Specifically, their best model is the Briggs & Riley Baseline.
Although Samsonite is a really good option in the medium price range, Travelpro's suitcases are slightly superior. Their luggage is 15% more expensive on average, but it's more durable, has better features, a better warranty, it's lighter, and it's better-reviewed. On the lower end, you can go with the Maxlite 5, but if you have the budget, the increased durability and features from the Versapack are definitely worth it.
Best Suitcases From Samsonite and Tumi
Best Softside Suitcase From Samsonite: Base Boost
If you'll be flying with budget airlines and on international flights, then the Samsonite Base Boost is the perfect choice due to its size, weight, durability, and cost.
It's one of the most lightweight carry-ons that you'll find, weighing just 4.40 lbs (2.0 kg), which is definitely much lighter than most other Samsonite bags. The average weight of similarly-sized softside luggage is 6.55 lbs (2.97 kg), which means that it's almost 1/3 lighter than most other carry-ons. It's also sized perfectly for budget airlines. Especially for ones operating within Europe, where the most common size requirement is 55 x 40 x 20 cm (21.6 x 15.7 x 7.9 inches).
Because it's so lightweight, it won't be as durable as most of Samsonite's hardside bags, but it's still somewhat durable and can withstand light, frequent travel. It's built from polyester, which is less durable than nylon but lighter.
It comes with four spinner wheels, but some customers reported some durability issues with them, so instead, you should go with the inline version instead if you're looking for something more durable. Its wheels are built into the main frame, and it comes with more protective elements on the bottom, which improves its lifespan.
In terms of features, it comes with a TSA-approved lock, a retractable handle on the top, and a large pocket on the exterior, where you can keep all of the smaller items. The inside is fairly large, and most customers said that they could fit clothes for 3-7 days in there, depending on their packing habits. it has another two pockets in the main compartment and tie-down straps to keep everything in place. Because the interior is so spacious and simple, it's perfect for organizing everything with packing cubes.
Overall, the Samsonite Base Boost is one of the best affordable softside carry-ons that you can get. When taken care of, it should last anywhere between 3-5 years.
Best Softside Suitcase From Tumi: Alpha 3 Dual Access
Although the Alpha 3 is really heavy and expensive, it's a pretty much indestructible suitcase. From all the softside suitcases that we've reviewed, it's definitely the most durable one.
With wheels and handles included, it's just in the right size to be used as a carry-on on most international and US domestic flights. Its main downside is that it weighs 10.07 lbs (4.56 kg). It's 54% heavier than the average weight of softside suitcases in this size category. In fact, it's the heaviest softside suitcase that we've found up to this date. This won't be a big issue if you'll be flying in first class and with more expensive airlines, but it isn't good for cheap European airlines with tight limits.
The Tumi Alpha 3 comes with all the bells and whistles that you'd need as a business traveler. It has a USB charging port, a TSA lock, an expandable zipper, and a lot of different pockets for organizing everything. It even has a dedicated compartment for storing your suits to minimize wrinkles. Another interesting feature is its dual-access zipper, which lets you access the main compartment without fully opening the bag.
But its main strength is its durability. It's built from ballistic nylon, and it has multiple protective elements all over the bag. Its wheels, handles, and zippers are built extra-thick to be able to withstand more abuse. Even when used every week, it should last for over 10 years.
Its main drawback is the price. It's one of the most expensive softside suitcases that you can find. If you have the budget, it's worth it. But for much less, you can get a bag that's almost as durable, comes with better features, and has an unconditional lifetime warranty – the Briggs & Riley Baseline.
Best Hardside Suitcase From Samsonite: Omni PC
The Samsonite Omni PC is their best-selling suitcase because it's really durable, lightweight, and also somewhat cheap. In fact, it's one of the best hardside suitcases in the medium price range that we usually recommend to most travelers.
It's built from polycarbonate, which is the most durable plastic used in luggage. Although, in real life, it feels too flexible to be durable, the increased flexibility actually helps it last longer because it's less likely to develop cracks. However, you should be careful with its handles if you want it to last. Many customers complained that the handles feel flimsy, and for some, they even broke altogether.
In size, it's a bit over the most common carry-on luggage restriction of 22 x 14 x 9 inches. Most commonly, you shouldn't have any issues with this, but you might encounter a strict airline employee who could ask you to check it in for an extra fee. Although it isn't the lightest suitcase out there, weighing 6.81 lbs (3.08 kg), it's 0.1 lbs lighter than the average weight of similarly-sized plastic suitcases, which means that it's somewhat lightweight.
Although the Omni PC doesn't come with any super innovative features, it has all the essentials. It has a TSA-approved combination lock, an expandable zipper, spinner wheels, and a scratch-resistant coating to help it look good for longer. Its interior compartment is pretty spacious but similar to other Samsonite bags, it's very simple – it only has a single pocket and tie-down straps for keeping everything in place.
Overall, the Omni PC is a really great option for anyone who's looking to use it for general travel. When used a few times per year, it should easily last 5-10 years of use.
Best Hardside Suitcase From Tumi: Latitude
Although overpriced, the Tumi Latitude is one of the best plastic hardside suitcases. It's kitted out with all the features that you'd need, it's really durable, and it's lightweight.
In size, the Latitude carry-on is sized perfectly to fit most airlines, so you won't need to pay any additional late check-in fees. It's also really lightweight, weighing only 6.22 lbs (2.82 kg). It ends up being about 10% lighter than the average weight of plastic hardside carry-ons. This means that you won't have any issues lifting it up to the overhead compartments, and you'll have more weight left for your hand luggage allowance to pack extra items.
The Latitude also has quite a few features that help with packing. It's pretty roomy, and you can pack clothes for up to 3-7 days in it. The main compartment is split into two parts – one is separated with a separate sheet, and the other one has tie-down panels to keep your clothes in place. You'll also find a dedicated slot for storing a separate garment sleeve, which will reduce the wringing of your suits and dress shirts.
On the exterior, it's fitted with a TSA-approved lock and four double spinner wheels. They roll really smoothly, and most people said that they're also somewhat quiet, even though the wheels aren't covered with rubber. On the back, you'll find the Tumi tracer 20-digit code, which helps with finding the case if it gets lost. For additional peace of mind, you can also fill in your contact details on its exterior and interior luggage tags.
Overall, the Latitude is a really well-built and well-designed suitcase. However, it's really expensive, and in durability, it isn't that much more durable than the Samsonite Omni PC. So if you're looking to get the best bang for your buck, definitely go with the Omni PC.