Opting to purchase a luggage set rather than individual pieces has a myriad of benefits. Not only will you likely get better value for money, but you'll also have the convenience of choosing the piece or pieces that best meet your packing needs on every journey.
However, choosing the right luggage set is a task that should be undertaken with care since if you don't like the luggage you've purchased, you'll be stuck with up to four bags that don't meet your needs. We've made this decision a little easier for you by researching the top hardside luggage sets on the market today and comparing various features that will help you find the set that exceeds your expectations.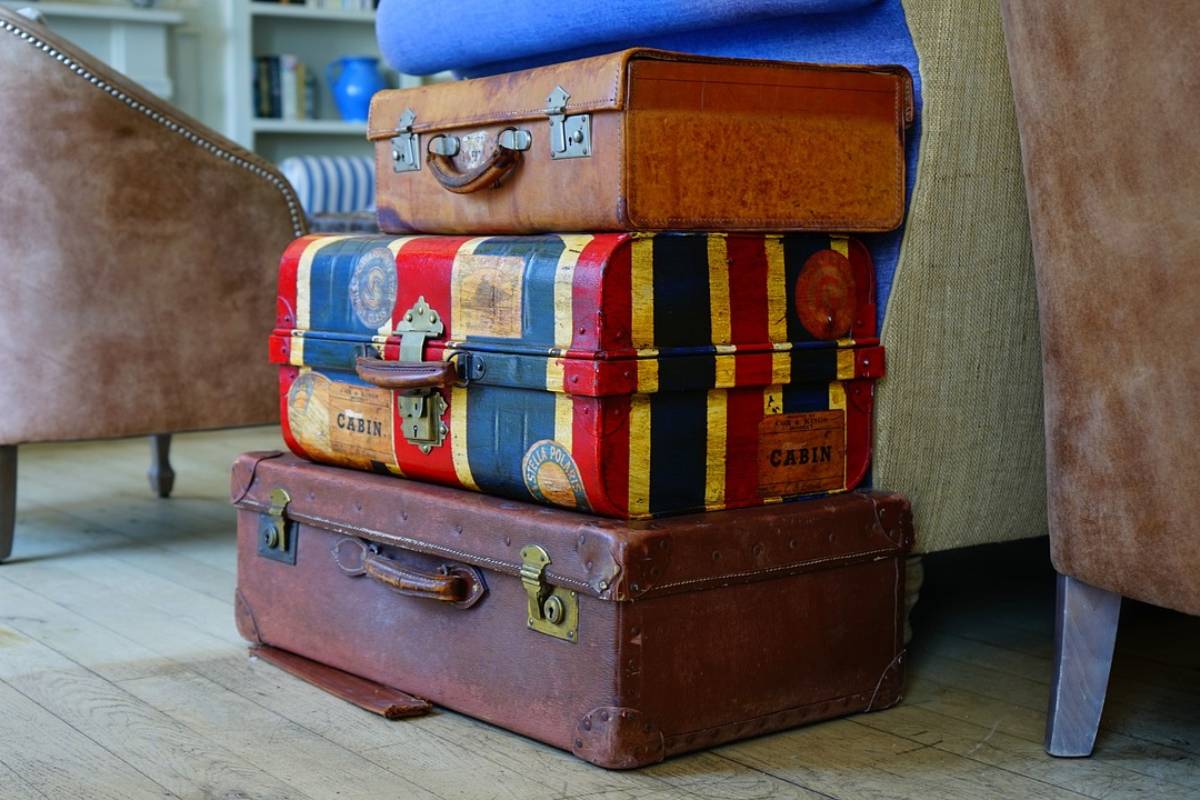 Top-Rated Hardside Luggage Sets
Samsonite Omni PC 3-Piece Set

– Editors rating: 4.9
– Extremely tough exterior that will provide long-lasting use
– Spacious yet lightweight
– TSA-approved locks for added convenience

SHOP NOW

Samsonite Freeform 2-Piece Set

– Editors rating: 4.8
– Expertly designed handles make maneuverability a breeze
– Made from polypropylene for excellent durability
– Simplistic, minimalist design to suit every occasion

SHOP NOW

Travelpro Platinum Elite 2-Piece Set

– Editors rating: 4.7
– Corners reinforced with aluminum for excellent shock-resistance
– Self-aligning spinner wheels make the suitcases effortless to move
– Comprehensive warranty for ultimate peace of mind

SHOP NOW

Ricardo Beverly Hills Mojave 2-Piece Set

– Editors rating: 4.6
– Exterior designed for durability
– Excellent packing features and capabilities
– Affordably priced for those on a budget

SHOP NOW

Delsey Paris Helium Aero 3-Piece Set

– Editors rating: 4.5
– 12 breathtaking glossy designs to choose from
– Device compartment for quick access in flight
– Expandable for extra packing space if you need it

SHOP NOW

American Tourister Stratum XLT 3-Piece Set

– Editors rating: 4.2
– Extremely well-priced, offering great value for money
– Cute, aesthetically-pleasing design choices
– Expandable for extra packing space when needed

SHOP NOW

Samsonite Winfield 3 DLX 3-Piece Set

– Editors rating: 4.3
– Great packing features for easy compartmentalization
– Tough polycarbonate exterior for long-lasting durability
– 8 colors to fit both professional and leisure travel

SHOP NOW

Travelpro Maxlite Air 3-Piece Set

– Editors rating: 4.3
– Environmentally-friendly lining for sustainable buying
– Tough polycarbonate outer shell for longevity
– All pieces fit domestic airline specifications

SHOP NOW
Tips Buying Hardside Luggage Sets (Guide)
Understanding What Size Hardside Luggage Set You Should Get
Some luggage sets are available as a two-piece, while others may come in a three or four-piece. The set you select will depend largely on your packing habits and travel needs. Most sets include a carry-on piece together with one or two checked pieces – all in different sizes. Four-piece luggage sets often include a tote or underseat bag as well for added convenience.
If you're someone who mostly travels with a carry-on, but would like to have a larger suitcase available to you if the need arises, then a two-piece set will more than suffice. On the other hand, if you're a heavy packer who prefers to have as much space available to you as possible, you may want to opt for a larger set. Be sure to take a close look at the pockets, compartments, and expandability of each unit in the set before making your final decision.
Other Things to Look out for Before Buying Hardside Luggage Sets
Materials
The materials a piece of luggage is made from is closely tied to its durability and quality. Hardside luggage has become the option of choice for frequent travelers as it is incredibly durable. These types of suitcases are also easy on the eyes as they are manufactured in a variety of stunning colors and designs.
Hardside luggage is available in a variety of materials, the most common of which are polycarbonate and ABS. ABS is a low-priced, hard material, which makes it popular among those who are on a budget. It is, however, more prone to scratches and cracks because of how inflexible it is. Polycarbonate has greater impact resistance and is more durable than ABS while also remaining quite lightweight. The most durable of the hardside luggage materials is aluminum, but it is not as lightweight and may be much more expensive.
Maneuverability
Moving around quickly and easily in airports is crucial to making your trip more enjoyable, so having a suitcase set that's easy to maneuver is non-negotiable. Fortunately, all hardside luggage is fitted with spinner wheels, which rotate in every direction, making it easy to maneuver your bags in the way that best suits you. If you frequently travel through large airports, be sure to look out for ergonomically-designed handles that reduce strain on your wrists as you move your luggage.
Although we haven't listed any here, some 4-piece luggage sets include a small carry-on piece that straps onto the handle of a large checked suitcase. Be sure to look out for this feature when purchasing larger sets, as it will make it easier to handle multiple pieces of luggage on longer journeys.
Packing Capabilities
Even if you're buying an entire set of luggage, it's unlikely that you will use every piece in the set on every trip. Because of this, it's important to ensure that each individual unit meets your packing needs. Expandability is also an important factor that comes into play when considering a bag's packing abilities.
Look for good compartmentalization, compression straps, pocket separators, or any other feature that will make it easy to organize your items. Some luggage is fitted with mesh pockets, waterproof sections, and even packing cubes. Unfortunately, hardside luggage rarely offers exterior compartments, so you likely won't have easy access to your carry-on piece's contents in flight.
Special Features
A luggage set that offers good value for money will always be preferable over one that comes with stock standard features. Some sets make your check-in process a lot easier by including TSA-approved locks – keeping your luggage secure and ensuring that your carry-on isn't compromised when being checked by the agents.
Other sets may include nifty USB-charging ports that help keep you connected on long journeys. While most airports have charging stations, they are often occupied on busy flights, so having easy access to a power bank during a long layover can be a game changer. Some luggage sets offer incorporated tracking functionality, so you can easily locate your bags if they are lost in transit.
Warranty
If you travel often, purchasing high-quality luggage is a worthy investment. But, it's not always possible to control how your luggage will be handled, and if it ends up being damaged by airline staff, you'll be out hundreds of dollars.
Most luggage brands extend limited warranties that cover you for manufacturing or workmanship defects for a certain period from the date of purchase. Aside from looking at the terms of the warranty itself, it's also advisable to take note of how long the warranty is valid, as this is a good indication of how long the manufacturer expects the set to last without issue. You should also scrutinize the process involved with claiming against the warranty, as many manufacturers may expect you to jump through hoops before your bag is even assessed.
High-end luggage brands often extend unlimited lifetime warranties on their products, so while you may pay a hefty price for a set, it's unlikely that you'll ever need to replace it. You'll be covered for any form of damage, whether it be accidental or negligence from airline staff.
Best Hardside Luggage Sets in 2023 Compared
1. Best Overall: Samsonite Omni PC 3-Piece Set
Samsonite prides itself on manufacturing top-quality luggage to suit a variety of tastes and needs, and the brand continues this trend with the Samsonite Omni PC 3-Piece Set. Built to withstand most of the usual travel knocks, this luggage set can survive poor handling at airports, rough floor surfaces, and even harsh elements. The tough micro-diamond polycarbonate texture is scratch-resistant and will give you peace of mind that your bags will remain in great condition after years of use. The best part is that you do not need to sacrifice style to enjoy these benefits. Available in seven stylish colors, most options of this set are bright and easy to spot in a sea of luggage.
The set includes three conveniently-sized bags that meet different travel needs. Measuring 19 x 14.5 x 9.75 inches (48.3 x 36.8 x 24.8 cm) and weighing 6.81 lbs (3.1 kg), the 20-inch carry-on bag is suitable for quick, short trips as it's small and lightweight enough to meet most airline restrictions. There are also two larger checked pieces that are suitable for longer trips when extra luggage is needed. The 24-inch piece measures 24 x 17.5 x 11.5 inches (61 x 44.5 x 29.2 cm) and weighs 8.34 lbs (3.8 kg), while the 28-inch measures 28.5 x 20.5 x 13.5 inches (72.4 x 52.1 x 34.3 cm) and weighs 11.68 lbs (5.3 kg). Despite the tough materials used in this set, the suitcases are extremely lightweight, so you don't have to stress about exceeding airline weight restrictions.
If lugging your suitcase around busy airports gets you down, then you will love the Omni. Fitted with 360-degree spinner wheels, these bags will roll effortlessly at your side. Of course, if you are taking all three pieces with you, you may need to grab a trolley until you get your larger pieces checked in. When you are rolling them, the retractable handles lock into place at two heights, giving you flexibility when you need it. You can also make use of the carry handles on the sides and tops to lift or lug the bags when rolling isn't possible.
Packing these bags is a pleasure as they are fitted with mesh dividers and compression straps in the main compartments. This makes it easy to arrange your belongings in the way that best suits you and keep things as organized as possible during your trip. The design also helps ensure that your clothing will remain in place and stay wrinkle-free. If you're a heavy packer, or you're hoping to buy a few more things to bring home while you are away, the bags expand to give you the additional room you need.
Boarding is a breeze with the TSA-approved locks that are stock standard with each suitcase in the set. Surprise suitcase inspections won't damage your bag or locks in any way, and you'll still rest assured that your belongings are completely safe. You'll also have peace of mind with the quality you'll get with Samsonite products. They undergo rigorous testing and back up the promise with a 10-year limited warranty that covers defects in materials and workmanship.
Overall, if you'd like to invest in a luggage set that will exceed your travel needs and stand the test of time, the Samsonite Omni PC 3-Piece Set is the way to go.
Pros
Extremely tough exterior that will provide long-lasting use
Spacious yet lightweight
TSA-approved locks for added convenience
Cons
Warranty only extends to manufacturing defects
2. Most rigorously tested: Samsonite Freeform 2-Piece Set
Similar to the quality of the Omni PC set, the Freeform 2-Piece Set is the best choice if you're looking for luggage from a brand that puts quality first. This set gives you the option of opting for just two pieces rather than three, though. Products from Samsonite are put through numerous testing stages to ensure they meet the highest standards, which guarantees the extreme durability of the set. On the off-chance that you do find a manufacturing flaw when your set arrives, Samsonite will, at its discretion, repair or replace your luggage.
Made from Polypropylene, a sturdy, textured material, the Freeform set is light in structure yet resists dents and scratches. It's also waterproof, crack-resistant, and extremely flexible, helping you maintain the aesthetic appeal of the set for far longer. You can choose between four minimalist colors that complement the hardside suitcase's streamlined and polished appearance. No matter which color you prefer—black, navy, grey, tangerine, sage, or mint green—you'll be sure to find a design that matches your tastes. Each model's inside straps, and zippers have also been matched to the exterior's hue, giving the bag an upscale appearance. The stylish, futuristic style of the Freeform set is emphasized by the special new shape that accompanies its cutting-edge components.
If you enjoy simplistic packing, the Freeform set gives you the benefit of two aptly-sized pieces that you can utilize according to the length and circumstances of your trip. The 21-inch carry-on measures 21.25 x 15.25 x 10 inches (54 x 38.7 x 25.4 cm) and weighs just 6.5 lbs (2.9 kg). The 28-inch checked piece, on the other hand, comes in at 31.1 x 20.95 x 13.78 inches (79 x 53.2 x 35 cm) and 19.96 lbs (9 kg). The bags are also expandable, giving you the option to pack in a little extra when needed.
Packing is effortless with the Freeform set, as the bags are spacious and offer decent compartmentalization. The suitcases have many pockets to keep things organized, as well as a cross ribbon and divider to make packing simple. Like most hardside luggage, the suitcases zip open down the middle to reveal two equally-sized large cavities. One of these can be zipped closed, while the other features compression straps to secure the items underneath. There is also a smaller zipped section that can be used to hold accessories, electronics, or any small item you see fit.
The Freeform Set's four multi-directional double spinner wheels enable 360-degree upright rolling with no weight on your arm or shoulder, making traveling seamless, especially when you are juggling carry-on and overhead baggage. Also, the suitcases' bigger push-button handles offer a grip that is incredibly comfortable, integrated from multi-stage aluminum for a more lightweight feel. The bags even have top and side carry handles that retract while checking luggage. This, combined with the recessed side-mounted TSA-approved locks on the set, makes boarding a breeze.
Overall, the Samsonite Freeform 2-Piece Set is ideal if you're looking for a high-quality luggage set that won't break the bank.
Pros
Expertly designed handles make maneuverability a breeze
Made from polypropylene for excellent durability
Simplistic, minimalist design to suit every occasion
Cons
Not many compartments to pack optimally
Checked-piece exceeds 62 linear inch airline restriction
3. Best for utility: Travelpro Platinum Elite 2-Piece Set
If you're someone who enjoys features in a suitcase that add convenience during your trip, the Travelpro Platinum Elite 2-Piece Set is perfect for you. The carry-on piece features fast-charging external USB A & C ports that let you power your electronics while you're on the go. Your power bank will remain concealed inside the expansion feature for convenience and FAA compliance. Additionally, you'll enjoy the ease provided by the TSA-approved locks during boarding.
The set features a 21-inch carry-on suitcase that is sized to fit in the overhead bins of most domestic airlines. Similarly, the 25-inch checked piece satisfies the size requirements for almost all major domestic carriers. The smaller suitcase measures 23 x 14.5 x 9.5 inches (58.4 x 36.8 x 24.1 cm) and weighs 8.1 lbs (3.7 kg). The checked case is medium-sized with dimensions of 27.25 x 18 x 13 inches (69.2 x 45.7 x 33 cm) and a weight of 11.1 lbs (5 kg). This makes traveling seamless as you don't have to worry about whether your luggage is going to meet travel sizing requirements.
To add to your smooth flying experience, the set features Travelpro's PrecisionGlide System, eight MagnaTrac self-aligning spinner wheels, and a four-stop adjustable PowerScope Lite handle with a comfortable Contour Grip that delivers precise and effortless control when rolling the suitcases. These features make maneuvering your luggage nothing but a breeze, which comes in handy, especially when traveling long distances.
Organization is easy with this set, as both the carry-on and checked pieces have a zippered 2-inch expansion option providing you with increased packing space if needed. Your contents can be kept arranged, divided, and safe with the help of interior zipped divider panels and movable hold-down straps. You'll benefit from multiple accessory pockets for built-in organization and a water-resistant pocket that offers a handy location to store damp goods or toiletries.
Choose between five metallic colors to match your personal taste and travel in style with the sleek, luxurious aesthetic of this set. The carry-on bag's attractive, textured appearance helps to hide any scuffs or scratches, while its extremely durable 100% polycarbonate hard shell and aluminum corner guards protect the contents. For added value, a genuine leather trim detail decorates the front of each suitcase. Although damage is unlikely with this set, Travelpro's warranty covers the cost of repair for damage caused by airlines, or another common carrier, for the first five years following registration under the brand's Trusted Companion Promise, offering the ultimate peace of mind when traveling.
Overall, if you look for high-quality materials and components in a set that has been thoughtfully-designed, look no further than the Travelpro Platinum Elite 2-Piece Set.
Pros
Corners reinforced with aluminum for excellent shock-resistance
Self-aligning spinner wheels make the suitcases effortless to move
Comprehensive warranty for ultimate peace of mind
Cons
Not a wide variety of color options
4. Most durable: Ricardo Beverly Hills Mojave 2-Piece Set
When it comes to the durability of any given piece of luggage, the pattern of the exterior shell makes a huge difference in how resistant the bag is to shock, wear, and scuffs. For this reason, the diagonally ribbed design combined with polycarbonate alloy makes the Ricardo Beverly Hills Mojave 2-Piece Set incredibly durable. As an added bonus, the unique aesthetic makes your luggage stand out from the crowd, especially with the pop of the twilight blue option.
This 2-piece luggage set includes 20 and 25-inch pieces, each of which is spacious and expandable by two inches to meet your needs. The carry-on measures 22 x 14.5 x 9.5 inches (56 x 37 x 24 cm) and weighs 7.3 lbs (3.3 kg). Although the checked piece is medium-sized, it measures 26 x 18 x 12 inches (66 x 45.7 x 30.4 cm) and weighs just 10 lbs (4.5 kg). This ensures that you have ample room to fit in everything you need while still remaining within the restrictions of most airlines.
This set is unique in its packing features, offering a packing cube to keep certain items separate within the two main cavities if need be. You'll also have the benefit of a waterproof pouch for any wet items and a hanger hook to take formal garments with you if the trip requires it. These thoughtfully designed elements certainly go a long way in giving you great value for money since the set is extremely reasonably priced.
Each unit in the set is fitted with double spinner wheels and an ergonomically designed telescoping handle with comfort grip to make moving the bags alongside you completely effortless. And, aside from the carry handles on the sides and tops of the bags, each suitcase also has a nook at the bottom that can be used to lift the luggage – a feature that is not commonly found in hardside luggage.
Your time spent in the airport will also be made easier by the USB-charging port in your carry-on piece, ensuring that you are always connected. The suitcase is equipped with an internal pouch specifically designed to hold your power bank, so you have peace of mind that your cable remains secured and fitted throughout the trip.
Overall, if you are looking for a suitcase set that offers excellent value at a low price, Ricardo Beverly Hills Mojave 2-Piece Set fits the bill.
Pros
Exterior designed for durability
Excellent packing features and capabilities
Affordably priced for those on a budget
Cons
5. Most design options: Delsey Paris Helium Aero 3-Piece Set