When you're short on packing space, shoes are your worst enemies. They're the most inefficient items to pack because they're dirty, bulky, and heavy.
Don't worry, though, because I'll show you how to pack shoes in a suitcase for traveling efficiently and smoothly. (If you pack smart, you can save some money on check-in fees!) Ready to dig in? Here's the best way to pack shoes.
Method 1: Soles to the Sides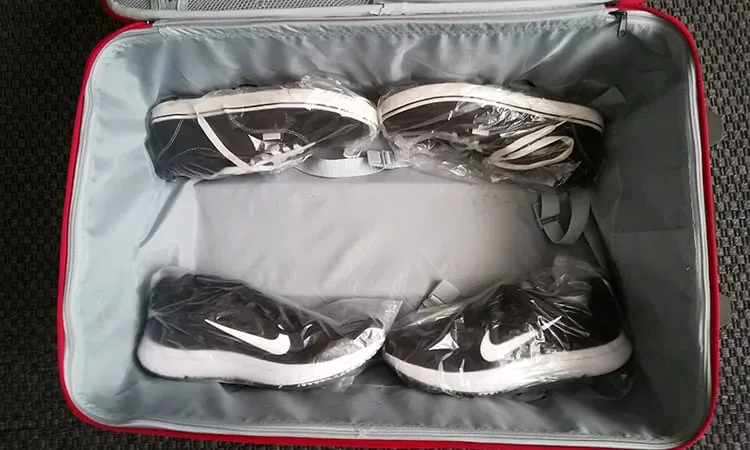 This technique is useful for packing at least two shoe pairs. You'll get easy access to your shoes and have enough space left for other items. However, for this technique your suitcase should be packed full, so your shoes won't move.
Lay your suitcase on the ground fully open.
Clean the dirt from your shoes and freshen them up with an air freshener.
Squeeze small items like socks, underwear, and belts inside your shoes.
Wrap each shoe in wrapping paper or inside of a bag to protect other items.
Start packing with your shoes by placing them with the soles touching any side of the main compartment.
Continue with the rest by placing each shoe separate from the other.
Now you're left with the middle section of your suitcase open where you should pack all of your other items. Make sure to pack your case full so that your shoes stay fixed to the sides.
Also, if you're in the need of a new suitcase, we recommend Travelpro. They're extremely durable and will last years! I own the Travelpro Maxlite 5 carry-on and it hasn't let me down once – it's still going strong.
Method 2: Shoes down at the Bottom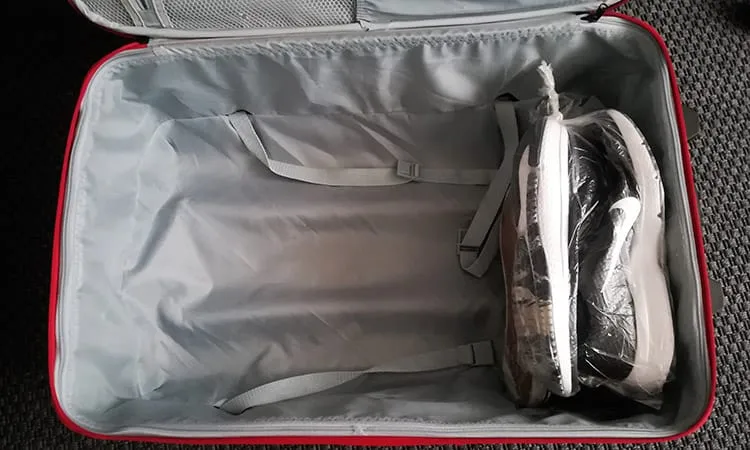 This technique is useful for storing many pairs of shoes. The trick is to store the heaviest items (your shoes) at the bottom of your case, reducing the chance that your luggage could tip over.
Lay your luggage open on the floor.
Clean your shoes and freshen them up.
Socks and belts can be stored inside of your shoes to save some space.
Now wrap your shoes in wrapping paper or grocery bags by wrapping them in pairs. Make sure to pack each pair heel to toe, with the soles facing opposite directions. (Similar to storage in shoe boxes.)
Place your shoes at the bottom of your suitcase with one of the soles facing the bottom wall.
Next, continue with your other pairs, stacking them on top of each other. Make sure to fill the bottom part fully, so you're left with the top part empty for all of your other items.
If there's some space left between shoe pairs, you can squeeze in some t-shirts, socks, and underwear in the gaps.
Best travel shoes for men (according to our research): Merrell Burnt Rock Travel Hiking Shoe
Method 3: Packing Them in Your Zippered Compartments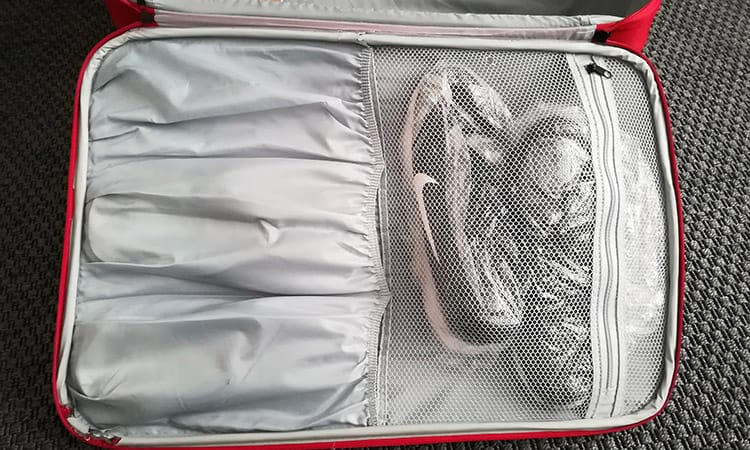 This technique works only if you only pack two pairs of shoes, ideally a pair of sneakers and flip-flops. Furthermore, this technique offers the smoothest access to your shoes.
Start by placing your luggage open on the floor.
Clean your shoes.
Store socks, belts, and underwear in your shoes.
Wrap each shoe in a plastic bag to avoid making a mess.
Now place your shoes in the zippered compartments of your case.
If all of your pairs don't fit, you can store the shoes that you will be using the most in the zippered compartment. Other pairs can be stored in the main compartment.
Fill the rest of the zippered compartment with smaller items that you need easy access to.
Best travel shoes for women (according to our research): UIN Travel Slipper
Tips on Saving Space When Packing Shoes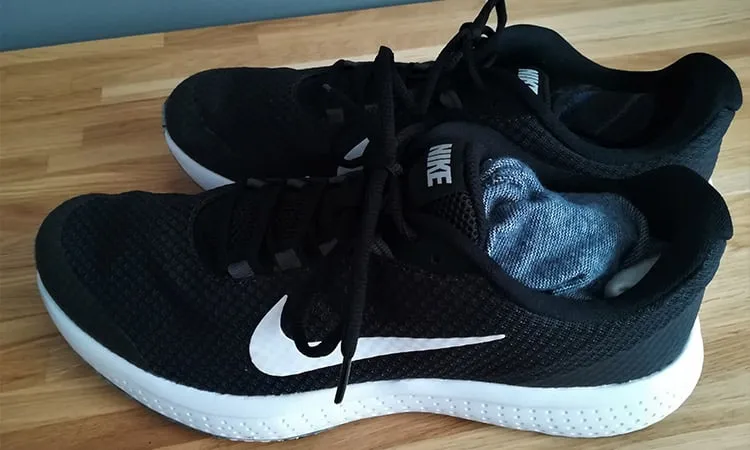 If you're tight on space, these tips might save you from some stress. I've personally gathered these tips over the years and some I've read on forums and travel guides.
Always wear your bulkiest shoes while boarding the airplane.
Smaller items should be stored in your shoes. (Also, between the gaps of your shoe pairs.) We always store your socks, underwear, and belts inside of your shoes.
Keep the soles of your shoes facing the walls of your suitcase. Not only does this save space, but you'll have easier access to your shoes later as well.
Try to place your shoes near the bottom of the case because they're heavy and will result in a more balanced suitcase (which makes it less likely to tip over.)
When storing your shoes in pairs, always place them feet to toe (just like in shoe boxes.) You're left with a neat little rectangle that's efficient for packing.
If you're wrapping your shoes in a plastic bag, make sure to release most of the air out of the bag and tie it up. This makes your shoes close to vacuum-sealed and saves some space.
If you still can't save enough space, consider investing in a luggage set. You'll have three or four suitcases in different sizes that fit each occasion. Here I've compared the 8 best hardside luggage sets.
How to Pack High Heels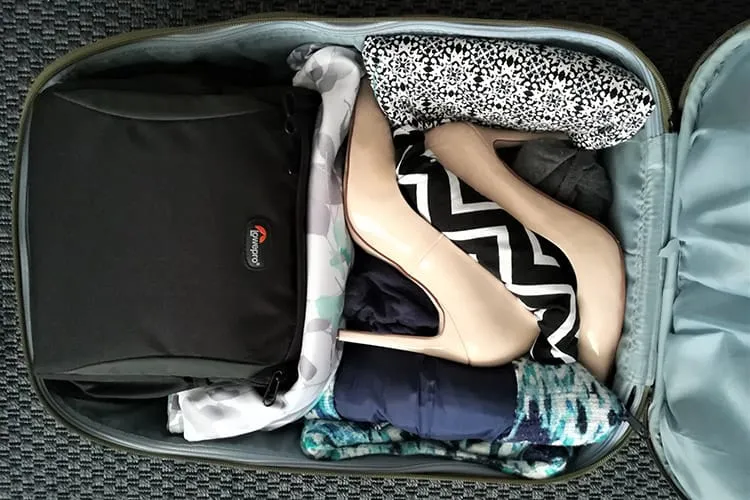 High-heels are pretty inefficient to pack, as you're always left with some gaps near the sides. The trick is to fill those gaps with smaller items. Also, you should be careful not to damage them, as they're pretty easy to break. Here's how to pack high-heels efficiently:
Start by cleaning and freshening up your shoes because you will be storing things inside of them.
Next, roll up some socks or underwear and squeeze them in your shoes. This saves some space and keeps your high-heels from being squished.
Next, wrap each of your high heels in a plastic bag to protect other items from getting dirty.
Before packing your high-heels, fill up the bottom part of your case with some shirts, jeans, and other clothes.
Place your shoes inside of your suitcase near the bottom for a better balance. Make sure to place them sideways for better protection.
Now, you're left with some gaps around the heels. Fill them up with t-shirts and tank tops to save some space.
Fill the rest of the case with other items.
Tips on Protecting Other Items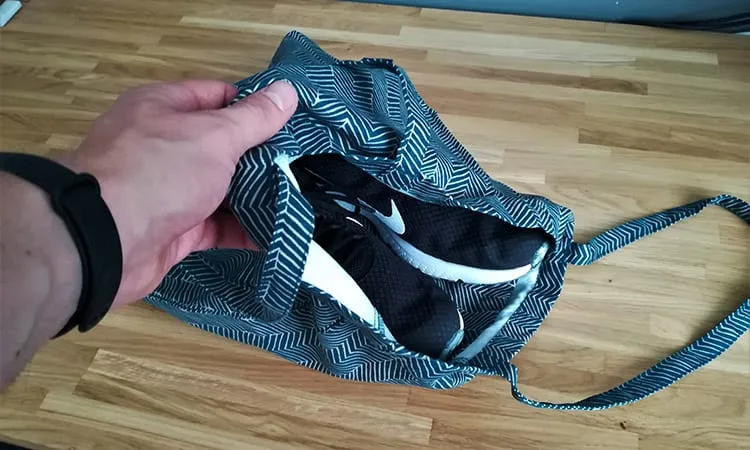 If you're packing high heels, you can damage other items if you place them close enough to each other. Make sure to leave some distance between your DSLR and high heels to avoid unpleasant surprises. Just imagine how much your bag is tossed around by the airline employees when packing the plane. They can do some serious damage! Also, shoes are pretty nasty when it comes to packing. If you don't take the time to wrap them up, your clothes will get dirty.
We like to wrap our shoes in either plastic grocery bags or tote bags. If you're using a grocery bag, you can suck out most of the air and tie it up, making your shoes packed similar to a vacuum-sealed bag, for more efficient packing. Also, if you're storing each shoe separately, those small transparent plastic bags are just the right size and take up almost no space. Lastly, make sure to place your shoes closer to the bottom of the case or near the walls. This helps your shoes to stay in place and keeps them from damaging other items.
Read Next: What to Put in Carry-on and What in Checked Luggage (Guide)
How to Pack Shoes in a Suitcase Without Squishing Them
If you're concerned about squishing your shoes, your first thought would be to put them in some kind of container. This way they'd be protected from airline damage and other items pressing against them. Is this the best way of going about it? Probably not, but a container takes up too much space, weight, and is pretty inefficient for packing. Instead, you should fill up your shoes with smaller items, like rolled-up socks and underwear. Make sure to fill them up tightly so other things won't get smashed.
To protect your shoes, try packing some clothes around them, like t-shirts, tank tops, jackets, and socks. To avoid bending, try to place them with the sole facing the side of your suitcase, so they're pressed straight against the wall. Alternatively, if you're taking expensive dress shoes, you may want to use a shoe tree to preserve your shoes. This replaces stuffing them with socks, as a shoe tree is better-shaped for dress shoes.
How to Pack Shoes in a Backpack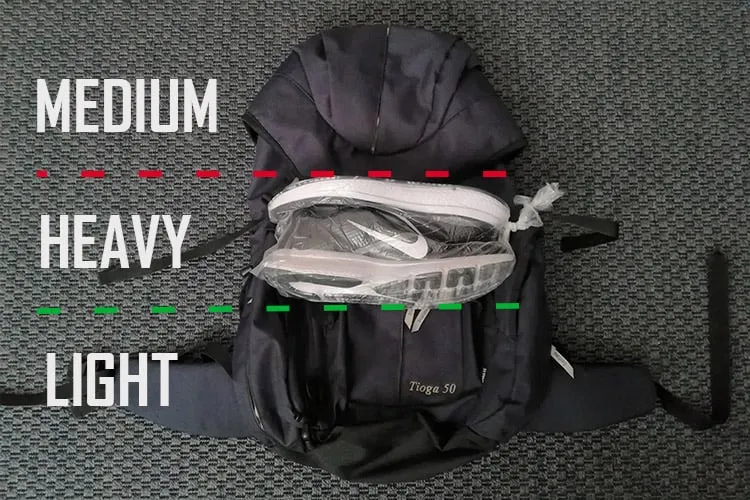 First of all, make sure that you're wearing your bulkiest shoes while boarding to save some space. You can store the rest of your pairs in your backpack. Generally, you shouldn't be taking more than two pairs of shoes if you're using a backpack, as you're pretty limited on space.
Here's how to pack shoes in a backpack:
Clean up your shoes before packing them.
Store rolled socks and underwear inside of your shoes.
Put your shoes in a bag to protect other items. Make sure to store each pair in a separate bag, packing them heel to toe with soles facing opposite directions. Also, try to suck out some air from the plastic bag and tie it for convenient packing.
Your shoes should be stored in the center of your backpack, as they're pretty heavy and will result in a better-balanced backpack that is better for your back.
Fill the bottom 10 inches with clothes or other items that you won't need easy access to.
Next, store your shoes in the middle part of your backpack.
Fill the top part with items that you need easy access to.
Read Next: Top 12 Best 17-Inch Laptop Backpacks Compared
How to Pack Shoes in a Duffel Bag
Some airlines have recently introduced fees for using the overhead compartments. Yes, even for a carry-on! Although only a few airlines do this, other airlines could start this practice as well. So how can you avoid it? Use a duffle bag that you can store under the seat instead of a regular carry-on.
However, using a single duffle bag for your whole trip can be a challenge. You really should pack smart and think twice about what you're taking when using a duffle bag. Some space can be saved by taking fewer pairs of shoes. If you're packing your shoes in the duffle, you're likely not staying for a long time anyway, so try not to pack more than one pair of shoes and wear the other pair.
First of all, start by cleaning up your shoes and packing them in a plastic bag or a tote bag. Make sure to store them heel to toe, similar to the placement that you would find in shoe boxes, to save up some space. Start by placing your shoes at the bottom of the duffle. Next, continue by packing the heaviest and largest items next to your shoes. Lastly, store the things that you need easy access to at the top.
Read Next: Best Suitcases for Suits Compared
How Many Pairs of Shoes Should You Take?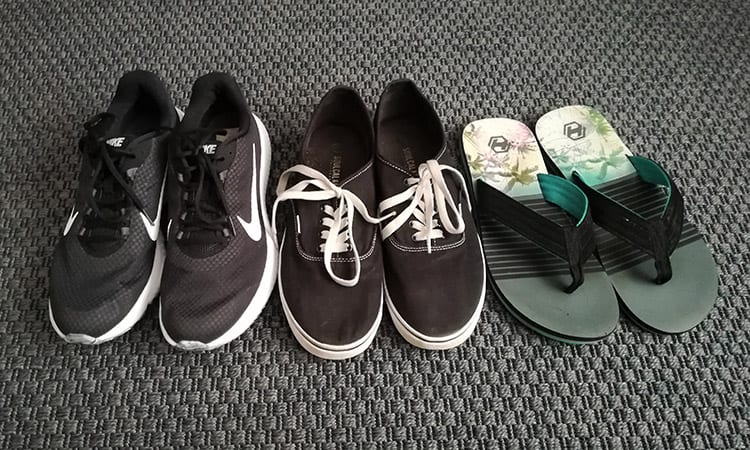 Do you know how many should you should be bringing with you during trips? It depends on how long you're staying, the weather, and your activities. However, when packing shoes, less is always better, as they're inefficient to pack.
First of all, you should think about the weather. If you're traveling to warmer climates, a pair of flip-flops or sandals are a must. They're also easier to pack! The same goes for cold weather; you should be packing a pair of boots. Make sure to wear the boots on the airplane and pack your lighter pairs in the suitcase to save some space.
Next, think about your activities. Will you be exercising? What about hiking and walking long distances? Will you be attending a formal event?
As a rule of thumb, we rarely take more than three pairs of shoes.
The first pair is casual. A pair of sneakers works perfectly, as they look pretty casual yet are comfortable enough for everyday sightseeing.
The second one is either boots or sandals, depending on the climate.
For the third pair, we pack sports or hiking shoes. We run every other day, so sports shoes are a must for me.
If you're doing mostly active stuff, consider leaving the casual shoes behind. Take sports/hiking shoes for your activities and flip-flops/sandals for sunbathing, swimming, etc.
Read Next: 30 Things to Do Before Traveling Abroad
Are shoes allowed in carry-on luggage?
Yes! There are no rules stating that you can't pack shoes in your carry-on luggage. So if you want to travel light and only bring a carry-on, you will be able to pack the bare necessities and hop on a plane! The main thing you want to keep in mind is the weight limits for carry-ons.
Other tips for packing shoes in your luggage
Narrow down how many shoes you are bringing with you.
Consider buying a shoe deodorizer in order to keep your other items from taking on odors from your shoes.
A neat way to organize your shoes and keep everything else clean is to use travel shoe bags. Of course, you can just use plastic bags instead, but shoe bags are a more eco-friendly option.
Thoroughly clean your shoes before you pack them inside of your luggage.
Make sure that your shoes are packed in a way that leaves space for all of the items you will need to reach while traveling is at the top.
To avoid unnecessary issues with your carry-on, make sure you aren't packing forbidden items. That way, you won't have to repack after security goes through your items.
Summary
In the end, the most important thing you need to remember is to keep your shoes in such a way that you're leaving room for your other items. Whether you're packing shoes with the soles against the wall of luggage or facing each other, keep in mind that you will need to ensure your suitcase is balanced. You don't want to deal with your luggage constantly tipping over. Rolling up your underwear, socks, and t-shirts to stuff in between your shoes will save you some major space. Putting these items inside of your shoes will also help you to keep them from being squished. Lastly, the most essential thing to keep in mind is that you don't need to over-pack. Only bring along about three pairs of shoes for each occasion that you might have and you'll be able to have a less stressful experience!
This post is also available in:
English