When you go on a trip, the kind of luggage you bring is always something that requires much thought and care. If this is your first time traveling, you might be wondering what to bring and what airlines prefer—hard or soft luggage?
If you're a frequent traveler but have been wondering about that also, you don't need to look any further. This article will shed light on what airlines prefer as well as what baggage handlers and frequent travelers recommend. It will also discuss the durability of hardside and softside luggage and give you the pros and cons of each one.
Do Airlines Prefer Hard or Soft Luggage?
In an interview with HuffPost, an anonymous baggage handler shared their experience on the tarmac and what goes on when it comes to load and unload the baggage. Their word of advice is to buy a quality, durable bag, as they got thrown around a lot. Softside luggage is fine, but you need to know that fragile items that aren't professionally packed don't stand a chance and will most likely end up breaking, as the "fragile" stickers on the bags don't get noticed often in the rush of loading or unloading the bags.
According to them, hardside suitcases "will get less damage, but also look for well-designed handles that are attached with rivets and some sort of protection around the wheels." If you're going with hardside luggage, they also advise getting bags with four wheels so that they don't have to throw them when loading and can just roll them onto and off the plane.
David Cameron, an airport inspector, said on Quora that he and his team only travel with hardside luggage especially since they are exposed to the process that luggage goes through behind the scenes in airports. It's not just how luggage is loaded or offloaded from a plane that is a cause for concern. Other incidents, such as theft, smuggling, vandalism, and more also happen around luggage in an airport.
Nevertheless, other people who work in the airport or travel frequently throughout the year prefer softside luggage.
From James Abbgy, who would take a hundred flights a year for business trips:
"I've had more luck with soft sided bags. They're a bit more flexible, allowing me to stuff a bit more in if necessary. They tend to be lighter, which means I can pack more before hitting the weight limit. And, something that has become more important to me in recent years, they're easier to compress (to a degree) and store."
Matt Musselman, a frequent international traveler agrees:
"I stick to the soft ones myself. Any breakables inside need to be wrapped a little more carefully to keep from crushing, but that's not really a bad idea anyway."
Curious to find out more? Check out our article on what luggage pilots and flight attendants use.
Is Hardside Luggage More Durable Than Fabric Luggage?
When it comes to luggage's durability, people often ask whether hardside is more durable than softside luggage. In reality, there's no black-and-white answer for this. Rather, it depends on one thing: quality.
Because hardside luggage is less malleable and seemingly made of sturdier material, it can be misinterpreted to mean that any hardside luggage is better than softside or fabric luggage. That isn't the case, however, as some softside luggage can last a longer time than hardside luggage made of cheap or flimsy material.
At the same time, just because a piece of luggage is branded and costs more than three or four suitcases together, doesn't mean that it will last for a long time. It's true that they can be a bit more expensive than the average suitcase you find. Still, sometimes, it's the bargain, no-name luggage that ends up being your faithful travel companion for several years.
That being said, if you're looking for durable luggage, whether softside or hardside, check the quality. Check what material it is made of, check reviews to see the experiences of people who have bought a similar type of luggage or from the same brand. Open the luggage, test the zippers, the handles, the wheels. Only then can you determine if what you're looking at buying is durable or not.
Which Luggage Type Is Better for Checked Luggage – Hard or Soft?
The type of luggage you bring depends on what you're packing, where you're going, and how you will be traveling. Both hardside and softside luggage have their advantages and disadvantages when you compare the material they're made of as well as their functionality.
Softside luggage is lighter, easy to carry, and may have several pockets for your different packing needs. They are also more common than hardside luggage because they are more affordable and come in different shapes, sizes, materials, designs, and more.
Hardside luggage, on the other hand, has undergone several improvements and upgrades. They are becoming the first choice when it comes to checked luggage because they are sturdier and offer better protection for your items than softside luggage. Hardside luggage is also easier to stack and less easy to break into, thus offering you more security.
Softside Luggage Pros and Cons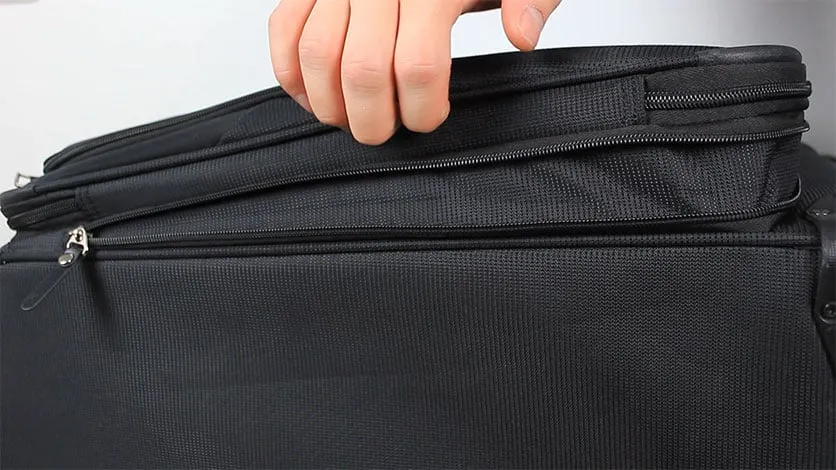 Pros
Softside luggage is lighter than a hardside suitcase, making them easy to bring around. They are also easier to store if you live in a small home.
If you have some items left to squeeze into your suitcase, you can do it with softside luggage, provided that you haven't gone overweight yet.
They're less malleable, which makes them perfect to squeeze into tighter spaces.
Their scratches aren't that visible, making them look new longer.
If you're a fan of packing cubes (like me), these work well with softside luggage so that your items remain compartmentalized and don't get jumbled up when you go on a trip.
Cons
Fabric or softside luggage often tears easily, which leads to having to replace your luggage often, especially if you travel a lot.
Softside luggage can be harder to clean especially when it gets stained with everything from liquid to mud and other elements during your trip.
Water can easily penetrate through the material of softside luggage.
If you've got fragile items or hard objects, they are less protected with softside luggage.
Softside luggage rarely comes with locks, leaving you to shop for one by yourself. (You've got to make sure that the lock you buy is TSA-approved.)
Note: I've owned the Travelpro Maxlite 5 fabric carry-on for a few years now, and I haven't had any problems whatsoever with the quality.
Hardside Luggage Pros and Cons
Pros
If you are packing breakable items, it's better to pack them in hardside luggage as they provide extra protection for your items.
Hardside luggage also provides better security because they don't easily rip and they often have integrated locks.
Hardside luggage is easy to stack up against all the others. This is especially helpful if you're going on a cruise.
They are often waterproof or water-repellant and are easy to clean.
Hardside luggage often comes with a TSA-approved combination lock or and zipperless options are available as well.
Cons
Unfortunately, sturdy as they are, hardside luggage scuff and scratch easily.
After several uses, you might notice some cracks start to appear.
They are less malleable than softside luggage, so you can't squeeze in extra items if you have no more space.
Because hardside luggage has a set frame, it's often more difficult to squeeze into tight spaces.
Hardside luggage is often heavier because of its frame and the materials it's made of.
Note: I use the Chester Minima carry-on, which is a mid-tier hardside suitcase, and it hasn't let me down right from the get-go.
Final Words
As you prepare to go on a trip, there are three things you need to remember. First, luggage handling behind the scenes can be rough, so the sturdier your luggage is, the better. Second, quality matters over brand and style so check the quality of the hardside or softside luggage you're thinking of buying. Third, what luggage you decide to bring depends on the items you will bring which will depend on where you're going. If you're able to determine all three, you'll be able to find quality luggage that will last long and will meet your travel needs no matter where you go.