Aluminum suitcases are the icon of frequent travelers, with every dent, scratch, and sticker showcasing more experience. So it's understandable that everyone wants one.
But are aluminum suitcases really worth it? They're incredibly expensive after all. Does the improved durability of aluminum bags really outweigh the high costs and increased weight?
In this article, we'll weigh out the pros and cons of aluminum luggage, tell you how aluminum luggage compares to softside and polycarbonate (plastic) luggage, share the best aluminum suitcases, and answer other questions you may have. After reading through this article, you'll understand whether you should get an aluminum suitcase or not.
Benefits of Aluminum Luggage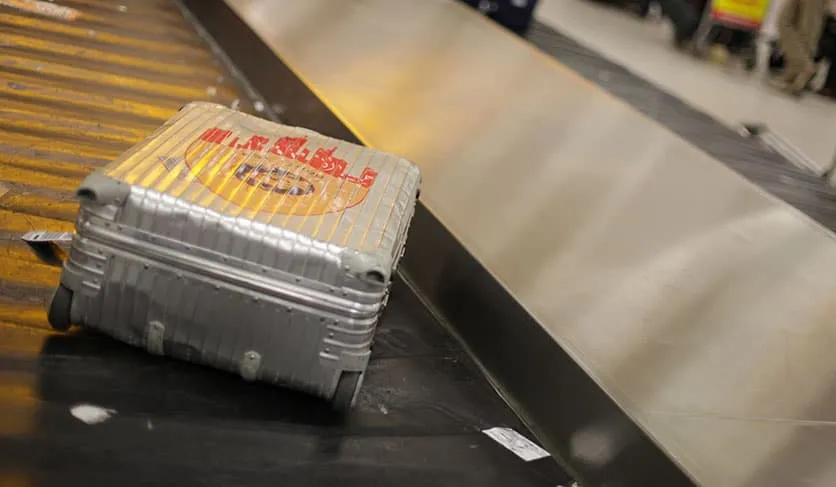 Extremely durable. Aluminum suitcases are arguably the most durable ones. That's because aluminum is a metal, which, instead of tearing or cracking (which is the case with various plastics and fabrics used in luggage) just bends, which doesn't affect the functionality of the bag too much. Aluminum is used instead of stainless steel or other metals because it weighs about 1/3 of stainless steel, it's a bit more flexible (it's more likely to bend than break), and it provides just the right amount of strength and protection for travel purposes. If you'd switch to an aluminum suitcase, after a decade of heavy use it would most likely still be okay. Of course, it would have some dents and scratches, but in terms of usability, it should still perform just as well.
Hard to overpack. If you struggle with overpacking, then you should avoid fabric suitcases, because they'll stretch and eventually break along the seams and zippers. If you'd stuff a ton of stuff inside an aluminum case, of course, there would be more strain on the latches, but they should be okay because they're much stronger than zippers and seams.
More secure. Nearly all aluminum suitcases have a latch closure system instead of zippers, which is much harder to break into. All zippers can usually be opened with a simple pen in a matter of seconds and then closed again without any traces, which is how stuff gets stolen during luggage handling. With aluminum suitcases, it will be much more difficult for thieves to get in without breaking the bag.
Provides better protection. If you're transporting fragile or valuable items, then going with an aluminum bag will definitely offer better protection for your stuff. All hardside plastics are fairly flexible to reduce the chances of them developing cracks, which means that if a bunch of heavier bags would be put on top, most likely, any fragile items inside the bag would become damaged. Because aluminum is stiff, this won't happen.
Great water-resistance. Although aluminum suitcases usually aren't 100% waterproof, they're very good at resisting water, because nothing can penetrate the aluminum shell. The water can sip only through the rivet attachment points and the latch closure unless properly sealed.
Good-looking. The aluminum suitcase trend, started by Rimowa, began in the 1950s, and it's still going strong today. There's just something cool about aluminum luggage, and it's hard to explain what. Every little dent, scratch, and sticker just adds to the look and makes the bag your own.
Disadvantages of Aluminum Suitcases
Heavy. On average, aluminum suitcases are 43% heavier than plastic luggage. If you live in the US, this won't be much of a problem, because the carry-on weight restrictions are pretty laid-back over there. But if you're planning on traveling internationally, especially with budget airlines, sometimes, an aluminum carry-on can take up 2/3 of your total hand luggage weight allowance. Ideally, we would recommend only checked aluminum luggage, because the weight restrictions are much looser for it. It also makes more sense to use aluminum luggage as checked bags, where the increased durability will help with rough baggage handling.
Plastic elements can still break. Although aluminum itself is pretty much indestructible, the plastic wheels, handles, latches, and other elements can still break. That's mainly why aluminum bags get thrown out eventually – due to the failure of plastic elements. So we would recommend sticking with a reputable brand, like Rimowa, Tumi, or Away, that offers warranty and repairs in case something breaks.
Expensive. On average, aluminum luggage is 5.1 times more expensive than hardside luggage and 4.6 times more than softside luggage. Cheap aluminum bags usually start at 300-500$, and expensive ones can go up to 1500$. Quite often this price is hard to justify because aluminum bags don't really last 4-5 times longer than other, well-made softside and hardside bags.
Easily catches unwanted attention. Thieves at airports, cafes, and public transport are more attracted to stuff that looks expensive, and aluminum luggage definitely does. So you'll have to be more careful and always keep an eye out for any thieves.
Aluminum vs Polycarbonate (Plastic) Luggage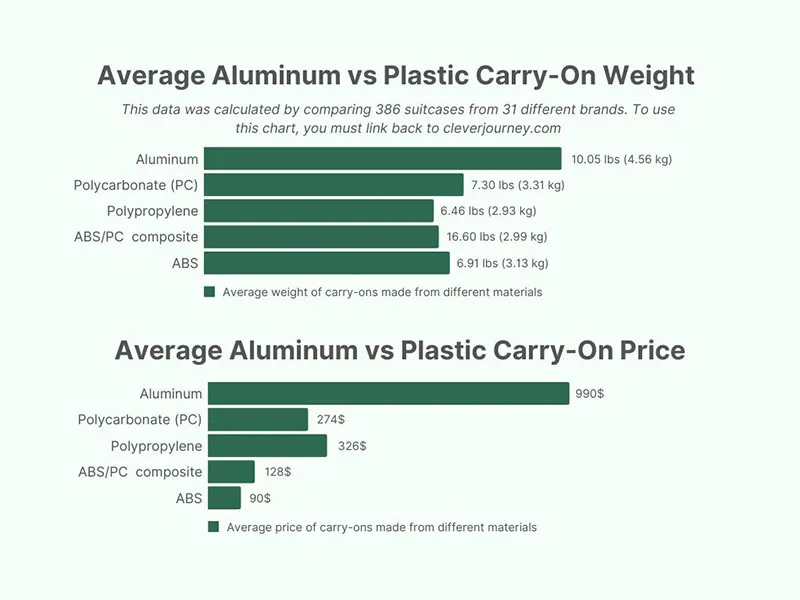 Although polycarbonate (PC) is the most durable plastic used in luggage, aluminum is still much more durable because it's a metal. There are other plastics used in hardside luggage, like ABS, ABS/PC composites, and polypropylene, but they're more likely to crack. Polycarbonate is somewhat flexible, which is why it's less likely to develop cracks over time. Aluminum pretty much doesn't crack at all – instead, it bends and dents under immense pressure. So if you're looking for the most durability, definitely go with aluminum, although polycarbonate is still somewhat durable as well. We would say that on average, aluminum suitcases tend to last 2-3x longer than polycarbonate ones.
In terms of weight, aluminum is 37% heavier than polycarbonate, which can be quite a lot when you're traveling with airlines with strict weight requirements for hand luggage. For context, on Lufthansa, the carry-on weight limit is 18 lbs (8 kg). An aluminum carry-on weighs 10.05 lbs (4.6 kg) on average, which means that the carry-on alone takes up 56% of the total weight allowance, which is a lot. Compare that to a polycarbonate suitcase, which weighs 7.3 lbs (3.3 kg) on average, and it takes up only 40% of the weight allowance.
The most major difference is in price – for the price of a single aluminum suitcase, on average, you can get 3.6 polycarbonate bags. If we take price into account in combination with durability and weight, we think that polycarbonate suitcases provide more value. Yes, aluminum is much more durable, but it's also heavier and much, much more expensive. So in the long run, it ends up cheaper to switch to a new polycarbonate bag every 5-10 years.
Aluminum vs Softside Suitcases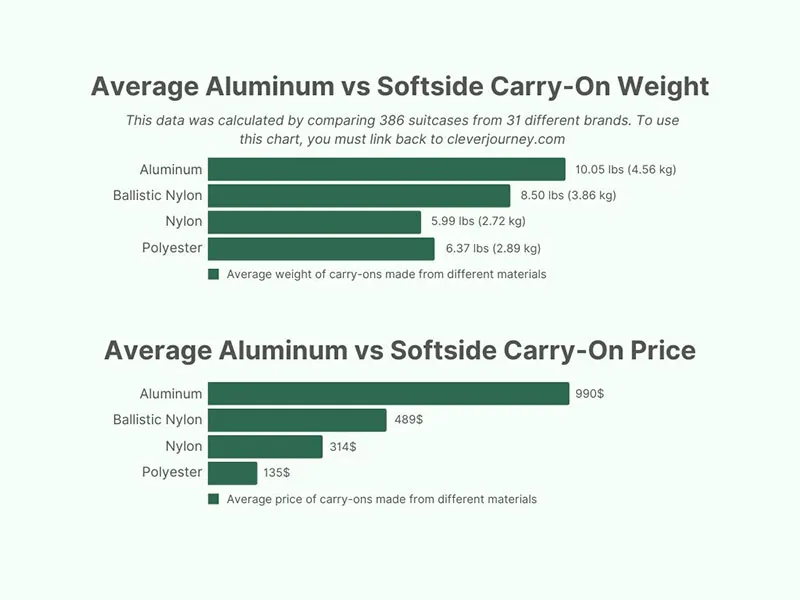 As a material, aluminum is much more durable than any fabric. However, in real life, aluminum suitcases aren't that much more durable than ballistic nylon softside bags. Ballistic nylon is the most durable fabric used in luggage, originally developed for military purposes. They'll both last for decades if used properly. That's because other parts of aluminum luggage are made from plastics, like the wheels, handles, and other elements, and they tend to break first. A well-built ballistic nylon bag can be almost as durable as a well-built aluminum one. The only benefits of aluminum are that it looks better, it has better water resistance, and it provides better protection for the contents of your bag.
In terms of weight, aluminum weighs 52% more than softside luggage (all materials included – ballistic nylon, regular nylon, and polyester), so it's much more heavier. However, compared to its fabric brother – ballistic nylon, it's only 18% heavier, which isn't too much.
For the price of a single aluminum suitcase, you could buy 4.6 softside bags or 2 ballistic nylon bags. Although aluminum suitcases aren't that much more expensive than ballistic nylon ones (they are, but not by crazy amounts), they're heavier and provide only marginally better durability. So in terms of value, going with ballistic nylon (or even a really well-made bag made from regular nylon) would be a much smarter choice, as it ends up cheaper in the long run.
Conclusion: Is Paying More for Aluminum Luggage Worth It?
Although aluminum suitcases are by no means bad, we don't think they're worth it when compared to other hardside and softside options. The main reason why we don't usually recommend aluminum luggage is due to their ridiculously high prices. Quite often, for the price of a single aluminum suitcase, you can get 2-5 hardside or softside bags instead.
In terms of durability, obviously aluminum is the best material used in luggage. However, other parts of aluminum luggage, like the wheels, handles, and latches, are usually made from plastics, and they tend to break much sooner than the aluminum shell. In fact, a well-built softside ballistic nylon suitcase can be almost as durable as an aluminum one, at half the price, and lighter weight. Well-built polycarbonate suitcases can also last a really long time if taken care of, at even cheaper prices and even lighter weight. So we would recommend getting an aluminum suitcase only if you don't care about the financial aspect of getting luggage – they're the most durable option but cost an arm and a leg.
Some extremely durable alternatives that you could consider are:
Best Aluminum Suitcases in 2022
Rimowa Classic Cabin Carry-On

- Editors rating: 4.9
- Metal latches, locks, & handles
- Made by a reliable brand
- Extremely expensive

SHOP NOW

Tumi 19-Degree Aluminum Carry-On

- Editors rating: 4.8
- Favorited by frequent travelers
- Great packing options
- Made by a reliable brand

SHOP NOW

Level8 Gibraltar Aluminum Carry-On

- Editors rating: 4.5
- Great reviews
- Minimal design
- Somewhat affordable

SHOP NOW

Yuemai Aluminum Carry-On

- Editors rating: 4.3
- Affordable
- Metal TSA locks
- Good packing features

SHOP NOW

Bamboo Wolf Aluminum Carry-On

- Editors rating: 4.3
- Affordable
- Offered in multiple colors
- Exterior pocket

SHOP NOW
Frequently Asked Questions About Aluminum Luggage
Does aluminum luggage dent or crack?
Under immense pressure, aluminum can indeed develop cracks. However, during luggage handling and traveling, luggage isn't likely to get exposed to such extreme amounts of pressure. So a cracked aluminum suitcase is something that you could experience, but extremely rarely.
Most likely, your aluminum suitcase will develop dents over time, from being thrown around during luggage handling, and from multiple bags stacked on top. If the dent is large, it can be simply bent back with a hammer, but in most cases, small dents won't affect the performance of the suitcase.
Most commonly, aluminum luggage gets thrown out due to other elements failing, like the wheels, handles, latches, locks, and other plastic elements. The aluminum hard shell itself usually outlives the rest of the components, which is why it's really important to purchase an aluminum suitcase from a reliable brand that is willing to do repairs.
Which are the best luggage brands that make aluminum suitcases?
Some reliable brands that make aluminum luggage include Rimowa, Tumi, and Away. There aren't too many reliable brands that make aluminum luggage, because there isn't too much demand for it, and it's difficult to make. Out of these three, Rimowa is the most reliable option. In fact, they pioneered the manufacturing of aluminum luggage 70 years ago, so they definitely have the most experience. Away is another good option, although they're a fairly new brand. They make aluminum suitcases for much cheaper prices, but they're based in the US, and their worry-free warranty covers any physical defect for a lifetime.
There are a few other less-popular brands that have recently started making aluminum luggage, like Level8, Aleon, Yuemai, Bamboo Wolf, Travelking, and Sindermore. However, all of them are fairly new brands and are mostly manufactured in Asia, so you won't get the same amount of quality, warranty, and customer support. Although some of their models have gotten fairly decent reviews, it's too early to tell if these brands are reliable or not.
Are there any lightweight aluminum suitcases?
The lightest aluminum suitcase that we've found is the Rimowa Classic Cabin S, which weighs 9.2 lbs (4.17 kg). Compared to the lightest polycarbonate hardside carry-on, the Travelpro Maxlite 5 hardside, which weighs only 5.5 lbs (2.5 kg), that's still extremely heavy. So even the lightest aluminum suitcases will still be much more heavier than the heaviest polycarbonate ones.
There are other, more affordable aluminum suitcases that weigh close to 9 lbs, like the YUEMAI Aluminum Carry-On. However, when it comes to cheaper aluminum suitcases, we think that heavier is better. That's because it's expensive to produce lightweight luggage that's also lightweight, which just means that the cheaper lightweight aluminum bags will most likely be more fragile.
Is cheap aluminum luggage worth it?
We personally think that cheap aluminum luggage isn't worth it. Right now, cheap aluminum suitcases cost between 200-500$. And the reality is that most aluminum suitcases within this price range aren't made by reputable brands and they'll break more commonly. Instead, you could get a very well-made fabric or polycarbonate suitcase for the same price, which would last you much longer.
We think that the only affordable aluminum suitcase worth getting is the Level8 Gibraltar, because Level8 has grown to a fairly large brand, and their suitcases have received mostly positive reviews. However, for just 200$ more, you can get an aluminum suitcase from a reputable brand with a worry-free lifetime warranty, the Away Aluminum carry-on, so going with that one instead is a much better choice.
Is aluminum the most durable material used in suitcases?
Aluminum is indeed the most durable material used in luggage, much more durable than any plastic used in luggage, including polycarbonate. However, it actually isn't that much more durable than ballistic nylon – the most durable fabric used in luggage originally created for military purposes.
The problem with aluminum suitcases, is that other elements of the bag, like the wheels, handles, and latches, are made from plastic, so they can still break. A well-made aluminum suitcase can be just as durable as a well-made ballistic nylon one. The latter ones usually cost about half of what you'd expect to pay for aluminum luggage, so it doesn't make sense to purchase aluminum luggage just because of the durability aspect.
Why is aluminum luggage so expensive?
On average, aluminum luggage costs 5.1 times more than plastic hardside luggage, and 4.6 times more than fabric softside luggage. This is because aluminum is a much more expensive material than polycarbonate – a ton of Aluminum costs about 3500$, while polycarbonate only about 400$.
Not only that, but aluminum luggage is much more difficult to manufacture because aluminum sheets need to be cut to specific sizes, shaped to get the grooved design, and then assembled using rivets. Polycarbonate luggage, on the other hand, can be injection molded, by melting down the PC pellets and then injecting them into a mold, which is a much simpler process.