There's something attractive with the sleek appearance of aluminum suitcases. And somehow, we easily associate these suitcases with secret agents (thanks to Hollywood!) and celebrities chased by paparazzi. But there's more to an aluminum suitcase aside from its neat and professional-looking exterior.
This article will help you decide if you should get an aluminum suitcase yourself and if they're worth the hype.
Benefits of Aluminum Suitcases
Stylish
You've got to admit; nothing quite gives a statement in the airport like a sleek, elegant, and timeless aluminum suitcase. These suitcases throw a modern vibe and are unlikely to get out of style.
Durable
Choosing a cheaper case made from worse materials may be tempting but it could end pretty badly. If you're a frequent traveler, chances are you've replaced your luggage more frequently than you'd like. That said, paying a few more bucks may be better long term.
If you are looking for a resilient suitcase that you won't have to replace anytime soon, choose an alloy suitcase. With proper care and maintenance, you can expect it to last indefinitely. While it will inevitably earn scruffs, scratches, dings, and dents over the years, aluminum suitcases are virtually indestructible.
Weather-Proof
If you've ever experienced having your luggage loaded in the cargo during a storm onslaught, you may have had thoughts to switch from using fabric suitcases. Unlike these, aluminum cases are resistant to moisture and water – a valuable trait celebrated by frequent travelers.
An aluminum suitcase's protective and weather-proof casing is handy if you need to bring fragile and expensive technical gear such as cameras or drones for travel.
Strong
If you plan to get a suitcase for air travel, material strength is a huge factor. Suitcases get the roughest treatment at airport check-ins. Aluminum suitcases can withstand luggage transfers without signs of luggage mutilation and damage.
Many people covet these travel "battle scars" because they signify being a frequent flier – implying that the person carrying the suitcase is a wanderlust.
A Status Symbol
Let's be honest; these suitcases are luxury items for jet-setters. Gracing departure lounges with these beauties will likely catch eyes. As mentioned earlier, dents and scruffs are perceived as travel souvenirs showing how much travel it has withstood.
Secure
Most, if not all, aluminum suitcases come with TSA-approved combination locks that can deter theft and unauthorized access without the proper combination or key. You don't have to be unsettled about your luggage being slashed and opened, or its zippers punctured too.
Disadvantages of Aluminum Suitcases
Cannot Overpack
Fabric cases allow for some extra-packing using the usual tactic of sitting (or even standing!) on the luggage just to be able to zip it. While hard shells, in general, have no expansion capabilities, polycarbonates allow for some flexibility compared to aluminum cases.
However, this may also push you to be a better packer and save yourself from exceeding the allowed weight.
Easily Catches People's Attention
Traveling on the road with an aluminum suitcase is a sure way to look luxe on the road. However, the refined look and air of prestige that an aluminum suitcase gives off may make you an interesting target for thieves. To add, hotel staff and taxi drivers might look at you with expectations.
On the flip side, infrequent travelers using aluminum cases may be perceived as experienced ones reducing the likelihood to be targeted by local scammers and tricksters.
Expensive
Aluminum suitcases are commonly pricier compared to their fabric and polycarbonate counterparts.
Heavier
Aluminum cases are the heaviest among the variety of suitcases, about one-fourth times heavier than a polycarbonate case of the same size. You might need more strength to place it in the overhead bin.
Read Next: Away vs Rimowa: Which One Makes More Durable Luggage?
Key Differences Between Aluminum and Polycarbonate/ABS Plastic Suitcases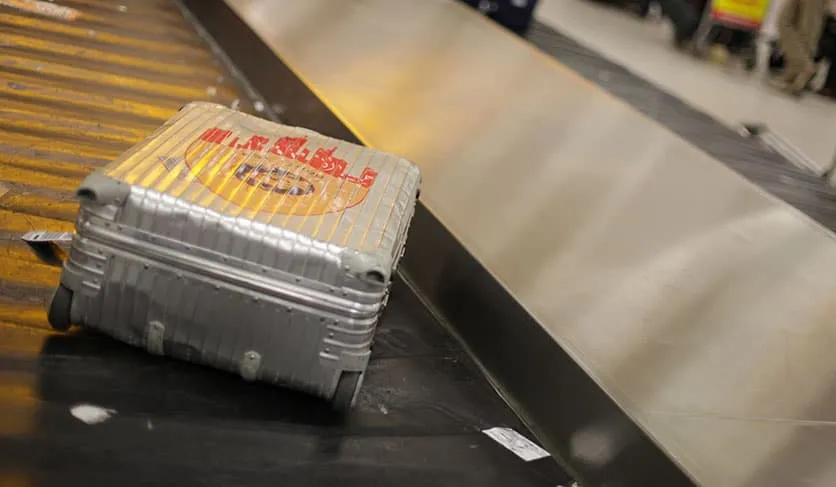 Many are asking the question, "what is the best material for hard suitcases?" Hard-shell suitcases are typically made of either polycarbonate, ABS, other thermoplastic polymers, and aluminum ones. If you want to know the difference between each type, a detailed luggage material comparison would be beneficial.
But of these types, polycarbonates and aluminum types are always contending for the top position. Below are key differences between aluminum versus polycarbonates and ABS.
Weight. While aluminum is a light industrial metal, aluminum luggage is generally the heaviest. Whereas its plastic counterparts are relatively lighter, with ABS being lighter than polycarbonate.
Durability. Aluminum suitcases are more robust than polycarbonate.
Dent and Scratch Proof. Polycarbonate and ABS scratch much less, and dents can be pushed back. On the other hand, the malleability of aluminum makes it prone to dents, and unlike polycarbonates, they can't be popped back in their original shape.
Price. Getting better materials means going up the budget scale. For an average customer on a tight budget, polycarbonate is a more affordable option than aluminum.
Read Next: 8 Best Hardside Luggage Sets In 2022 Compared
Conclusion: Should You Pay More for an Aluminum Suitcase?
Choosing to purchase an aluminum suitcase would depend largely on your preference, needs, and lifestyle. If you want to prioritize safety and want to ensure that your belongings arrive in pristine condition or you anticipate traveling a lot and want to invest in a durable suitcase, an aluminum suitcase will meet and even exceed your expectations. And don't forget the perks of being perceived as a jet-setter!
3 Durable Aluminum Suitcases You'll Want to Check Out
| Name | Aleon 30" | Travelking 24" | Yuemai 20" |
| --- | --- | --- | --- |
| External Dimensions | 30.6 x 16.9x 14.6 | 18 x 9.8 x 25.4 | 8 x 14.5 x 21 |
| Internal Dimensions | 27 x 15 x 13 | 17 x 9.7 x 23.6 | 5.7 x 10.8 x15 |
| Weight | 16 lbs | 12 lbs | 9.25 lbs |
| TSA-Approved Locks | yes | yes | yes |
| Spinner Wheels | yes | yes | yes |
| Compression System | yes | no | no |
| Color Options | yes | yes | no |
| Warranty | 10 years | 3 years | 3 years (accessories only) |
1. Best Overall: Aleon 30″ International Trunk Aluminum Hard Side Luggage
If you are a globetrotter, this extra-large trunk is your dream suitcase. Aleon's 30″ International Trunk Aluminum Hardside Luggage not only meets all FAA standards, but it also has a whopping 82L capacity– giving a lot of room for longer trips and more shopping!
For its exterior, the product is secured with steel rivets and has double reinforced corners for added durability. Its rubber seal deems it water and grime-resistant, so you don't have to worry about your belongings. It also comes in three sleek, professional-looking colors.
However, this product comes with a price tag. But to balance this, Aleon offers a worry-free ten-year warranty for damages –whether it's a manufacturing defect or any other cause of damage. Also, long-time Rimowa users swear on the brand and its good customer service.
Purchase at: Amazon
2. Pricey but Not Expensive: Travelking All Aluminum Suitcase Hard Shell Luggage
If Aleon's 30″ is just too much for you, you can opt for TRAVELKING's aluminum suitcase. Like Aleon, it is keyless and
zipperless
and utilizes dual TSA-approved combination locks. It also comes with organizational pockets; however, unlike Aleon, it does not come with a compression packing system.
For its exterior, it has bumper corners for extra durability. It weighs 12 lbs, comparable to its lightweight polycarbonate counterparts. To secure buyers of its quality, Travelking offers a worry-free three-year warranty.
Purchase at: Amazon
3. Best Affordable: Yuemai 20″ Aluminum Alloy Luggage
Yuemai's 20-inch suitcase is the most lightweight of the three, weighing only 9.25 lbs. It has a grooved design to protect its TSA-approved lock from getting damaged. Also included in the luggage is a wheel removal tool, just in case you'll need to do some DIY fixing, and two organizers to help you with packing.
This aluminum suitcase is also one of the most affordable aluminum suitcases available in the market. Despite its low price for an aluminum suitcase, it's nicely built and just the right size for carry-on luggage.
Yuemai offers a three-year replacement warranty for accessories (i.e., TSA locks, wheels, handle, and rod) but does not provide a replacement for the aluminum body.
Purchase at: Amazon