If you're about to be a flight attendant, a pilot or you're here just because you're wondering what luggage do pilots and flight attendants use, you're in the right place. In this article, we will explain what's a flight bag (other known as a pilots bag), what luggage brands are recommended by pilots and share some of their most common choices.
Although pilot bags are made specifically for pilots, often they're used by photographers, frequent travelers, business people and others who need their suitcases to be hardcore.
Baggage size restrictions for flight crews
Pilots and airline crews have their own size and weight specifications for their luggage, different from the passengers and set by the airline. They're not set in stone though. For instance, an airline crew member stated that she has never had any problems with the size of her checked suitcase that she's always bringing on board. It's more of a "Don't stick it in the passenger's faces when it comes to bringing oversized luggage onboard."
Despite this fact, most flight crew members and pilots prefer to use smaller bags instead of larger ones. It really depends on how many nights you have to stay and your dressing habits.
The perfect combo for this is a smaller handbag (around 15 x 10 x 6 inches) specially made for storing the pilots iPad, headsets, transceivers, and other in-flight items, and a second overnight carry-on for their spare clothing (22 x 14 x 9 inches). If the smaller bag has a strap, this combo is really easy to use because you can just strap your smaller handbag on your carry-on and roll both of your bags together.
Editors Tip: Several flight crew members recommended the Travelpro Platinum Elite 21-inch carry-on as the best choice of an overnight carry-on. It's one of the most durable options out there and backed up by a lifetime warranty that covers even airline damage. Although it's expensive, in the long run it pays off.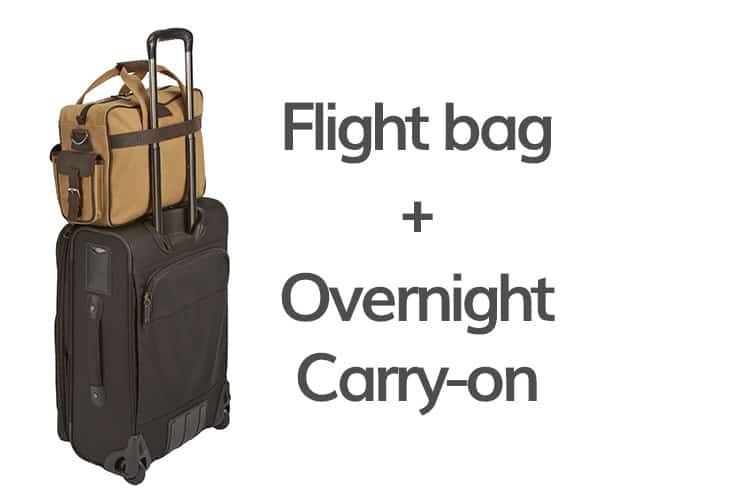 What luggage do pilots use
Most commonly pilots use a special bag called a "Pilots bag". A pilots bag is a handbag specifically made for pilots so that they fit next to the pilots' chair in the cockpit. Pilot bags come in various sizes, from 10 x 8 x 6 inches to 18 x 14 x 12 inches. Other than that, the bag has various compartments for fitting the pilots iPad, a flashlight, a headset, all the necessary documents, a radio, and other in-flight items needed for the pilots.
P.S. We've researched over forty different bags and compared the best flight bags in this article. In this article, you can get a better understanding of the most common flight bag choices by pilots.
What luggage do flight attendants use
Most commonly flight attendants use a combination of two bags: A durable carry-on to store their spare clothing and a smaller flight bag (Could be a duffle or a cooler) for all of their in-flight items, like the electronic flight bag, a headset, make-up, snacks and food, e.t.c.
Note: The terms "flight bag" and "pilots bag" are used as synonyms because 99% of the times the bags can be used by both pilots and flight crews. However, pilots tend to use bags with more compartments as their choice for a flight bag.
Luggage brands recommended by pilots & cabin crews
We've spoken with various pilots, researched what other pilots said on social media and forums and came to the conclusion that there are only a few brands suggested by pilots and flight crews. They've been flying for decades a few times per week, so they know what brands are durable and which aren't. Anyway, I've listed the clear winners below.
Travelpro. Originally, this brand was created by a Northwest Airlines pilot more than three decades ago. Now it supplies the staff of over ninety airlines. Most airline staff members agree that this is the best option if you're frequently flying.
Samsonite. This brand offers various fabric suitcases with outstanding quality. Samsonite is one of the most popular choices for airline staff, with some stating that they've lasted over 15 years.
Rimowa. If you rather prefer an aluminum case, this is an excellent option. Although they're on the expensive side, they're a popular choice for airline staff and frequent fliers due to their exceptional build quality.
Briggs & Riley. Although expensive, these suitcases come with a hassle-free lifetime warranty. They're not as popular as the first three alternatives, but the crew members that have been using it can only say excellent reviews.
P.S. If you want to see how these brands compare to 12 other luggage brands, Here I've compared the 16 most popular luggage brands.
What you should look out for when buying a pilots bag
Durability
It may seem obvious, but you really want to invest in a high-quality bag. No regular bag will endure everyday usage, unless with exceptional quality. Some brands that offer high-quality pilot bags are Travelpro, Brightline, Flight outfitters.
Also, you may want to look for a lifetime warranty. As you're not purchasing this short-term, broken parts will happen eventually. If you're equipped with a lifetime warranty, just drop your bag off at the nearest repair point, pick it up after a few days, and you're good to go.
Price
If you're purchasing a pilots bag, you shouldn't compromise price. Ideally, you should look for something above 100$. You really don't want to buy a new bag every year. Instead, purchase a more expensive one that will last you your whole career. Some pilots that have bought good quality bags report them lasting for 15-25 years.
Dimensions
When choosing a pilots bag, you're not limited to a strict size limit. Some pilots like to travel with smaller handheld bags and some with medium-sized rolling bags that fit next to the pilots' chair.
Your pilot bag shouldn't be too big or too small. Ideally, you should try to fit within 18 x 14 x 12 inches. If it's any larger than that, you might start to experience some difficulties when moving your pilots' chair. Your bag or the airplane equipment could get damaged, so it's better to stick within these limits.
Also, it depends on the type of airplane you're flying. For instance, there's much more space for pilots luggage on the Airbus A320 than on the Boeing 737.
Compartments
When buying your flight bag, make sure that it has tons of compartments. Over time you will develop a habit of what goes where and they'll make your life easier.
A cooler
Consider purchasing a flight bag with a cooler for your sandwiches and snacks. Some bags have a special compartment with a cooler for your snacks.
Other features
When buying your pilots case, make sure that it has a strap at the back of the case. This way, it's easy to stray it to your overnight carry-on. The strap keeps your flight bag on top and makes moving around with both of your bags much smoother.
Essentials that all pilots pack in their bags
I did some research and here's what most pilots like to pack in their luggage. Consider all the items that pilots and flight attendants have to pack in their bags. (That's where the various compartments come in!)
Documents: Employers ID, passport, airport ID, pilots license, medical, and other documents;
Toiletries: Toothbrush, toothpaste, shampoo, deodorant, shower gel, e.t.c.;
High-visibility safety vest;
Earplugs or noise-canceling headphones;
Sunglasses;
EFB (Electronic flight bag which contains all of the info);
Chargers;
Pen & Clipboard for all of your documents: Important procedures, crew briefings, flight plan, general declaration;
Flashlight for checking the plane before take-off;
High-quality headset;
Spare batteries for your headset and flashlight;
Your logbook in case of a SAFA inspection;
A spare t-shirt and some cash, because you will never know where you are going to land.
Snacks
What's the takeaway?
Pilots and flight attendants tend to fly with a combo of a 22 x 14 x 9 inch carry on, and a special handbag made for flight staff called a flight bag or a pilots bag that easily straps on the carry-on. If you're often flying, maybe you should consider doing the same?
When you're flying so often, a cheap carry-on for your over-night suitcase won't do it. Instead invest in a bag that's expensive, but will last for decades. Also, it's better to pack your essentials efficiently in a smaller suitcase, rather than to pack unprofessionally in a larger one.
Have you ever worked as a pilot or crew member? If you have any other airline staff secrets to share, I'd like to hear them!