We wanted to find out which luggage brands and which models specifically have gained a good reputation among pilots and flight attendants. So we interviewed several pilots and flight attendants to find out what luggage they use and why.
If you're about to become a pilot or a flight attendant, or you just want to know what luggage they're using, then you're in the right place. In this article, we'll go over:
What luggage pilots and flight attendants use,
Which luggage brands are popular among flight crews,
How pilots and flight attendants choose their bags,
Show you the five most popular suitcases among flight crews.
What Luggage Do Pilots Use?
As their regular everyday bag, pilots use a special bag called a "pilot's bag." Essentially, it's a small wheeled suitcase, a backpack, or a handheld bag that fits next to the pilot's chair in the cockpit.
Pilot bags come in various sizes, and most commonly range between 10 x 8 x 6 inches and 18 x 14 x 12 inches. They have various compartments for fitting the pilot's iPad, flashlights, headsets, flight documents, and other items. This bag must open up from the top so that everything is easily accessible.
In addition to the pilot's bag, pilots use wheeled, overnight suitcases for longer flights. We'll talk more about which suitcases they use down below, but if you want to know more about pilot bags, check out this article where we compared the best pilot bags.
What Luggage Do Flight Attendants Use?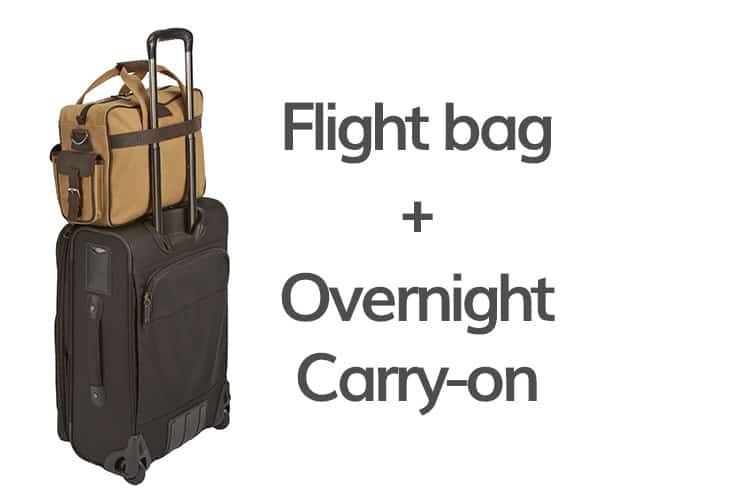 Similar to pilots, flight attendants use two bags: A wheeled suitcase for their overnight items and a smaller flight bag for all the in-flight items, such as electronic flight bags, documents, make-up, snacks, food, etc. "Flight bags" can be in the form of duffles, backpacks, totes, or messenger bags, depending on what type of bag the flight attendant prefers.
The terms "flight bag" and "pilot's bag" are commonly used as synonyms because 99% of the time, the bags can be used by both pilots and flight attendants. That said, when compared to flight bags, pilot's bags are slightly more advanced. They come with more compartments for all the smaller items that pilots need, and everything is very easily accessible, to make it easier for pilots to grab stuff while the plane isn't on autopilot.
Which Luggage Brands Are Recommended by Pilots and Flight Attendants?
We asked several pilots and flight attendants what brands they recommend. Here's what some of them responded:
Maria Fagerström (airline pilot) from mariathepilot.com:
One of my favorite luggage brands is

Travelpro

because of their quality wheels and sturdy handles – it's a must if you travel a lot to have a bag you can count on. For design and clever solutions, I think

Horizn-Studio

does a great job.
Eva Claire Marseille (airline pilot) from flywitheva.com (Instagram link over here):
I use different brands for different occasions. My pilot bag that fits next to the pilot seat with all the essentials is from Samsonite. I also have a big hard case suitcase from the same brand. This one I use for my private travels mostly, or sometimes on a long work trip. I tried out some of the bags and packing systems from Baggallini, and like their travel system; very affordable. On most trips, I use a Delsey suitcase, as my company offered this suitcase with a nice crew discount. It does the job well. But I currently consider investing in a Rimowa suitcase; they are super stylish and durable, but also in the higher price range. But my constant travels might justify this splurge!
Coral L.H (flight attendant) from thesegoldwings.com:
I would say Samsonite, American Tourister, and Wenger.
We also researched various industry forums and communities to find out what brands other professionals recommend. Here are a few other brands that get recommended quite commonly among pilots and flight attendants:
Briggs & Riley. Although expensive, these suitcases come with a hassle-free lifetime warranty. They're very popular among flight crews and frequent flyers and often recommended as the best possible choice out there.
Tumi. Another brand that's very expensive, but also extremely durable and backed up by a nice warranty.
Read Next: 15 Best Luggage Brands Compared
5 Suitcases Commonly Used by Pilots and Flight Attendants
1. Briggs & Riley Baseline
Briggs & Riley is often recommended as the best possible choice for flight crews and frequent flyers. The reason is quite simple. They're incredibly durable and backed up by a lifetime warranty that covers all functional defects, regardless of how the damage was caused.
That said, they're quite expensive, with their cheapest models starting at 400$. Despite the high price tag, the Briggs & Riley Baseline rolling carry-on is used by many pilots and flight attendants. It's easy to understand why when you take into consideration that this suitcase will probably last the larger part of their careers.
This suitcase has a built-in suiter that fits up to two suits inside and keeps them wrinkle-free. It's also very efficient for packing because the retractable handle is attached outside, which keeps the main compartment rectangular. Inside, it's fitted with their patented CX Compression system, which lets you compress the main compartment from outside after you've already packed it full.
Purchase on: Amazon
2. Travelpro Platinum Elite
Travelpro is another luggage brand that's commonly used by flight crews and frequent travelers. Travelpro supplies over 90 different airlines with luggage, and they even have some models that aren't available to the general public which you can get only through bulk airline orders. The reason why they're so popular among flight crews is very similar to Briggs & Riley – they're extremely durable and come with a solid warranty. Essentially, Travelpro is a cheaper version of Briggs & Riley, with slightly worse warranty terms, yet similar durability.
The Travelpro Platinum Elite is their most expensive carry-on but also their best option. It's backed up by a lifetime warranty, which isn't as good as Briggs & Riley's but still covers a lot of defects. This model is so expensive because it's made out of nylon, which is the most durable luggage fabric. It has a built-in suiter that holds up to two suits and comes with many other smart features. Travelpro is probably the second-best choice, right next to Briggs & Riley, and if you can afford to pay over $200, it's definitely worth it to invest in the Platinum Elite carry-on.
Purchase on: Amazon
Full review: Travelpro Platinum Elite 25-Inch Checked Suitcase Review
3. Travelpro Maxlite 5
If you can't justify the $200+ price tag for the Travelpro Platinum Elite, then the next best choice is the Travelpro Maxlite 5 Carry-On. Essentially, it's a cheaper, dumbed-down version of the Platinum Elite that's still durable and practical.
A member of our staff owns the Maxlite 5 International Carry-On and has used it for over two years now. After countless uses, it still looks brand-new, aside from a few brushed corners. This suitcase was used on European cobblestone streets and rugged dirt roads, and the spinner wheels still roll just as smoothly as they did when it was purchased.
There are a couple of important differences between Travelpro Platinum Elite, which costs twice as much, and the Maxlite 5. The Maxlite 5 is made from polyester, not Nylon, so it's not as durable. There also isn't a suiter compartment and the packing features are quite limited. The Maxlite 5 is also one of the lightest carry-ons on the market which is why we think that it's a great choice for flight attendants and pilots.
Purchase on: Amazon
4. Samsonite Winfield 2
Samsonite isn't just popular among flight crews. They're by far the biggest luggage brand on the market and you can find their stores in most shopping centers. They're so popular because they have a reliable warranty and their suitcases are decently made. They aren't as durable as Travelpro but they're still one of the most durable luggage brands out there.
Samsonite Winfield 2 is one of their most popular models because it's affordable, good-looking, and well-made. The outer shell is made out of polycarbonate, which is the most durable hardside luggage plastic. It also comes with four spinner wheels and a TSA-approved lock, which ensures that the main compartment is safely secured when tucked away. When it comes to packing features, it's pretty basic, but it's got all the essentials and it's affordable. This is why the Windfield 2 is so popular among flight crews.
Purchase on: Amazon
5. Delsey Helium Aero
Another popular suitcase among flight crews is the Delsey Helium Aero carry-on. It's very similar in durability, warranty, and price, to the Samsonite Winfield 2 and the Travelpro Maxlite 5.
The Helium Aero is Delsey's most popular model, mainly because it's affordable and good-looking. It's made out of polycarbonate which means that it's pretty durable and that it will withstand frequent use. What's unique to the Helium Aero is that it has a built-in front pocket with a padded laptop sleeve, so if you're traveling with a laptop, it's a nice feature to have. But other than that, it's essentially identical to the Samsonite Winfield 2, so it doesn't matter which suitcase you choose.
Purchase on: Amazon
Full Review: Delsey Paris Helium Aero 25-Inch Checked Suitcase Review
How Pilots and Flight Attendants Choose Their Luggage
We also asked our respondents what the main features they're looking for are when getting a new suitcase. Here's what they responded:
Maria Fagerström (airline pilot) from mariathepilot.com:
When I'm looking for a bag to go on holidays, design and quality come first. With 4-wheels and smart pockets with easy-access. For work, the most important feature for me is to find a bag that can be opened from above and that fits in the flight deck. Unfortunately, there are not many out there on the market that have these options.
Eva Claire Marseille (airline pilot) from flywitheva.com:
I want a suitcase to be lightweight, as I fly the Boeing 747 freighter, so I have to carry my suitcase up to the main deck and from board myself. Size matters, as sometimes my trip is a single overnight, but sometimes I am 'on the road' for a week, carrying a lot of things to be prepared for both Alaskan snow and the heat of Vietnam summer. A medium-sized suitcase on most trips works best, as it's true: if you bring a bigger suitcase, you will just drag more stuff with you! I like a separate compartment or suitcase divider to keep my uniform blouses separate and wrinkle-free. Finally, a TSA-approved lock, a strong handle, and smooth-riding wheels.
Coral L.H (flight attendant) from thesegoldwings.com:
The weight: It has to be lightweight but durable and strong because we use it every day and we have to tow it around airports, hotels, and planes. That's the main point.

The size: This can also be determining when choosing a pilot bag. The space inside the cockpit is limited and the pilot bag should fit next to the pilot's seat, so the smaller the better. Small but with big capacity.

Other features: Some of my colleagues said they prefer trolleys with lots of compartments, to be able to organize their belongings and not to have to put everything together in the same pocket. But it mostly depends on what you need to carry: lunchbox, clothes, manuals, laptop… Anyway, it's mostly a personal decision.
Out of all the features mentioned above, we'd say that durability, size, and warranty are the most important features to look out for. Flight attendants and pilots use their suitcases daily, not once or twice per year. So investing $200-$500 into a well-made suitcase that's backed up by a solid warranty is cheaper than switching between cheap suitcases every other month.
Read Next: Best Zipperless Suitcases Compared
Other Things Flight Crews Need to Consider When Getting Luggage
Baggage Size Restrictions for Flight Crews
Airline crews have their own size and weight restrictions set by the airline which are different from passengers. They're not set in stone, though. For instance, an airline crew member stated that she has never had any problems with the size of her checked suitcase that she has always brought on board. It's more of a, "Don't stick it in the passengers' faces when it comes to bringing oversized luggage onboard." Despite this fact, most flight attendants and pilots prefer to use smaller bags instead of larger ones.
It depends on how many nights they have to stay and their dressing habits. The perfect combo for most flight attendants and pilots is a smaller handbag, specially made for storing in-flight items, and a second overnight carry-on for their spare clothing. If the smaller bag has a strap on the back, you can just secure your smaller handbag around the retractable handle on your carry-on, and roll both bags together.
What Items You'll Need to Store Inside the Bag?
Pilots and flight attendants need to pack a lot of stuff in their baggage. So, before getting a pilot's bag or an overnight suitcase, you should think about what items you'll need to carry with you.
For instance, here's a list of items that pilots usually carry in their pilot bags.
Documents: Employers ID, passport, airport ID, pilot's license, medical, and other documents.
Toiletries: Toothbrush, toothpaste, shampoo, deodorant, shower gel, etc.
A high-visibility safety vest.
A good set of earplugs or noise-canceling headphones.
A pair of sunglasses.
EFB (Electronic flight bag which contains all of the info.)
Chargers for electronic equipment.
Pen & Clipboard for all of your documents: Important procedures, crew briefings, flight plan, general declaration.
A flashlight for checking the plane before take-off.
A high-quality headset.
Spare batteries for your headset and flashlight.
A logbook in case of a SAFA inspection.
A spare t-shirt and some cash, because you never really know where you're going to land.
Some snacks or other treats are always a good idea.
Read Next: Best Suitcases for Suits Compared
Final Words
Pilots and Flight attendants don't really choose much different bags than regular passengers would (except for the "pilots bag", which stays in the cockpit next to the pilot's seat). However, there are a few key differences.
First of all, their suitcases need to be extremely durable because most brands don't make suitcases for daily use. So they tend to stick with more durable brands, such as Briggs & Riley, Rimowa, Tumi, Travelpro, Delsey, and Samsonite. Second, they need to be just in the right size to fit everything they'd need, and not much larger than that. And lastly, their suitcases need to have good packing features for organizing everything and they need to be as lightweight as possible.
Also check out: Airplane crew life