Shopping for a suitcase for your upcoming trip is a lot of fun. There are lots of styles and sizes to choose from, depending on what you need. Aside from the style, you might also be wondering: what luggage color is best?
One of the biggest challenges when traveling is finding your luggage among all the other suitcases that are going around in the luggage carousel at the luggage claim area. There's always that prickle of fear, that feeling of nervousness—what if someone else picks up your luggage? What if you pick up someone else's luggage? That's why color (and style) is very important when it comes to choosing luggage.
This article will talk about the importance of your suitcase standing out—not just so that you can easily identify it, but so that it is also easy to find in case it gets lost. You'll also learn about which colors are best when buying a suitcase and what else you can add to make your luggage stand out.
Why Your Suitcase Should Stand Out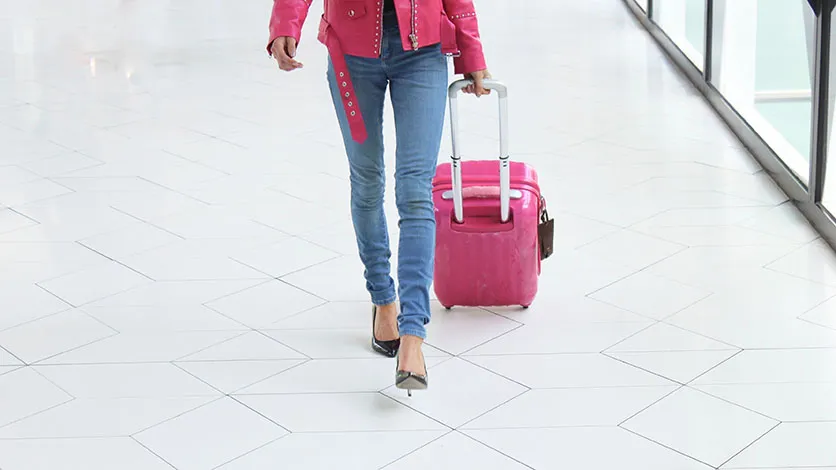 When traveling from one place to another, you want to make the trip as smooth as possible. You want to avoid situations where you might find yourself stuck or unsure where to go. And this includes picking up your luggage from the luggage carousel at the airport or looking for luggage that got lost somewhere along your trip.
If you have luggage that looks just like everyone else's luggage, there's a higher chance that someone else might pick it up. A luggage carousel is one of the busiest places in the airport, especially when you are traveling in a big plane with a lot of passengers.
Some people think that a luggage tag with your name and address is enough. The thing is, people are impatient to get somewhere—starting their tour, checking in at the hotel, going to their meeting if they are on a business trip. If they are in a hurry, there's a chance that they might accidentally pick up any luggage that looks like their own and not even glance at the luggage tag to confirm that it is really theirs.
While you're standing and waiting for your luggage by the luggage carousel, you might also pick up someone else's luggage especially if it's the exact same color, brand, and style as your own. That's why it's important to either get luggage that comes in a different color, or place tags, stickers, or even put a luggage cover so you can spot it right away.
In case your luggage gets lost, it's also easier for the airline crew to spot something that stands out because of its color or because you placed several other identifying factors.
Dark Colors Show the Least Amount of Wear but They Don't Stand Out
A lot of travelers like luggage that is dark-colored. That's because it isn't immediately obvious if a suitcase has stains, scratches, or tears if they come in the colors black, dark grey, navy blue, or even dark brown and maroon. People who are looking for luggage that will last them a long time often buy one that has dark colors so even if it has been with them for some years already, it still looks new.
The problem with this dark-colored luggage is that it is the first choice of a lot of travelers. If you go on a trip you will most likely spot a lot of similar-looking suitcases on the luggage carousel and even when you check in to the hotel or wherever you're staying.
The more suitcases there are with similar colors and styles, the more chances you or someone else is bound to accidentally grab the wrong luggage.
Tip: If you're looking for a professional and well-made suitcase, check out Travelpro and Samsonite, as both of these companies offer a large variety of well-made and professional-looking suitcases.
Light Colors Are Easy To Spot but They Show a Lot of Wear
If you're looking for luggage that is easy to spot, it's best to go with something that is light-colored. Think of colors like white, light blue, light green, light pink, or even beige or yellow. Suitcases that have light colors aren't as common as dark-colored ones and it will be easier to spot them in a sea of dark suitcases at the luggage carousel.
The downside of light-colored luggage, however, is that it's easy to see the travel wear and tear they go through especially if you have been using it for several years. With light-colored luggage, you can easily see discolor, scratches, tears, scuffs, and other sorts of damage done to a suitcase. Nevertheless, because of their uniqueness, they tend to stand out more, are easier to spot and people won't easily mistake them for their own.
Read next: What luggage material is the best? (Guide)
Choose a Color That's Bright but Isn't Too Light
If you're looking for something that isn't too dark but doesn't show so much wear while being easy to spot, you can opt for luggage that is bright, but not too light. Bright red, bright green, bright blue, and even bright yellow are good luggage colors. They are striking enough that you can easily spot them on the luggage carousel, but they aren't light enough that they will show all the wear and tear of having been used for several trips.
If you don't want a plain, bright color, you can also go with a suitcase with patterns or designs. They tend to pop out more so you can spot them right away, but some patterns also disguise tears, scratches, and scuffs so they are not very visible.
Tip: If you're looking for a brightly colored suitcase that still looks professional, check out the Samsonite Winfield 2, which is offered in a variety of different colors.
Consider Adding Luggage Stickers
One of the ways you can also make your suitcase more striking and visible is by adding luggage stickers. Of course, this is more applicable to hardside luggage than it is to softside luggage where the fabric doesn't provide much of an adhesive for the sticker to stick on.
If you have personalized stickers or even just any sticker, you can put them on the sides of your hardside luggage so that as it comes out on the luggage carousel, you know it is yours. You may have some common stickers with other travelers who have also decided to put stickers on their luggage, but you will most likely have different ones so that it really stands out.
Tip: If you want to turn your stock suitcase into something more beautiful, get a pack of themed luggage stickers and put them all over your hardside bag!
Get a Dark Suitcase With a Bright Luggage Cover
If you really want a dark suitcase or already have one and you are looking for ways to make it stand out more, you can always get a bright luggage cover. There are so many different kinds of luggage covers available for different sizes of luggage. Plus, they come in different colors with different kinds of patterns and designs.
Having a luggage cover also adds an extra layer of protection for your luggage if you are afraid that it might burst open. They also keep your luggage clean, and you can always switch luggage covers any time you feel like it or depending on where you're traveling as they are a lot cheaper than purchasing new luggage. Most luggage covers are also washable so if you feel like they have suffered a great deal during your trip, you can just pop them into the washing machine and they'll come out as good as new.
It's important to note, however, that luggage covers are usually used for hardside suitcases instead of softside ones. You can try to use a luggage cover for your softside cases, especially for those that have the shape as the hardside ones. Nevertheless, it's rare to find luggage covers for softside luggage, especially for those that are shaped like duffel bags or have other, more unique shapes.
READ NEXT: Are Luggage Protection Covers Allowed?
Final Words
Looking for your luggage in a sea of other suitcases can be difficult, especially when you're flying with hundreds of other travelers. That's why it's best to get a suitcase with a color, design, or pattern that stands out. You can also add other identifying factors, such as stickers, or even tie a cloth or handkerchief around one of the handles. That way, you'll be able to identify your luggage right away and get it so you can go on the rest of your trip without encountering other difficulties.