Traveling can be a little complicated. There are so many rules and so many things to take note of before you can even board the plane and go on your vacation. No matter how many times I travel, I find myself constantly checking and rechecking to make sure that I'm doing everything the right way so my trip is as smooth and as stress-free as possible.
One of the questions you might have could be about the kind of bag you can have as a carry-on. A carry-on is a bag that you take with you on the plane and is smaller than a check-in suitcase. You can usually store it in one of the overhead bins above the seats or underneath the seat in front of you. People use different kinds of bags as carry-ons. Some use fancy duffel bags while others use smaller suitcases on wheels. But what if you have neither? Can you use any kind of bag, like a backpack, as a carry-on?
Can You Use a Backpack as a Carry-On?
Yes, but it depends on the weight and size. Some airlines have very specific guidelines in terms of allowed weight, but most of them have specific guidelines in terms of dimensions for your carry-on. Before you pack your backpack, it's best to check with the airline you're flying on.
Read Next: What to Put in Carry-on and What in Checked Luggage (Guide)
What Size Should a Backpack Be to Be Considered a Carry-On?
Most airlines allow carry-on luggage that measures up to a maximum of 22 x 14 x 9 inches. In terms of volume, backpacks that are 40-45 liters are good as a carry-on. Anything bigger than that might require you to have it checked in instead. If you're on an airline that has really strict policies with regards to carry-ons, it might be better to go with a 35-liter backpack or something smaller.
Read Next: 8 Best Convertible Duffel Bag Backpacks in 2022
Can You Use a Backpack as a Personal Item?
Personal items are usually those that fit underneath the seat in front of you. For most airlines, if your backpack fits under the seat, then it is considered a personal item. Thus, if the backpack you're carrying is a small one or also serves as a daypack and it's small enough to fit under the seat, then you can use that backpack as a personal item.
Can You Bring Two Backpacks on a Plane (Personal Item and a Carry-On)?
Yes, as long as one of them is small enough to fit underneath the seat in front of you and will be considered a personal item. The other backpack, which can be a little larger as long as it doesn't exceed the 45-liter (22 inches x 14 inches x 9 inches in dimensions) limit can be placed in the overhead storage for the duration of your flight, and it will be considered as a carry-on.
If you aren't sure whether or not the airline you're flying with is strict when it comes to carry-on luggage, remember it's good to do a quick search or even call them up to ask. It will save you a lot of time and trouble than arriving at the airport and finding that what you're bringing isn't allowed.
Which One Is Better as a Carry-On: A Backpack, A Suitcase, or a Duffel bag?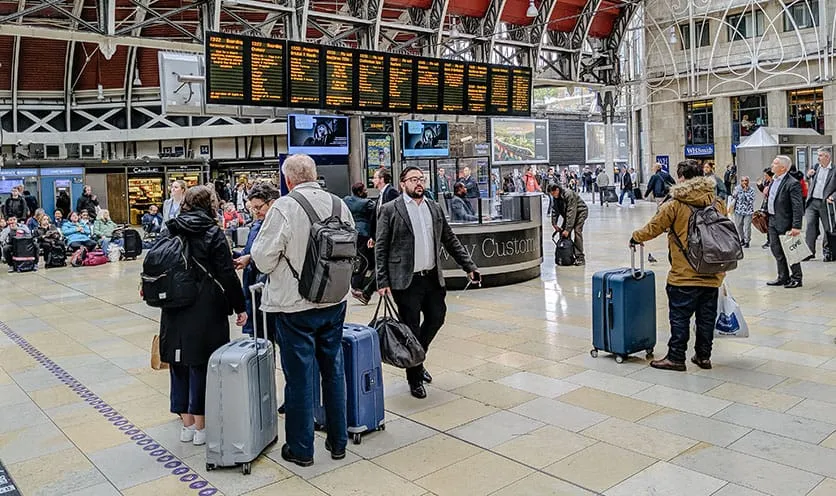 Those who prefer backpacks say that the 45-liter packs are the best because they offer you enough packing space without having to check in a bag. If you're also a fan of multiple pockets and compartments, several backpacks offer you this so you have a small place to store everything, including laptops. Plus, backpacks are easy to tote around and you'll find that it's easier to run (in case you are ever in danger of missing your flight) with a backpack on your backpack than it is to run, lugging a suitcase behind.
Suitcases, on the other hand, are more preferred by those who need to go on business trips, as it's easier to pack formal wear without worrying that it will get too wrinkled or too crumpled. Because of that, they are often the first choice of those who are going on single-destination trips. They are also sturdier and wheeling them around is definitely easier than walking around with a backpack on your shoulders
Duffel bags, like backpacks, tend to be more spacious than suitcases. They also have a wider opening than backpacks and side openings that allow for easier packing. Duffel bags are also often made of sturdy, water-resistant material which can be very helpful in case of various incidents.
At the end of the day, it's up to you. You might want to ask yourself the following questions to help you decide what kind of bag to bring as your carry on:
What will be your mode of transportation during the trip? If you're renting a car, then a suitcase is fine, but if you're taking public transport, then a duffel bag or backpack would be better.
Will you be walking on paved or dirt roads? If the streets are smooth, then you're fine toting a suitcase, but if it's rough, you're better off using a backpack or duffel bag.
Will you only be staying in one place or moving around a lot? Suitcases are good if you're only staying in one place, but if you'll be moving from one place to another, then it's better if you carry something that you can easily grab and carry like backpacks and duffel bags.
Is safety a concern? While some backpacks and duffel bags can be secured with a lock and key, it won't be enough if your bag is slashed. In that case, it's much better to bring a suitcase.
Do you have any personal or physical considerations? If you have back problems, then it might be best to bring a suitcase as carrying a backpack or duffel bag for a long time can make your back worse.
Best Carry-on Sized Backpacks
Option 1: Dinictis 40L Carry-On Backpack

This Dinictis Carry-On Backpack opens at the side to make packing quicker and easier. The fabric is durable, scratch-resistant, and water repellent. With its front and side pockets, it is easy to organize and includes a protective foam pad that can store a laptop. There are also individual compartments for your various notebooks, tablets, and other things. The main compartment can serve as storage for clothes and other necessities.
Thickened, foamed back straps, a top handle, and a side handle makes it easy to carry around and the size makes it easy to store under the seat or on the luggage compartment overhead. The chest strap helps relieve shoulder pressure so it's a lot more comfortable to carry.
Dimensions: 19.6 x 13.8 x 9.8 inches
Purchase at:Amazon
Option 2: WITZMAN Canvas Travel Backpack

If you're looking for a more classic, rustic feel, this travel backpack is made of high-quality canvas with leather and polyester lining. With its versatile straps that can be hidden or adjusted, you can easily convert it from a backpack into a duffel bag, crossbody bag, and shoulder bag.
The WITZMAN Travel Backpack has several compartments. There's a main compartment where you can place a majority of your items, including a special padded laptop compartment, and a bottom compartment where you can store your shoes. Front pockets make it easy to store your toiletries, device charges, cords, and other smaller items. Side pockets are available for your water bottle or umbrella.
Dimensions: 22 x 13 x 7 inches
Purchase at:Amazon
Option 3: KAKA Travel Backpack
The KAKA Travel backpack is a durable anti-theft travel backpack made with high-quality terylene oxford fabric. It's water-resistant, scratch-resistant, and has a high-density strap that comes with decompression foam, making it easy and comfortable to carry. It can quickly turn from backpack to shoulder bag or duffel bag.
There are a total of ten compartments in this backpack—a main zipped pocket for your belongings, three front zipped pockets, one side mesh pocket, two small strap pockets. The last three pockets are in the large front zip pocket and can provide a space for your laptop, iPad/tablet, and other items.
Dimensions: 20.5 x 11.8 x 7.9 inches
Purchase at:Amazon
Final Words
Backpacks can be great travel companions and carry-on bags. They are easy to pack and use, especially if you love compartments and are looking for versatile ways to organize your belongings. From clothes to everyday effects to gadgets they can hold everything you need for your journey. Plus, they are easy to grab and carry on your shoulders so your hands are free to hold a map, a cup of coffee, or a camera.
With a backpack as a carry-on, you'll definitely have an easier time traveling and it can even save you some dollars as you can opt to go with a few necessities on your carry-on instead of check-in luggage for your shorter trips.