Recently, more airlines have been offering online check-in, which is done by visiting the airline's website and entering your name, booking confirmation number, and passport number (if you are flying internationally). Some airlines even allow you to choose your seat and pay for checked baggage fees (if any). After you've checked in, you can print your boarding pass or save it on your phone so you can pull it up when you get to the airport.
Does it seem like a hassle to you? When you get to the airport, you'll often find that the benefits of online check-in outweigh waiting till you get to the airport to check into your flight. This article will explore those benefits so you can see if it's better to do an online check-in for your next trip.
What are some of the benefits of online check-in?
1. Skipping the Long Check-In Lines at the Airport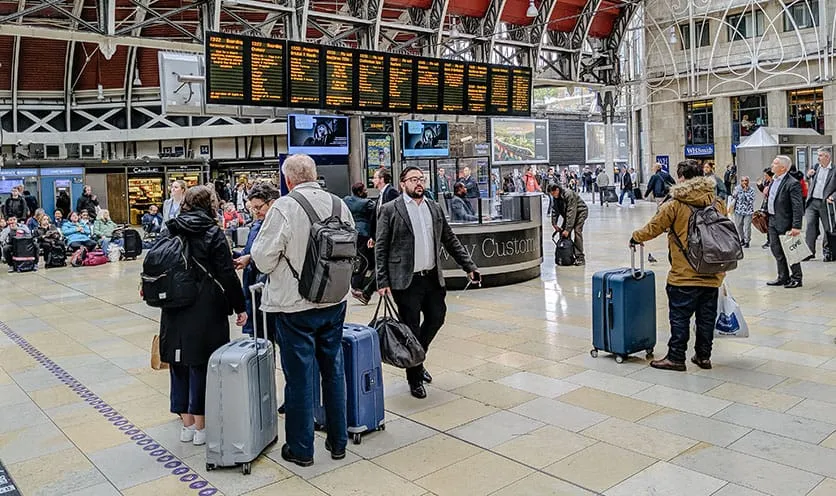 Imagine this: you have an upcoming trip and you're excited about it. You know that it will take a couple of hours to check-in, so you decide to go to the airport early, thinking that, if you are there ahead of everyone else, you can be first in line, drop your bags, get your ticket, and perhaps grab a coffee while waiting to board your flight. When you get to the airport, however, you are shocked to see hundreds of people ahead of you, all hoping to be the earliest to check in and board the flight.
Such a scenario isn't uncommon in the world of travel. Whether you're flying domestically or internationally, there will always be a time when the airports are filled with people and long lines, no matter how early you try to go and check-in. And that can be such a hassle when all you want to do is check-in and relax before your flight.
That's where checking in online prior to your flight offers huge benefits. If you're able to have your boarding pass and seat number already, you can skip the long lines and head straight to where you will wait to board your flight. It's important to note, however, that this is most beneficial for those who don't have checked luggage. Unless the airline you're flying with has a special system for those who have done online check-in and just want to drop off your bags, you might still have to fall in line to check your bag.
Tip: If you don't already own a checked suitcase, check out the Samsonite Omni PC, which is one of the best choices out there.
2. If Your Class Allows That, You Can Choose Your Seats Earlier
Usually, when you book a flight, you don't get to choose your seat unless you pay for it, and some airlines charge a lot just so you can reserve a seat next to the window or aisle or exit or wherever you want to stay. However, when you do an online check-in a few hours before your flight, some airlines will let you select your seat for free. This, of course, depends on the airlines and the type of class you're flying with. Some flights will only allow you to choose your seat for free if you're flying with a certain class, so it's best to check first.
You can rest assured that, if you get to select a seat during the online check-in, you'll be getting it. That's why if you really want a specific seat, it would be good to check in as soon as the online check-in opens (they don't remain open the whole time but are only accessible a certain number of hours before your flight).
Read next: You've Checked In Online. Now What? (Guide)
3. Some Airlines Charge for Checking-In at the Airport
There are some airlines that charge for checking in at the airport, or what they call counter check-in fees.
Air Asia, for example, recently introduced counter check-in fees in selected cities and countries to encourage using contactless technology. Instead, guests can opt to check-in using the airline's website, the mobile app, or the kiosks around the airport.
Before your flight, it would be good to check and see if the airline you're flying with has counter check-in fees. If they do, and you aren't willing to pay for that additional cost, at least you know that you have to check-in online to get your boarding pass.
Read Next: How Early Can You Go Through Airport Security?
4. Lower Fees for Checked Luggage That Wasn't Paid Upfront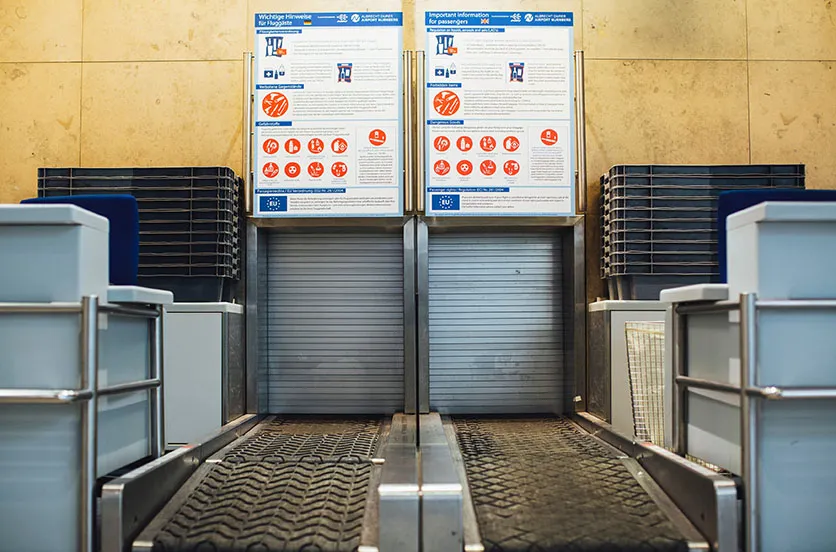 In case you suddenly need to bring checked luggage along and didn't purchase the luggage space initially when you bought your ticket, it will cost so much more when you pay for it upon checking in at the airport. You can avoid having to pay the fee at the check-in counter by paying for it when you check-in online. That way, you won't have to pay so much.
5. Some Airports Have Dedicated Checked Luggage Drop-Offs for People Who Have Checked In Online
If you want to skip long lines and go straight to the waiting area, there are some airports that let you drop off your luggage if you've already checked in online. This makes it very convenient so you don't have to arrive too early to wait in line with the hundreds of other passengers who are waiting to check in.
It's important to remember, though, that everything in your luggage must be packed according to TSA's standards (for example, with regards to packing liquids) so you don't run into trouble in case your luggage suddenly goes through extra checking.
Tip: For storing your toiletries, get a TSA-Approved, transparent, quart-sized bag instead of getting a new Ziploc bag every time.
6. You Can Arrive at the Airport Later
The best thing about checking in online is not having to go in so early to the airport. The reason why there is a set time for check-in counters to open and accommodate passengers is that they have to have enough time to print boarding passes, check-in suitcases and passports, and more.
If you are able to check-in online, you can just arrive, drop off your luggage in the designated area for people who have checked in online (if applicable in the airport you're flying from), and then sit and wait for boarding time. You'll be able to have that cup of coffee you wanted before leaving!
Read Next: What to Do With Luggage After Checking Out From Hotel
7. Some Airlines Offer Rewards for Online Check-In
Airlines these days are encouraging online check-in because it makes the process faster, especially since air travel has become very busy in recent years. To help more and more passengers choose online check-in, some airlines are offering rewards to passengers who do just that. Depending on the airlines, you might be able to get some discounts or earn mileage points.
Read Next: You Bought Airline Tickets Online. Now What? (Guide)
8. Skipping the In-Person Contact at the Check-In Counter Helps With Stopping the Pandemic
Right now, the world is dealing with COVID-19. One of the ways to stop the pandemic is by avoiding as much in-person contact as possible. This is the reason why a lot of airlines are really encouraging online check-in. That way, you don't have to come face-to-face with other people, and you won't have to fall in line with lots of other people. This will help with social distancing which, in turn, can help stop the spread of the virus.
9. Online Check-In Is Better for the Airlines, As It Reduces the Queue Times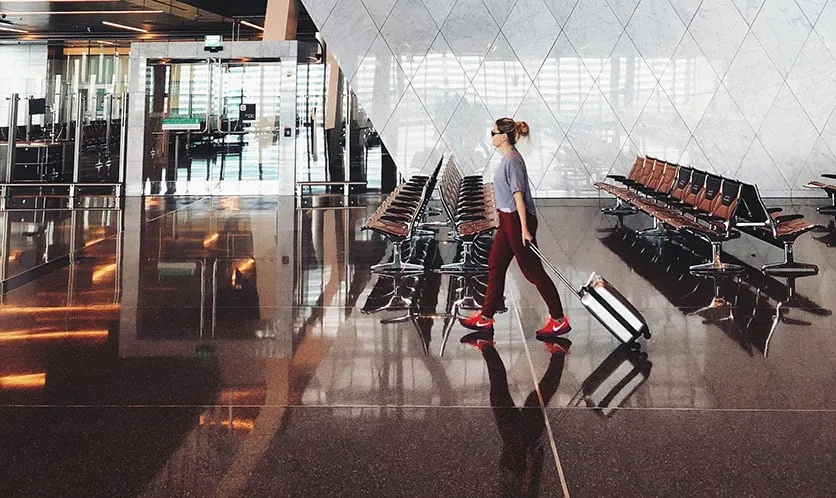 Airlines love online check-in because it helps move things along faster. Instead of having to check in hundreds of people manually, they only need to do it for a few people who have absolutely no choice but to check in via the counter. Instead of having to deal with long lines, they can get people checked in and boarded faster so that there won't be any delays.
Tip: If you want to check in online, consider traveling only with a carry-on suitcase and a personal item backpack. A solid and well-made suitcase is the Travelpro Maxlite 5, which I've owned for a few years now without any issues.
10. Sometimes Flights Get Overbooked and With Online Check-In, You Reserve Your Seat on the Flight
There are times when flights sell more tickets than the number of seats in a plane. This is a rather common occurrence for people who show up late to the airport. They find out that they have been bumped off the flight. When that happens, there's a chance that you might lose your seat and miss your flight. You'll have no choice but to work it out with the airlines and wait for the next flight possible.
Checking in online lets the airline know that you are going to make it and that they shouldn't give away your seat to someone else. Plus, if you are able to secure the very seat you want, you'll be able to enjoy your whole trip.
11. You Can Print a Second Boarding Pass if You're Afraid That You Might Lose It
If you want to be sure that all your documents are in order, in case you might lose your boarding pass, checking in online allows you to print several copies of your boarding pass. Of course, you can't do this with an in-person check-in as the pass you are given is the only pass that you'll have.
By checking in online, you'll be able to keep a copy of your pass and even save it on your phone.
Read Next: Why Can't I Check-in Online?
12. Some Airlines Don't Even Allow Airport Check-In Anymore
Airlines are constantly looking for ways to innovate and make things easier for travel. This includes checking in, which is why some of them don't allow airport check-in anymore. Even if you aren't used to it, it would be good to familiarise yourself with it and start practicing checking in online. That way, you know what to do in case you ever book a flight with an airline that only allows online check-in.
Final Words – Is Checking-In Online Worth It?
Yes, it is! If the airlines you're flying with allows online check-in, then it is recommended that you do it. Checking in online will eliminate so many unnecessary things that you usually worry about when you check in over the counter—long lines, in-person contact, getting bumped off your flight, and more. Checking in online will give you a smoother, faster travel experience.