The size restrictions for carry-ons are generally easy to understand. The most common size is 22 x 14 x 9 inches, which has become an industry standard. However, when it comes to underseat luggage, the current situation is "all over the place". The actual size restrictions vary a lot between airlines, and some airlines don't even disclose the exact measurements.
To make your life easier, we made this guide where you can find the exact underseat luggage size restrictions for 20 popular airlines. Note that these restrictions might change, which is why we've also linked out to their official websites. Make sure to double-check the restrictions before you start packing.
What Is Underseat Luggage?
Underseat luggage is a type of hand luggage that you're allowed to bring onto the passenger area of a plane. You'll have to stow it under the front seat unless you're sitting in the emergency exit row. If you happen to get one of those seats, your luggage will have to be stored in the overhead compartments together with carry-ons. The items that you're allowed to use as underseat luggage vary between different airlines.
Generally, you can use small, wheeled suitcases, small backpacks, tote bags, handbags, duffle bags, messenger bags, laptop bags, camera bags, briefcases, and other similar items. Usually, underseat luggage isn't as heavily restricted as carry-ons. Most of the time, the security will quickly glance over your underseat item to make sure it isn't too large and let you pass through. The only rule is that it has to fit under the front seat. That's because, in case of an emergency, all aisles have to be clear of any obstacles/luggage.
Read Next: Airport Travel Terminology 101 – The Ultimate Guide
What's the Difference Between a Personal Item and Underseat Luggage?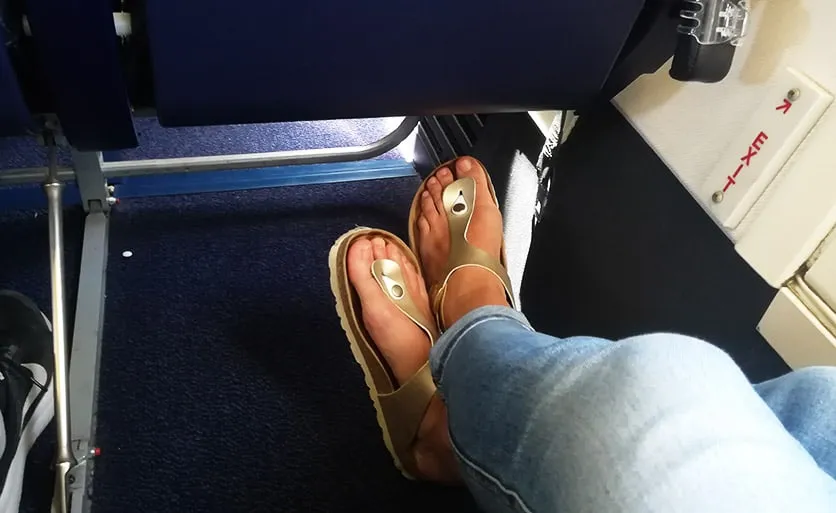 There isn't any difference between the two. When airlines refer to personal items (or personal articles, if in Europe,) underseat luggage is included in that statement. The only difference is that when someone says "underseat luggage," they're usually talking about bags and suitcases specifically designed for this purpose. "Personal item" is a slightly different term because a personal item could also be a camera, a laptop, an assistive device, an umbrella, a child seat, a pet carrier, or something similar.
Read Next: 10 Best Wheeled Underseat Suitcases in 2022
What Size Underseat Item You Should Get?
The underseat size restrictions are different for each airline. If you want to purchase a bag that would fit most underseat restrictions, try getting one below 16 x 12 x 6 inches (40 x 30 x 15 cm) as this is the most common size restriction. Sometimes the restrictions are a bit smaller (and sometimes larger,) but if you get a flexible fabric bag you should be able to squeeze it in. Good options for personal items would be small backpacks, duffle bags, totes, messenger bags, and purses.
Underseat Luggage Size Restrictions for 20 Popular Airlines
Below, we'll cover the underseat luggage/personal item size restrictions for the 20 most popular airlines in North America and the rest of the world. Unless you're flying to remote destinations, we recommend searching for the specific airline you will be using.
1. American Airlines
American Airlines states that underseat items should not exceed 18 x 14 x 8 inches.
2. Delta Airlines
Delta Airlines doesn't specifically mention their underseat item restrictions anywhere on their website. Instead, they say that the personal item should be a purse, a briefcase, a diaper bag, a laptop computer, and other items in similar dimensions. This doesn't help much because, for instance, diaper bags can come in various sizes. Sometimes these bags can be bigger than the carry-on restrictions.
The actual size under the front seat in Delta varies based on which aircraft model you'll be flying with. For instance, on the Bombardier CRJ200, the size restrictions are 18 x 16 x 10.5 inches. Yet on the Embraer 175, the restrictions are 17 x 16 x 7.8 inches. In order to find out the exact dimensions, you should contact them directly, and tell them your flight details. They specify that bulkhead seats don't have underseat storage, so plan on stowing them in the overhead bin during take-off and landing.
3. United Airlines
On United Airlines, underseat items shouldn't exceed 17 x 10 x 9 inches.
4. Southwest Airlines
Southwest Airlines states that underseat items have to be under 18.5 x 13.5 x 8.5 inches. If your item doesn't fit under the front seat, they'll ask you to store it in the overhead compartments.
Read Next: 12 Best Underseat Bags Without Wheels in 2022
5. Air Canada
Air Canada limits underseat luggage on all of its aircraft to 17 x 13 x 6 inches.
6. Alaska Airlines
Alaska Airlines doesn't specifically mention any size restrictions for underseat items. Instead, they say that the underseat item should be a purse, a briefcase, or a laptop bag.
The actual size under the seats depends on which aircraft you've boarded. If you will be flying on their Boeing 737-800 aircraft, the underseat dimensions are 14 x 12 x 9 inches. To get the exact measurements, contact Alaska Airlines and tell them your flight details. They'll reply shortly with the exact dimensions.
7. Spirit Airlines
Spirit Airlines has stated that underseat items shouldn't exceed 18 x 14 x 8 inches.
8. JetBlue
If you're flying with JetBlue, then your underseat luggage shouldn't exceed 17 x 13 x 8 inches.
9. Air France
Air France states that underseat items shouldn't be larger than 16 x 12 x 6 inches.
10. KLM (Royal Dutch Airlines)
On KLM, underseat luggage shouldn't exceed 15.7 x 11.8 x 5.9 inches, regardless if you're flying Economy, Business, European, or International flights.
11. Lufthansa
Lufthansa restricts their passenger's underseat luggage to 15.7 x 11.8 x 3.9 inches (40 x 30 x 10 cm). Their width limit of 3.9 inches is the tightest one we've seen yet, which means that you'll be able to use only slim briefcases, purses, or laptop messenger bags.
12. Ryanair
On Ryanair, underseat luggage is restricted to 15.7 x 9.8 x 7.8 inches (40 x 25 x 20 cm). One of our staff members used their Matein 15.6-inch laptop backpack as a personal/underseat item which is larger than these restrictions, and he never had any issues. From his experience, they tend to inspect carry-ons more than underseat luggage.
13. Wizz Air
Wizz Air has said on their official website that underseat luggage shouldn't exceed 15.7 x 11.8 x 7.8 inches (40 x 30 x 20 cm.) However, they mention that, regardless of the restrictions, the underseat item should always fit under the front seat. Also, they are the only airline that we know of that doesn't include wheels and handles in their size restrictions.
14. Norwegian Airlines
Norwegian Airlines is fairly strict in its underseat luggage restrictions – they must be smaller than 14.9 x 11.8 x 7.8 inches This means that even a 15-inch laptop might be too large.
15. Finnair
Finnair limits their passenger's underseat luggage to 15.7 x 11.8 x 5.9 inches. Also, they require that the combined weight of your carry-on and underseat item can't exceed 17.6 lbs (8kg.) Make sure that you don't bring anything heavy!
16. British Airways
British Airways restricts underseat luggage to 16 x 12 x 6 inches. Their weight limit is much less restrictive than Finnair, allowing underseat items up to 51 lbs (23 kg.)
17. Turkish Airlines
Turkish Airlines restricts underseat baggage to 15.7 x 11.8 x 5.9 inches. We researched what people had to say on Twitter about this airline and found quite a few incidents where Turkish Airlines didn't allow their passengers to use backpacks as personal items. In one instance, they even asked a passenger to throw their clothes from their backpack into the trash and place the empty backpack inside of their carry-on.
18. Allegiant Air
Allegiant Air states that all personal items should be under 16 x 15 x 7 inches, and that acceptable items are purses, briefcases, and small backpacks.
19. EasyJet
EasyJet restricts underseat luggage to 17.7 x 14.2 x 7.9 inches (45 x 36 x 20 cm). Wheels and handles must be included in these measurements. There isn't a weight limit set in stone, but each passenger must be able to lift and carry their bags by themselves.
20. Frontier Airlines
Frontier Airlines states that personal items have to be under 18 x 14 x 8 inches, and they provide bag measuring boxes in airports. Suitable items include briefcases, backpacks, purses, totes, and diaper bags.
Why Are the Underseat Luggage Size Restrictions so Different Between Airlines?
The exact size under each seat will differ between different aircraft manufacturers, such as Boeing, Bombardier, Airbus, or Embraer. All of the largest airlines usually have a wide variety of different aircraft in their fleet.
For instance, at the time of writing this article, Delta Airlines has 834 aircraft in its fleet. They service 17 different aircraft models from Airbus and Boeing and each airplane model has slightly different dimensions under their seats. That's why Delta doesn't specifically mention the underseat luggage size dimensions. To get an exact measurement, you have to contact them directly with your flight details.
This is the norm when it comes to airlines and their manufacturers. Usually, each airline has a variety of different aircraft in their fleet. It makes it hard for them to make a specific size restriction that fits all of their aircraft.
Obviously, this could be fixed simply by setting a new standard, where each new airplane model would have to have an exact amount of space underneath the seats. But as of yet, no such standard has been set and it doesn't appear that there will be one in the near future.
What Items Can Be Used as Underseat Luggage?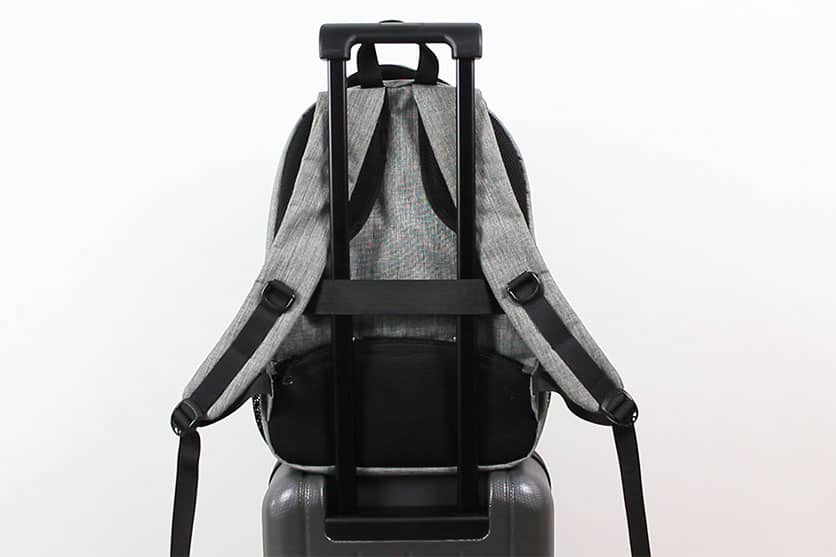 Here's a list of items that are usually accepted as personal items/underseat luggage:
Handbags/purses
Tote bags
Camera/DSLR bags
Briefcases
Messenger bags
Laptop bags
Assistive medical devices
Having said that, from our personal experiences, we recommend that you always use a bag that's made from a soft material and avoid overpacking it. This way, you'll be able to squeeze the bag underneath the front seat, even if it's slightly too large. Theoretically, you can also use small, hard-shell suitcases or leather duffles within the size limits. Keep in mind that, sometimes, they might be too large, so use them at your own risk.
Final Thoughts
In reality, the restrictions for personal items are a bit looser compared to carry-ons. However, it's still important to know each airline's specific restrictions, if you want to avoid paying additional fines.
When purchasing a personal item, try to get one that would fit within the restrictions for most airlines. Consider using something soft that you can squeeze under the seat so you can avoid any issues when flying, such as small backpacks, totes, messenger bags, or duffle bags.
Also check out: Airplane seat upgrades