You're about to go on your long-awaited vacation. You've already checked in online so that you could skip the long lines at the airport and get the seat that you wanted. But now you might be wondering: "Now what? What should I do next?"
In this guide, we give step-by-step instructions on what to do after checking in online.
Before You Arrive at the Airport
Print Your Boarding Pass
The first thing you should do is print your boarding pass. Make sure all your details are correct—including the seat number if you were able to pick one. If they are correct, you can proceed to print your pass.
You might want to print a spare copy just in case you accidentally lose or misplace one. You might also want to save a copy of your boarding pass on your mobile phone or if you have one, a tablet. This is so you can have a digital copy in case you lose both boarding passes. You can even send a copy to your email address if you want to take extra precautionary measures.
Get Your Passport, Visa, and Other Documents Ready
If you're flying internationally or you are in a foreign country and flying domestically, you'll need to prepare your passport and visa. If you applied for a visa beforehand and they gave it to you in document form or printed form, make sure to take it along with you. Next to your passport, it's the most important document you will need when flying to another country. It would be good to make an extra copy for yourself and even send a digital version to your email.
Now, some countries have digital visas, meaning it shows up when immigration scans your passport. On the other hand, other countries offer visas on arrival—they will only stamp or stick it to your passport at immigration when you arrive at the country of your destination. Even as you're planning your trip, it's best to check what kind of visa they have or whether you will be granted a visa on arrival, due to a special arrangement between your country and theirs.
Aside from passport and visa, you might want to prepare your other documents as well, such as hotel bookings, transport arrangements, and more. If you're driving a rental car or if you purchased a special train pass in a certain country, you might want to have those documents ready too.
Read Next: Why Can't I Check-in Online?
Make Sure Your Luggage Is Within the Size and Weight Limits
You'll also need to check your luggage to make sure that it is within the size and weight limit required by the airline (read this guide if you aren't sure how to measure your luggage). Most airlines require your carry-on luggage to be a maximum of 22" x 14" x 9" with a maximum weight limit of 40 pounds. For the checked luggage, the standard maximum bag size is 62 linear inches (meaning you have to add up the measurements of height, width, and depth) with a maximum weight limit of 50 pounds.
Of course, this can depend on the airline, so it's best to check with them before deciding what to bring and packing your bag.
You might also want to check if the ticket you purchase does indeed come with checked luggage, as some airlines don't have that. If you find out that you don't have checked luggage and you are bringing one and absolutely can't leave it behind, you might still have time to purchase luggage space before going to the airport. It will be cheaper than buying the luggage space at the check-in counter when you get to the airport.
The same goes if you weigh your checked luggage and find that it's heavier than the maximum weight allowed. It's best to purchase excess luggage space while it is still early so you don't have to pay it at the airport where the fees are likely to balloon.
Tip: For checked luggage, it's better to go with fabric suitcases if you want your suitcase to last a long time. That's because hardside suitcases (unless they're made from aluminum) tend to crack under pressure. A good fabric checked suitcase is the Travelpro Maxlite 5.
In the Airport
Arrive at Least Two Hours Early if You Have Checked Luggage (Maybe Even More)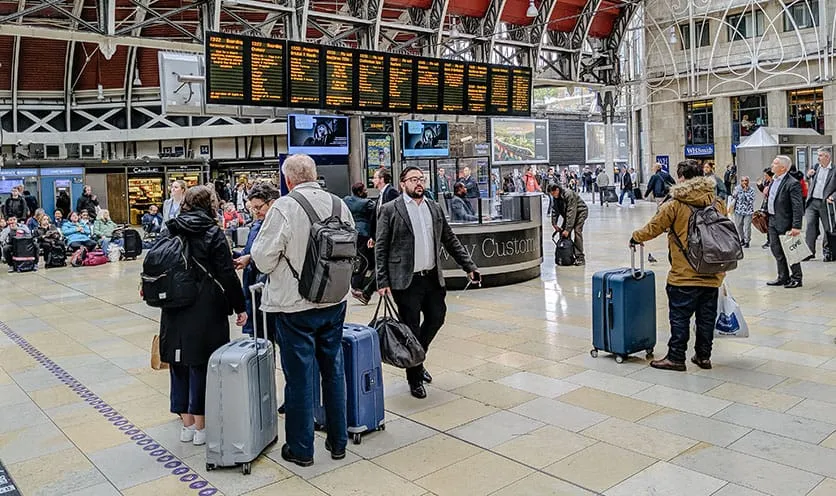 If you have checked luggage, it's best to arrive at least two hours before your departure time. Some airlines and airports might even require that you arrive earlier. This is so you have time to go through the checkpoints (some airports have more luggage checkpoints than others) without having to worry that you might miss your flight.
Arriving earlier will also ensure that you are very first in line, so you don't have to wait for long, especially if you are flying from a major airport and there are a lot of passengers on your flight. Some airports have airport taxes and other fees you might have to pay when you get to the airport. This will most likely have long lines so getting there early will give you enough time to go through them.
Read Next: 30 Things to Do Before Traveling Abroad
Drop Off Your Checked Luggage
Some airports have a faster luggage drop-off system for people who checked in online. This means you can just drop off your checked luggage without having to fall in line with everyone else who hasn't checked in yet. This is ideal because the lines won't be as long and you'll have a lot of free time after you drop off your luggage.
Other airports, however, don't have these special check-in counters, so you'll have to line up with everyone else. Can you imagine what that line looks like if you're on a big flight with hundreds of other passengers? That's why it's best to arrive at the airport earlier so you can be prepared in case you still have to line up just to deposit your luggage.
Go Through the Security
Before you go to the boarding gate, you will have to pass through airport security who will do a body scan as well as check the things you have on you, including your coat, pockets, handbag, and carry-on bag. Some airports even check your shoes.
If you are in a foreign country heading back home, the security can also be a bit stricter or take longer. If you are flying to another country, you might even be asked questions. And if there are a lot of people flying to different places at the same time, the lines can be really long!
Read Next: Can You Go Through Airport Security Without a Ticket?
Wait at Your Gate Until You Can Board Your Flight
After you clear security, you can head over to your gate to wait for your flight. Usually, this can be found on your boarding pass, but it's best to pay attention to any announcements on the intercom or changes in the flight information display, which is a huge airport that lists all the flights, the time of departure, the gate where you can wait for it, and more. Sometimes, a flight's gate is changed from one gate to another, and if the new gate is a lot farther from the original one, you'll have to run so you won't miss your flight.
During the Flight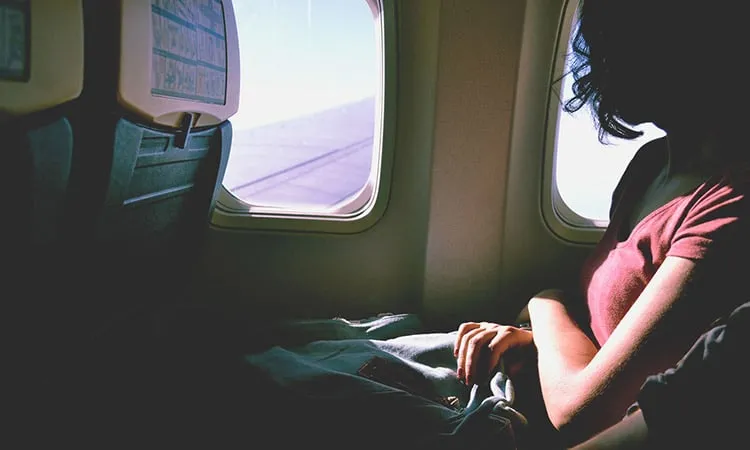 Go to Your Seat, and Stow Away Your Carry-On and Personal Item
After you've boarded the flight, it's time to look for your seat. Usually, the flight attendants who will welcome you on board the plane will ask to see your ticket so they can point you in the direction of your seat and you can find it faster.
If you are flying economy and your plane is the smaller kind, you'll find that the seats are arranged by three's on either side of the plane with an aisle running from the front of the plane to the back. Or if your plane is a lot bigger, you might find that the seats are arranged in three rows of three's (3-3-3) in the middle of the plane with two aisles running between both from the front to the back of the plane.
When you do finally find your seat, you can stow away your carry-on in the overhead bin and your personal item under the seat in front of you. If you need some help, you can ask a flight attendant for assistance to put all your belongings in place so you can settle down properly and enjoy the flight.
Depending on how long your flight is, you might want to prepare the items you will need during the flight. If you're flying for more than a couple of hours and plan to take a nap or do some reading or catch up on some work, make sure to prepare your sleeping mask, or book, or laptop. That way, if you're near the window or in a middle seat, and you're seated with strangers, you don't have to keep moving around and inconvenience them.
After the Flight
If You Had Checked Luggage, Pick It Up From the Luggage Carousel
After your flight has landed and you've gotten off the plane, your trip is almost done! Don't forget to get your personal belongings under the seat in front of you as well as your carry-on luggage from the overhead bin.
If you have checked luggage, you'll need to pick that up from the luggage carousel as well. Depending on the size of the airplane you flew in, as well as the number of passengers who flew in with you and the other flights that the airport is accommodating, you should be able to get your luggage within 15-45 minutes. Make sure you grab the right one so you don't have to go through the hassle of finding your real luggage in case you accidentally pick up the wrong one.
Tip: If you want to stop worrying about picking up your checked luggage, start traveling with just a carry-on and a personal item. You'll need to become a more minimalist packer, but it's entirely possible! A solid, lightweight carry-on is the Samsonite Winfield 2 carry-on.
If Flying Internationally, Go Through Immigration and Customs
If you are flying internationally, from one country to another, you'll have to go through immigration and customs. In immigrations, you'll speak to an immigration officer who'll check your passport and visa and see if your papers are in order. Depending on the country you're flying to, sometimes, flight attendants will give you a slip of paper to fill out, which you will give to the immigration officer for them to check. You may also be asked a variety of questions, like what is your purpose for flying (business or pleasure), how long you will be staying, what will you be doing, what you do for a living, and more.
Customs, on the other hand, will check the stuff you are carrying, and in some cases, the customs officer will ask you if you have anything to "declare". Usually, the items that you bring from one place to another, as long as they are meant for personal use and are in small quantities, will be cleared by customs in no time. But if you are bringing a lot of things in large quantities (like alcohol, tobacco, etc.), you might have to pay a customs fee or tax.
Leave the Airport
After clearing immigration and customs, you're free to leave the airport. If the hotel service is going to pick you up, you can look for their personnel who will most likely be holding up a sign with their hotel logo and your name on it. If you are taking public transportation (like a bus, train, or taxi), you can purchase tickets or look for the signs that point you to the taxi stand or show you where to hop on a bus or train.
Final words
There isn't that big of a difference when checking in online and checking in at the airport, other than fewer long lines and a whole lot of convenience. You have to do some things on your own, like printing a boarding pass, but it beats waiting to check in with everyone else at the airport.
If you're unsure about it first, you can give it a try for a much simpler trip, when you don't have that many suitcases or are only bringing a carry-on. When you've become much more used to it and can navigate around preparing for it really well, then you can try checking in online for business trips or family vacations or whatever trip you're taking next.
This post is also available in:

English