You've purchased your first airline tickets online, and now you're stuck on what to do next. Should you just arrive at the airport on the date of the flight? Don't you need to check-in online and print a boarding pass first?
Don't worry, because, in this article, we'll explain everything you need to know – from preparing for the flight to landing. After reading this guide, you'll be ready to take your first flight.
Quick Guide: What to Do After Buying Airline Tickets Online
Here's a quick guide on what to do after buying airline tickets online:
Check-in online
Get all of your paperwork ready (visas and pandemic-related documents)
Print your boarding pass and other travel documents
Pack your luggage and make sure that it's within the airline size and weight restrictions
Arrive early and at the right airport terminal
Go to the check-in desks (if not checked-in online) / leave checked bags at the luggage drop off desk (if checked-in online)
Go through security
Go to the designated gate
Board the plane and stow away your hand luggage
After landing, pick up your checked bags from the baggage claim
Go through customs and immigration (on international flights)
Leave the airport
Full Guide: Preparing for the Flight
On most flights, you don't actually need to check-in online, but it does provide some benefits, so I'd recommend you do that anyway, even if you're traveling with checked luggage. By checking in online, you're reserving a seat on the flight, you can skip the long check-in lines at airports, and save some money by not paying airport check-in fees (usually between 20-50$).
The first thing that you need to do is figure out when the online check-in opens. In Europe, airlines open online check-in several weeks before the flight, but in the US, usually, it opens only 48 hours prior to the flight. You'll find info about when online check-in opens in your booking confirmation email. Once you've checked in online, you'll get your boarding pass, which you need to print out or download on the airline's app.
It's worth noting that on international flights, you most likely won't be able to check in online. Instead, you'll need to check in at the airport. That's because airline employees need to check all the paperwork for entering the country before you go through security.
Read Next: Why Can't I Check-in Online?
2. Find Out if You Need Any Additional Documents for Entering the Country
During the pandemic, in addition to visas, most countries now require more paperwork, such as vaccination certificates, negative COVID-19 tests, and filled health forms. The paperwork required for each country is based on the country itself, where you're traveling from, and your citizenship. To find out what paperwork you'll need, your best bet would be to reach out to the airline (they usually email this information before the flight anyway) or even better – call your consulate or embassy. Nowadays, the rules and restrictions change every day, so double-check this information just before you leave for the airport as well.
3. Print Backups of Your Boarding Pass, Passport, and Other Important Documents
Some airports don't yet have the infrastructure in place to deal with electronic boarding passes, and they require passengers to print a paper copy of their boarding passes. And even if they do, it's a good idea to print one anyway, just because you never know what's going to happen with your phone.
So print your boarding pass, which you got after checking in online, and print copies of other important documents in case they get lost, such as your passport, visas, vaccination certificates, health forms, and so on.
4. Make Sure Your Bags Are in the Correct Dimensions and Don't Contain Dangerous Goods
First of all, you need to determine what kind of baggage you'll be bringing. When you booked the flight, you probably selected what kind of baggage you'll be bringing (underseat luggage/carry-ons/checked bags), but in case you forgot, you can find that information in your booking confirmation. If you think that you'll need additional baggage, it's cheaper to buy that ahead of the flight online, instead of at the airport.
You need to find out the size and weight restrictions for all the luggage that you'll be bringing, and they're different for each airline. Look at the booking confirmation to find out the size and weight restrictions and measure your bags to make sure that they're within the limits. Remember to include the wheels and handles in the measurements. If it's a flexible bag, try to get rough measurements and don't overpack.
Next, you need to make sure that you aren't bringing any prohibited items in your luggage. A good website to check this is the TSA's (Transport Security Agency) "What Can I Bring?" section.
But in general, here are the main rules you should follow:
Liquids over 3.4 oz (100 ml) and sharp items are allowed only in checked luggage
Electronics with lithium batteries, perfume, valuables, and fragile items should be packed in hand luggage
All liquids in hand luggage have to be in bottles less than 3.4 oz (100 ml) and must be packed inside a single, transparent, 1-quart-sized, sealable bag
You can't pack gas cartridges, explosives, firearms, and objects resembling dangerous goods
When traveling internationally, you won't be allowed to bring organic, perishable foods and plants due to Customs and Immigration
Medicine has to be in original packaging and you need to bring the prescriptions for them (only for prescription medicine)
Tip: For weighing your luggage for your return trip, purchase a luggage scale.
5. Find Out Your Terminal and When You Need to Arrive at the Airport
Before you arrive at the airport, you need to figure out which airport terminal you need to go to because walking between them can take up to 30 minutes. You can find the correct terminal by checking the airport's website on the day of the flight and finding the timetable for departing flights. They'll show the correct terminal for each one.
Next, you need to figure out when to arrive at the airport. For domestic flights and flights within Europe, you should arrive 2 hours prior to departure, and 3-4 hours prior for international flights. Airlines usually email the suggested arrival time prior to the flight. During the pandemic, you should most definitely arrive at the airport at the suggested time or even earlier. Due to all the additional paperwork and shortage of employees, the lines at airports take much longer.
Steps to Do Inside the Airport
6. If You Haven't Already Checked-in Online, Go to the Check-in Desks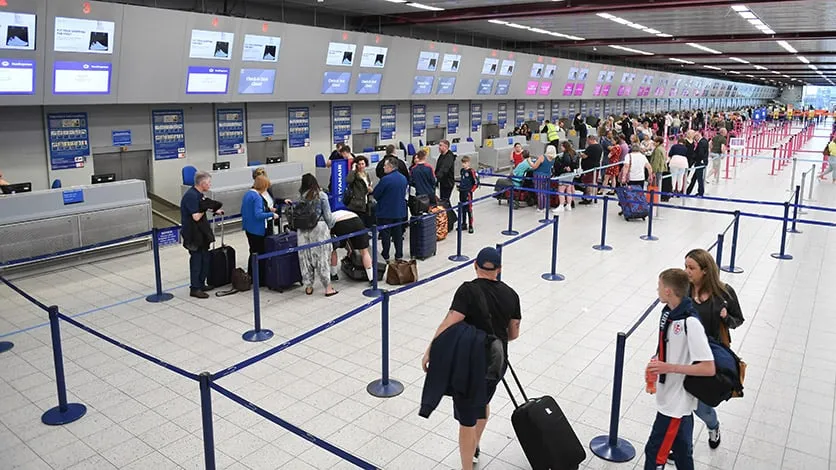 If the airline didn't allow checking-in online, or you just chose not to do that, you'll need to wait in line at the check-in desks. When you enter the airport, you'll find a screen that shows all the upcoming departures, and it will show which check-in desks are open for each flight. They usually open 2-3 hours and close 40-60 min prior to the flight. Go to the designated check-in desk to check in and receive your boarding pass. You'll also have to drop off your checked luggage there.
During the pandemic, in most airports, everyone has to wait at the check-in desks, even people who have already checked in online. That's because the airline employees need to check all the additional paperwork of every passenger, to make sure that they have everything required to enter the country. Because of this, the check-in lines are much, much longer, so you need to get in line as soon as possible, instead of waiting until the last moment when the lines become shorter.
7. Drop Off Your Checked Luggage
In some airports, passengers who've already checked in online can leave their checked bags at dedicated luggage drop-off desks. This is usually much faster than waiting at the check-in lines, which is why it's a good idea to check in online.
Unfortunately, due to the pandemic, most drop-off desks are now closed and everyone has to wait at the regular check-in desks instead.
8. Go Through the Security
Once you've dropped off your checked luggage and you have a boarding pass, you can now go to security. Over there, the airport security staff will scan you and your hand luggage for any prohibited items. When arriving at security, you'll have to scan your boarding pass and get in line in front of one of the security scanners.
At security, you'll have to take off bulky jackets, watches, your wallet, keys, and your phone, and put everything in a plastic tray that will go through an x-ray machine. You'll also have to remove several items from your hand luggage to place in these trays, such as laptops, electronics larger than tablets, power banks, your bag of toiletries, powders, and food. Then you'll have to go through a scanner yourself, your luggage will pass through the x-ray machine, and you'll be able to proceed to the terminal.
Read Next: Can You Go Through Airport Security Without a Ticket?
9. Wait at the Designated Gate
Once you've gone through security, you'll find a screen with all the departures. It will show which gate each flight is departing from, and when the boarding will start. First, you need to get to the gate because in large airports, getting to the gate can take upwards of 30 minutes.
When you get to the gate, if you have some spare time left, you can do some duty-free shopping or spend your time at an airport lounge. Again, during the pandemic, you most likely won't have much spare time left because everything takes longer than usual.
10. Board the Plane
Boarding usually starts 30-40 minutes prior to departure. A queue will start to form just before the boarding opens, but honestly, you don't need to be in front of the line. It may even be a smarter idea to wait at the end to wait until everyone else has already boarded the flight. They'll go through the whole queue before closing, so you won't miss the flight. The airline employees will check your boarding pass and your ID, and measure your hand luggage to make sure that it will fit in the overhead compartments. On your ticket, it will most likely show whether you need to go through the front entrance or the back one. Once entering the flight, you might be asked to show your ticket once again.
Steps to Do During the Flight
11. Stow Away Your Luggage and Take Your Seat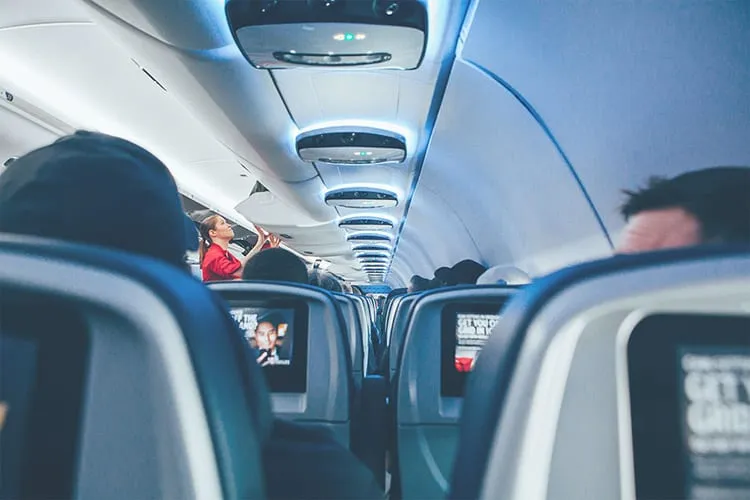 Once you're aboard, you need to find your seat, and place your carry-on bag in the overhead compartments just above it and place your underseat luggage under the seat in front. Then you'll need to take your seat, stow away your purse or fanny pack above the front seat, fasten your seatbelt, and wait for the plane to take off. Once it's taken off, the fasten seatbelt sign will turn off, and you'll be able to take stuff out of your luggage and go to the toilet if needed. During landing or turbulence, the lights will turn back on and you'll need to stow away everything once again and fasten your seatbelt.
Steps to Do After Landing
12. Pick Up Your Bags From the Luggage Carousel
Once you land, you'll have to pick up your checked luggage from the luggage conveyor belts (if you have any). Usually, you'll enter the airport at another gate, and you'll have to look for the airport signs to "Arrivals" or "Baggage claim". Some countries will do a quick check of your passport and other travel documents before this. Once there, you'll see multiple conveyor belts, each one for a different flight. There will be a screen that shows which conveyor belt is for which flight. Go to the right one, wait until you see your luggage, and pick it up. If you can't find it, make sure to file a lost luggage claim.
13. When Flying Internationally, Go Through Customs and Immigration
If you're on an international flight, after picking up your checked luggage, you'll also have to go through customs and immigration. Over there, the immigration officers will check your paperwork and look at all of your stuff, to determine if you need to pay duty tax on anything, or if you're bringing any items that aren't allowed, such as eggs, fruit, vegetables, and other organic foods, plants, or any animals. You'll need to pass your luggage through a scanner, and if needed, open it up for further inspections.
14. Leave the Airport
Once you've finished all of the steps mentioned above, you can now leave the airport and enjoy your vacation.
Final Words
Airline travel can be intimidating for people who are doing it for the first time. But if you have all the needed paperwork, your luggage is within the size and weight limits, and you arrive for everything in a timely manner, it really isn't that complicated. Once you've had your first flight, the next ones will become much more straightforward and less intimidating.
This post is also available in:

English