Today, airlines are getting stricter and stricter on airline restrictions. Party, it's because of the increased airline security but mostly it's because the competition between airlines is only increasing, and they compensate that with extra fees for oversized luggage.
In this article, we explain the correct way of measuring luggage for air travel. In addition to that, we also explain other things, such as do you include wheels in the measurements, what's linear inches, cover the fees for oversized luggage, and more.
How to Measure Luggage Correctly for Air Travel
Luggage measurements can be easily overlooked by the average traveler. It's understandable, as embarking on a business trip or holiday has a variety of complications on its own, and it can be difficult to keep track of every little detail. Unfortunately, it's not a detail that the airlines are likely to forget.
Every airline has its own requirements for luggage height and weight, and you'll need to be sure you meet or are under these size requirements before you try to check-in (or you might find yourself paying a hefty fee for the extra luggage).
Thankfully, we have step-by-step guidelines to help you measure your luggage quickly and accurately, as well as tips and tricks and extra information that may come in handy prior to your travels.
Go to the airline company's website you'll be flying with, and check their luggage restrictions for checked luggage and hand baggage. Avoid any third-party websites, because they're sometimes wrong, as airlines change the restrictions all the time.
Before measuring your empty case, pack it as you would if you were leaving for the airport. This is because your bag tends to expand a bit when fully packed. Also, if your luggage has expandable width, and you're planning to use it, make sure to expand it before you measure.
Now measure the full height (top to bottom) of your suitcase. Include wheels, handles, and any other plastic parts.
Measure the width of your suitcase (side to side). Be sure to include side handles and any plastic elements that stick out.
Next, measure the depth (front to back) of your case. If you plan to use expandable width, measure it with the case expanded. Also, include front pockets and any plastic elements. Your goal is to measure everything at the widest/longest points of the suitcase.
Weigh your suitcase with a luggage scale or a regular scale, by standing on the regular scale without luggage first, then with luggage, and finally subtracting the weight difference.
Calculate the linear inches for checked luggage. In case you don't know, 'linear inches' is an airline industry term used for luggage measurements. Size in linear inches is the sum of width + depth + height.
If you're over the size or weight limit, you will have to pay the extra fee for checking your carry-on or for overweight checked luggage.
Do You Include Wheels and Handles When Measuring Luggage?
Yes, you do. Always include wheels and handles in your measurements.
Some luggage brands don't include wheels and handles in their product dimensions. However, at many airports, you are required to place your bags into a box that fits the correct dimensions for travel. If your wheels or handles are sticking out, or your bags simply do not fit for any reason, you'll have to pay a fee for oversized luggage.
However, for linear inches, your checked bag will be measured with a measuring tape. Manual measurements will lend you a slight margin of error. And on occasion, the wheels or handles for your checked luggage may not be measured. Keep in mind that this is heavily dependant on the airport staff. So while there is a chance your checked luggage can be one or two inches larger and the staff won't add any additional fees, it may be safer to stick to strict measurements.
By the way, some airlines will rarely check your carry-on for restrictions. Instead, they often go by looks. If it looks small enough to fit in an overhead compartment, they'll let you pass without any fuss. Most of the time I use my Travelpro Maxlite 5 carry-on. It's slightly above most airline restrictions, but I've never had any staff approach me to take its measurements.
A Simple Trick for Measuring Your Luggage With a Book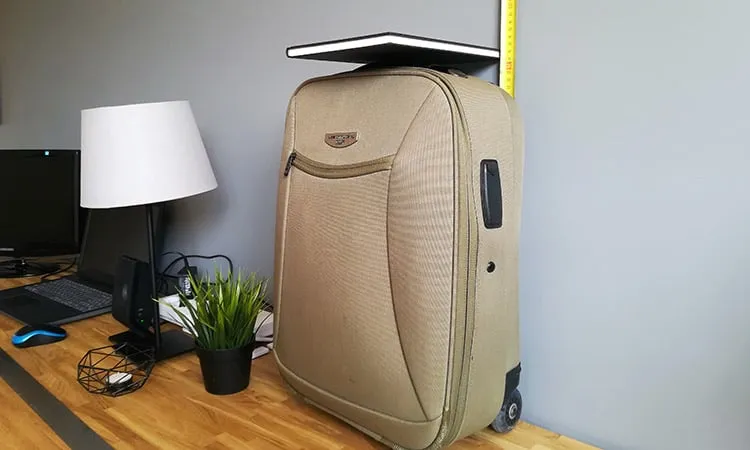 This technique is great for measuring the correct width, depth, and height of your suitcase with wheels and handles included. All you need is a regular hardcover book, preferably A4 size or larger.
Here's how you do it (shown in the picture above):
Put your suitcase against a wall. If you want to measure height, place it vertically.
Take your book and place it on top of the suitcase. Make sure that it sits at a ninety-degree angle against the wall.
Remove your suitcase, while holding the book in place.
Measure the distance from the floor to the bottom part of your book where it touches the wall. Voila! You've correctly measured your suitcase height by simply using a regular book. (With wheels and handles included!) Now you can do the same with the case placed horizontally, for measuring width and depth.
Luggage Linear Inches Explained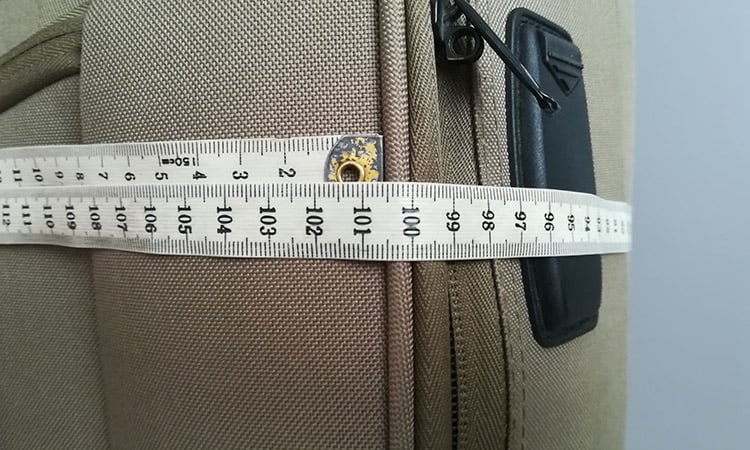 Simply speaking, luggage linear inches is the sum of your luggage height, width, and depth.
Linear inches are used for restricting the maximum size of your checked baggage. Instead of limiting the height, width, and depth individually, it's limited in linear inches. Usually, the limit is 62 linear inches.
So how do you go about measuring in linear inches?
If you have a plastic measure tape that easily wraps around your case, wrap it around the largest part of the suitcase when it's standing vertically, and write down the measurement. This should account for width + depth.
If you have a standard metallic measuring tape that's hard to bend, measure your width and depth separately, by using the book technique (explained above)
Measure the height by using the book technique (explained above)
Now add up the width, depth, and height, and voila, here's your luggage dimensions in linear inches!
Read Next: 8 Best 62-Inch Checked Suitcases in 2022
Differences in Restrictions Between Carry-Ons and Checked Baggage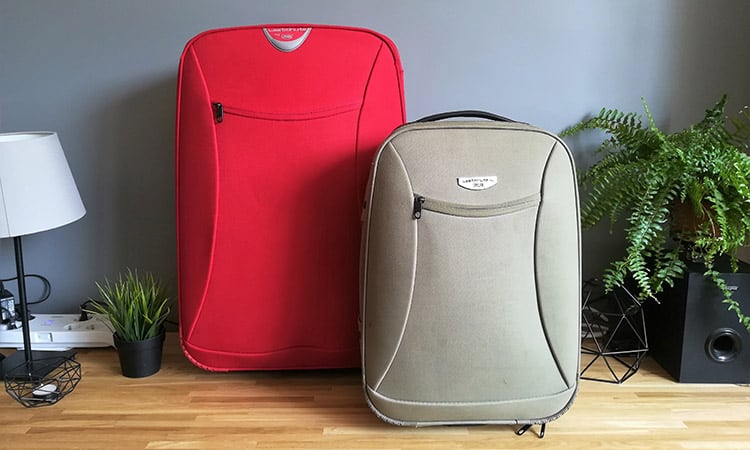 When searching for those airline restrictions, you probably came across two measures. One for carry-on luggage and the second for checked luggage. Usually, the carry-on limit is restricted in height, width, depth, and weight (For example, 22 x 14 x 9 inches and 20 lbs). Checked luggage is usually restricted in linear inches and weight (For example, 62 linear inches, and 50 lbs).
In a few words, carry-ons are smaller and don't require extra fees, and checked luggage is larger and requires additional fees.
You can take a carry-on with you on the plane, storing it either in the overhead compartment or under the seat. Checked luggage will be stored in the back of the plane, and you will be able to receive it only when landed.
Furthermore, you should store most of your liquids in your checked bag, because in carry-ons you can only use 3.4oz (100ml) bottles for storing your liquids and all of them have to fit a TSA-approved bag.
Read Next: The Ultimate Luggage Size Guide
Don't Trust the Manufacturers' Dimensions
When preparing for your flight, reading the luggage dimensions online or from a label is not enough. A lot of the luggage companies call their luggage carry-ons, when in fact they're too large to be allowed by most airlines, resulting in extra fees.
Simply put, some manufacturers don't include the wheels, handles, expandable width, and other elements. There's a simple reasoning behind this. They can state that their luggage is more spacious while having the same dimensions as some competitors, thus giving a slight edge.
Anyway, don't trust the manufacturers and always measure your case for yourself to avoid hefty fees!
How to Measure Luggage Weight at Home
Okay, so how do you go about measuring the correct weight of your luggage?
Basically, you have two options:
Option 1: Measure Your Suitcase Using a Regular Scale
If you're still home, you probably have a regular scale at home for measuring your body weight. The trick is really easy. First, stand on the scale and measure your weight. Next, pick up the suitcase, stand on the scale, and read the weight. Next, subtract your weight, and you get a pretty accurate estimate.
If you're rarely traveling, a regular scale is more than enough. However, if you're traveling commonly and need to check the weight regularly, consider investing in a luggage scale. They're really useful for return flights, when you've packed your suitcase full of souvenirs, and when a regular scale isn't available.
Option 2: Measure Your Suitcase Using a Luggage Scale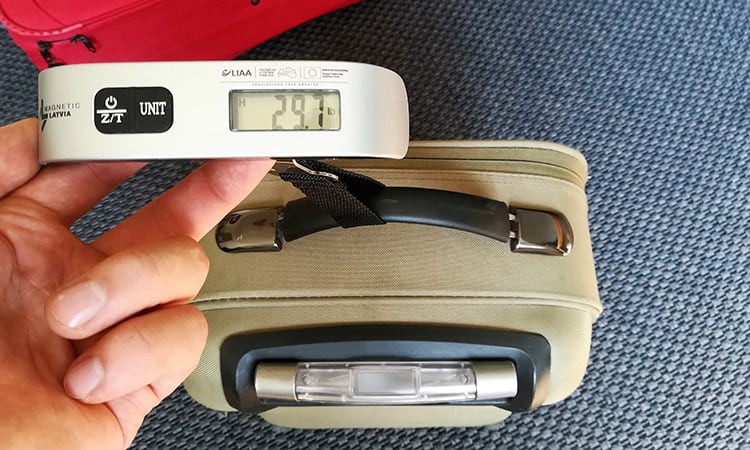 This is by far the most convenient option, as luggage scales are easy to use and are pretty small. Also, they're not really expensive as well; they're about 15 to 50 bucks.
If you have one or you're about to purchase one, they're really easy to use. Just place the luggage handle inside the luggage scales strap and pick up your case with the luggage scales handle. You'll get a correct measurement, usually with two decimal points after the first number. A huge plus is that you can do it anywhere – At the airport, at home, or the hotel preparing for your return flight.
Do Airlines Really Measure the Size of Checked Suitcases?
This depends on quite a few variables, so let's discuss them. First of all, it depends on the respective airlines and their policies. Some are stricter and more limited in their luggage allowances sizes.
It can also change depending on the country you are flying out of. While in the States it may be more common for airport staff to measure luggage, in many Asian countries I've visited it's quite rare for luggage to be measured – often the priority is placed on the weight of your luggage. If this is the case, as long as you don't exceed the weight limit you should be in the clear.
This will also vary wildly based on the kind of luggage – is it carry-on or check-in? As mentioned above, airline staff can usually tell from a glance if your carry-on will fit in the overhead. This renders measurements unnecessary. However, it's certainly not unlikely in the case of check-in luggage, particularly if your suitcase looks unusually girthy.
Now it's difficult to check any official facts or statistics on this topic, as of course, no commercial airline is going to admit that their staff is flouting official company guidelines and regulations. If you're really worried about your luggage dimensions and don't have the money for an extra luggage fee, just keep it as close to the measurement restrictions listed on your respective airline website.
How Much Does It Cost If Your Luggage Is Overweight
Everybody hates to pay extra fees when boarding the plane, me included. But unfortunately, you may be put in a situation where you'll just have to suck it up and pay because there are no other options short of throwing your belongings in the airport trash.
But exactly how much are the extra fees for checking your luggage?
Well, it depends. For starters, most first-class and business-class passengers get one or two free checked bags. However, most economy passengers have to pay extra. Also, it's heavily dependant on the airline and if your flight is domestic or international.
For instance, on American Airlines the fees are as follows:
25$ for the first domestic checked bag;
35$ for the second domestic checked bag;
150$ for the third domestic checked bag;
60$ for the first international checked bag;
100$ for the second international checked bag;
200$ for the third international checked bag;
As you can see, the fee is just a few dollars if you're flying a short distance and have only one checked bag. However, it can quickly add up if you have two or more bags and are flying internationally. (For instance, three check-in bags for an international flight would cost 360$!)
I've chosen American airlines as an example because most airlines have very similar fees. However, you should check still check the airline you're traveling with by visiting their website or calling their customer service hotline.