Embarking on an exciting journey? Why not make the most of your time in the air? You're not alone if you prefer flipping pages to watching in-flight entertainment. In fact, 61% of travelers are just like you, choosing books and magazines to help them pass the time (Expedia). So, buckle up, and let's explore some amazing plane reading recommendations for your next flight!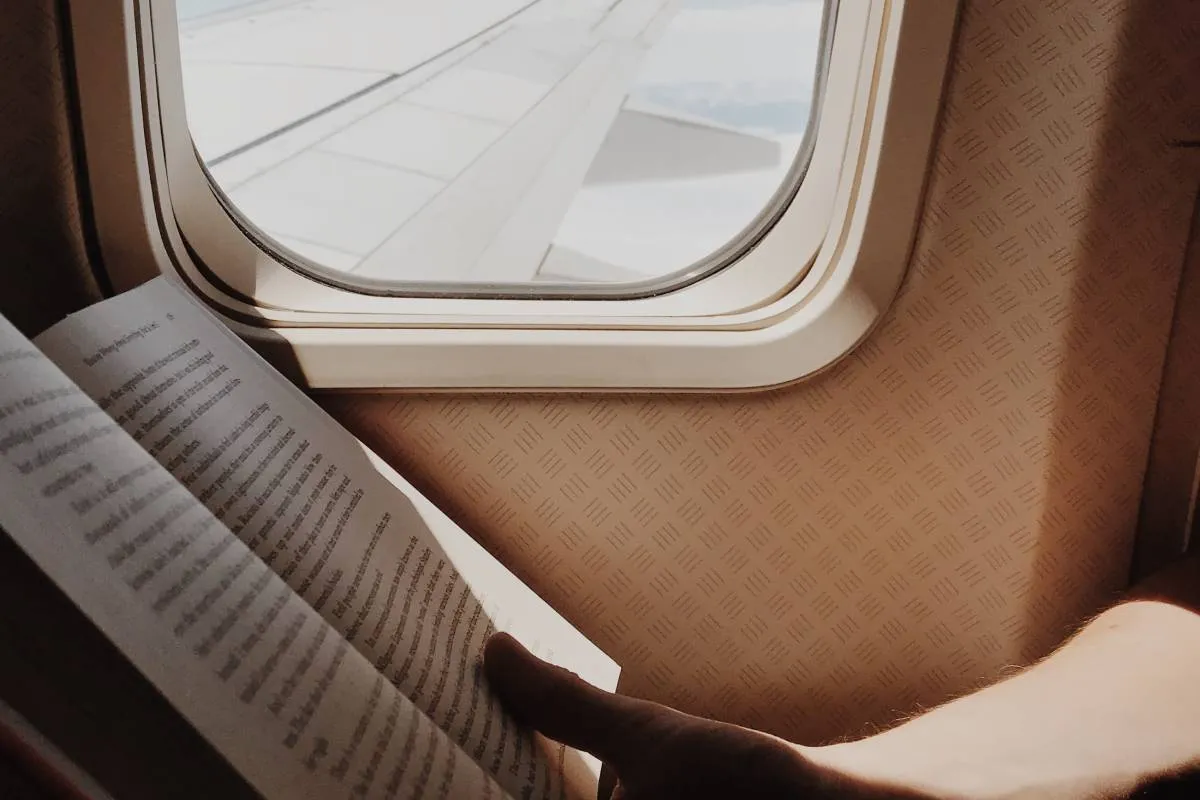 TL;DR – Key Takeaways
Discover captivating books that transport you to different worlds
Find reading recommendations tailored to various genres and interests
Learn how reading can benefit your travel experience
🌍 Let the Adventure Begin: Top Reading Picks for Every Genre
As Mary Pope Osborne once said, "Reading is a passport to countless adventures." Here are some top picks for different genres, so no matter your taste, you'll find the perfect book for your journey:
Thriller: "The Girl with the Dragon Tattoo" by Stieg Larsson
Romance: "The Rosie Project" by Graeme Simsion
Sci-fi/Fantasy: "Ready Player One" by Ernest Cline
Non-fiction: "Into the Wild" by Jon Krakauer
Mystery: "Big Little Lies" by Liane Moriarty
📘 Reading: A Lifelong Travel Companion
Whether you're a frequent flyer or a first-time traveler, reading can enhance your travel experience. With 74% of American adults reading at least one book in the past year (Pew Research Center), it's clear that reading holds a special place in our lives. Here are a few reasons why reading is the perfect travel companion:
Escape: Immerse yourself in a captivating story and leave the hustle and bustle of the airport behind
Learning: Discover new cultures, histories, and perspectives through the pages of a book
Relaxation: Reading can help calm pre-flight nerves and ease the stress of travel
🤫 Insider Tips: Making the Most of Your In-Flight Reading Experience
As an experienced travel journalist, I've spent countless hours on planes and have discovered a few insider tips to make your in-flight reading experience even better:
Preparation: Download e-books or audiobooks to your device, or pack a physical book in your carry-on
Bookmark: Use a bookmark to easily pick up where you left off
Comfort: Bring a neck pillow and cozy blanket to create a comfortable reading nook
Hydration: Stay hydrated to avoid fatigue and maintain focus on your book
Breaks: Take short breaks to stretch, rest your eyes, and prevent motion sickness
📖 In Conclusion: The Joy of Reading Awaits You
From captivating thrillers to heartwarming romances, there's a perfect book out there for everyone. When you're flying high above the clouds, let your imagination soar with these plane reading recommendations. Remember, reading not only enriches your travel experience but also creates lasting memories, so don't forget to pack a book (or two) for your next adventure!
✈️ FAQs: Plane Reading Recommendations and More
1. How do I choose the right book for my flight? Consider your interests and the length of your flight. Select a book that aligns with your taste and will keep you engaged throughout your journey.
2. Are e-books or physical books better for plane travel? Both options have their advantages. E-books are lightweight and easy to carry, while physical books don't require a device or battery life. Choose the option that best suits your preferences and travel needs.
3. Can I borrow books from the library for my trip? Yes, libraries often have a wide selection of books to choose from. Just make sure to return them on time to avoid any late fees.
4. Are audiobooks a good option for plane travel? Audiobooks can be a great choice, especially for those who get motion sickness from reading on planes. Just remember to pack headphones and download your audiobook before boarding.
5. How can I make my in-flight reading experience more enjoyable? Prepare in advance by choosing the right book, packing necessary items for comfort, and taking breaks to stretch and rest your eyes.
6. What are some popular book series to read while traveling? Some popular series include "Harry Potter" by J.K. Rowling, "A Song of Ice and Fire" by George R.R. Martin, and "Outlander" by Diana Gabaldon. These series offer immersive worlds and engaging storylines that will keep you entertained for hours.
7. Can reading help reduce travel anxiety? Yes, reading can be an effective way to distract yourself and relax during a flight, helping to reduce travel anxiety. Choose a book that captures your interest and allows you to escape into its world.
8. How do I find new book recommendations? Book recommendations can be found through online reviews, book clubs, friends, and social media platforms. Don't be afraid to explore new genres and authors to discover your next favorite read.
References
Expedia. (n.d.). Survey results on traveler preferences. [Online].
Center. (2021). Book reading habits in the U.S. [Online].
Osborne, M. P. (n.d.). Reading is a passport to countless adventures.