Organizing your luggage is both an art and a skill that every traveler should learn. Not only does it save you a lot of space for more items, say you plan to do some shopping, but it also keeps your belongings neatly packed.
This is precisely why packing cubes have grown in popularity. These small cubes will revolutionize everybody's packing skills – turning them from novice packers to experts real quick. The dealbreaker however is – will these cutesy packs get past the Transportation Security Administration (TSA)? Are these packing cubes approved by the TSA?
Down below, we'll answer all the important questions you've been meaning to ask about packing cubes and why you should consider getting them.
Are Packing Cubes Approved by the TSA?
There's nothing on TSA's website that prohibits the use of packing cubes. And unlike in the case of lithium batteries and luggage locks, TSA does not indicate or approve of any specific type of packing cubes.
What's more important is to ensure that the contents housed inside these cubes follow what is allowed and not allowed on carry-on and checked baggage. To be sure, check TSA's website for the things you can and cannot pack in your bag.
Doing this ensures that TSA does not detect anything suspicious inside the cubes, necessitating the need to inspect and search for the item in question.
Read Next: Packing Cubes vs Compression Cubes vs Ziploc Bags – Which Ones Are Better?
Can You Pack Toiletries Inside Packing Cubes?
You can pack toiletries inside packing cubes – both in your carry-on and checked luggage. However, if you plan on bringing them in your carry-on, it should comply with TSA's 3-1-1 rule. That is, passengers can bring aerosols, liquids, creams, and gels, as long as they do not exceed 3.4 ounces (100 ml) per container.
All small containers (even smaller than the 3.4-ounce limit) should be able to fit inside a single quart-sized, resealable zip-lock bag. Only one bag is allowed for each traveler's carry-on bag. Separating these items and placing them together in a small bag actually helps hasten the screening process.
Most packing cubes come with an extra small, transparent, leak-resistant packing cube that meets this TSA requirement and is designed explicitly for toiletries. All toiletries and other containers that are larger than 3.4 ounces should be placed inside the checked baggage.
Tip: We've purchased several packing cube sets ourselves and from our own testing we found out that the eBags packing cubes are the best ones, so make sure to check them out if you don't already own a packing cube set.
Do You Have to Remove Packing Cubes When Going Through Security?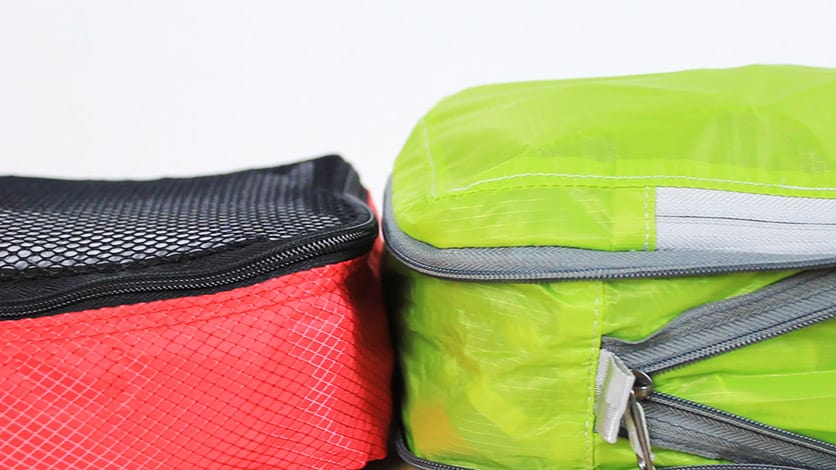 You don't have to remove each packing cube when going through security. TSA officials even advise travelers to organize their bags to ensure that no item would clutter and obstruct the images from the X-ray machine. Doing so makes for a swifter screening process.
Aside from the items that you need to take off during security, such as jackets and wallets, here are some items that you need to take out of your carry-on before going through the screening machine:
Electronic devices that are bigger than mobile phones, such as tablets, laptops, and cameras; pro tip: make sure to charge these as TSA agents might ask you to turn them on during the inspection. Not doing so due to a dead battery might lead to confiscation.
The quart-sized bag containing toiletries: liquids can obstruct the x-ray images.
Are Packing Cubes Worth It?
Packing cubes come in various sizes, allowing you to stuff the smallest items, such as socks and underwear in a smaller cube, and bulkier items, such as hoodies and jackets, in larger cubes.
Whether you are a first-timer or a seasoned wanderlust, packing luggage is one of the biggest challenges you will encounter as a traveler. Most if not all travelers swear on the necessity of packing cubes. Here are some of the reasons why:
Extra luggage space. Some packing cubes like TRIPPED travel gear's compression packing cubes help you organize your belongings and have an airtight compression feature that allows you to fit more items in your suitcase. We actually did a test where we tried to find out if packing cubes and compression cubes save any space. You can check it out over here.
They make packing a whole lot easier. Having packing cubes will make you feel like a packing pro. They prevent you from randomly stuffing items in every remaining space you see.
They prevent you from overpacking. The limited amount of space in each cube provides you with a good estimate of how much remaining space you have for each compartment—no need to sit on your luggage just to close it.
You can separate clean from used clothes easily. Having a dedicated bag for each ensures that you don't get your clean and dirty clothes mixed up.
They make transferring your belongings more manageable and more efficient. Instead of moving your items one by one, you can quickly transfer them to cabinets or drawers as a unit.
They keep your clothes from shifting, which leads to creasing and wrinkling. Due to constant motion, clothes can shift and slide to the bottom (when luggage is held up). Keeping clothes in tightly packed containers reduces creases on your clothes.
They allow you to quickly locate items since they are grouped and compartmentalized. Not only is it easier to pack, knowing from memory which things go together aids you in finding objects easier.
Read Next: Packing Cubes: Are They Really Worth It or Are They Overrated?
Final Words
TSA doesn't prohibit travelers from using packing cubes. In fact, they encourage using packing organizers because they make it easier to find something within the suitcase. These neat and cute bag organizers offer a huge help in organizing and packing your luggage neatly. Not only do packing cubes help travelers breeze through the airport screening process, but they also offer a lot of benefits that make traveling and packing easier.