Are you thinking about getting a new suitcase but can't decide between rollaboard or spinner luggage? Well, you're in the right place!
In this article, we'll discuss the pros and cons of both rollaboards and spinner luggage. Spinner suitcases have experienced a huge boom in popularity, but it doesn't mean they're better. For some, luggage with two skate wheels is a smarter choice. Although suitcases with spinner wheels are easier to move around, they won't be as durable, they'll have less space inside, and they won't perform that well on rough surfaces. Does that mean that rollaboard luggage would make for a better choice? Let's find out.
What Is Rollaboard Luggage (Also Called Inline or Upright)?
Rollaboard luggage, otherwise known as "upright," "inline," "rolling," or "two-wheeled" luggage, comes with two wheels and a retractable handle on top. Both wheels are attached to the backside of the suitcase, and the suitcase is pulled by the retractable handle at a 45-degree angle. Instead of "sticking out," both wheels are somewhat integrated into the main structure, which makes the wheels harder to break off.
Although it's still debated who invented rolling suitcases first, it was either Briggs & Riley or Travelpro. The idea originated sometime in the '60s-'80s. Before that, the idea of wheeled suitcases seemed silly to everyone. We're lucky that they persisted with this idea because traveling would look very different today had they listened to critics!
What Is Spinner Luggage?
Spinner luggage comes with four spinner wheels attached at the bottom of the suitcase. All wheels rotate 360 degrees, which makes these bags more maneuverable. Instead of pulling it behind at a 45-degree angle, a spinner suitcase can be pushed and pulled at a straight, 90-degree, vertical position. This is good news for your spine! All four wheels are basically "sticking-out," which makes them easier to break off.
Some spinners come with four double spinner wheels (eight in total) instead of four regular ones. They're slightly better because they're more durable and handle smoother on rough surfaces. Some brands also offer magnetic spinner wheels, which snap to a specific angle and roll in a straight position, and spherical spinner wheels. These are more durable and better on rough surfaces. It's unclear who invented spinner luggage first, but they have become really popular lately, especially on hardside suitcases. Today, most people prefer spinners over rolling suitcases, just because they're easier to maneuver.
Rollaboard Vs. Spinner Luggage: Which One Is Better?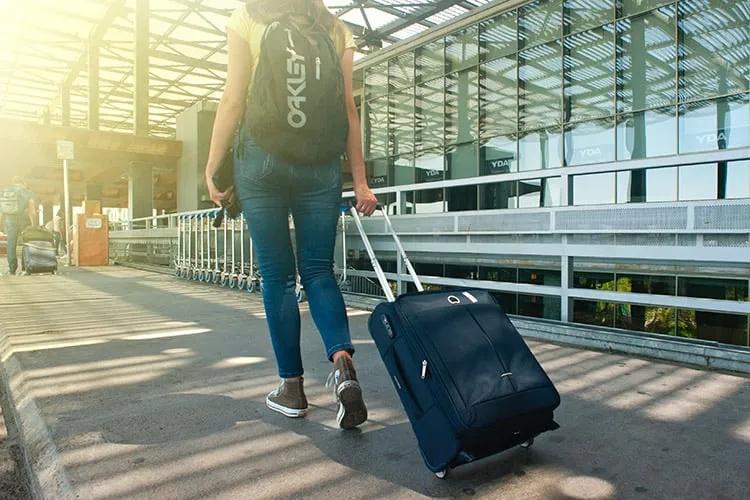 While both wheel types have their own advantages and disadvantages, spinner suitcases will be better for some while, for others, only rolling suitcases make sense. Let's talk about how each type performs from various angles, such as mobility, durability, stability, etc.
Mobility
On smooth surfaces, spinner wheels are very easy to move around. However, on rougher ones, they consistently get stuck between all the little crevices. On especially rough surfaces, you might even have to carry the spinner suitcase by the handle in order to avoid damaging the wheels. Because spinner wheels rotate 360 degrees, the bag is more maneuverable, as you can quickly turn it in any direction.
Here's how both wheel types perform on different surfaces:
On a carpet: Spinner wheels don't get stuck on a carpet (at least, from our own experience), so they perform better than rolling wheels.
On cobblestone streets: Rollaboards will be easier to move around because spinner wheels often get stuck between the cobblestones. We usually carry our spinner in hand whenever We have to cross a cobblestone street.
On dirt/gravel: If the dirt/gravel isn't too rough, then spinner wheels will roll as smooth as two rolling wheels. That said, if the surface is too rough, you'll have to carry the spinner by a handle.
On smooth surfaces: On smooth surfaces, spinner wheels work better than rollaboard wheels. Instead of pulling the bag from behind, you can push it in front of you, which doesn't put any strain on your back.
On regular pavement/asphalt: In most touristy cities, except for old towns in Europe, the roads will be covered with pretty smooth materials such as concrete, asphalt, or bricks. Even on torn-up or cracked asphalt and brick surfaces, spinner wheels are still easier to move around compared to regular skate wheels.
On staircases: The wheel type doesn't matter, because you'll always have to carry your suitcase by the handle when walking stairs. You could potentially pull rollaboards when walking up but it will ruin the wheels pretty quickly.
In buses, metros, trains: In moving vehicles, two rolling wheels are better, because suitcases with spinner wheels will start to roll away by themselves if not properly secured. Some spinners come with "stop buttons" which will lock the wheels in place.
We've used suitcases with two rolling wheels and four spinner wheels. Personally, we like spinner suitcases better, because they're easier to move around. On moderately rough dirt roads and cobblestone streets, you can tilt the spinner suitcase in a 45-degree angle and pull it from behind. We don't mind carrying the bag by the handle on really rough surfaces and stairs.
Stability
Generally, spinner suitcases are just as stable as rollaboards. You can find both spinner suitcases and rollaboards that tip over. Really, it depends on the specific model, not the wheel type. A lot of luggage manufacturers make a significant mistake by placing the spinner wheels too close together which makes the bag really easy to tip over.
On properly manufactured spinners, the wheels are placed with enough distance from one another. And on rolling suitcases, sometimes the two supporting plastic legs are too short, or the front pockets are too large which can cause the bag to tip over. Regardless of the wheel type, always make sure to read the customer reviews first to make sure that the bag doesn't constantly tip over.
Weight
Usually, popular suitcase models are offered in rollaboard and spinner versions. And almost always, the spinner version weighs 0.2-0.5 lbs more. That's because two additional wheels with proper safety guards weigh more compared to two small plastic legs. For instance, the lightest suitcase on the market is the "It Luggage World's lightest" and weighs 3.8 lbs in the rollaboard version, and 4 lbs in the spinner version.
Durability
Although spinner wheels maneuver smoother, they aren't as durable as two rolling wheels. That's because on rollaboards, the two wheels are larger than spinner wheels, and they're also built-in into the main structure, instead of "sticking out," which makes them harder to break off.
Suitcases with spinner wheels are treated more delicately than rollaboards by the baggage handlers because airlines know how easily spinner wheels can break off. When they're loaded in the cargo of the airplane, spinners are stored on top and rollaboards on the bottom. However, even with these precautions, spinners still are more likely to break compared to regular rollaboards. So, if you're looking for a really durable suitcase, rollaboards will be a smarter choice.
Volume
With spinners, you will find that some space is compromised because the bottom part of the suitcase isn't used effectively. Since the wheels are "sticking out," there's less space in the main compartment. They'll always store 5-10 liters less compared to a similarly sized rollaboard. On carry-ons, the size restrictions include wheels and handles, so if you want to maximize your carry-on allowance, you should get a rollaboard.
Price
Usually, spinners cost around $10-$30 more than their rollaboard versions. Adding two wheels with proper plastic frames around them adds additional costs which will result in a slightly higher overall price. Also, you should keep in mind that spinner wheels are less durable, which means that you'll have to replace them more often. Even if they're covered by the warranty, sometimes you'll have to pay for the shipping costs to the repair center.
Hooking Several Pieces Together
Although rollaboards can be hooked together, they're pretty hard to move around. If you're purchasing several suitcases and plan on hooking them together with luggage straps, you should choose spinner suitcases because they'll be easier to maneuver around.
Read next: Do Airlines Prefer Hard or Soft Luggage?
Should You Get Rolling or Spinner Luggage?
While rollaboards are better for some, spinners make a smarter choice for others. It really depends on your priorities. Generally, though, if you're flying to well-developed destinations, or if you're someone who values mobility over durability, you'll be better off with a spinner. But if you're traveling to countries with rough roads, you need something reliable, so you'll be better off with a rollaboard.
For Business Travelers: Business travelers spend a lot of time in airports, commuting, and walking to their hotels on well-paved roads, so spinners will usually be the best option.
For Infrequent Leisure Travelers: For people who travel one or two times per year to regular tourist destinations, spinners will usually be a smarter choice. They're easy to move around and don't need to be that durable.
For Frequent Travelers: Frequent travelers who often travel to places that are off the beaten path and need their suitcases to perform well on rugged roads, be durable, lightweight and maximize the carry-on allowance should choose rollaboards.
For Kids: Because spinners are easier to move around and don't require strength, they'll be a solid choice for children.
For people with back problems: If you have back problems, consider getting a spinner suitcase. Because it doesn't have to be tilted at a 45-degree angle, it won't put any strain on your back.
Best Suitcases with Four Spinner Wheels
We've tested over
16 different luggage brands
and found
Chester
to be the best mid-class luggage brand. After testing a lot of other mid-class suitcases, the Chester is definitely the best hardside spinner out there. Although it isn't cheap, it's well worth the price. It's very minimalistic in design which means it doesn't come with many
smart features
. It's simple but very durable.
The hard shell is made out of polycarbonate which is the most durable hardside plastic on the market. It's also backed by a 10-year warranty that covers all functional defects on the suitcase, including the wheels and handles. This suitcase comes with double spinner wheels, which we tested on smooth and rough surfaces, and they performed really well. We also investigated the inside and found out that the wheels are attached with regular screws from the inside so they're easily replaceable.
Other than that, the Chester Minima carry-on is protected with a TSA-approved combination lock, and the main compartment is quite spacious. Essentially, the main compartment is split into two equal parts, and both are separated with an unzippable fabric sheet on both sides. It also has several pockets inside for organizing smaller items and comes with a dedicated laundry bag. It's a well-made spinner and has received glowing reviews on Amazon. We've tested it for ourselves, and we can vouch for ourselves that it's insanely good.
We also own the Travelpro Maxlite 5 21-inch spinner carry-on and it's currently the best choice on the market in the affordable class. We've used it for over a year now, and haven't experienced any problems.
We found that in the medium class, Travelpro makes the best fabric suitcases and they ranked just behind Chester on our Best Luggage Brands leaderboard. Although the Maxlite 5 is quite affordable, it's very durable. It's built from tough materials and backed up by their limited lifetime warranty.
The Maxlite 5 comes with four spinner wheels and although they aren't double spinner wheels, they roll really smoothly. We even took on a trip to Israel so we could see how well it would perform on rugged, dirt roads, and the wheels still look brand-new. In addition to being durable, the Maxlite 5 is also really lightweight, weighing at just 5.3 lbs (for comparison, the average carry-on weighs 7.9 lbs.)
The main compartment is quite spacious and expandable. You also get two smaller pockets on the exterior and one large zippered pocket in the interior for organizing all the smaller items. We really like the Maxlite 5, and we think that it's the best affordable option on the market. Although you can get suitcases for 50$-60$, they won't come close to the durability of the Travelpro, so it's worth paying a bit more.
On our leaderboard of the best luggage brands, we've rated
Briggs & Riley
as the best luggage brand out there. And we aren't the only ones who agree. Briggs & Riley is often recommended by frequent travelers and flight crews because of its exceptional durability and "no matter what" lifetime warranty. The Briggs & Riley Baseline spinner carry-on is by far the best spinner on the market.
It's built out of 1680D Ballistic Nylon which is considered the most durable luggage fabric. It's also backed up by their lifetime warranty which covers all physical defects on the suitcase, including the wheels, zippers, and handles. You won't need a receipt, and it's transferrable between owners. The Baseline comes with many smart features, such as a built-in garment compartment for suits, their signature CX compression/expansion system, and a retractable handle attached on the outside for more packing space.
It also has quite a few smaller pockets inside for organizing all of your smaller items. Although this carry-on is incredibly expensive, it's definitely worth it for business and frequent travelers who prefer spinners over rollaboards. This suitcase will last decades, not a few years, so the high price tag is actually quite reasonable.
Best Suitcases with Two Rolling Inline Skate Wheels
Although the Travelpro Platinum Elite 22-inch rollaboard is on the pricier side, we think that it's worth every penny. It's the best rollaboard in the mid-class and will be perfect for business and frequent travelers.
The Platinum Elite is the best rollaboard that Travelpro has to offer. It's built out of durable materials and backed up by their worry-free lifetime warranty. Inside, this rollaboard is fitted with a built-in suiter compartment, which is nice if you're a business traveler. The main compartment is quite spacious, and it's also expandable if you're running low on space.
Inside, you'll also find other useful packing features like a removable, TSA-approved toiletry pouch, organizing compartments, and an advanced tie-down system. This suitcase also comes with a USB charger and a dedicated pocket for a power bank which is nice if you're carrying many electronic devices. If you can't afford the Platinum Elite rollaboard, another solid mid-tier option is the Travelpro Crew 11 Rollaboard, which is essentially a dumbed-down yet viable version of the Platinum Elite.
Full review: Travelpro Platinum Elite 25-Inch Checked Suitcase Review
We believe that the Travelpro Maxlite 5 22-inch rollaboard is currently the best affordable rollaboard. Although you can get cheap options that cost half the price, it's worth it to pay more for the Maxlite 5. Travelpro is well-praised by frequent travelers and flight crews for their durability and the Maxlite 5 is their cheapest collection.
The Maxlite 5 Rollaboard isn't only durable, but also very lightweight, weighing at just 5.4 lbs. It's gained really awesome ratings on Amazon, and people seem to like all of its features. Compared to the spinner version, the rollaboard is slightly more spacious and more durable. Other than that, it essentially comes with the same features. It's a really great option if you're looking for an affordable but durable rollaboard.
The Briggs & Riley Baseline Upright 22-inch Rollaboard is the best fabric carry-on out there. That said, it's incredibly expensive, and only worth it if you're flying at least 5-10 times per year. Essentially, it's identical to the Baseline Spinner version, only slightly better and cheaper. Because it comes with two skate wheels instead of four spinner wheels, it's more spacious inside and more durable. The only disadvantage is that it'll be slightly harder to move around compared to the spinner version.
Other than that, it's identical to the Baseline Spinner version. It's made from 1680D Ballistic nylon, the most durable luggage fabric, and backed up by their "no matter what" lifetime warranty which covers all damages, regardless of the cause, for a lifetime! It also has a built-in suiter, their signature CX compression/expansion system along with their rectangular spacious interior, and a retractable handle attached on the outside. If you can afford the Baseline Rollaboard, it'd definitely be worth it, because it will last decades.