2022 update: Chester luggage has stopped doing business, most likely due to post-pandemic supply issues. Their last social media update was in February 2021 and they've been out of stock since early 2021. If you're looking for something similarly durable and in the same price range, you should check out something from Travelpro, especially the Travelpro Maxlite 5 hardside.
Are you looking for the best luggage on the market? Well, Chester Travels is one of the best options at the moment. Although their brand is relatively new and not that popular (yet) compared to other medium-priced brands, their luggage is fantastic. We've tested the Chester Minima Carry-On for ourselves, and so far, it's held up great, despite being put through rigorous tests.
In this Chester luggage review, we'll test their quality, sum up their product reviews, see what features they offer, discuss their marvelous warranty, and more. All of this will be done to determine if they're worth it or not and how they compare to similar competitors.
On CleverJourney's Best Luggage Brands, Chester secured 90 out of 100 points. This places the brand at 2nd place, with it ranking above every other medium-priced brand.
Their closest competitors in the medium price range are Travelpro and Samsonite. Out of the three brands, Chester seems to be the best option in almost every aspect, from reviews to their design and warranty.
Here's a summary of how we determined the 90 points. Further down into the review, we'll go into more detail on each category so you get a better understanding of how Chester performed.

The Good
Built To Last. Since we had the chance to test the Chester Minima out, we decided to perform as many tests as possible and inspect the suitcase thoroughly to find any defects. We must admit that the build quality of the Minima both on the outside and the inside is astounding. Our opinion agrees with the reviews of other customers who equally praise Chester for their luggage durability.
One of the Best Luggage Warranties out there. Chester's warranty might not be the best compared to what Briggs & Riley offers on each suitcase, but their 10-year limited warranty is excellent. The warranty covers any defects found on the wheels, handles, and zippers, as well as any cracks on the hard shell. Unlike most other luggage brands, Chester covers all the shipping costs, which is impressive on their part.
Well-Reviewed. Despite only offering three suitcases (in fact, it's the same suitcase in three different sizes), Chester has acquired a considerable following online. While the Amazon reviews aren't that representative, Chester's luggage has only received 4-star and 5-star reviews on their official website.
Minimalistic and Simple. Chester will be perfect for minimalists, who are looking for a simple, but a well-built suitcase. But, some may not like Chester's modern and minimalistic approach when it comes to design, especially when much cheaper brands like Rockland offer a wide array of designs and colors.
The Bad
Some competitors offer better features. Although Chester's suitcases come with all the essentials, some of their competitors offer slightly more advanced features, like built-in suiters, GPS trackers, toiletry pouches, USB chargers, e.t.c.
Fairly expensive. Despite being a good value for your money, Chester's suitcases are not cheap. The complete set (Minima, Regula, Maxima) will cost you around $800. But, when you consider the warranty and quality offered by Chester, their suitcases are worth every penny.
The Verdict
Chester is the best moderately-priced brand on the market, albeit being a bit more expensive than the other options. That is if you're planning to get a hardside suitcase since Chester doesn't offer softside luggage. All three models are made from high-end materials and are backed up by an excellent 10-year warranty with no hidden fine print. On top of that, the brand is superbly reviewed online, which should be a clear giveaway of how great Chester's luggage is.
The only pitfalls are that their suitcases come with limited features, and for some, a $200 carry-on is just too expensive. Some of you might not like the simple designs of Chester's suitcases, but if you're a minimalist who's looking for a durable hardside suitcase at a moderate price, then Chester is your best bet.
Key Facts About Chester Travels
Chester Travels Inc. is a pretty new luggage manufacturer, established in 2017. At the time of writing this review, they only offer three luggage models: the Minima carry-on, the Regula checked suitcase, and the Maxima checked suitcase. They've offered these three models ever since they began, so it doesn't seem like they'll introduce new models any time soon. That being said, their models have been out of stock recently due to COVID-19 shortages. They're also not really active on social media, so we're hoping that we'll see their suitcases back in stock soon.
Chester's suitcases are all made in a minimalistic and simple vibe. The design is classic and minimal, they don't come with too many unneeded features, and their policies are simple and understandable. They've said that their main goal is to make simple and durable suitcases, which aren't priced too high. In fact, they estimate that the average person usually pays 30% more for similar suitcases of comparable quality (Hint – they're probably talking about Away suitcases, which are pretty similar but priced slightly higher).
Chester is undoubtedly the best in its class. When you consider that their luggage is really durable and well-reviewed, despite lacking some features and being priced a bit higher than most similarly-priced brands, it's pretty clear that Chester offers the best value.
Reviews (29/30)
Right now, their suitcases are available for purchase on Amazon, Walmart, and chestertravels.com. We researched their product reviews on Amazon, Walmart, and their own website for unbiased reviews, and we must say that they're quite impressive. While Travelpro and Briggs & Riley are similarly well-reviewed, Chester has still gotten slightly better reviews than both of them. And to think that they managed to do that with the same product in three different sizes is mind-boggling.
Out of all the reviews that we researched, here are the main issues that people were concerned with:
Because the main compartment is divided by an enclosed fabric sheet on both sides, you can't fit in larger items, and there's no room for packing cubes.
The retractable handle has a larger end to it. When storing another bag on top of the suitcase and securing it with a strap around the handle, the strap tends to get caught in the massive handle.
Some people think that they're too expensive.
The durability of the interior has been criticized for being worse than most other similarly-priced suitcases.
One unlucky customer on Amazon mentioned that the Minima's zipper broke on the first flight.
These reviews are quite interesting because people complain about incorrect dimensions, broken wheels, handles, zippers, bad support, pointless warranty, or cracks in the hard shell on almost all other brands. The same complaints were far and few on Chester's suitcases, which shows how well they're made.
Quality (19/20)
To test the quality and durability, we performed several tests on the Chester Minima carry-on. That being said, we'd like to disclose that despite receiving this suitcase for free, our verdict wasn't influenced at all. If the suitcase broke when we laid our hands on it, we would have told you fair and square.
We started by checking out the main polycarbonate frame.
We pushed it down and even stood on the suitcase quite a few times, and this didn't result in any cracks. As you can see, the frame is flexible, but at the same time, quite strong. Most other polycarbonate suitcases we've tested were much more flexible. By the way, polycarbonate is the most durable hardside luggage plastic, so it's nice to know that they've used premium materials instead of cheap ones like ABS.
Even if you'd eventually get a crack, Chester's warranty covers cracks in the frame for ten years, so you'd get a replacement.
Next, we checked out the spinner wheels because these are most likely to break first on any suitcase.
Instead of regular wheels, Chester has opted to use double spinner wheels, which are more durable. They're made from a thick plastic material, and they look fairly well-made. The wheels themselves are covered, which adds extra points to their durability.
The rubber part of the wheels seems relatively thick, which means that it shouldn't degrade that quickly.
From the inside, the wheels and handles are mounted with regular screws. This is nice because if you'd ever run into any issues, Chester would be able to swap the parts with new ones quite easily. Not to mention that you could even change them yourself if you're good enough with the tools and the process that's needed.
The only thing that we didn't like was the retractable handle because while it performed well and was overall fairly good, it seemed to wobble quite a bit. We've tested a lot of other suitcases with handles that felt much more rigid. That being said, the handles are also protected by the 10-year warranty.
So overall, the build quality seemed to be on point. Aside from the handle, everything performed really well and didn't look cheaply made. And from what we gathered from all the customer reviews, we weren't the only ones pleased with the quality, with almost nobody complaining about durability issues.
Features (11/15)
Chester has said themselves that their main goal is to make minimalistic and simple suitcases. This means that you won't find too many features there, like USB charging ports, toiletry pouches, external pockets, GPS tracking, suiter compartments, e.t.c. Their suitcases are meant to be simple, with all the effort and budget dedicated to the suitcases' durability.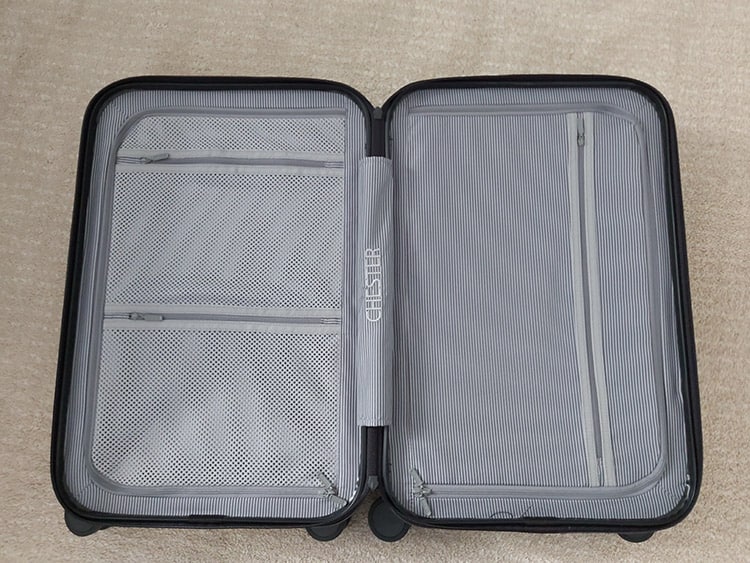 When you open up the main compartment, it's split into two equal parts, both enclosed with a fabric sheet. Usually, most hardside suitcases have this fabric divider only on one side. Having them on both sides ensures that when you open the bag up, nothing falls out. This is especially great if you're overpacking; otherwise, you'd have half of your luggage all over your hotel room.
As you can see in the picture above, both fabric dividers have built-in pockets, which is excellent for storing smaller items.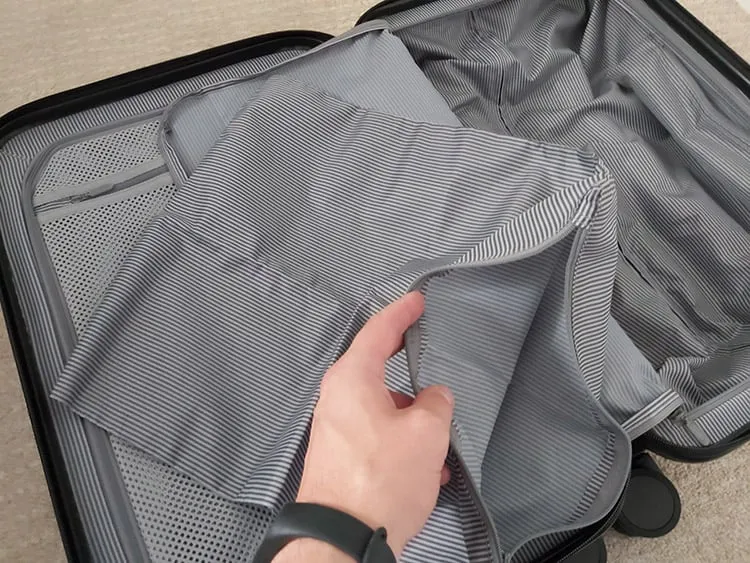 Additionally, you also get this nylon laundry bag. Storing all the dirty clothes with your clean ones isn't particularly clever for obvious reasons, so having this separate pouch is an excellent addition. Other than that, the interior compartment is quite simple and effective.
While we didn't face any issues with it, some customers have said that the interior is Chester's weak point. Apart from not having tons of features, the interior pockets are prone to be damaged, which is something that you should keep in mind.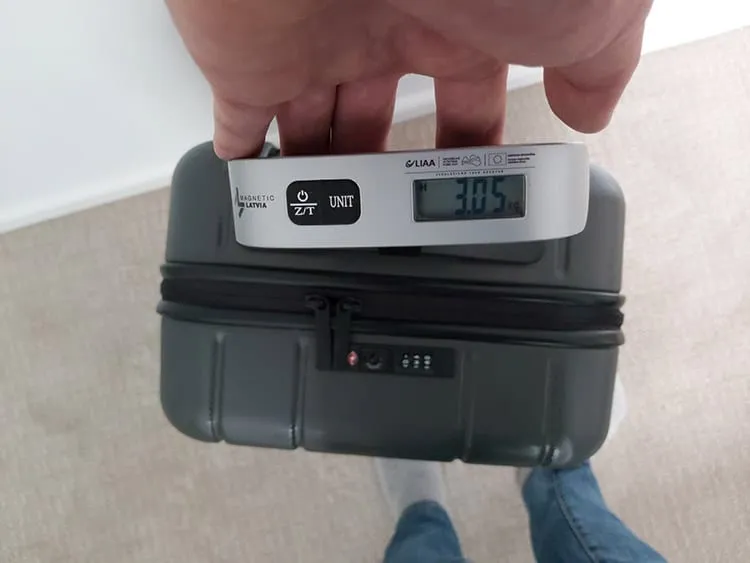 We weighed the bag, and it weighed 6.7 lbs (3.05 kg), which is a bit under their advertised 7 lbs. In this article, we compared the average weight of the most popular carry-ons, and on average, a carry-on weighs 7.9 lbs, so Chester's 6.7 lbs can be considered relatively lightweight (even though it isn't the world's lightest luggage). In comparison, the very similar Away international carry-on weighs 7.5 lbs, which is a bit more.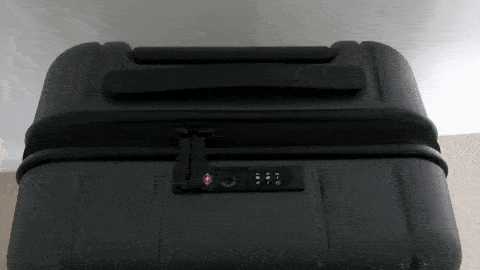 The bag is protected with a built-in TSA-approved combination lock. This means that nobody can get inside the bag except the TSA agents at the airport security. The lock performed exceptionally well, and it appeared to be pretty well-built.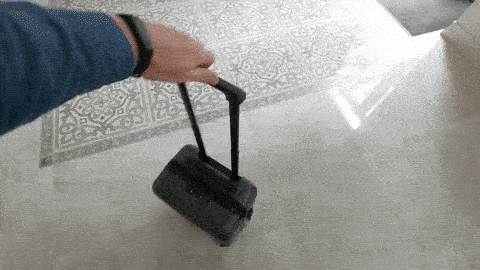 Next, we tested how well the spinner wheels performed. We tried rolling the bag on smooth surfaces like seen in the video above, as well as tarmac and pavement bricks.
Not only do the wheels feel durable, but they also roll pretty smoothly. Some bags tend to kind of get stuck for a moment whenever you're trying to rotate the bag, but we didn't notice this issue with Chester's luggage. We also packed the bag full, and the bag didn't flip over by itself, which is nice.
Having said that, we think that for this price, Chester could have added many more features to its suitcases. For instance, an expandable zipper would be nice for those moments when you want to bring a bunch of souvenirs and sweets back home. On the same note, a built-in toiletry pouch or another handle at the bottom of the suitcase would have certainly given Chester a much higher rating than 11 out of 15 in the "Features" category.
Of course, those features aren't essential, but suitcases are often packed with more features at this price point. But if you're a minimalist, the simplicity of the bag shouldn't be an issue.
Design (13/15)
Everything from the exterior to the main compartment to their website and even the little paper instructions are made in the same simple, minimalistic style. It feels like Chester's designers took a precise carving knife and cut all the fat out of everything, just like you would with a nice piece of steak. Other brands feel somewhat commercial and soulless compared to Chester.
The Chester Minima carry-on is available in several colors that look good for men and women – black, charcoal gray, aluminum gray, ocean blue, sky blue, pink, and sand. (In our review, we tested the charcoal gray carry-on). Out of all the reviews we read, these were the main adjectives used to describe their suitcases – cute, stunning, high-end, cool, and modern.
Based on everything mentioned above, we gave Chester 13 points in the "Design" category, which is pretty high, considering their minimalistic design. We like that their style is so modern and simple, but many out there would prefer something more colorful.
Warranty (10/10)
We've reviewed a lot of different luggage brands, and Chester's warranty is one of the best ones out there. It's simple, short, written in understandable language, and there are no 'hidden rocks'. Plus, if you don't like their luggage, you can send them back and get a full refund within 100 days of your purchase, as long as you haven't damaged the suitcase.
Chester Travel's Warranty Terms
Their suitcases must be used for travel by air, car, train, boat, and foot. (Not covered if used for other purposes).
Only valid for the original owner with proof of purchase.
Covers cracks or breaks in the polycarbonate frame. (Scratches, dents, and stains aren't covered).
Covers wheels, handles, and zippers that are no longer useable.
Must be purchased from authorized resellers or Chester Travels themselves.
All shipping costs are covered. (Noteworthy, because usually manufacturers only cover the return shipping costs).
The warranty is valid for ten years. (And a lifetime warranty against manufacturing defects).
Arguably, only Briggs & Riley and Away luggage have better warranty terms than Chester. Briggs & Riley's warranty covers pretty much everything for a lifetime, no proof of purchase is needed, and the warranty transfers to different owners. And Away's warranty terms are pretty similar to Chester, but for a lifetime. But, Chester's warranty is undoubtedly worth 10 out of 10 points.
Price (8/10)
The main idea behind Chester Travels is to make high-end suitcases for affordable prices. Although some may think that dropping $200 for a single carry-on is completely nuts, it actually isn't. If you think about it, considering that you travel frequently, why not get a single $200 carry-on that will last you decades instead of several $70 ones?
Not only will it be cheaper in the long run, but you won't have to deal with broken luggage in the middle of your vacation. Chester's statement that they're usually 30% cheaper than most similar competitors is actually fairly accurate. At least, when compared to similar alternatives from Away, Travelpro, or Briggs & Riley.
Keeping that in mind, we've given Chester Travels 8 points out of 10 in the price category. It's a pretty good result, and it's a similar deal to Briggs & Riley and Travelpro.
How Does Chester Compare to Other Luggage Brands?
Chester Travels beats almost every other brand we've reviewed. The only two brands that come close to what Chester is offering are Travelpro and Briggs & Riley. But, let's compare how Chester beats every other brand in the medium-priced category, as you can see on our Best Luggage Brands list.
For starters, Chester is the best-reviewed brand out of every similarly-priced luggage brand. While Travelpro and Samsonite come close to Chester, the three-model brand manages to get better reviews than the two giants. Most other brands like Delsey and Ricardo Beverly Hills don't come close to Chester's reviews. However, the brands mentioned earlier offer more features and more diverse designs than Chester.
Speaking of designs, Chester is somewhere in the middle, with brands like Travelpro ranking below it, while others like Mia Toro ITALY rank much higher. And, while Chester is the best when it comes to its reviews, Travelpro's durability is a bit better than what Chester is offering. The same can be said about the features that can be found on Travelpro's suitcases, which are far more than what Chester is offering.
Chester's value is excellent and ranks similarly to other brands, but it gets outranked by Traveler's Choice. That being said, Chester's warranty beats nearly every other brand, apart from Travelpro, Samsonite, and Briggs & Riley, all of which have a similar or better warranty compared to Chester's.
So, overall, Chester is amongst the best options on the market at the moment. While Briggs & Riley is a better option, Chester's suitcases are the best value for your money.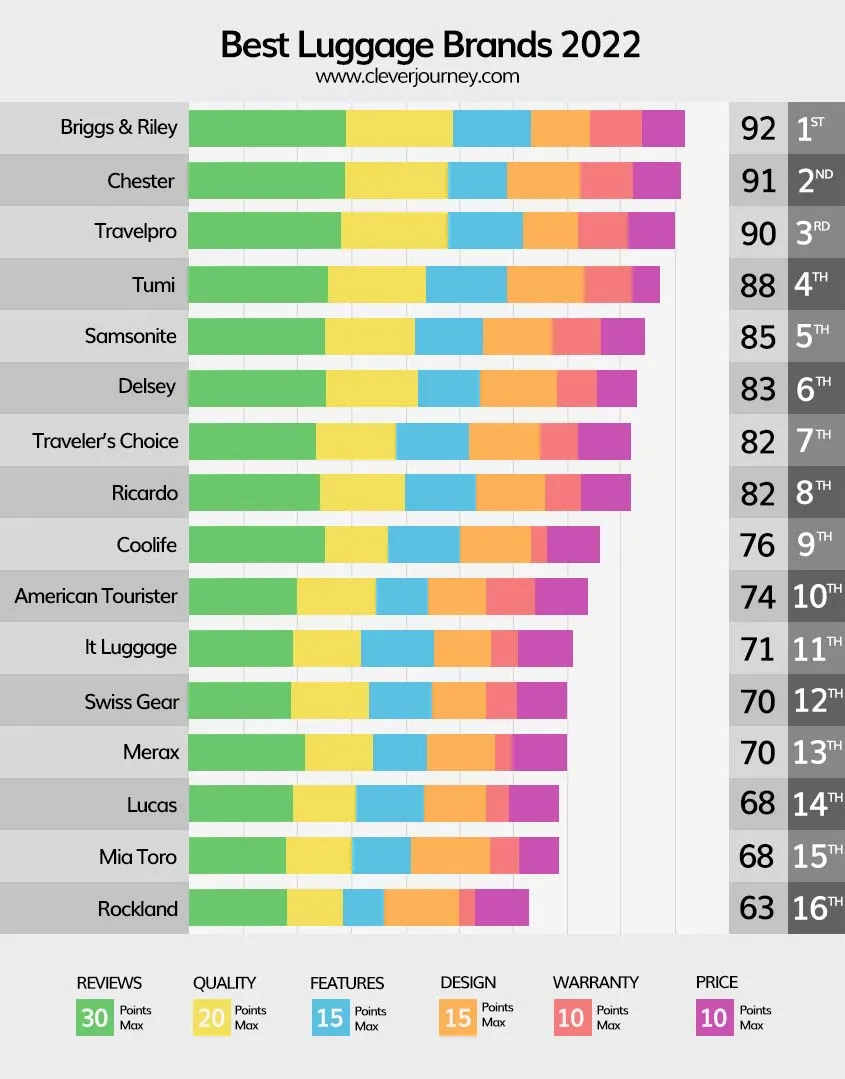 This post is also available in:

English