Travelpro is a luggage brand that's popular among frequent travelers and flight crews – mainly because they make luggage that lasts. But are they still one of the most durable brands today? Aren't Samsonite, Delsey, or Briggs & Riley better choices?
In this review, we'll take an in-depth look at Travelpro and their luggage specifically. We'll look at their suitcase's durability, features, warranty terms, airline size compatibility, and more. All to find out whether they're the right choice for frequent travelers.

On Clever Journey's Best Luggage Brands, Travelpro gained 75 points, which means they took 3rd place among all luggage brands. They were beaten only by Briggs & Riley (81 points) and Ricardo (76 points). They probably would have scored in 2nd place, but what kept them back is a low score in airline compatibility, which essentially means that their luggage is a bit over most common carry-on and checked luggage size limits. Other direct competitors in the middle class include Delsey and Samsonite, who took 5th and 6th places with 74 and 71 points respectively.
Down below, you can see how we calculated the 75 points for Travelpro. The points in reviews, airline compatibility, weight, and price were calculated based on our yearly market research data. The rest of the categories were calculated by ourselves and are a bit more subjective, based on various other factors.
The Good
Quality. Travelpro is really the only middle-class brand that makes luggage below 300$ that can withstand extra-frequent travel. That's actually the main reason why they're most commonly used by frequent travelers and flight crews. And what's even better – their durability hasn't really deteriorated over the years – they're still one of the most durable luggage brands out there.
Lifetime Warranty. All of Travelpro's suitcases (at least the ones mentioned at the bottom of this review) come with a really good warranty that covers manufacturing and material defects in the carry handles, retractable handles, wheels, and zippers. If you register it within 120 days of purchase, they'll also cover all the shipping costs and any damages from airlines and other carriers. It's not as good as Away's or Briggs & Riley's lifetime warranties, but their suitcases cost much less and it's much better than the warranties from other medium-class brands.
Value. On average, Travelpro's suitcases cost 219$, but you can get some more affordable models starting at just 120$. For this kind of durability and longevity, it's a terrific deal.
Useful features. Although their affordable models are somewhat limited in terms of features, their more-expensive models come with TSA locks, suiter compartments, USB charging ports, and other useful features.
The Bad
Bland designs. If you're fine with a professional-looking, dark suitcase, that Travlepro will suit your needs. But if you prefer something more colorful or patterned, you'll need to go with another brand, unless you purchase a hardside and decorate it with stickers.
Some models are pretty expensive. Although generally, they're a medium-class brand, you'll find some models that cost upwards of 400-500$, such as the Platinum Elite collection.
Oversized bags. Their carry-ons and checked bags are on average, 2-6 inches over the size limits, so if you encounter a strict airline employee, you might need to pay checked or oversized baggage fees.
The Verdict
Travelpro is a great choice for someone who is looking for luggage that will last – whether you're looking for something to accompany you on frequent business trips or you're traveling really often. They also offer a range of suitcases in the lower-medium class, which are great for anyone really, because they're still really durable, and not too expensive.
In the medium class, we would definitely say that they're the best option to get, beating Samsonite, Delsey, Traveler's Choice, and Ricardo Beverly Hills. Their luggage is durable, lightweight, packed with good features, and backed up by a reliable warranty. The only real issue is that most of their models are sized larger than the size restrictions for carry-on and checked luggage.
Top-Rated Travelpro Suitcases
Best overall: Crew Versapack

- Editors rating: 4.7
- 23 x 15.5 x 10 in (58 x 39 x 25 cm)
- 8.0 lbs (3.6 kg)
- Ballistic Nylon

SHOP NOW

Best affordable softside: Maxlite 5

- Editors rating: 4.4
- 23 x 14.5 x 9 in (58 x 37 x 23 cm)
- 5.4 lbs (2.4 kg)
- Polyester

SHOP NOW

Best premium softside: Platinum Elite

- Editors rating: 4.8
- 23.5 x 14.5 x 9 in (60 x 37 x 23 cm)
- 7.8 lbs (3.53kg)
- High-density nylon

SHOP NOW

Best affordable hardside: Maxlite 5

- Editors rating: 4.4
- 23 x 14.75 x 9 in (58 x 37 x 23 cm)
- 5.4 lbs (2.4 kg)
- Polycarbonate

SHOP NOW

Best premium hardside: Platinum Elite

- Editors rating: 4.7
- 23 x 14.5 x 9.5 in (58 x 37 x 24 cm)
- 8.1 lbs (3.7 kg)
- Polycarbonate

SHOP NOW

Best for adventure: Bold 2.0

- Editors rating: 4.6
- 22.5 x 14.5 x 9 in (57 x 37 x 23 cm)
- 7.4 lbs (3.4 kg)
- Polyester

SHOP NOW

Best for short trips: Maxlite 5 tote

- Editors rating: 4.3
- 18 x 11 x 8 in (46 x 28 x 20 cm)
- 1.6 lbs (0.7 kg)
- Polyester

SHOP NOW
Full Review
Key Facts About Travelpro
The story of Travelpro begins more than three decades ago, in 1987. It all started with Bob Plath, a Northwest Airlines pilot. The suitcases in those days didn't have wheels, so people had to always carry them when they were traveling.
As a pilot, Bob was almost always on an airplane. He knew that suitcases could be improved, especially when it came to carrying them around. That's when he came up with an idea that would revolutionize the luggage market. He created the first luggage with wheels and a vertical handle, which quickly became the standard for all other brands.
Nowadays, Travelpro is widely used by airline staff members of over ninety airlines. Their luggage is made for professionals and frequent flyers, with quality being the number one priority. They also have a wide range of affordable models, which are great for anyone, not only professionals.
Quality (17/20)
Above all, Travelpro values quality and durability. All of their suitcases are thoroughly tested in test labs before launching. For instance, they have a special machine for jerking a fully packed case for hours to test its durability, as well as a machine that tests the spinner wheels by simulating a rolling movement on rocky terrains for several hours.
I personally own the Travelpro Maxlite 5 carry-on, and when I first received it, I was amazed at how rigid everything was. The seams and corners were protected with reinforced materials, and the wheels and handles were attached with screws, so they could be easily swapped if anything goes wrong. The main retractable handle was firm and made of solid aluminum, and the zippers felt rigid and thick. I've used it occasionally for over 3 years now, and it still performs just as well as when I first received it – I haven't experienced any problems in regards to quality. And the Maxlite 5 is one of their most affordable models, so you can imagine how durable their more-premium models are.
Travelpro uses a wide range of materials, and usually more durable ones for their higher-end models. Their cheaper fabric suitcases are made from polyester, which isn't a particularly durable fabric, but it's weaved from thicker yarns, and they come with various protection features, such as corner guards, skid plates, and reinforced seams, so they still end up fairly durable. Their more expensive fabric models are built from ballistic nylon, which is the most durable fabric used in luggage. So if you're a frequent traveler, definitely go with some of their more expensive models, such as the Travelpro Crew Versapack. Their hardside models are built from polycarbonate, which is the most durable plastic used in luggage.
Reviews (13/15)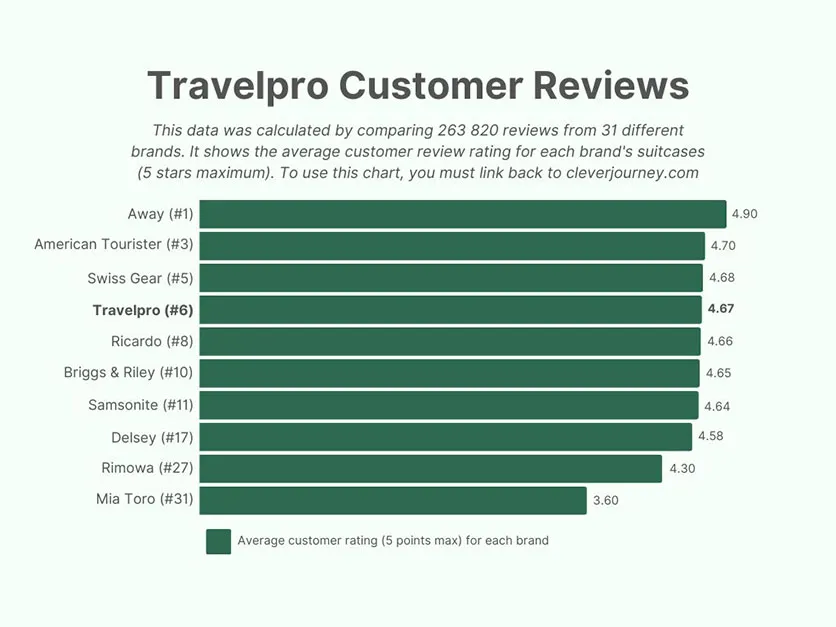 On average, Travelpro's suitcases are rated at 4.67 stars out of 5, which is a really good result. From 31 different luggage brands that we collected data on, Travelpro scored 6th. For context, the first place, Away, received 4.90 stars, and the last, Mia Toro, 3.60 stars. On average, their suitcases are rated higher than ones from their direct competitors, such as Ricardo, Briggs & Riley, Samsonite, and Delsey. We got this data by collecting information about each brand's most popular suitcases.
Usually, everyone is really satisfied with their purchase. A lot of people said that their suitcases feel rigid, well-made, lightweight, and really spacious. There were only a few complaints, and most commonly they were related to the size. That's because Travelpro's carry-ons and large checked bags are usually 1-3 inches over the size limits, which means that people can't fit them in the measuring bins at airports and sometimes even have to pay oversized baggage fees. I personally use the Travelpro Maxlite 5, but I've never had to pay oversized baggage fees because it's just 1 inch over the limit.
Read next: Samsonite vs Travelpro: Which Luggage Brand Is Better?
Features (14/15)
When it comes to features, Travelpro isn't slacking around. Their premium options even include padded pockets for laptops, suiters compartments, and USB chargers.
Duraguard Coating
Their softside cases are made out of high-density nylon or polyester, that's usually finished with a water-repellent finish, known as DuraGuard. It also improves the fabric's abrasion resistance, which in turn improves its lifespan and ability to repel water. Even though this doesn't make the fabric completely waterproof, it's usually able to withstand light rain without letting any moisture inside the bag.
Protection Features
The retractable handles on Travelpro's suitcases are made from airline-grade aluminum, and when extended, they don't wobble. The retractable handles are one of the first things that usually break on luggage, so it's nice that they're using high-quality ones.
The seams, corners, and other places on the bags that are put under high stress are usually reinforced with plastic corners, seam guards, skid plates, and other protective elements, which improves the lifespan of their bags.
Durable and Smoothly-Rolling Wheels
Travelpro's luggage comes with some of the best wheels on the market. Every model has spinner wheels, with some of the premium models coming with self-aligning magnetic wheels. The Maxlite 5 that we tested came with four regular spinner wheels, and after several uses on dirt and brick roads, the wheels look brand-new.
Another thing that should be mentioned is how smoothly they're rolling. If the floor is not properly leveled, the suitcase will start to roll by itself. That's because they've used good-quality bearings inside. Also, usually, their wheels are rubber-coated, which makes them roll smoother and quieter.
Smart Packing Options
On Travelpro's suitcases, you'll find many smart packing features, that will make packing so much easier. These include:
Zippered pockets for organizing all the smaller items
Compression straps for keeping your clothing in place
Mesh dividers for organizing your belongings
Waterproof pockets for storing wet and dirty laundry
The Crew Versapack and Platinum Elite also have built-in suiter compartments, which keep the suits wrinkle-free. Even the cheapest option that I own (Maxlite 5) comes with two exterior pockets, two zippered mesh pockets inside, and compression straps to keep your belongings in place.
Expandable Width and TSA-Approved Locks
Even the cheapest options from Travelpro usually have expandable width zippers that allow the suitcase to expand for additional packing space. This is really useful if you're running low on space in your baggage, but the suitcase may become a bit too large for the size restrictions.
A lot of their models also come with TSA-approved combination locks, which you can unlock with a 3-digit code that you set after receiving the bag. TSA-approved just means that the TSA agents are able to unlock it with special keys in case they need to perform additional inspections while it's checked in.
USB Ports
While most of Travelpro's affordable luggage doesn't have USB ports, its more premium models, like the Travelpro Platinum Elite have USB ports and enough space for laptops or tablets.
Luggage Tags
Most Travelpro bags come with built-in luggage tags, instead of typical ones that are attached to the exterior. This is better because they're pretty much impossible to break off, even if the bag is checked in, so your contact information will always stay on your bag in case it gets lost.
Airline Compatibility (3/10)
Almost all of Travelpro's carry-ons are a bit over the 22 x 14 x 9-inch carry-on size limit set by most airlines. On average, their luggage is 1.52 inches over this limit, which isn't a lot, but in the long term, you should expect to sometimes pay oversized baggage fees if you encounter a strict airline employee. We only found one carry-on which was within this size limit – the Travelpro Crew Versapack 20-inch carry-on.
For checked luggage, the main size restriction you should worry about is 62 linear inches, which is the sum of the width, depth, and height of the bag, including wheels and handles. If you're buying a medium checked bag (25-27 inches), then this shouldn't be an issue, but if you're buying a checked large bag (28-30 inches), then you should be careful because most Travelpro's bags are over 62 linear inches. Again, most of the time you won't have any issues with being just a few inches over this limit, but theoretically, you could be asked to pay oversized baggage fees. The only large checked bag from Travelpro that is within 62 linear inches is the Travelpro Bold 28-inch checked bag, which measures 59.5 linear inches.
Weight (7/10)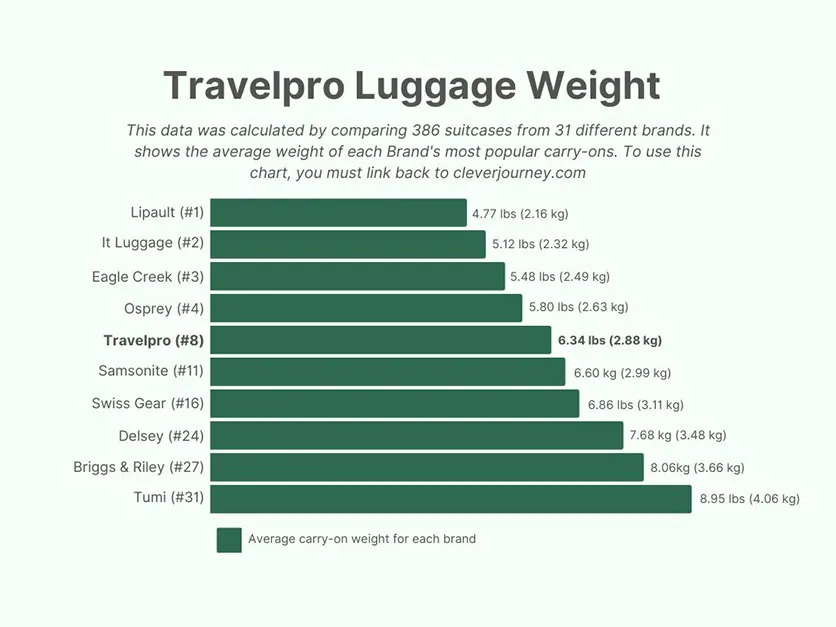 One thing that makes Travelpro a great choice is that their luggage is really lightweight. From all 31 luggage brands that we collected data on, Travelpro scored #8, which is a really good result considering that their luggage is also durable. Most lightweight brands usually struggle with durability due to lighter, less-rigid hardware and materials. Their direct competitors scored much lower – Samsonite #11th, Delsey #24, and Briggs & Riley #27.
That said, it really depends on which model you choose. In general, the Maxlite 5 series is extremely lightweight, while providing a good amount of durability. Their more premium models are much more durable, but also weigh more. For example, the Crew Versapack weighs 8.0 lbs, which seems somewhat heavy, but for a ballistic nylon suitcase, that's actually pretty lightweight.
Warranty (8/10)
Travelpro offers two warranties: Travelpro's limited warranty and Travelpro's Trusted Companion Promise. Both of them come with all of their suitcases. The only difference is the time that the Trusted Companion Promise is valid for, which differs between models.
Travelpro Limited Lifetime Warranty
This warranty is valid for all of their suitcases and you don't need to register it. Essentially, it's a limited warranty that's very similar to what most middle-class luggage brands offer, like Samsonite and Delsey. It covers basic manufacturing defects in handles, zippers, and wheels. This is a pretty basic warranty though, so it won't cover airline damage, accidents, and normal wear and tear. It's valid for a lifetime, but it essentially only covers defects that are caused by manufacturing mistakes and improper use of materials.
Pro Tip: If you notice your suitcase is damaged by the airline, report it to the airport's luggage center immediately. It's the airlines' responsibility to cover the fees for the damage that they've caused!
Travelpro Trusted Companion Promise
This is an additional enhancement to the normal warranty, but it's valid only if you register your suitcase within 120 days after purchasing it. You'll receive instructions on how to do that after receiving the bag. Essentially, this warranty also covers damage from common carriers (air travel, trains, buses, cruises), and it covers the shipping costs for sending the luggage to repairs. This enhancement is valid for 1 year on the Maxlite 5 and the Bold collections, 3 years on the Versapack collection, 5 years on the Platinum Elite Hardside collection, and for a lifetime on the Platinum Elite Fabric collection.
Usually, brands only reimburse for return shipping costs, and airline damage isn't covered, which is what makes Travelpro's warranty better than what you'd get from other brands. Of course, it still isn't as good as Briggs & Riley's unlimited lifetime warranty and Away's warranty terms, but Travelpro's luggage costs much less. Of all medium-class brands, Travelpro definitely has the best warranty.
Design (6/10)
Travelpro makes suitcases in really professional, minimal style. Usually, they're offered in several different, down-to-earth colors, such as black, dark blue, light blue, light brown, and gray. They don't offer any patterns or any bright colors, which is why they're better suited for professionals, not people who travel for leisure.
That said, their hardside models definitely have a bit more style, and look a bit more modern, like the Maxlite 5 or the Platinum Elite collections.
Price (7/10)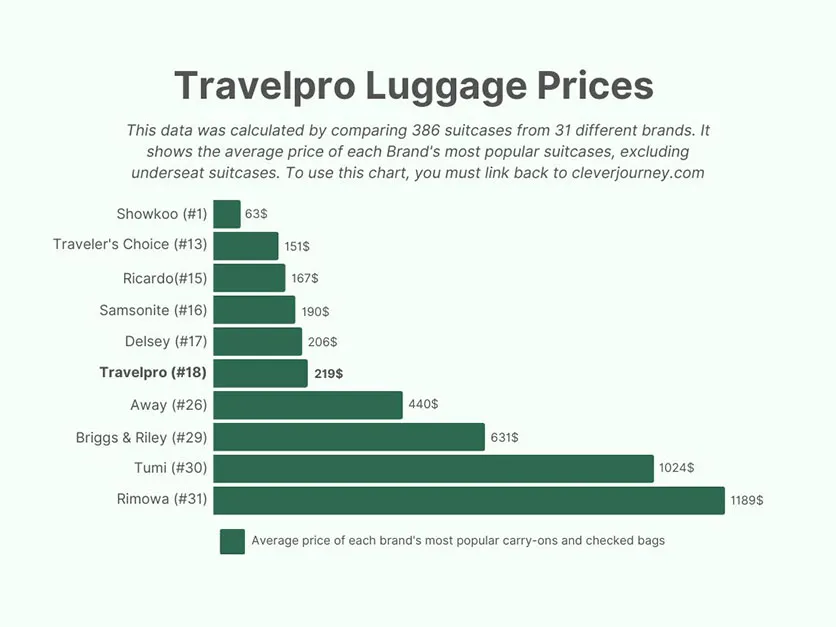 Travelpro's luggage prices vary quite a bit, between 120$-400$, depending on which model you choose. We gathered data about popular suitcases from 31 different luggage brands, and it revealed that on average, their suitcases cost 219$. In the medium class, they're definitely one of the more expensive brands, because on average, Delsey's suitcases cost 206$, Samsonite's 190$, and Ricardo Beverly Hills 167$.
Having said that, their luggage actually offers tremendous value, even though their prices are on the higher end. That's because their luggage is comparable in quality with premium-class brands, like Tumi, Briggs & Riley, and Away. And by going with either of them, you can expect to pay 2-4 times as much. So in the long run, it might be a wiser choice to go with Travelpro instead, because their luggage will last almost as long as one that costs heaps more.
How Does Travelpro Compare to Other Luggage Brands?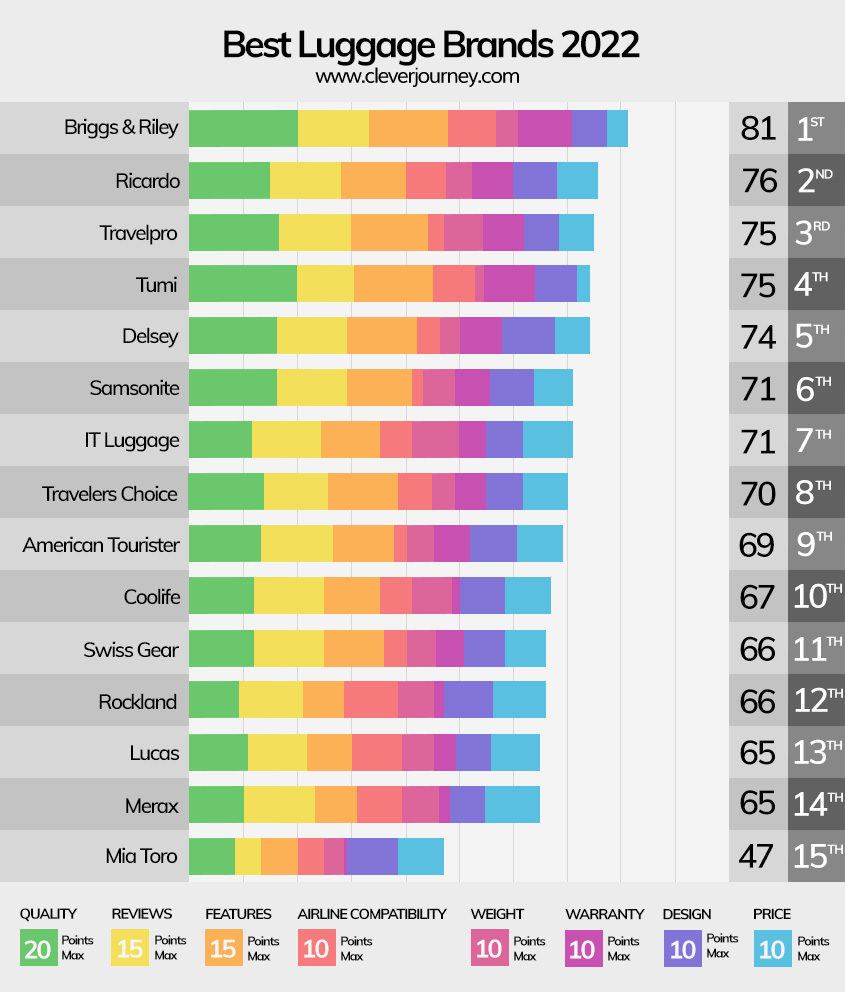 In the middle-class price range, we think that Travlepro is currently the best choice overall. Even though Ricardo gained a slightly better score on our list of the best luggage brands (76 versus Travelpro's 75), we would recommend getting Travlepro instead, just because of their durability.
Ricardo gained a better score only because they do a fairly good job from all aspects, and Travelpro got fairly low scores in airline compatibility and design. Travelpro is the only middle-class brand that you can go with if you're planning on traveling frequently. Other ones, like Samsonite, Delsey, Ricardo, Swiss Gear, or Traveler's Choice don't stand next to Travelpro in terms of durability. For example, the Travelpro Crew Versapack carry-on costs only a bit more than a typical medium-class suitcase but offers similar durability to 500$+ suitcases.
If you're willing to spend a bit more, you could also go with a suitcase from Away, Briggs & Riley. They both offer better warranties, which pretty much cover any defect for a lifetime. Away's suitcases aren't actually that much expensive as Travelpro's higher-end ones, so it's really a matter of preference when it comes to choosing which brand to get. Briggs & Riley is much more expensive, but their suitcases are extremely durable, and they also come with much better features, so if you're planning on traveling extra-frequently, you should get something from them instead, like the Briggs & Riley Baseline.
Individual Travelpro Suitcase Reviews
Best Overall: Travelpro Crew Versapack Carry-On
The Travlepro Crew Versapack is currently the best carry-on that Travelpro has to offer. Although it isn't the cheapest one, it's extremely durable and comes with a lot of bells and whistles. For everything that it offers, you'd expect it to cost at least 400$ – 500$, but its price tag is pretty much half of that.
It's built from ballistic nylon, so it's really durable. In fact, ballistic nylon is currently the most durable fabric used in luggage. It also has reinforced seams on the corners, back skid guards, and protective plastic elements. Essentially, it's built to withstand extremely rough traveling, so if you're an airline crew member or if you're traveling a lot for business, the Crew Versapack might be the right choice for you.
The Travelpro Crew Versapack is offered in 20 and 21-inch sizes, and if you're planning of traveling internationally, definitely go with the smaller 20-inch carry-on, as it's just below the most common carry-on size requirement – 22 x 14 x 9 inches. In weight, it's 8.0 lbs (3.6 kg), which means that it's somewhat heavy. It weighs 1.45 lbs (0.66 kg) over the average weight of similarly-sized fabric carry-ons. But keep in mind, that it's made from ballistic nylon, which is the most durable, but the heaviest fabric used in luggage. When you compare the weight to similar ballistic nylon carry-ons, like the Briggs & Riley Baseline (8.36 lbs), or the Tumi Alpha 3 (11.7 lbs), it's actually much lighter.
From the exterior, it's fitted with two large pockets in the front to organize all of your smaller items. It also has a dedicated power bank pocket on the side with a USB charging port on the back, which allows you to charge your devices on the go. On the bottom, it's fitted with four smooth-rolling, rubber-coated spinner wheels, which roll very quietly.
The interior is pretty spacious, but it also has an expandable zipper, which means that after unzipping it, it becomes even more spacious. This is really useful for return flights when you've bought too many souvenirs and snacks to return home. It comes with a garment organizer, which helps you keep your suits from wrinkling, but they also offer additional packing options sold separately, like packing cubes and a water-resistant organizer for dirty laundry. Another thing that's included is a TSA-approved toiletry pouch, which means that you won't need to find a new Ziploc before every flight.
The Crew Versapack is one of the best choices for people who are planning on traveling frequently. It essentially offers everything that a high-end suitcase would, at half the price.
Full review: Travelpro Crew VersaPack 29-Inch Luggage Review
Best Affordable Softside: Travelpro Maxlite 5 Carry-On
The Travelpro Maxlite collection has been around for a while – since the early 2000s. The Maxlite 5 is Travelpro's newest model, and while the main difference from Maxlite 4 might be its weight, the Maxlite 5 carry-on is one of the best softside carry-ons you can get. Plus, it's really light, weighing a bit more than 5 pounds. And, from my personal experience, I can truly say that it handles amazingly.
The Maxlite 5 is made from polyester fabric, which is really durable. Some customers have mentioned that, when fully packed, the Maxlite 5 didn't pass the travel restrictions. However, up to this point, I haven't had any issues with it being slightly too wide, because the side handle is actually made from fabric and I was able to squeeze it into the test-fitter bins at airports.
This carry-on comes with spinner wheels, which I must say, roll really smoothly. On a flat marble ground that isn't perfectly leveled, the Maxlite 5 would start rolling away by itself, because of its smooth spinner wheels. After fair use on rocky roads, the wheels still look brand-new, and I'm pretty impressed with how well they're made.
Next, comes the aluminum handle. It's made from military-grade aluminum, that's shaped in a way to improve its rigidness. It's retractable and fixes in three various heights. For me, the highest one was just perfect.
Some other features include expandable width, two front pockets, two interior zippered mesh pockets, compression straps for keeping your belongings in place, a built-in luggage tag, and soft-grab top and side handles. If you'd ask me, that's pretty advanced for a suitcase that costs a bit more than a hundred bucks.
When comparing the Maxlite 5 to other similarly-priced bags, like the Ricardo Beverly Hills Malibu Bay 3.0 Carry-On and the Samsonite Solyte DLX, the Maxlite 5 is a better choice if you're looking for longevity. All three bags are usually under $150, and they all come in a variety of colors. But, the Travelpro Maxlite 5 comes with great warranty terms and superb quality.
Best Premium Softside: Travelpro Platinum Elite Carry-On
The Travelpro Platinum Elite is their top-of-the-line model. It's a fairly expensive suitcase, but you can often buy it on sale for under $300. Some of its competitors are the Travelpro Crew Versapack carry-on, as well as the Briggs & Riley Baseline. While the Platinum Elite is more expensive than the Versapack, it has a longer period of Travelpro's Trusted Companion Promise (lifetime versus 5 years for the Versapack collection), which is definitely worth the extra money. The Baseline by Briggs & Riley is a bit more durable and comes with better features, but it costs double the money.
The Travelpro Platinum Elite carry-on comes in 6 different colors, and our favorites are the "Rich Espresso" and the "Shadow Black". The suitcase is made from high-density nylon, with Travelpro's signature DuraGuard coating, so that the inside of the bag doesn't get wet. So, the Platinum Elite looks down-to-earth on the outside. That's not the case on the inside.
Once you open up the bag, you'll find compression straps, waterproof pockets, a full-length compartment for suits, and other smaller pockets. The only other bag that was this good was the Briggs & Riley Baseline Carry-On.
Apart from all of that, the Platinum Elite also offers reinforced corners, which improve the overall durability drastically. Other features include dual self-aligning spinner wheels, expandable zippers for an additional 25% packing space, and a USB port for charging all of your devices. However, a power bank isn't included, so you'll need to buy one yourself.
Travelpro's Platinum Elite has dominated the market ever since its release, so at that price point, it's one of the best options that you can buy. And when we compare it to its competitors it might not be the cheapest, but it's the best value for money luggage you can get.
Full review: Travelpro Platinum Elite 25-Inch Checked Suitcase Review
Best Affordable Hardside: Travelpro Maxlite 5 Carry-On
The Travelpro Maxlite 5 hardside is sleeker than the fabric alternative. But expect to pay a few bucks extra, as it's about 10-30$ more than the fabric option. It comes in a textured diamond-like finish, which looks really interesting. The textured finish hides most of the smaller scratches that come naturally with years of use.
The Travelpro Maxlite 5 hardside is pretty similar to the softside version of the Maxlite 5. The obvious difference is that the fabric version is made from polyester while the Maxlite 5 hardside is made from a polycarbonate hard shell. But, both bags have the same dimensions, and they come with four durable spinner wheels, expandable width for 25% additional packing capacity, and a lifetime warranty. As opposed to the fabric Maxlite 5, the hardside option comes with a TSA-approved combination lock, which is nice.
A key difference from the fabric Maxlite hides inside the main compartment. When you open up the Maxlite 5 hardside, it divides into two equal parts, as opposed to one large main compartment that comes with the fabric option. A large main compartment is better for packing cubes, so if you use them, the fabric Maxlite might be a better choice.
If you're often flying with fragile items, like small musical instruments, glassware, or wine bottles, it might be a better idea to get the Maxlite 5 hardside, as your items will be much better protected. The only downside is that it's about one pound heavier than its fabric alternative.
Best Premium Hardside: Travelpro Platinum Elite Carry-On
The Travelpro Platinum Elite hardside carry-on is the newest addition to the Platinum Elite collection. The hardside version costs 100$ more, but it offers better features and more protection for fragile items.
In size, it's 23 x 14.5 x 9.5 in (58 x 37 x 24 cm), which means that it's a bit over most carry-on size restrictions from airlines. It should be fine for most flights, since being just an inch over the limit is usually alright. The Platinum Elite weighs 8.1 lbs (3.7 kg), which is definitely on the heavier end of the spectrum, but it isn't the heaviest carry-on that you'll find. It weighs so much because it comes with a lot of features, and it's built from durable materials.
The Platinum Elite comes in 3 different colors, and the design of the bag looks really sleek and professional. On the exterior, it's fitted with four self-aligning magnetic spinner wheels, which have been praised by Travelpro's customers for their ability to roll on any surface with ease. It also has a TSA-approved combination lock for keeping the contents of the bag secure. You'll also find a USB charging port on the backside, which will allow you to charge your phone without taking out your power bank.
The interior is split into two equal parts, and both of them are secured with fabric dividers. They've also included two pockets for organizing all the smaller items and a water-resistant one for packing your dirty clothes.
Best for Adventure Travel: Travelpro Bold 2.0 Softside Carry-On
If you're someone who values durability and practicality over looks, then you might want to consider getting the Travelpro Bold 2.0 carry-on. It's a simple, spacious, and very durable suitcase offered at affordable prices.
Even though it's built from polyester, it's really durable. It comes with various protection elements, like reinforced corners, skid plates, and protective plastic elements. It also has only two wheels instead of four to improve its durability. That's because spinner wheels sometimes break off because they're "sticking out" from the main shape of the suitcase. Inline wheels, on the other hand, are built into the main frame, so they're much less likely to break off.
From the exterior, it's fitted with hand-carry handles on top, side, bottom, and front, so it's really easy to lift up to overhead compartments or carry like a duffel. It also has an aluminum retractable handle, which lets you use it like any other rolling suitcase. On the sides, The Bold 2.0 also has compression straps. This means that you can pack your suitcase full and then compress it to keep everything from moving around inside the bag. It also has several pockets on the exterior for storing all the items that you'll need to access quickly, including a padded laptop pocket.
The interior is spacious and fairly simple. It's fitted with two zippered pockets and another water-resistant one for storing dirty laundry. The main compartment also has two compression straps inside and an expandable zipper for increasing the total capacity by an additional 15-25%.
Full review: Travelpro Bold 21-Inch Carry-on Review
Best for Short Trips: Travelpro Maxlite 5 Travel Tote
Sometimes, you don't need a bulky suitcase, especially if you're going on a weekend trip. Travel totes are your best bets for that weekend escape, and the Travelpro Maxlite 5 tote is one of the best travel totes that you'll find.
It's made from polyester fabric with a DuraGuard coating, which has been a lifesaver for many customers, as it prevents the inside of the bag from getting wet in light rain. It also comes in 4 different colors, which are pretty plain but look professional.
The Maxlite 5 tote has two compartments – a large one for fitting all of your clothes, and a side compartment for storing a pair of shoes or something similar. It also has two smaller pockets on the front for organizing your documents, electronics, and other smaller items. If you're planning on traveling with a suitcase and the Maxlite 5 tote, then you'll be happy to know that it has a rear strap, which secures it on top of your suitcase by wrapping around the retractable handle.
Many customers have said that the bag has very durable zippers, and they also praised the durability of the main shoulder strap. If you want something durable to accompany you on your weekend getaways, you should consider getting the Maxlite 5 tote, as it's really durable and it comes with the limited lifetime warranty that every Travelpro bag has.