Even though Travelpro is a much smaller luggage company than Samsonite, their suitcases are often recommended as better alternatives for frequent travelers. Both of these medium-price-range brands seem similar at first glance, but they're very different.
In this article, we'll compare Samsonite with Travelpro to find out which brand makes more durable luggage, which brand uses better materials, which offers better packing features, which one offers a better bang for your buck, and more.
A Brief Summary of Samsonite
Samsonite offers a wide range of luggage in the middle-class price range, such as suitcases, duffels, backpacks, totes, and more. They're the most popular luggage brand, and they've been around for a very long time – since 1910. Currently, they account for almost 1/6th of all luggage sales worldwide.
In the past decades, they've started acquiring other luggage brands as well. Right now, they also own American Tourister, Tumi, Speck, High Sierra, Hartmann, Lipault, and other luggage brands. But their main one – Samsonite – is by far the most popular one, racking up almost 50% of their total revenue.
A Brief Summary of Travelpro
Compared to Samsonite, Travelpro is a much smaller luggage brand, established in 1979. In net sales, InFact estimates Travelpro's yearly revenue to be between 10-100 million dollars, while for Samsonite it was 1712 million dollars in 2018, which means that Travelpro sells only about 0.5 to 5% of what Samsonite does.
Even though it's much smaller than Samsonite, Travelpro is a very popular brand among frequent travelers, business travelers, flight crews, and pilots. In fact, they supply over 90 different airlines with luggage for their flight crews. They're so popular because they make really durable suitcases at somewhat modest prices.
Key Differences Between Samsonite and Travelpro
Does Travelpro Make Lighter Luggage Than Samsonite?
Travelpro makes slightly lighter luggage than Samsonite, although not by much. When we compared the average weight of suitcases from 32 different luggage brands, Travelpro took 8th place among the lightest luggage brands and Samsonite 11th.
However, not all suitcases from both of these brands are lightweight – some models that are lighter than others. The lightest fabric carry-ons offered by both brands are the Samsonite Upright (4.4 lbs / 2 kg) and the Travelpro Maxlite 5 spinner (5.3 lbs / 2.4 kg). And the lightest hardside carry-ons from both of them are the Travelpro Maxlite 5 hardside spinner (5.5 lbs / 2.5 kg) and the Samsonite S'Cure (6.4 lbs / 2.9 kg).
Read Next: Samsonite vs Tumi: Which Brand Is a Better Choice?
Are Travelpro Suitcases More Durable Than Samsonite?
Travelpro's cheaper suitcases, such as the ones from the Maxlite 5 collection, are pretty similar in durability to Samsonite, only with slight improvements. What sets them apart from Samsonite, is that their more-expensive models, such as the Versapack or the Platinum Elite, are much more durable.
Samsonite, on the other hand, shares similar durability between all of their suitcases, even the more expensive ones. On a side note, occasionally Samsonite offers a few less-popular suitcases with some serious durability issues. But all of their popular models from the middle and high-end class are pretty well-made (such as the Winfield 2, Freeform, or the Upright models).
For fabric suitcases, Travelpro uses polyester only on their more-affordable suitcases, while Samsonite uses it on all of their fabric suitcases. Their high-end suitcases are usually made from nylon or ballistic nylon, which is a much more scratch and tear-resistant material.
For hardside suitcases, Travelpro uses polycarbonate (the most durable luggage plastic) on all of its models, while Samsonite only on their most expensive ones. The cheaper ones are made from polypropylene, which is a bit less durable, and ABS (only for their ultra-cheap models).
So to sum up, Travelpro suitcases usually are more durable than Samsonite. However, their cheaper ones, such as the Maxlite 5 collection, aren't that much better than similar alternatives from Samsonite, such as the Samsonite Upright.
Which Brand Is Better at Staying Within the Airline Size Restrictions?
Although both brands struggle with staying within the airline size restrictions, Travelpro does a slightly better job. The most common luggage size restrictions to look out for are 22 x 14 x 9 inches (55 x 35 x 23 cm) for carry-ons and 62 linear inches (157 cm) for checked luggage. You can calculate the linear inches by adding up the height, width, and depth of the suitcase. Usually, being 1 or 2 inches above won't get you in trouble, but if you encounter a nitpicky airline crew member, then you might have to pay additional fees.
All Samsonite's most popular carry-ons are slightly over the carry-on size restrictions. On average, their carry-ons are 1.81 inches (4.59 cm) above the size limit. When it comes to checked luggage, 78% of their large checked bags are over the 62 linear inch size limit (on average, 2.24 inches / 5.68 cm over the limit).
We found only 1 carry-on from Travelpro that was within the carry-on size restrictions, and it's the Crew Versapack carry-on. Other Travelpro's carry-ons are over the size restrictions (on average, 1.52 inches / 3.86 cm above the limit). Of all of the large checked suitcases from Travelpro that we looked at, 60% were over the 62 linear inch size limit. On average, they were over the limit by 2.1 inches (5.33 cm)
Read Next: Samsonite vs Delsey Paris: Which One Makes Better Luggage?
Which Brand Has Better Reviews?
On Amazon, Samsonite got 4.64 stars on average out of 5 for their luggage and Travelpro 4.67, so both of them are almost identical in terms of customer reviews. This is a pretty average result because out of all the 32 brands that we collected data on, Travelpro ranked #7 in reviews and Samsonite #13. However, we only included the most popular models from each brand in our data, which means that less-popular ones aren't reflected there. And Samsonite has quite a few models, especially in the "really cheap" price range, which have gotten pretty bad reviews, so in reality, their score might be a bit lower than that.
Which Brand Offers Better Features?
Both Samsonite and Travelpro offer pretty basic features on their suitcases in the medium class. They usually come with TSA-approved locks, spinner wheels, side handles, and expandable zippers. Basically, everything that you'd expect to find on a 100-200$ suitcase. So in the medium class, both brands do an okay job.
For their higher-end models, Travelpro offers much better features compared to Samsonite. Even on Samsonite's 300-400$ models, the features are usually identical to their cheaper models. Travelpro, on the other hand, includes many advanced features on their premium models (Platinum Elite and Crew Versapack), such as USB ports, wet pockets, TSA pouches, suiter compartments, and improved compression systems.
Which Brand Offers More Value?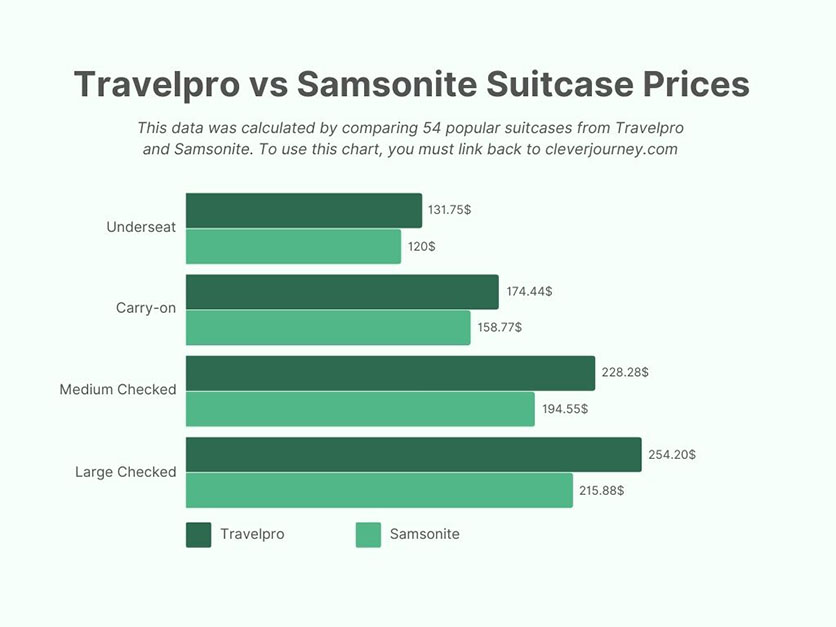 Travelpro's suitcases are roughly 15% more expensive than Samsonite. However, they offer a cheaper model called Maxlite 5, and it's a bit less expensive than most similar alternatives from Samsonite. Their average price is so high due to their higher-end models, such as the Travelpro Platinum Elite and the Travelpro Crew Versapack.
In terms of value, I'd argue that specific Travelpro's suitcases (Maxlite 5 and Crew Versapack) offer a much better deal than Samsonite, even though Samsonite has one really good, inexpensive model as well – the Samsonite Upright. That's because Travelpro's suitcases usually last longer, they're lighter, they're made from slightly better materials, and they come with better warranty terms.
Travelpro Warranty Terms vs Samsonite
Travelpro offers a limited lifetime warranty on all of their suitcases. This warranty covers only manufacturing defects. For example, a stitch that would start to come loose after you've been using the suitcase for regular traveling. It doesn't cover airline damage, accidents, and cosmetic defects due to wear and tear. If you register the warranty within 120 days, then the shipping cost to and from the repair center is also covered.
Samsonite has a very similar warranty to Travelpro, only for 10 years, not a lifetime. Essentially, only manufacturing defects are covered, not accidents, transportation damage, and normal wear and tear. As opposed to Travelpro, the shipping costs to the repair center aren't covered by Samsonite. You can, however, choose to bring the suitcase to the repair center yourself free of charge or ship it from any Samsonite store for a 10-15$ fee.
Both Samsonite and Travelpro offer pretty basic warranty terms, and they've gotten fairly good reviews for their customer support. Even though Travelpro has a slightly better warranty, it still isn't as good as Osprey, Away, or Briggs and Riley, who all offer unconditional warranties (including airline damage).
Conclusion: Should You Get a Suitcase From Samsonite or Travelpro?
Honestly, both of these brands are fairly good choices. However, in our opinion, Travelpro is a slightly better choice. Their suitcases are more durable, they're made from better materials, they're usually lighter, and come with better features. Although Travelpro is a much smaller brand than Samsonite, many airline crews choose Travelpro over Samsonite exactly because of these reasons.
That said, not all models from Travelpro and Samsonite are equal. For example, the Travelpro Platinum Elite is too heavy and a bit too overpriced, so we wouldn't recommend it. For Samsonite, the Winfield 2, Centric, Omni PC, and Freeform are all solid choices, but instead, we would recommend getting their fabric upright suitcase, which is more durable, much lighter, and cheaper. Down below, we'll share which models are the best ones from each brand.
Best Suitcases From Samsonite and Travelpro
Best Softside Suitcase From Samsonite: Upright
Although the Samsonite Upright carry-on has received a lot of customer reviews, it usually isn't recommended as one of the top choices from Samsonite. But it should be because it's super lightweight and durable enough to withstand frequent travel.
It weighs only 4.4 lbs (2 kg), which is extremely lightweight – in fact, it's one of the lightest carry-ons out there. This is especially useful if you'll be traveling with cheaper airlines because the weight limits are usually very strict there. In size, it's 21.65 x 15.57 x 7.87 inches (55 x 40 x 20 cm), which means that it's perfectly sized for European airlines, but it might be too wide for some American airlines.
It's made from polyester, which isn't as durable as nylon, but many customers shared that they've used this suitcase frequently without any issues. It looks fairly professional, and it's offered in four down-to-earth color variations.
Because it has two rolling wheels instead of four spinner wheels, the inner compartment is very spacious. You'll also find another large front pocket on the exterior and another zippered one from the inside, where you can keep all of the smaller items. Another interesting feature that they've added is a TSA-approved combination lock, which usually isn't offered in fabric suitcases.
We believe that the Samsonite Upright is currently the best suitcase that Samsonite has to offer due to its light weight, durability, and affordable price.
Best Softside Suitcase From Travelpro: Crew Versapack
Although the Maxlite 5 softside carry-on is a much cheaper option, we would recommend getting the more expensive Crew Versapack softside spinner instead. It's much more durable, built from better materials, and offers better packing features.
The Crew Versapack weighs 7.3 lbs (3.3 kg), which is on the heavier side, but it's built from Ballistic Nylon instead of polyester, which means that it's much more durable. It's also the only carry-on that we found from Travelpro and Samsonite that is within the 22 x 14 x 9-inch size limit for airlines. It's 21.5 x 14 x 9 inches (54.6 x 35.5 x 22.8 cm), which means that you won't have to pay additional fees for oversized luggage.
Originally, the Crew collection was designed for airline crews and it could only be bought from specific business retail stores. But it became so successful that they released a similar version for the general public – the Crew Versapack (before Crew 11 and Crew 10). This collection is more than durable enough to withstand frequent travel.
It also comes with quite a few options for organizing your belongings. From the exterior, it's fitted with a padded laptop pocket that fits laptops up to 17 inches, a dedicated power bank pocket with a USB charging port, and a TSA-approved toiletry pouch with another dedicated pocket. And in the interior, you'll find a dedicated suiter compartment and several smaller organizers (similar to packing cubes) where you can organize the rest of your belongings.
The Crew Versapack is a really significant step-up from the Maxlite 5 – offering much more organizing features and improved durability. It's perfect for frequent traveling.
Full review: Travelpro Crew VersaPack 29-Inch Luggage Review
Best Hardside Suitcase From Samsonite: Omni PC
The Samsonite Omni PC is, in our opinion, the best hardside suitcase that Samsonite has to offer. It's made from polycarbonate, which is the most durable luggage plastic, it's affordable, lightweight, and it's gained a ton of positive customer reviews.
It weighs just 6.81 lbs (3.08 kg), which is a bit below the average weight of plastic hardside suitcases. It isn't the lightest hardside suitcase that Samsonite has to offer, but we prefer this one over others because the lighter ones are usually made from polypropylene (less durable) or they're too expensive. In dimensions, it's 22 x 15 x 9.5 inches (56 x 38 x 24 cm), which means that it's a bit over most airline carry-on size restrictions, but it's over only by 1.5 inches, so you should be fine most of the times.
The Omni PC is offered in over 10 different colors, with several professional-looking choices and a few ones aimed at leisure travelers. Its hard shell has an uneven, rugged surface, which is great for hiding all the scratches that eventually come from long-term travel. From the inside, it offers pretty basic packing features, but it comes with an expandable zipper and a TSA-approved combination lock.
This is Samsonite's most popular suitcase on Amazon because of a few reasons – it's durable, good-looking, lightweight, and really affordable. It's a really solid choice even for frequent travelers.
Best Hardside Suitcase From Travelpro: Maxlite 5
The Travelpro Maxlite 5 isn't nearly as popular as the Samsonite Omni PC, but in our opinion, it's better. It comes with all the same features (excluding an expandable zipper), it's also made from polycarbonate, it's just as affordable, only it weighs much less.
The Maxlite 5 weighs just 5.5 lbs (2.5 kg), which is extremely lightweight. In fact, it's the lightest hardside carry-on on the market. We collected data on 374 popular suitcases and didn't find a lighter one. The second-lightest one was 5.9 lbs, so the Maxlite 5 is the winner by a pretty large margin. In dimensions, it's 21.5 x 15 x 8.75 (55 x 38 x 22 cm), which means that it's 1 inch too wide for most airlines, but usually being just 1 inch above doesn't cause any issues.
Similar to the Omni PC, the Maxlite 5 is also offered in a variety of different colors and a rugged finish to hide most scratches. However, the color options definitely aren't as colorful as on the Omni PC and are better suited for business travel. It also has a TSA-approved combination lock and the main compartment is also separated in the middle with a zippered divider, similar to the Omni PC. The only difference is that it doesn't have an expandable zipper.
We think that the Maxlite 5 hardside is currently the best hardside suitcase on the market – it's extremely lightweight while still offering the durability needed for frequent traveling.