Travelpro is a brand that is well-known for its durable luggage, totes, backpacks, and accessories. The 29-Inch Travelpro Crew VersaPack is ideal for travelers who wish to maximize their carrying capacity and have an upgradable organized suitcase. With wheels that glide smoothly and specialized garment compartments, this bag will help keep your face and your suits wrinkle-free.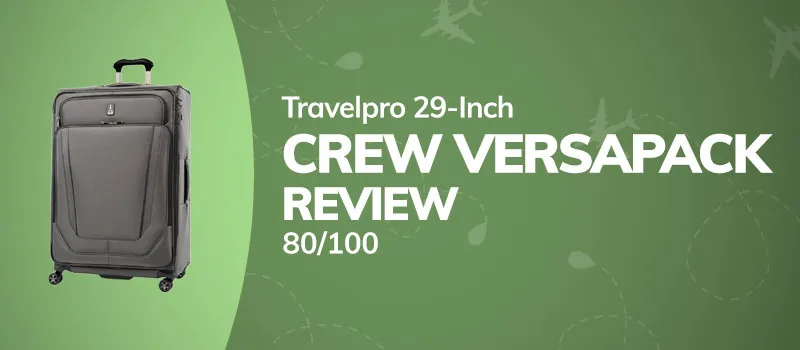 The Good
Durable Nylon weave

Dual spinner wheels

Extremely spacious

Classic design, available in professional colors

Lifetime Limited Warranty

Built-in TSA-Lock
The Bad
Customizable organizers sold separately

Crosses the standard 62-inch linear limit
Quick Take
Straight from Travelpro's latest collection, this luggage comes in four subtle and muted colors that are ideal for business travel, but still unique enough to spot your luggage in a sea of black bags. Unless you buy it in black. We love how well this keeps your clothes wrinkle-free and ensures that everything stays in place. Even though Travelpro is positioned as a mid-tier luggage brand, this bag falls slightly on the pricier side. However, the features, ability to maximize space, and robust construction make it the perfect companion for the modern traveler. If you're on a tight budget and can't and don't need the space we recommend taking a look at the VersaPack Carry-ons.
Full Review
Dimensions & Weight
The Travelpro Crew VersaPack Expandable Spinner measures in at 31.25″ × 21″ × 12.50″. The inner case measures 29.25″ × 20.25″ × 11.25″. It gives you enough room to pack for a long solo vacation or pack for two for a weekend getaway.
If you include the wheels, the total height comes to 31.25″. It stands at 64.75 linear inches, going slightly beyond the standard 62″ limit. It wouldn't be much of an issue because linear inches are not measured as often as you would think. But, you may have to pay an additional fee on the off chance that you fly on a particularly persnickety airline.
If you're someone who frequently travels on airlines that have the 62″ limit, it may be better to invest in the 25-inch medium-sized Versapack suitcase or another bag entirely. You can find our top-rated Travelpro Suitcases here.
This bag comes with an additional expansion capacity of ~2 inches, giving you extra space to squeeze in some extra items.
As for weight, it weighs in at a reasonable 11lbs which is fairly decent for a bag that is this size. The dual spinner wheels allow you to maneuver effortlessly without worrying about the weight of the bag even when it's stuffed full of 'essentials'.
Read Next: Travelpro Bold 21-Inch Carry-on Review
Materials & Water-Resistance
Featuring a sturdy and classic build, the bag uses a high-density ballistic nylon fabric and DuraGuard coating which makes it resistant to water, stains, and abrasions. Ballistic nylon is a fabric that is durable and can withstand heavy usage (but presumably not bullets as the name might suggest). This means that you don't have to worry as much about tears or scratches if your bag is mishandled after you send it off into the conveyor belt to no man's land.
The luggage also boasts supra zipper heads which are designed to resist breakage from everyday use and abuse. The built-in protection comes with corner armor, skid guards, and wheel housings that keep high-wear points protected from damage. Inside the bag is a water-resistant pocket where you can keep damp clothes or your toiletry bag.
Durability
Travelpro bags are loved by pilots, flight crews, and travelers across the world. In fact, the company was founded by a pilot. This decades-old brand has carved a name for itself among the top luggage brands in the world, we ranked them 3rd in 2022. Travelpro deals primarily in soft-side luggage and offers top-notch bags that are well-known for their durability. The classic design and sturdy build, along with the massive space and clever features make this bag a winner in our book.
Premium fabric and quality control are some of the primary factors that contribute to the long life of a bag. Travelpro bags go through several durability tests to ensure that they can deal with heavy usage. The overall structure, along with the adjustable handle and comfortable grip, adds to the hassle-free usability of this bag.
The spinner wheels allow you to ride across all kinds of surfaces because the last thing you want is to strain and sweat as you drag a heavy bag through the airport.
Our consumer score is a testament to the low failure rate of this bag, it's a particularly good sign as Travelpro is a brand that attracts frequent travelers. Those frequent flyers' positive reviews prove the bag is battle-tested.
Read Next: Travelpro Crew Expert 20-Inch Carry-On Review
Moveability
Imagine you're at the airport and you're already running late. The most frustrating thing at this point would be to drag a heavy suitcase that you need to constantly baby across bumps and surface transitions.
Fortunately, despite the substantial size, this is not the case with this bag. The suitcase includes four of the ever-popular dual spinner wheels which Travelpro brands their, "magnetic wheels". These are self-aligning, spinner wheels that allow you to maneuver effortlessly. If you do miss a flight this bag will not be to blame.
For a comfortable grip, you have the PowerScope extension handle which can be adjusted to the right height. A lot of people find that fixed handle designs are often too long or too short for them and this prevents users from having a comfortable and satisfying experience. In addition to that, there are rubber touch points that let you maintain a snug comfortable grip on the bag.
Additional Features
The bag has pretty much all the classic features that you would expect from a Travelpro piece of luggage. Additionally, it comes with a "fold-out suiter system" which helps minimize wrinkles and keeps your suit and slacks just as nice as they were when you left. This feature makes the luggage particularly suitable for business travelers who don't have time to faff about with lousy hotel room irons. This is a nice feature to have but it's no replacement for a garment bag.
You will also find adjustable straps inside the bag to keep your items in their place. This is particularly important if you are traveling with clothes and accessories that you don't want to be shuffled around in transit.
The TSA lock is an added bonus that maintains the safety and security of your luggage while also ensuring TSA agents don't need to cut off your lock in the event your bag gets selected for some additional TSA TLC.
We recommend getting their official zip-in organizers if you want to take organization to the next level. It keeps things sorted and you don't have to search the entire clothing compartment for a pair of socks.
Design
The Crew VersaPack features a stylish design. The bag is optimized to utilize its internal space to the fullest and allow flexible packing configurations. You can use the pre-existing space and straps or place optional organizers or packing cubes inside. The design ensures that you can pack your clothes quickly and efficiently.
The bag comes in 20″, 21″, 25″, and the 29″ size that we looked at here today. It comes in four different colors that will help your bag stand out or fit in, the colors include; Jet Black, Patriot Blue, Perfect Plum, and Titanium Grey. All the colors are subtle and plenty professional-looking, given this bag's business traveler focus.
Warranty
TravelPro bags come with a limited lifetime warranty, although it is not user transferrable and only covers the original purchaser or gift recipient.
One needs to have proof of the purchase (i.e the original receipt) in order to process a warranty claim, something that is easy enough to dig up with online orders. The company also recommends registering on their website upon purchase so that makes things easier in the event of a warranty claim down the line.
Doing so will also allow you to register with the company for their added 'Worry-free Enhancement' within 120 days of purchasing the bag. This enhancement covers both the cost of repairing the bag if the damage is caused by the airline/carrier as well as any shipping charges required to send the bag to their repair facility. This additional coverage lasts for 3-years.
TravelPro's limited lifetime warranty covers defects or flaws in the materials or workmanship of the bag. As well as anything that affects functionality including wheels, zippers, and extension or carrying handles.
Value
When it comes down to calculating value, essentially, a bag should do its job well in terms of functionality, movability, security, and durability while containing the features we come to expect at different price points.
It's not the cheapest piece of luggage Travelpro sells and there are other options by Travelpro and others on the market that are cheaper and offer similar functionality. The Travelpro Maxlite 5 is a worthy consideration that comes in more exciting colors, similar specifications, and a lower price tag.
Like all big purchasing decisions, we recommend you go with your gut feeling. Just kidding. Make an informed decision within your budget. If you are on the fence, read a few of our other reviews to decide what is the right luggage choice for you. If you think this would burn a hole in your wallet, we recommend looking at other options from more budget-friendly brands like American Tourister. If not, this is a solid piece of luggage that should serve you well in your travels for years to come.
A similar bag from Briggs & Riley, Hartmann, or Tumi would cost almost double, if not more. If price is not an issue, getting a high-end, premium bag is the way to go. Especially if you value a lifetime warranty and want to minimize your chances of a mid-travel breakdown.
Our Verdict
All in all, this luggage is high-quality and worth the price attached to it if you fly often enough. It is spacious and boasts all the classic features that you would want in a suitcase and includes some good garment management. The extra space allows you to carry plenty of gifts and souvenirs on the flight back without worrying about overstuffing your bag.
There are some brands whose products are made to last, Travelpro is right up there on the top of that list. Sure, you can find a suitcase to get you to and fro for much cheaper but if you're looking to invest in a bag that will stand up to a lot of connection flights and late-night check-ins, this is a good option.
Together with the TSA lock, smooth wheels, fold-out suiter system, and superior finish, this luggage is a solid suitcase whether you travel for business or pleasure.
This post is also available in:

English