Samsonite and Delsey Paris are some of the most popular luggage brands worldwide, with Samsonite taking 1st place and Delsey Paris 3rd. Both of them make reliable suitcases and other travel products in the medium and luxury price range. But which one of them is better?
Broadly speaking, Samsonite is slightly better than Delsey in some aspects, like weight and price. However, they're not that far apart and some Delsey suitcases are better than similar alternatives from Samsonite. In this article, we'll compare Samsonite with Delsey, and find out which one of them is the right choice for you.
A Brief Summary of Samsonite
Samsonite itself is the largest luggage brand today. When you take into account all of its other brands, owned by the same parent company "Samsonite International S.A.", their market share becomes even bigger – they're responsible for 17.3% of all luggage sales worldwide. Other brands owned by Samsonite include American Tourister, Tumi, Gregory, High Sierra, Kamiliant, Lipault, Hartmann, and eBags.
They were established in 1910, and right now most of its sales come from suitcases, tote bags, duffels, backpacks, and other travel accessories. Samsonite has always been known as a somewhat reliable luggage brand, although its durability has dropped a bit over the last two decades. Their largest sales channel by far is retail stores – you can probably find a Samsonite dealer within a 100-mile radius of your current location. That's also a large bonus for them because this means that you can test them out in real life yourself.
A Brief Summary of Delsey Paris
Delsey Paris, as the name suggests, is a French company that manufactures luggage. Similar to Samsonite, they've also been around for a very long time – since 1946. They also have a very large network of authorized dealers, which spans over 70 different countries.
Although French products aren't usually associated with durability, Delsey is an exception, because their quality is very similar to Samsonite, and sometimes even better. A lot of frequent travelers and people working in the airline industry recommend Delsey as one of the best choices. But what really sets Delsey apart is its innovative and unique designs on their suitcases, duffel bags, totes, backpacks, and other travel accessories.
Key Differences Between Samsonite and Delsey
Is Samsonite Luggage Lighter Than Delsey Paris?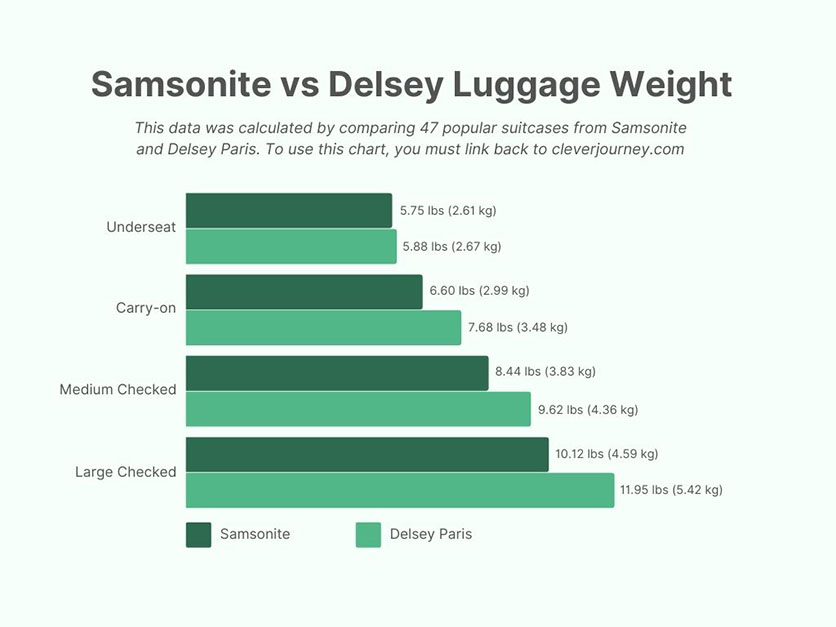 As seen in the graph above, Delsey's luggage is usually heavier than Samsonite's. On average, Delsey's suitcases weigh roughly 1 lb more than Samsonite's, which is a pretty significant difference. We collected data on 31 different luggage brands to determine which ones are the lightest. And on this list, Samsonite took the 11th place and Delsey only 25th, which really shows that weight isn't one of Delsey's main priorities.
For checked luggage, this might not be such a huge issue, since you won't need to lift them up to the overhead compartments and the checked luggage restrictions are usually pretty forgiving – either 50 or 70 lbs. However, for carry-on luggage, Samsonite would make a much better choice.
That said, some of Delsey's softside bags, are pretty lightweight. For example, the Delsey Paris Montrouge carry-on weighs just 5.7 lbs (2.6 kg), and the average weight in this class is 6.55 lbs, which means that it's almost 1 lb below the average weight. Some Delsey's suitcases are extra heavy though, such as the Delsey Chatelet, which is almost 2 lbs heavier than the average weight of similar suitcases.
Although Samsonite took only the 11th place in weight among all other luggage brands, it's got a few really light collections. Its lightest one is the Base Boost collection, which is offered in 3 different sizes – with and without spinner wheels. For context, the Samsonite Base Boost Upright carry-on weighs just 4.4 lbs (2 kg), which is 2.25 lbs below the average weight in this suitcase class. In fact, it's one of the lightest suitcases currently offered.
Are Samsonite Suitcases More Durable Than Delsey?
Generally speaking, Delsey's suitcases are similar in durability to Samsonite, and on some models, it's slightly better.
Delsey uses polycarbonate for most of their hardside suitcases, which is the most durable plastic used in luggage. Samsonite also uses polycarbonate, but some of them are made from polypropylene, which is a bit less durable, but lighter. In real life, polycarbonate may seem less durable than other plastics because it's so flexible but it isn't because the increased flexibility reduces the chances of cracking.
For softside luggage, both brands stick with polyester. Nylon, which is more commonly used by Travelpro, Briggs & Riley, and Tumi, is more durable, but it's also heavier. Medium-class brands, like Samsonite and Delsey, use polyester because if it's properly stitched and weaved, it can be almost as durable as nylon and can even withstand frequent use.
The key difference between both brands is that Delsey's bags tend to be a bit bulkier and thicker, which compromises in weight but provides slightly better durability.
In all the other elements, such as zippers, wheels, and handles, Delsey does a better job with its zippers and wheels, which are bulkier and less likely to break. However, we've commonly seen issues with their retractable handles, which sometimes get stuck and overall feel flimsy. Samsonite, on the other hand, usually has really good handles and good-quality zippers (although not as good as Delsey), but their suitcases commonly have issues with their wheels and hard shells. Their spinner wheels are more fragile, so they sometimes break off when checked in, and their hard shells develop cracks slightly quicker. That said, this all is very dependent on which model you choose because each one has different flaws.
Which Brand Is Better at Staying Within the Airline Size Restrictions?
In general, Delsey Paris is a bit better at staying within the airline size restrictions for carry-on and checked luggage. That said, for both brands, the vast majority of their suitcases are oversized when you include the wheels and handles in the measurements, although not by much. Being just one or two inches over the limit, especially for checked luggage, usually isn't an issue unless you encounter a very strict airline employee who's having a bad day.
We looked at 47 different suitcases from Deley and Samsonite and almost none of them were within the most common carry-on size restriction of 22 x 14 x 9 inches, except the Samsonite Base Boost carry-on. On average, Samsonite's carry-ons are 1.81 inches above the carry-on restrictions. For Delsey, the number is a bit lower – just 1.1 inches over the limit.
Checked luggage needs to be less than 62 linear inches (height + width + depth) on almost all airlines because this rule is enforced by most airline regulators across the world. We looked at the most popular suitcases from Delsey and Samsonite advertised as checked-large (28-30-inch suitcases), and out of all of them, we found only two suitcases from Samsonite within the limits – S-Cure (61.75 inches) and Samsonite Base Boost Upright (61.8 inches). We also found two Delsey suitcases that were within this limit – Sky Max 2.0 (59.5 inches) and Hyperglide (60.75 inches). All others were oversized, and on Average, Samsonite was over by 2.24 inches and Delsey by 1.6 inches.
Which Brand Has Better Reviews?
On Amazon, Samsonite's most popular suitcases got 4.64 stars out of 5 on average, and Delsey's 4.58 stars, which means that Samsonite's suitcases are only slightly better-reviewed than Delsey's. Out of all the 31 luggage brands that we gathered data on, Samsonite ranked 13 and Delsey Paris 19 when compared by the average rating of their customer reviews. For context, the first place was taken by Away Travels with a rating of 4.90 and the last one by Hartmann (which, in fact, is actually owned by Samsonite) with only 4.08 stars, so Delsey and Samsonite are definitely leaning towards the higher end in the review spectrum.
Which Brand Offers Better Features?
Although both brands offer very similar features, Delsey does a much better job than Samsonite.
Samsonite's suitcases usually come with TSA-approved combination locks, expandable zippers, spinner wheels, and an almost identical interior – divided into two parts, where one side is separated with a fabric sheet and the other by compression straps. Even its premium models, costing 500-700$, follow the same structure with minor improvements in materials and not much else.
Delsey usually offers all the same features as Samsonite – TSA locks, expandable zippers, and spinner wheels. However, their features are usually slightly better – for example, their zippers are much stronger and can't be opened with a pen. Instead of regular plastic spinner wheels, their bags come with double, rubber-coated ones, and most of their bags come with an imprinted label that automatically has your information in case it gets lost. On top of that, they offer other unique features as well, such as padded laptop pockets on the Titanium and Helium Aero carry-ons, locking wheels on the Chatelet, and removable interior linings on the St Tropez collection.
Which Brand Offers More Value?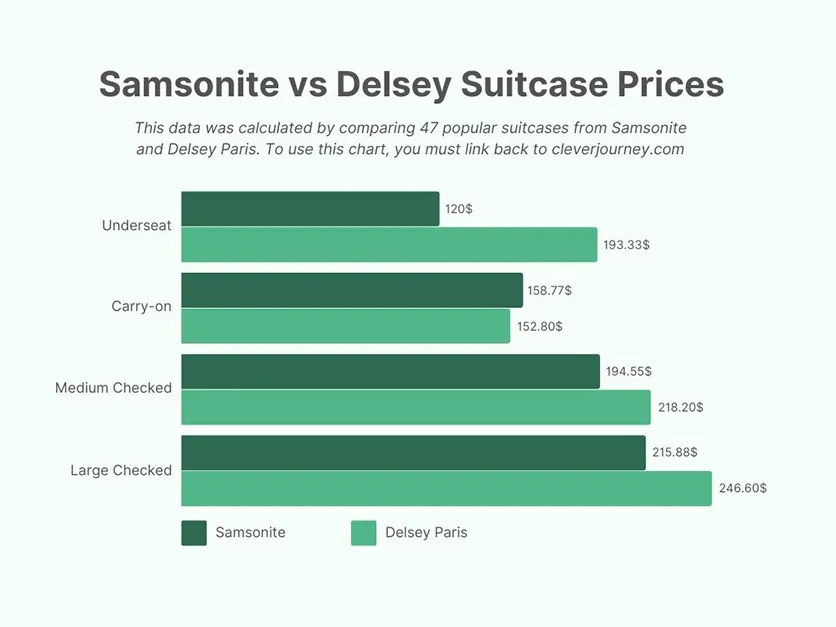 On average, Delsey Paris suitcases are 18% more expensive than Samsonite. However, Delsey also offers a few collections which are considerably cheaper – most notably the Helium Aero and Titanium. Their direct competitors from Samsonite are Winfield 2, Freeform, and Omni PC collections. All of them offer similar durability and are priced somewhat similarly as well. However, the Helium Aero is the cheapest one and it also offers the best features, so if you're looking for a mid-tier hardside suitcase, then the Helium Aero offers the most value.
That said, both Delsey and Samsonite offer quite a few collections which are, in our opinion, overpriced, such as the Delsey Chatelet and the Samsonite Black Label. In terms of features, durability, and many other aspects, they're compatible with their more affordable models – they just look more expensive.
Samsonite Warranty Terms vs Delsey Paris
Samsonite and Delsey Paris offer very similar warranty terms. Both of them offer warranties that cover only manufacturing defects and for most of their suitcases, it's valid for 10 years. These warranties cover any defects in zippers, wheels, handles, and the softside/hardside shell, that weren't caused by accidents, transportation damage, and normal wear and tear. For example, they'd cover seams that were coming loose, stuck spinner wheels and retractable handles, or any other defect that clearly was caused because the bag was improperly manufactured.
Samsonite and Delsey both cover return shipping costs (from the repair center back to you), but you'll have to pay to ship the suitcase to repairs. Delsey will cover the costs only if the suitcase already arrived damaged and you notified them within 30 days. For Samsonite, the return process is a bit simpler. You can choose to ship it yourself using a prepaid label (14.99$ is deducted from the refund amount), or you can take it to any Samsonite dealer and have them ship it for you (10$ for luggage under 26 inches and 15$ for over).
Both brands offer 30-day return policies. Within this period, you can ship the suitcase back to Samsonite or Delsey, but you'll have to cover the shipping costs. Also, the original shipping costs will be deducted from the refund amount.
Conclusion: Should You Get a Suitcase From Samsonite or Delsey Paris?
Honestly, both of these brands are very similar, and both of them offer some very solid choices in the medium price range. In simple terms, if you get a suitcase either from Delsey or Samsonite, you can be sure that it will be durable enough for frequent use. However, there definitely are subtle differences between both brands, and some of their collections are better than others.
Delsey's suitcases are usually a bit more durable and they're better at staying within the size restrictions for carry-on and checked luggage. They also come with much more features that improve the suitcase's security, packing options, and moveability. That said, Delsey has some models which we think are overpriced, like the Delsey Chatelet – in reality, it's a 150$-200$ suitcase marked up to 300$+ just because of its fancy looks.
Samsonite's suitcases are cheaper, lighter, and they're slightly better-reviewed. In terms of durability, they're really close to Delsey. They offer a wide range of suitcases in the 100-250$ price range, which usually are really good choices. However, they do have some suitcases that cost well over 500$, which we think are too overpriced, such as the Samsonite Black Label.
In terms of warranty, both brands are almost identical, although Samsonite has much more repair centers and authorized dealers.
There are a few suitcases from both of these brands that stand out, and we've reviewed them down below. Although we've only linked out to carry-ons, all of them are available in multiple sizes.
Read Next: Ricardo Beverly Hills vs Samsonite Luggage
Best Suitcases From Samsonite and Delsey
Best Softside Suitcase From Samsonite: Base Boost
The Samsonite Base Boost is a hidden gem from Samsonite. It's definitely much more popular in Europe than in the US, because most Americans don't care about the weight or size of their suitcases too much due to looser airline restrictions on domestic flights. However, it's perfect for international flights and for flying with budget airlines because it's incredibly lightweight, just within the right size restrictions, and best of all – not too expensive.
The spinner carry-on version measures just 21.7 x 13.8 x 8.7 inches (55 x 35 x 22 cm), which is just below the most common carry-on restriction for airlines – 22 x 14 x 9 inches. It's also offered in checked sizes, and the largest one measures just 0.2 inches below the 62 linear inch size limit for checked luggage..
Where it really shines though is its weight. The lightest variant of the Base Boost – the upright carry-on weighs just 4.4 lbs (2 kg), which is 2.15 lbs below the average weight of softside carry-ons. The larger sizes of the Base Boost are no exceptions – the medium-checked version weighs 2.69 lbs below the average weight and the large-checked one is 3.09 lbs below. In fact, the Base Boost is one of the lightest suitcases out there, which is perfect for international flights and European airlines with strict restrictions.
It's made from polyester and it comes with some useful features, such as a TSA-approved combination lock and a built-in baggage tag in case the suitcase gets lost. From the exterior, it's fitted with a top handle, a retractable aluminum handle, and a large exterior pocket. The main compartment is quite spacious and fits up to 37 liters of clothes inside, which is enough for a 3-7 day trip. You'll also find two zippered pockets inside and compression straps for keeping everything in place.
Overall, it's a really great suitcase from Samsonite, especially for people who fly internationally. It's also really cheap – on a sale, you can get it for less than 150$.
Best Softside Suitcase From Delsey: Montrouge
Although the Delsey Paris Montrouge isn't the most popular softside carry-on from Delsey, it's definitely the best one. It's priced slightly higher than the Samsonite Base Boost, but it's more durable and fitted with better features.
It's sized 21.75 x 13.75 x 9.75 inches (55 x 35 x 24.8 cm), which is just 0.75 inches in depth over the most common carry-on size restriction – 22 x 14 x 9 inches. But because it's a softside suitcase, it can be slightly squished in width, so it fits almost all carry-on measuring boxes. In weight, it's just 5.7 lbs (2.6 kg). Although it's 1.1 lbs heavier than the Samsonite Base boost, it's slightly larger, more durable, and still weighs 0.95 lb lighter than the average weight of similar softside carry-ons. Because it's almost within the size restrictions and it's lightweight, the Delsey Montrouge is also a great choice for international travel.
Judging by its looks, it's definitely targeted toward women, and it definitely looks much better than the Samsonite Base Boost. It also comes with better features. Instead of just a top handle and a retractable one, it also has a side handle, which helps with lifting it up to the overhead bins. The Montrouge also has a TSA-approved combination lock, an expandable zipper, and smooth-rolling double spinner wheels. Its organizing features are very similar – one exterior pocket, two interior ones, and tie-down compression straps in the main compartment.
Overall, the Delsey Montrogue is a really solid option if you're looking for a softside suitcase, and it's durable enough to be used for frequent travel.
Best Hardside Suitcase From Samsonite: Omni PC
The Omni PC is currently the most popular Samsonite suitcase on Amazon – it's gained over 16 000 reviews, and its overall rating is really positive. Although we don't really agree with its marketing (that it's basically indestructible), it's still one of the best choices for a hardside suitcase, especially if you catch it in a sale for less than 150$.
It's 1 inch too wide in width and 0.5 inch in depth over the most common carry-on restriction – 22 x 14 x 9 inches. This means that it's not ideal for frequent travel because sometimes the flight attendants might ask you to check it in for an additional fee. However, most people in the reviews said that they hadn't had any issues with this. It also is somewhat lightweight – weighing 6.81 lbs. This ends up being 0.1 lbs lighter than the average weight of hardside carry-ons, which means that it should be easy for you to lift it up to the overhead compartments on planes.
The Omni PC is made from polycarbonate, which is the most durable plastic used in luggage. Although it feels really flexible, it's actually a good thing because it means that it's less likely to develop cracks. Its hard shell is coated with a patterned finish, which is great at hiding scratches, and it's offered in various colors ranging from professional to bright.
From the exterior, it's fitted with a TSA-approved combination lock, top and side handles, and a retractable handle on top. Its main drawback is that it's fitted with regular, plastic spinner wheels, which don't have any rubber around them, and some people reported that they eventually broke. Overall, they'll do the job, but Samsonite could do some improvements on them in future models.
The interior is pretty much identical to what you'd get on any Samsonite hardside suitcase. It's split into two equal parts, and they're divided with a fabric sheet. You'll also find compression straps on one side, to keep your bulkiest clothes in place, and another pocket for storing all the smaller items. It also has an expandable width, which lets you expand the width and increase the overall capacity by 15-20%.
The Samsonite Omni PC is the most popular one from Samsonite for a reason – it's got everything that you'd expect to see on a 250$ bag, but it's priced much more affordably.
Best Hardside Suitcase From Delsey: Helium Aero
The Delsey Helium Aero is arguably even better than the Samsonite Omni PC. It's cheaper, it's a bit more durable, and it comes with better features. The only downside is that it's heavier and it gets scratched much more easily.
In size, it's only 1 inch in depth over the most common carry-on restriction of 22 x 14 x 9 inches. This shouldn't cause any issues because even though it's a hardside suitcase, you can squish it slightly in depth due to its flexible zippers. This means that it should fit inside most carry-on measuring boxes in airports if you don't overpack it.
The Delsey Helium Aero carry-on weighs 8.2 lbs, which is 1.27 lbs (3.7 kg) over the average weight of similar carry-ons. It's too heavy to be used with European airlines that have strict weight limits for hand luggage, but it's still a really solid option if you're mainly flying on domestic, trans-Atlantic, or trans-Pacific flights, where the weight limits are much looser. Its weight mainly comes from the materials used and added features. It's also made from polycarbonate but it's a bit thicker and more durable than on the Samsonite Omni PC.
In terms of features, it has pretty much everything that the Omni PC has, and a bit more. It also has an expandable zipper, TSA-approved combination lock, top and side handles, a retractable handle, and a similar interior layout. But in addition to that, it also has a padded laptop pocket in the front, which holds laptops up to 15.6 inches. It opens up at 180 degrees, which means that you won't even need to remove your laptop when going through security because nothing will clutter the x-ray images. It also has double spinner wheels instead of regular ones, which will roll a bit smoother and perform better on rough surfaces.
One downside of the Helium Aero is that it has a glossy finish, which gets scratched very easily. A lot of people reported that it got scratched just after a few trips. If you want to minimize the scratches, definitely get it in a darker color, not one of the brighter color options. But even though it has a few downsides, we still think that the Helium Aero is one of the best hardside carry-ons that you can currently get.
Full review: Delsey Paris Helium Aero 25-Inch Checked Suitcase Review