If this is your first time embarking on an international adventure, you might be a little bit overwhelmed by the various things you need to prepare and take into consideration. Domestic flights and international flights have their similarities, but they also have their differences, especially in terms of luggage.
Baggage requirements for international flights are often stricter, and while you may have had a free hand as to the amount of luggage you could bring on a domestic trip, you might be wondering now—how many bags are allowed on an international flight?
This article will explain the number of bags allowed on an international flight, as well as the guidelines that come with it and the differences between domestic and international flights. You will also find some suggestions and tips in case you find that your baggage is overweight or you are going to end up with more bags than necessary. Lastly, you will also find out other options for transporting your bag in case you don't want to check in your excess luggage.
How Many Bags Are Allowed on an International Flight per Person?
Usually, airlines allow you to bring one carry-on bag and one or two pieces of checked luggage. You might be able to bring more, but you will have to pay additional fees for that. You will also have to pay additional fees in case it weighs more than the weight limit.
Read Next: You Bought Airline Tickets Online. Now What? (Guide)
How Many Free Bags Do Airlines Usually Allow on International Flights?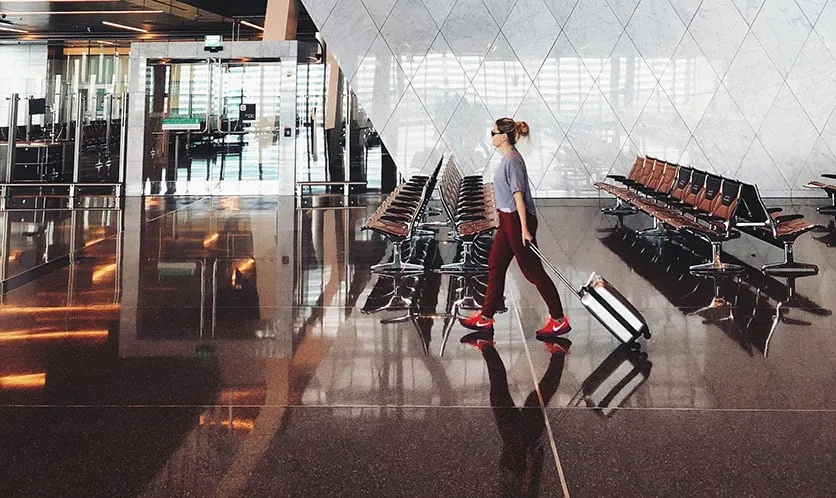 The standard procedure for almost every international flight is that a passenger is allowed to bring one personal item (such as a small bag/backpack, laptop bag, or suitcase)—free of charge, as well as a carry-on.
As for checked luggage, generally, international flights allow for one piece (or at most, two) of free checked luggage for each passenger. Of course, this will depend on when you're flying from and where you're flying to, and what airline you're taking. Some airlines allow two pieces of luggage for a certain destination while restricting it to only one for another destination.
As you plan your trip and pack your bags, it's always best to check with the airlines. Also, 'free' checked luggage might not mean that it is really free. There's a chance that you have paid for it at some point or that it is included in your ticket cost.
Some budget airlines also offset rising fuel prices by charging more for baggage. You need to be prepared to pay for each checked bag and some of them only allow you to check in a total of three.
No matter what you're flying and where you're going, it's always safer to check with the airline so you can avoid unexpected fees.
Tip: For checked luggage, it's usually smarter to go with fabric luggage, unless it's extremely durable, such as the Pelican cases. That's because less durable hardside suitcases will crack more often when they're thrown around in the airplane's cargo hold. A good fabric checked suitcase would be something from Samsonite or Travelpro, such as the Travelpro Crew Versapack (full review over here.)
What Are the Checked Luggage Fees for Extra Luggage on International Flights?
In case you end up with more luggage than is allowed or you exceed the allowable luggage weight that comes with your ticket, you can always purchase extra luggage space.
Checked luggage fees vary according to the airline. In general, however, you can expect that the airlines will charge you starting at $100 and sometimes even more. If you have the right amount of bags, but when they weigh it and find out that it is overweight, there is also a chance that you will have to pay for the excess weight. You might be charged $100 or even more as well.
Tip: If you have a feeling that you're going to be overweight or you're going to end up bringing more luggage, it's best to purchase extra luggage space or weight ahead of time, as the rates are increased at airport check-in. I did that for a couple of trips and found that it comes out cheaper than arriving at the airport, having your bags weighed, and then purchasing the extra luggage space then and there. Of course, it will depend on the airline and your ticket, but it's always good to check so you don't end up having to pay an absurd amount for an additional bag or a few more pounds of excess luggage.
What Are the Size and Weight Limits for Luggage on International Flights?
In general, your carry-on bag shouldn't weigh more than 40-45 liters and should only measure up to 22 x 14 x 9 inches. As long as you follow those guidelines, you'll be safe.
Checked luggage, on the other hand, must weigh somewhere between 50-70 pounds and be under 62 linear inches (height + width + depth). Beyond that, there's a chance that you might have to pay additional fees for overweight luggage.
It's always best to check with the airlines you're flying with before packing your bags. There are even airlines in some countries that use a weight system when weighing your bags, which totals the weight of both your carry-on bag and checked luggage. Check your tickets and the airline you're flying with to make sure you won't have any unexpected luggage fees when you get to the airport.
Are There Any Restrictions on What Can I Bring In Checked Luggage on International Flights?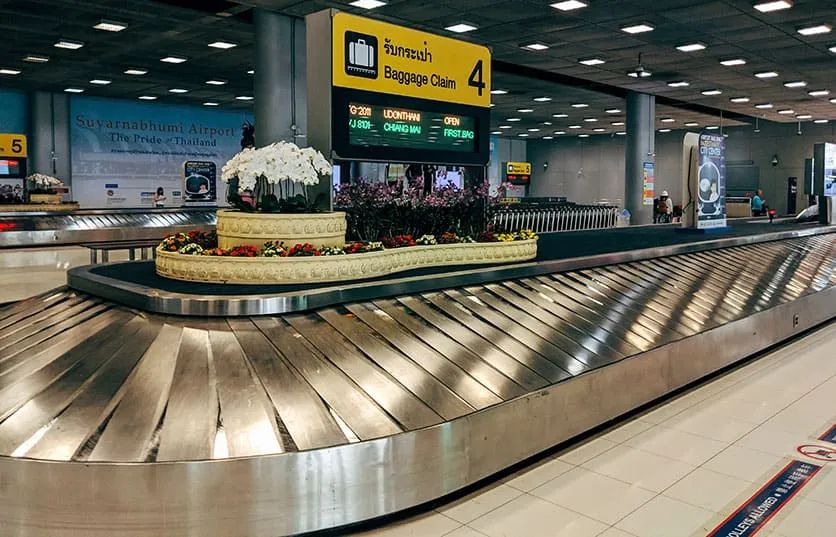 Most airlines have the same policies with regards to what is or isn't allowed in checked luggage. Lighters without fuel, items with gel, and even chargers, cords, and the like are not allowed in checked luggage, but you can bring them in your carry-on. The same goes for camping fuel, insect repellants, electronics (such as mobile phones and laptops), and a lot more others.
If you're bringing fragile items, you might want to double-check if it's safe to pack them in your checked luggage or if you can bring them with your carry-on. (Learn more about packing fragile items.)
What are the Rules for Special Luggage?
Planning on skiing in Switzerland? Performing somewhere and need to bring your musical instrument? If you're bringing heavy stuff or items that have unusual shapes, it's best to check with the airlines as some of them have special guidelines and do not count these items under regular checked luggage.
You will also need to call the airline or check their website regarding how to pack and secure your special luggage. Some of them will require a certain way of securing them to keep them as safe as possible during the flight.
What Can I Do Instead of Checking In Extra Luggage?
If you know your bags are going to go overweight or you have a lot more bags than allowed and you don't want to check them in the airport, there's always the option of shipping them straight to your final destination instead.
Several companies offer you the option of shipping your luggage from your house to your next destination in almost any corner of the world. When you're on the way back home, you can also opt to ship your bags straight home instead. This is especially helpful if you don't want to have to wait long lines while checking in your luggage or if you want to avoid excess baggage fees.
Here are some of the companies that can ship your luggage worldwide:
Are There Any Other Differences When Flying Internationally?
When you're flying to a domestic destination, you can arrive at the airport 1-2 hours before your flight and that's all right. When you're flying internationally, however, it's best to arrive at least three hours before your flight. That's because you'll need time to check in your bags (if you have checked luggage) and clear immigration. If your flight falls around an airport's peak hours, you should add another hour so that you don't have to go through the stress of worrying about whether or not you'll be able to make it to your flight.
Pro tip: If the airline you're flying with allows for online check-in, do that before getting to the airport. It will save you a lot of time and keep you from getting bumped off a flight (this happens if a flight is overbooked).
Final Thoughts
Flying internationally is an adventure of its own. It can be a bit overwhelming if it's your first time and you've only traveled to domestic locations so far. Nevertheless, all you need to do is check everything you might have doubts about—especially where luggage is concerned—ahead of time so you don't need to worry about it. Don't worry—it gets easier the more you do this and pretty soon, you'll be a pro at traveling both domestically and internationally.
This post is also available in:
English