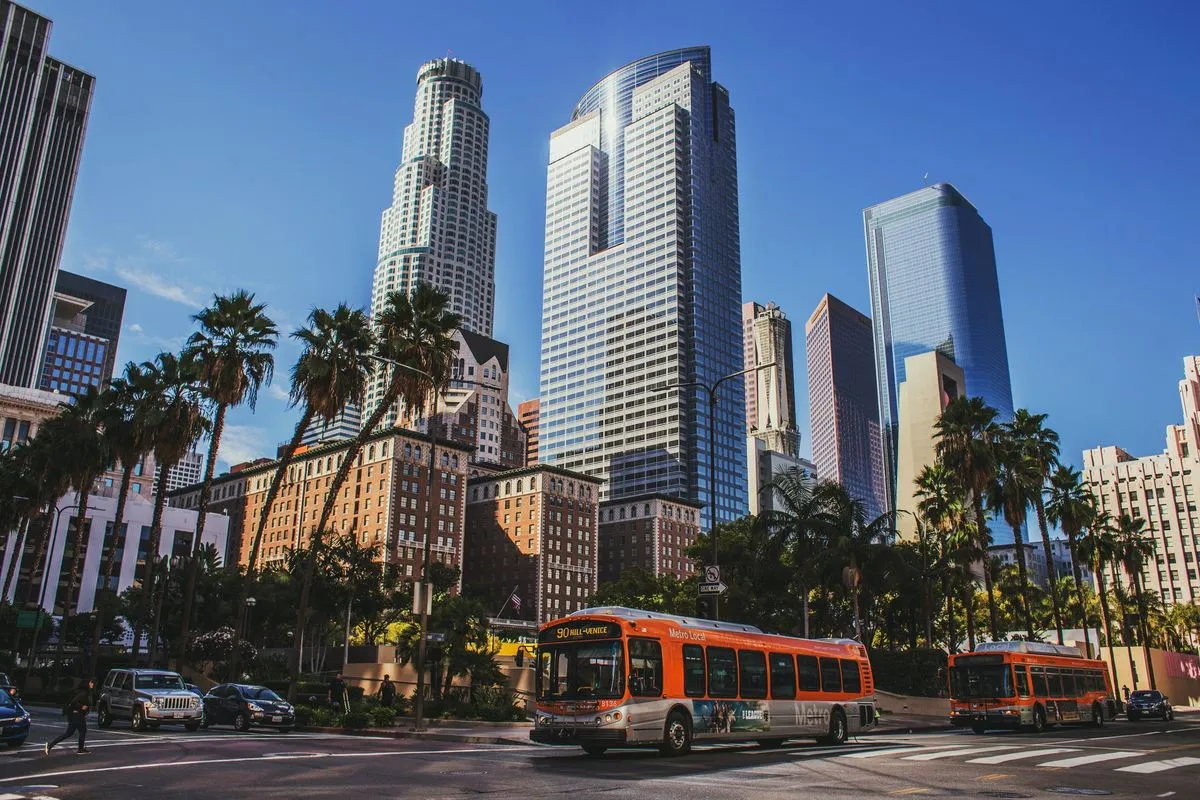 Los Angeles – a sprawling city of stars, stories, and endless summer sunsets. But with so much to offer, how do you decide where to stay in Los Angeles? Whether you're an aspiring actor, a beach lover, or just in town for some R&R, L.A. has a spot for everyone. The trick? Knowing where to look.
TL;DR:
Los Angeles is a vast city with a spot for every traveler.
From Hollywood's glitz to Santa Monica's shores, L.A. caters to diverse tastes.
Researching neighborhoods is key to an ideal stay in the City of Angels.
Insider tips can help you find hidden gems in this bustling metropolis.
Always consider your travel goals when choosing a district to call home.
Los Angeles: A City of Endless Choices
With approximately 50 million tourists gracing its streets in 2019, Los Angeles stands as one of the USA's major tourist hubs. And why not? It's a city where dreams are born, stars are made, and every district narrates a unique story. Let's dive into some of the most iconic neighborhoods.
Hollywood: For the Star-Struck Souls
If iconic landmarks like the Hollywood Walk of Fame or the TCL Chinese Theatre intrigue you, Hollywood is your go-to. It's the heart of the entertainment industry. Here, every cafe, pub, or street might just remind you of a movie scene. Tip: For a panoramic view of the city and the Hollywood sign, trek up to the Griffith Observatory.
Beverly Hills: Luxe Living
Think tree-lined avenues, high-end boutiques, and the possibility of bumping into a celebrity. Beverly Hills, with its famed Rodeo Drive, offers a luxurious stay, complemented by world-class restaurants and art galleries.
Downtown L.A.: A Blend of Old and New
From the historic Olvera Street, representing L.A.'s Mexican heritage, to the modern skyscrapers and arts districts, Downtown offers a rich tapestry of experiences. It's ideal for travelers seeking both culture and convenience.
Santa Monica: Beach Vibes & Boardwalks
If you're someone who equates L.A. with sun, sand, and surf, Santa Monica is your spot. It's not just about the iconic pier. The Third Street Promenade offers a delightful shopping experience, while the sunsets here are truly magical.
Quentin Crisp once remarked, "Los Angeles is just New York lying down."
And he wasn't wrong. L.A., with its vastness, presents a laid-back charm, juxtaposed with bustling city vibes. Whether you're lying down on a beach or strutting down a red carpet, you'll find your corner in this city.
The Hidden Joys of L.A.'s Lesser-Known Districts
When you think of Los Angeles, Hollywood or Beverly Hills might immediately spring to mind. Yet, there's so much more to the City of Angels than its iconic districts. L.A.'s charm truly lies in its diverse neighborhoods, each offering a distinct flavor and a fresh perspective.
Venice Beach: Bohemian Rhapsody
With its charismatic boardwalk, street performers, and the famous Muscle Beach gym, Venice Beach offers a colorful, bohemian experience. It's not just about the sand and surf; the canals of Venice are reminiscent of its Italian namesake, offering a tranquil escape from the city's hustle.
Los Feliz: Vintage Vibes and Verdant Views
A gem nestled at the foot of the Griffith Park, Los Feliz is a haven for vintage shopping enthusiasts and foodies alike. From the retro vibes of the Vista Theatre to the idyllic ambiances of local cafes, it's a slice of old-world charm combined with the modern-day hipster essence.
Westwood: Collegiate Charm Meets Culture
Home to UCLA, Westwood is teeming with youthful exuberance. But beyond its collegiate environment, it boasts the Hammer Museum and the Geffen Playhouse, offering art and theatre aficionados a cultural treat. Plus, its diverse eateries make it a food lover's paradise.
Each of these districts paints a picture of a different Los Angeles, one that's away from the paparazzi's flashes but rich in authentic experiences. Whether it's the laid-back vibes of Venice Beach, the old-school charm of Los Feliz, or the youthful energy of Westwood, these locales let you experience L.A. like a true Angeleno.
Conclusion
Los Angeles is not just a city; it's a universe in itself. Whether you're seeking the limelight or quiet introspection, you'll find your space. Remember, every district is a universe waiting to be explored. So pack your bags and let L.A. unravel its stories for you.
FAQs
What are the top 3 neighborhoods for tourists in L.A.?
Hollywood, Beverly Hills, and Santa Monica reign supreme for most tourists, offering a mix of entertainment, luxury, and beach vibes.
Is Downtown L.A. safe for tourists?
Like any major city, it's essential to be aware of your surroundings. Generally, Downtown L.A. is safe during the day, but always exercise caution.
How can I make the most of my stay in L.A.?
Research the neighborhoods that align with your interests, consider the distance from attractions, and embrace local tips and recommendations.
Are there budget-friendly accommodations in L.A.?
Yes, areas like Koreatown or parts of East L.A. can offer more budget-friendly options.
Should I rent a car while staying in L.A.?
If you plan to explore multiple districts, renting a car can be beneficial. However, traffic can be intense, so plan your travel times accordingly.
Sources:
Statista – Los Angeles tourism statistics 2019.
Official L.A. Tourism Board – Districts and Neighborhoods Guide.
Quentin Crisp – Notable Quotes.
This post is also available in:

English