Although American Tourister is best-known for its hardside luggage, it has one softside suitcase that outperforms most of them – the Belle Voyage. It's a stunning suitcase that won't bite a chunk out of your wallet, and it's one of American Tourister's best-reviewed carry-ons.
In this American Tourister Belle Voyage 21-inch carry-on review, we'll look at what this bag has to offer: its durability, packing features, how well it rolls on different terrains, and more. We'll also compare it to some of American Tourister's best softside carry-ons and other similarly-priced suitcases.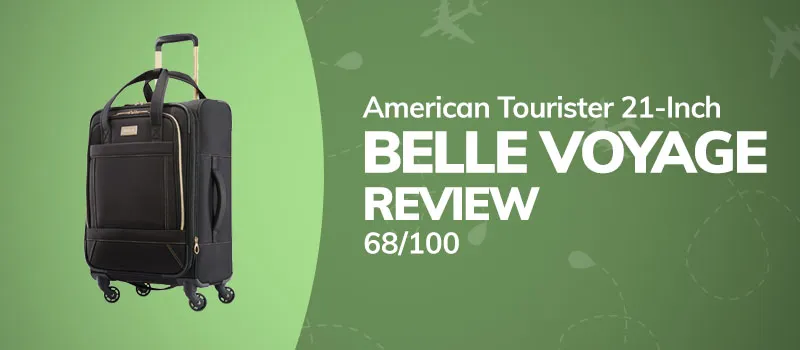 The Good
Comes with smooth-rolling wheels
Beautifully designed
Offers great value
The Bad
When fully expanded, a bit over most carry-on restrictions
Not the greatest durability
Doesn't have a lot of much-needed features, like TSA-approved locks
Quick Take
The American Tourister Belle Voyage carry-on is one of the most beautiful suitcases that American Tourister has to offer. It rolls well on most surfaces, it's got enough handles for lifting it up to the overhead compartments on planes, and it offers quite a few packing options that will help you organize all of your clothing. And best of all – it's really affordable.
That said, it lacks in several other aspects, like its durability – although it isn't poorly made by any means, it's not strong enough to be used frequently. It's also over most carry-on size restrictions, which could be a problem if you're planning on flying with budget airlines that have strict restrictions for hand luggage.
The Belle Voyage is a great choice if you don't travel often, and it could last you for a long time if you take good care of it.
Full Review
Dimensions & Weight (4/10)
The Belle Voyage is pretty bulky for a 21-inch carry-on. As is usually the case, the actual size of the bag isn't 21 inches. The true measurements of the carry-on are 23.5 x 14.5 x 10.2 inches (60 x 37 x 26 cm) when fully expanded. This is a bit over 22 x 14 x 9 inches, which is the most common carry-on size restriction, and quite a few customers complained that they had to check the bag. However, most people didn't experience any issues with using the Belle Voyage as a carry-on.
The interior packing space of the suitcase is fairly large – you'll be able to pack for a week-long trip. Most customers praised the bag for being very spacious, despite being bulky on the outside.
That said, there were a few mixed reviews regarding the weight of the Belle Voyage. Most customers said that it's lightweight, weighing 7.8lbs (3.5kg). However, our own research revealed that softside carry-ons weigh 6.55 lbs on average, which means that it's actually on the heavier side. Another important thing to note is that some customers complained that the Belle Voyage tips over when it's overpacked and the retractable handle is extended.
Materials & Water-Resistance (8/15)
The American Tourister Belle Voyage is made from polyester. Polyester is generally considered the least durable fabric, and we'd prefer if the bag was made from something more durable, like nylon. But, truth be told, we couldn't find any negative reviews about the fabric's durability, so the polyester used is of high quality.
American Tourister doesn't mention anything about Belle Voyage's water resistance on its website, which means that it most likely doesn't have a water-repellant coating. From our own experience, a light drizzle won't instantly penetrate polyester, but a full-blown thunderstorm will soak all your clothes.
Durability (13/20)
As is the case with most affordable suitcases, the Belle Voyage carry-on has a few shortcomings in terms of its durability. However, out of all the reviews we read, only a few people complained about the bag's durability.
The main complaints were about the durability of the wheels and the retractable handle. The wheels aren't too durable, with some customers stating that one of the wheels on the carry-on broke after a few trips. The retractable handle is also said to be flimsy, which is a complaint we noticed on other American Tourister suitcases as well.
That said, most reviews mentioned no issues regarding the wheels and the handle. Also, while the zippers are usually one of the first parts to break on a suitcase, the ones on the Belle Voyage are great.
The main fabric, the inner lining, and the stitching of the suitcase are also very well-made, and they should withstand light abuse. Despite the case being somewhat durable, we did find criticisms about it being prone to scratches. A few customers stated that the bag would come out on the conveyor full of visible scratches just after a few trips.
Read Next: American Tourister Stratum XLT 21-Inch Carry-On Review
Moveability (12/15)
The Belle Voyage carry-on comes with four spinner wheels. Spinner wheels are generally the best type of wheels on the market, with double spinner wheels being the best option for luggage. Unfortunately, the carry-on only has single spinner wheels, which isn't the best option, but it's still better than having only two wheels.
The spinner wheels on the Belle Voyage roll very smoothly. Even though they're not the most durable ones, customers stated that the wheels rolled with ease on pavements and through the airport. This means that you won't have to put in any extra effort like you would with inline suitcases.
Like other softside carry-ons, the Belle Voyage has a side handle and an extra handle on the bottom of the case. Unlike most suitcases, this carry-on has two straps instead of a top handle, which work almost identically, except they look a bit different. The Belle Voyage has enough handles fitted to it, which makes it easy to lift it up to the overhead compartments in planes or trains.
Additional Features (6/10)
The Belle Voyage doesn't come with too many additional features. A lot of suitcases in the same price range come with much better features. Apart from having a few extra handles, the Belle Voyage has plenty of pockets, which can be used for organizing all of your belongings. The two front pockets could be used for storing documents like passports and airline tickets and a tablet or a Kindle.
The main compartment comes with pretty good packing features. There are a couple of tension straps that'll keep your belongings nice and tight, as well as a zippered pocket for your underwear or laundry. The bag also has two elastic pockets where you can place an extra pair of shoes. It's also worth noting that the carry-on is expandable, so you'll be able to fit a few extra clothes if need be.
Other than that, the bag doesn't offer any more features to get excited about. On similarly-priced suitcases, you can usually find toiletry pouches, USB ports, TSA-approved combination locks, and other smart features. Considering that the Belle Voyage is one of American Tourister's best-selling carry-ons, it could benefit from some improvements in its features
Design (9/10)
The American Tourister Belle Voyage carry-on is targeted toward people who travel for leisure since most of its color options are vibrant and fancy. It comes in four different color options: blue, red, black, and floral indigo sand, which features a beautiful blue and white pattern. Many customers said that the carry-on looks even better in person.
Another thing that makes the Belle Voyage stand out is the rose gold accents on the bag's logo, the retractable handle, and the zippers. While the color doesn't provide any extra functionality, it adds a classy touch to the suitcase.
Overall, we think that the Belle Voyage carry-on is one of the most beautiful fabric suitcases that American Tourister has to offer. It also comes in a hardside version, which does a really great job at combining professional looks with elegant patterns.
Warranty (7/10)
American Tourister offers the same warranty terms as Samsonite. That's because Samsonite acquired American Tourister a few years ago. And Samsonite is well-known for its dependable warranty.
The Belle Voyage is covered by American Tourister's limited 10-year global warranty. The warranty terms state that American Tourister will only accept a claim in cases of manufacturing defects. This means that only minor defects are covered, such as faulty zippers, handles, stitches, or wheels. Furthermore, accidents, misuse, and airline damage isn't covered, which means that if your bag would break while checked in, you'd be out of luck.
There's a major issue with the warranty, though. You won't be able to make a claim if you're not the original buyer, and you'll have to pay for the shipping costs to and from the repair center. If you want to avoid the shipping costs, you can take it to one of Samsonite's repair centers yourself, or bring it to any Samsonite store for a small fee ($10 for suitcases under 26 inches and $15 for 26 inches or larger). It's also worth mentioning that the suitcase will only be repaired if the company thinks that the damage wasn't caused by mishandling.
Value (9/10)
The Belle Voyage carry-on is a very affordable softside bag, and you can usually find it on sale for less than $100. So, even though it does have a few flaws, it's a solid pick when you include its price into the equation.
It's also very well-reviewed. We might have criticized certain aspects of it, like the durability of the wheels and the handles, but that was just nitpicking out of hundreds of reviews. A significant percentage had no issue with the suitcase, and they stated that it could last for several years if used with care.
The only real issue that might arise with the Belle Voyage is that it's quite bulky for a carry-on. Some airlines won't allow you to use it as a carry-on, but as long as you don't overpack, you should have no issues with the airline employees.
How Does the Belle Voyage Compare to Similar Suitcases?
Two similar alternatives to the Belle Voyage from American Tourister are the American Tourister Zoom Turbo and the American Tourister Pop Max.
Out of the three suitcases, the lightest one is the Zoom Turbo. It's also the only one that has double spinner wheels, which are usually smoother than single ones. We also love the interior of the bag and all the pockets it comes with since it adds lots of points to compartmentalization. However, the Zoom Turbo is smaller than the other two, which might be an issue for some.
The Pop Max collection is one of American Tourister's best sellers. It's generally considered more durable than the other two bags, but that comes at a cost; it weighs more than the Belle Voyage and the Zoom Turbo. It's also bulkier than both suitcases, which might be an issue with certain airlines.
There are also a couple of suitcases from other brands that are very similar to the Belle Voyage – the SwissGear Sion and the Travelpro Maxlite 5.
We've praised the Maxlite 5 for being one of the best softside carry-ons on the market. It's incredibly lightweight, it has some of the best wheels on a suitcase, and it's very durable. It also comes with Travelpro's reliable warranty, which is a bit better than Samsonite. The only downside is that it costs around $50 more than the Belle Voyage.
The SwissGear Sion is a very interesting carry-on. It's nearly identical to the Belle Voyage in terms of its weight, dimensions, interior, and price. The two bags have also received very similar reviews, and their durability isn't too far apart. Basically, the Sion is the Belle Voyage of SwissGear. However, it comes in more colors than the American Tourister suitcase, which might be a deciding factor for some of you.
Our Verdict
There's no doubt that the American Tourister Belle Voyage carry-on is a beautiful softside suitcase. It's also very affordable, it's somewhat durable, and it rolls very smoothly.
That said, it's not the most durable carry-on out there. Many softside bags from other brands are much better, such as the Travelpro Maxlite 5. Plus, it doesn't cost much more than the Belle Voyage, so you should opt for Travelpro's carry-on if your budget allows it. You could also look into the American Tourister Zoom Turbo, which is better than the Belle Voyage, albeit a bit smaller.
Although it's not the best one, the Belle Voyage carry-on is a solid option in the affordable price range. If you don't fly often, it's an excellent choice since it costs less than $100 and it should last you for at least a couple of years if you take good care of it.