Sometimes it's a good idea to bring three or four suitcases with you if you're traveling to a cheaper country and do some shopping there. But unless you're a superhuman, there's no way you'll be able to pull all the suitcases by yourself. You've only got only two hands.
Don't worry, though, because we're sharing a few ways that you can pull all the suitcases by yourself. If you tie the suitcases together, you'll only have to pull just one suitcase, instead of all of your suitcases at once. In this post, we'll be looking at several different ways that you can hook luggage together, including DIY ideas.
How to Hook Your Luggage Together
Option 1: Use Regular Luggage Straps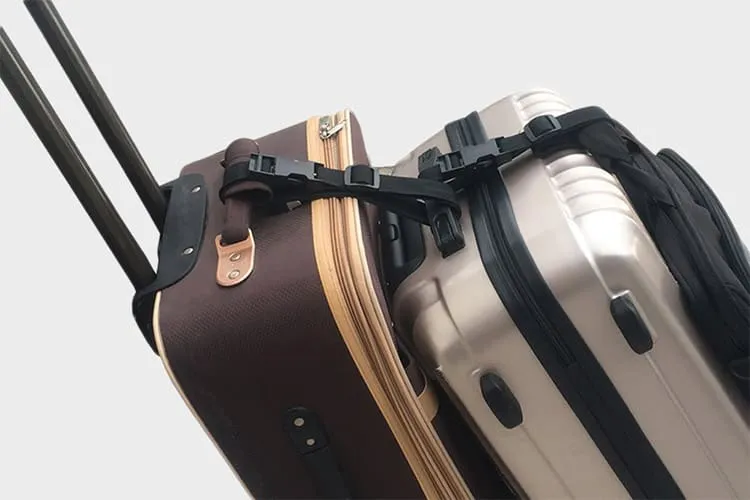 The first option is to use regular luggage straps, otherwise called piggyback straps, "add a bag" straps or luggage belts.
Luggage straps are used for securing your suitcase. They work as a backup if zippers get broken so that your suitcase doesn't bust open and all of the items fall out. We have had this happen once, which wasn't a pleasant experience. That's why now we always use luggage straps whenever we're checking in our suitcases. By the way, we've written a dedicated post about luggage straps, where we discussed their usefulness and showed which luggage straps work better than others.
Luggage straps aren't great only for securing your suitcase. They're also great for strapping several pieces of luggage together, so you don't have to pull each one separately. This process usually works best if you set the straps to the minimum length and strap the suitcases together by the top handles, as shown in the picture above. By using luggage straps, you'll be able to tie up to four suitcases together.
The suitcases that you're hooking together don't even need to be with spinner wheels. Although spinner suitcases will be easier to move around when hooked together, regular suitcases with two rolling skate wheels will also move around just fine. Hooked rolling suitcases with two wheels will be harder to move forward and turn around compared to spinner suitcases, but when you're pulling them behind you, both types roll smoothly.
You can use any cheap luggage straps that you find, but make sure that they can be adjusted tightly so that the suitcases aren't tied together loosely. The Ajmyonsp Pack of 2 Add-a-Bag Luggage Straps is a solid choice because they're cheap, well-rated, and adjust tightly.
Read Next: Best Zipperless Suitcases in 2022 Compared
Option 2: Use a Regular Belt or Rope as a DIY Solution
If you don't have luggage straps, there are a few DIY solutions for hooking luggage together that you could use. The best option would be to use a regular leather belt for strapping two or three pieces of luggage together. We've seen people do this, and it seems to work just as fine as luggage straps. One belt is usually enough for strapping two or three suitcases together by the top handles.
Just make sure to tighten the belt as tightly as possible so that the bags don't move around. If you don't have a spare belt lying around, you can use regular rope or string to tie the pieces together. Just make sure that it's thick enough so that you don't have any surprises while trying to catch a flight.
Option 3: Use a Bungee Strap for Storing Smaller Bags on Top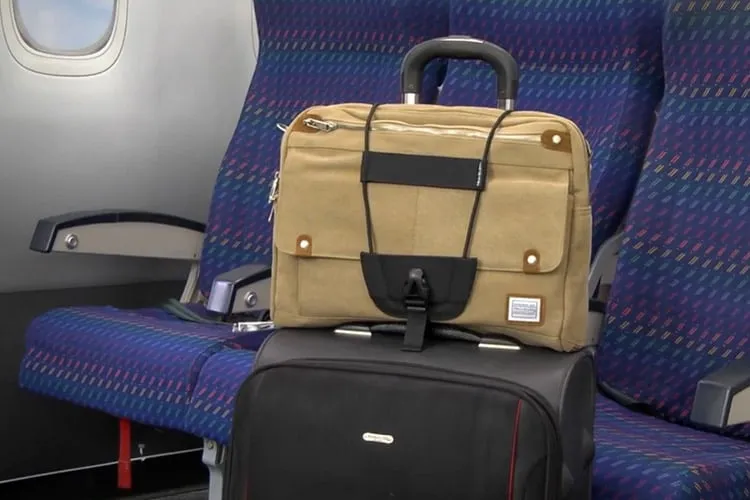 Some backpacks, totes, handbags, and duffles have rear straps that are great for securing them on top of a suitcase by wrapping them around the retractable handle. If you're traveling with a backpack/purse/duffel and a carry-on, you should make sure that the smaller bag has a rear strap. Having one will make your life much easier because you won't have to carry it around in crowded airports and metros.
But if the smaller bag doesn't have a rear strap, you can get the Travelon Bungee Luggage Strap, shown in the picture above. Essentially, it wraps around the top handle on one side and the retractable handle on the other. It safely secures your smaller bag on top of your suitcase, even if the smaller bag doesn't have a rear strap. It's cheap, effective, and doesn't take up too much space.
Option 4: Purchase a Piggyback Luggage Set (With Built-In Straps)
Some luggage manufacturers are wittier than others. You can find a few luggage sets with built-in luggage straps hidden in a dedicated pocket or under the top handle. For instance, the Traveler's Choice Tasmania 3-piece Hardside Spinner Luggage set has tie-together straps hidden under the top handle. If you ever need to tie all three pieces together, you can pull out the strap and wrap it around the other bag's top handle, and you're good to go.
Another option is the TACH TUFF 3-piece Hardside Spinner Luggage Set. They take a completely different approach, and all three pieces are attachable by a simple velcro system. With this system, all of the luggage is more securely attached, making moving them around much easier. Here's a quick demonstration of the TACH TUFF luggage set. It's an innovative idea, and it work's great.
Read Next: 8 Best Hardside Luggage Sets Compared
Final Thoughts
Hooking several pieces of luggage together is easy. You can do that with a rope or a leather belt. However, the best option usually is to use regular luggage straps. If you don't use Luggage Straps, we recommend getting two or four spare ones and keep them around the house. They're cheap and are not only great for hooking the suitcases together but can also be used for securing checked luggage. If the zippers accidentally break after your luggage has been checked in at the airport, the luggage straps will keep your suitcase from busting open and all of your stuff falling out.