Over the last few years, smart luggage has gained massive popularity among business travelers, frequent travelers, and other tech-savvy individuals. But recently, some airlines have started to ban specific types of smart luggage. The lithium battery that comes with the bag could explode, which is why they're considered a threat to security.
And now, a lot of travelers are left confused. They don't know which smart luggage is allowed and which isn't, and what exactly is considered smart luggage. In this post, we'll explain everything you need to know about smart luggage – what smart luggage is, which smart luggage is banned and which isn't, and other essential things that you should know. We'll also look at the most popular smart suitcases and tell you which ones you should avoid.
But more on that below.
What Is Smart Luggage?
When airlines refer to smart luggage, they're talking about suitcases that come with a built-in battery. Sometimes, smart luggage is called smart bags, smart backpacks, or smart suitcases, but essentially it's the same thing.
Here's the official explanation from IATA (International Air Transport Association.)
Smart luggage is luggage that contains a battery used to power itself or to recharge other devices. The phrase "smart" refers to the additional capabilities that the bag offers as a result of having this power supply.
Various news outlets and blogs are using the term 'Smart luggage' incorrectly. They're usually referring to any bag that comes with a unique and 'smart' feature (for instance, a neat organizer), even if the bag doesn't come with a built-in power supply.
Read Next: Best Carry On Suitcases With A Laptop Compartment
What Does Smart Luggage Do?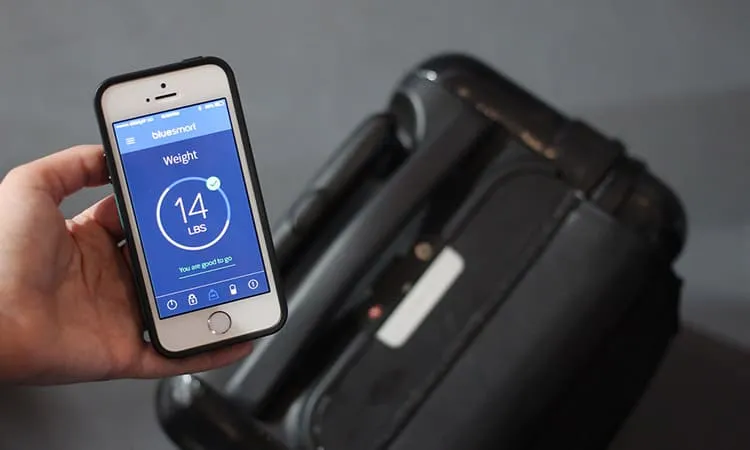 What makes smart luggage so interesting is that you get unique features that you wouldn't usually have on a regular suitcase without a power supply.
Here are the most common features that come with smart luggage:
Luggage tracking. Although the exact tracking method differs between various brands (via GPS, GPRS, Bluetooth, or Wi-Fi,) the principle is the same – you can track where your suitcase is by checking the app.
Proximity tracking. With some smart suitcases, you'll get a notification whenever you're getting too far away from the bag. For instance, if you forgot your suitcase in a taxi, the tracker would notify you after a certain distance. "Whoops! It looks like you've forgotten your suitcase. Go get it back, cowboy!" You could then quickly ring the Taxi company and retrieve bags.
Charging devices. Almost all smart bags come with built-in power banks. The battery capacity in mAh differs between manufacturers, and sometimes you'll get several USB ports with different power outputs for charging various electronics. We've found this especially handy in airports, trains, and buses, when our devices are on their last breath and no sockets are nearby.
Built-in luggage scales. Some smart suitcases have a luggage scale built in their handle. Essentially, when you pick up the bag, the suitcase will show how heavy it is, which is handy for meeting the strict weight requirements for carry-ons.
RFID-blocking compartments. Although this feature isn't powered by electricity, most smart suitcases come with an RFID-blocking pocket. Nowadays, you can steal data with a simple scanner, which is why any credit cards and phones put into this pocket will not be readable from the outside.
Read Next: Top 12 Best 17-Inch Laptop Backpacks
Is Smart Luggage Legal?
Only smart luggage with non-removable batteries is banned. Smart suitcases with removable batteries are allowed, but the removable battery can only be carried on-board and can't be checked in. This rule applies to lithium-ion and lithium-metal batteries, not regular AA batteries. You're also limited to 100 Watt-hours on lithium-ion batteries (Most commonly, lithium-ion batteries come with a 3.7V output, which means that you're limited to around 27 000 mAh batteries) and 2 grams of lithium metal on lithium-metal batteries.
Up until 2017, smart luggage was still new, and no airline batted an eye on its legality. But in 2015 and 2016, a few incidents started to appear with lithium batteries in electronics. In 2015, a couple of the largest airlines banned hoverboards on airplanes because of possible links between spontaneous fires and lithium-ion batteries. And in 2016, the TSA (Transportation Security Administration) banned Samsung Galaxy 7 phones on all airlines because they had a production issue that resulted in spontaneous fires.
This caused a significant shift in airline policies, and now airlines are extra cautious about any built-in lithium batteries, including smart luggage. In 2017, American Airlines banned all smart luggage with non-removable batteries, which went into effect on 15. January 2018. All the other major airlines soon joined the ban, and now smart suitcases with non-removable batteries are useless.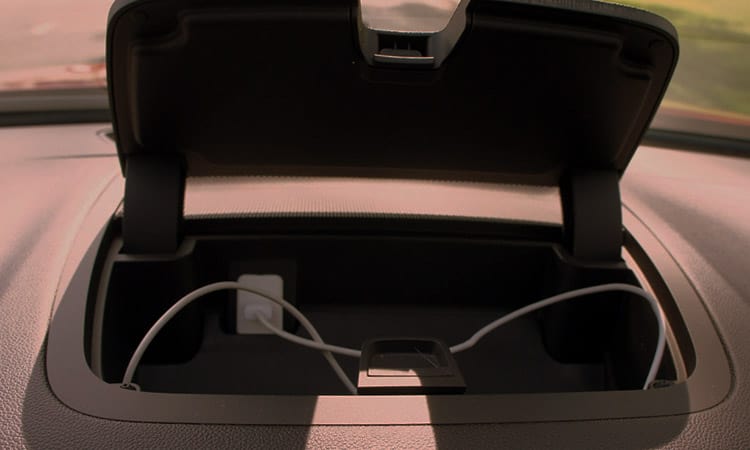 Are Smart Bags with Removable Batteries Always Allowed?
Unfortunately, no. Because the smart luggage ban went into action recently, some airline employees don't yet know all of the rules or laws. Even if the rules state that smart bags with removable batteries are okay to use, sometimes the airline employees don't allow them anyway.
Here's an American Airlines passenger complaining that their smart luggage with a removable battery was denied entry.
Or here's another one! Actually removing the battery from your smart luggage and watching your plane sit at the gate and STILL be denied entry. @AmericanAir

— Chaunna Michole (@BiGG_Shirley) February 8, 2018
That said, in 2022, the situation has improved drastically. Now, most airline employees know which smart luggage is allowed and which isn't.
Is Motorized Luggage Banned?
Since 2016, Modobag has been making motorized luggage, that you can ride through airports. Since their bags come with removable lithium batteries, they should be safe to use, right? Well, yes and no. Even though their motorized suitcases technically follow the TSA rules, you're pretty much asking to be stopped and questioned by using them. It's a new technology that isn't yet fully regulated and a lot of people who have used motorized luggage report being stopped by the airport security quite often. Even though motorized luggage is technically allowed, in reality, using them is a nightmare because you'll be stopped by airport security almost every time. Even Modobag themselves are very vague about the subject on their website.
List of Approved Smart Luggage Brands
When the smart luggage ban came into place, all the smart luggage brands took huge losses. In 2018, two of the most popular smart luggage brands BlueSmart and Raden, announced they're shutting down.
Away luggage was another smart luggage brand with integrated batteries, but they quickly added an option to make the battery pack removable. You could either follow their DIY instructions or take your suitcase to the nearest repair center and fix it for free. Because of the quick response, they managed to survive and now are still growing strong. Right now, they're the most popular smart luggage brand on the market.
In 2022, these smart luggage brands are allowed onboard:
Away luggage
G-RO
Incase
Planet Traveler
Modobag
Genius Pack
Arlo Skye
Marlon
Samsara
Read Next: 15 Best Luggage Brands Compared
Do You Have to Check-In Smart Luggage?
Smart luggage doesn't have to be checked in if it meets the carry-on size and weight requirements. That said, sometimes the airplane's upper compartments are full, and your smart carry-on might have to be checked in. If that's the case, you'll have to remove the battery and carry it with you as a personal item.
Is Smart Luggage Worth It?
Yes and no. It depends on your personality and profession. Many of us are digitally-dependant and always carry around a lot of tech items, even when traveling. It's not uncommon to bring a laptop, a smartphone, a camera, an e-reader, and heck; even smartwatches need to be charged.
One of our staff members is constantly running out of juice, so he swears by the built-in power supply. Also, the GPS locator and proximity-alert functions are pretty helpful because no one wants to lose all the valuables they're carrying. Although many bags don't have a built-in luggage scale, it's smart always to carry a separate one, especially when meeting the strict European carry-on weight requirements. That would make having an integrated one would make my life easier.
But then again, if you're not a tech person and travel only for leisure, smart luggage might not be for you. You see, smart luggage comes with some pitfalls as well – you have to charge the power bank, constantly remove the battery pack through security checks, and its price tag is higher than regular luggage.
A Few Examples of Popular (And Sometimes Weird) Smart Bags
The Most Popular: Away Luggage
Away luggage has been around since 2015. The company was founded by two former colleagues, Stephanie Korey and Jennifer Rubio when they had an idea to make a new suitcase that was durable, good-looking, modern, and not too expensive. Their products were a hit right from the start. Now, when anyone says smart luggage, Away luggage is the first thing that comes to mind.
Away luggage offers carry-on's, checked suitcases, and suitcases for kids made out of polycarbonate or aluminum. Their bags are well made and come with a lifetime warranty covering cracks in the shell, faulty wheels, handles, zippers, and fabric tears. Their products are reasonably priced because they aren't sold through third-party retailers who typically take a cut of the total revenue.
Read Next: Away vs Rimowa: Which One Makes More Durable Luggage?
Another Popular Option: G-RO Luggage
G-RO is another well-reviewed, smart luggage brand that's become popular. It all started in 2015 with a Kickstarter campaign, where they raised 3.3M$ for seed funding. They were quite pricy at the start, and now they've become even more expensive. They're mostly known for their distinct looks, with the two enormous wheels on each side. These wheels make the suitcase easier to move around the city and are close to impossible to break.
G-RO's bags have many practical and innovative features that you won't find elsewhere. They're also made from high-end materials and many protection features, like a waterproof bottom skid plate, redesigned wide handle, and protected corners. Unfortunately, only the wheels are covered with a lifetime warranty, while the body is protected for five years.
A Smart Suitcase That Follows You: Ovis
Here's something innovative – a suitcase that follows you. It's called Ovis, and it began with an IndieGoGo campaign in 2018, where ForwardX robotics raised 1.4M$ for seed funding. Their products still aren't available for purchase, but you can preorder one.
The idea is simple – for around $900, you'll get a smart suitcase that follows you around the airport. The battery will be removable, will have a proximity alert, two USB charging ports, GPS tracking, a TSA-approved digital lock, and a weight sensor.
Smart Luggage That You Can Ride: Modobag
Now here's something that might blow your mind – a suitcase that you can ride. If you don't mind the weird looks and the absurd $1,495 price tag, the Modobag is a cool toy to add to your arsenal. Its maximum speed is 8Mph, and with a single charge, you can ride up to 6 miles. It's not for everyone though, because it will only accommodate passengers up to 260 lbs.
The bag has around 85% packing capacity of a regular carry-on, comes with USB ports for charging and GPRS-GSM tracking in case it gets lost. Although the idea is quite innovative, we don't think that the world is ready for rideable suitcases. As this bag becomes more popular, some Airports might also start enforcing electric transport rules inside the airports. That said, it's a cool toy to brag about if you have a pile of cash laying around the house to invest in it.