We use affiliate links, and receive a small commission if you make purchases through them.
Find out more here.
I've been using the Travelpro Maxlite 5 Carry-on for over a year now, and I'm really impressed with how well it's performed. After fifteen months of use, it still looks brand-new. In this Travelpro Maxlite 5 carry-on review, I'll get into every little detail about this carry-on, so you can find out if it's a good choice for you.
Check Price on Amazon
The Good
Affordable. On a sale, you can get the Maxlite 5 carry-on for less than 100$, which is pretty cheap. It's hard to find anything similarly good at these prices.
Durable. Although not as durable as the Travelpro Platinum Elite or the Crew collections, the Maxlite 5 is still really durable.
Solid warranty. For the first year, it's covered by an extremely good warranty. After that, it's protected by a somewhat mediocre warranty for a lifetime.
Lightweight. Weighing at 5.4 lbs, it's one of the most lightweight carry-on's out there.
The Bad
Simple. Because the Maxlite 5 is so cheap, it doesn't come with any advanced packing options, smart GPS trackers, or TSA-approved locks.
Not the best-looking. Travelpro is going for a professional and classic look, that's better suited for frequent and business travelers.
The Verdict
I believe that the Travelpro Maxlite 5 is currently the best affordable fabric carry-on. You can find similar options from Delsey or Samsonite in these prices, however, they won't be as durable.
Although their warranty isn't the best one out there, it's still a pretty good one, especially for these prices. So if you're looking for something durable, lightweight, and affordable, then the Maxlite 5 carry-on is a rock-solid choice.
Check Price on Amazon
Full Review
I purchased the Travelpro Maxlite 5 in the summer of 2018. So right now, I've been using it for a little over one year.
I've taken it on several trips to Israel, Spain, and many other places. And so far, it's held up really great. Aside from a few scratches here and there, and a little worn-off spinner wheels, the Maxlite 5 still looks brand-new.
Maxlite 5 Variations and Color Options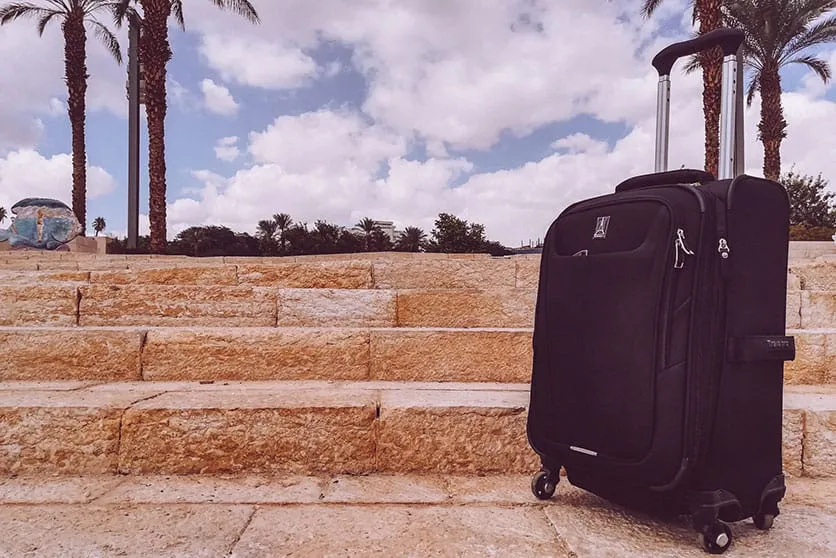 The Travelpro Maxlite 5 collection comes in many different variations, such as domestic carry-ons, checked medium and large versions, underseaters, tote bags, garment bags, duffels, and more. It's also available in a hardside, where the exterior shell is built out of polycarbonate.
Personally, I own the 21-inch spinner fabric version of the Maxlite 5. I chose this version because I needed a carry-on that's maxed out in size to squeeze in as much packing capacity as possible.
You can get the Maxlite 5 in five different colors – black, light green, light blue, midnight blue, or pink. Personally, I'd advise going with the black or midnight blue versions, because you won't have to clean them that often. Scratches and scuff marks are really visible on lightly-colored fabrics, so try avoiding them if possible.
Now I agree that they don't look like the most modern or fun suitcases on the market. Instead, they're going for a more professional and classic look, which is better for frequent and business travelers. I'm totally fine with that, as I'm a pretty minimalistic person overall. The only downside is that if you'll be checking them in, it'll be hard to distinguish them from other suitcases on the conveyor belt.
Read Next: Travelpro Bold 21-Inch Carry-on Review
Materials and Protective Exterior Elements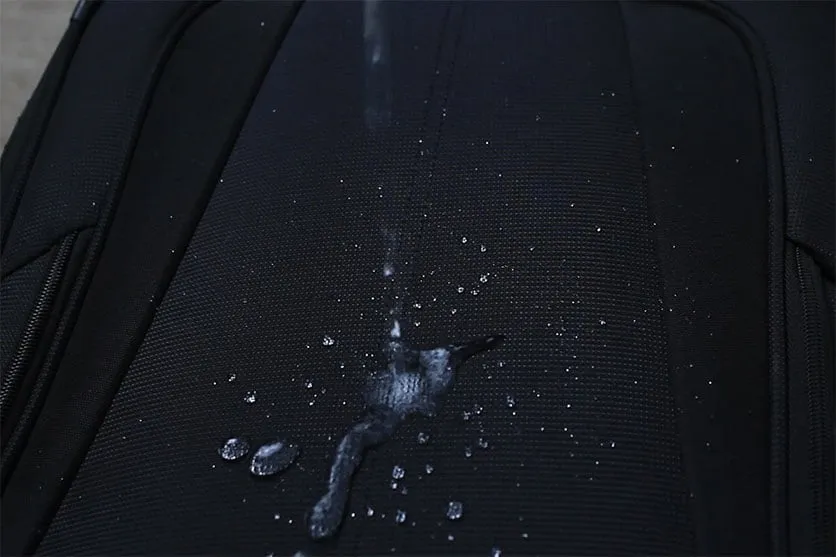 The exterior fabric is made out of polyester, which isn't the most durable fabric, but then again you have to remember that this carry-on is quite affordable. Their premium models that cost twice as much, such as the Platinum Elite carry-on, are built from ballistic nylon, which is much more durable.
But on the plus side, the polyester fabric is coated with DuraGuard coating, which resists water and stains. I actually tried pouring water on the fabric, and as you can see the water doesn't soak right in. Because of the DuraGuard coating, it just bounces right off. Of course, after a few minutes of heavy rain, the Maxlite 5 will get wet, however, it won't in light rain. Essentially, the fabric is water-repellant but not waterproof.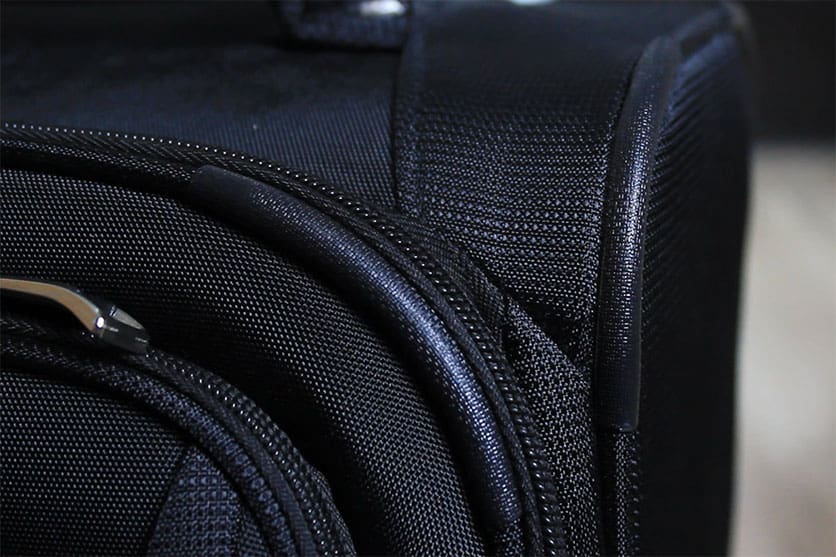 For additional protection, they've also added these plastic corner guards on the seams. They're placed on all the corners that get beaten the most. So far, the seams have held up great, and I couldn't find any loose stitching. Also, there's a small, plastic skid-guard on the bottom for protecting the fabric.
The bottom part of the suitcase is built from a plastic frame, and covered by a fabric layer. This is good because most of the mass is centered on the bottom, which makes the carry-on hard to tip-over. Even when it's packed full and expanded, I've never had any issues with the carry-on tipping over. The bottom tray also makes the carry-on overall more durable and stabilizes the wheels for a smoother movement.
From the exterior, the Maxlite 5 isn't branded too heavily, and has the Travelpro logo only in a few places – on the front, on the back, and on the handles. The logo doesn't 'stick out' anywhere, which, in my opinion, is a good thing.
Read next: Travelpro Crew Versapack 29-Inch Suitcase Review
Weight and Dimensions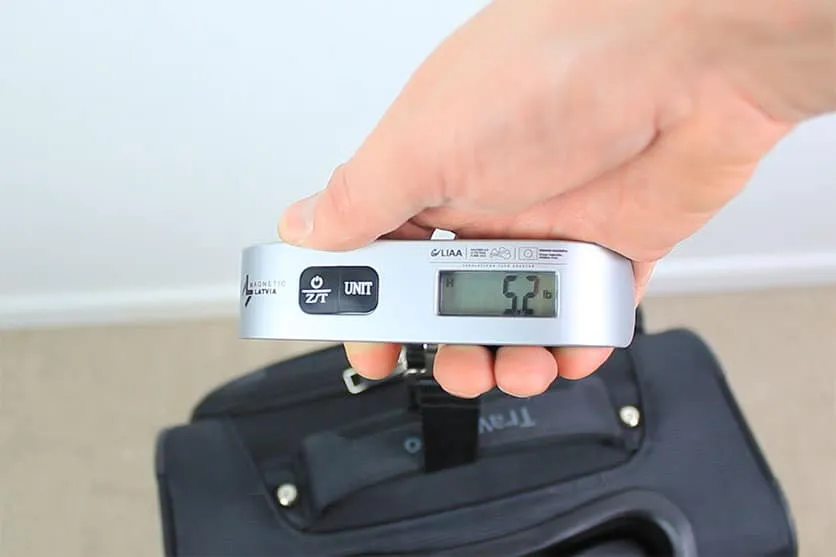 With wheels and handles included, the Maxlite 5 international carry-on measures at 23 inches in height, 14.5 inches in width, and 9 inches in depth. This is slightly larger than the most common carry-on restriction of 22 x 14 x 9 inches.
However, because the carry-on is made out of fabric, you can actually squeeze it inside the measuring bins if it's not overpacked. You can squeeze all parts of the suitcase fairly easy, except the bottom part because it has a built-in plastic tray. So far, I've never had any issues with the size, and keep in mind that I live in Europe, where the restrictions are much tighter. That said, if the suitcase would be packed full with the expandable zipper expanded, you'd probably run into some issues.
One of the best parts about the Maxlite 5, is that it's so lightweight. When it's empty it weighs just 5.4 lbs, which is one of the most lightweight carry-ons out there. In the picture above, it's 5.2 lbs but I weighed it many times, and most of the time it was 5.4 lbs. For comparison, on average, an empty carry-on weighs 7.9 lbs, which means that the Maxlite 5 weighs 2.5 lbs less than an average carry-on.
This is one of the main reasons why I chose this bag, because Ryanair, which I most commonly fly with, has a weight limit of 22 lbs for carry-ons. So for me, every pound counts.
Exterior and Interior Zippers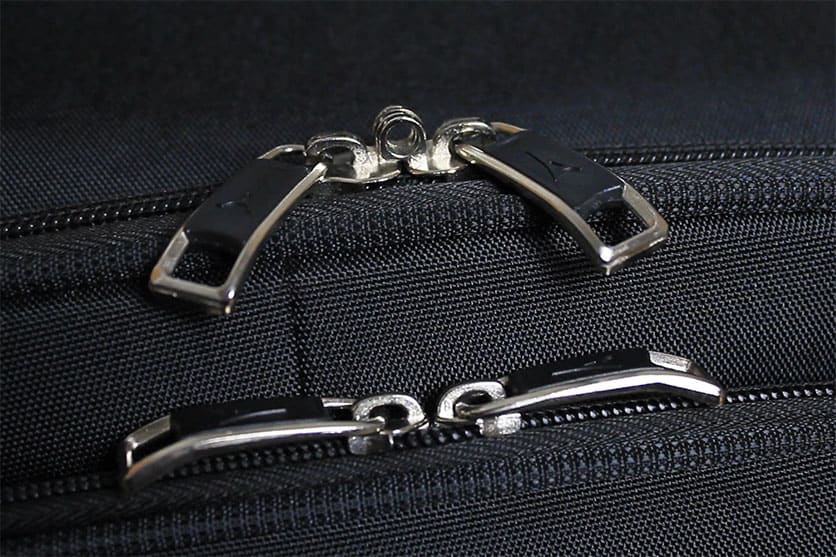 Now let's talk about the zippers. The Maxlite 5 comes with custom Travelpro zippers, which unzip fairly easily and feel pretty durable. The zipper heads are fully metal, which means that they shouldn't fall off too easily. All the exterior zippers feel similarly durable, and it looks likey they'll last a long time. So far, I haven't had any issues with them.
The main compartment zipper also can be locked with a separate lock, as seen in the picture above. But unfortunately, only the main compartment zipper is lockable – the rest of them don't have any holes for luggage locks.
The Expandable Width Zipper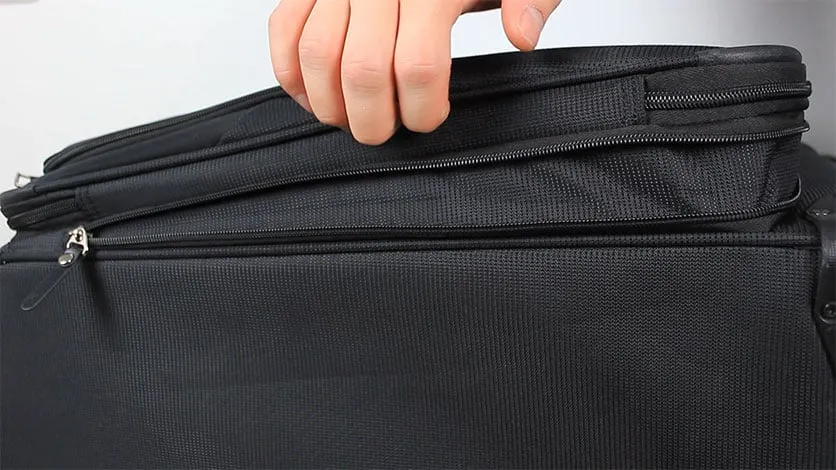 The Maxlite 5 has an expandable zipper, which expands the main compartment by an additional two inches. When you expand it, the main compartment supposedly holds up to 46 liters inside. That said, when it's expanded, the Maxlite 5 will be slightly above the carry-on size restrictions, so you might be asked to check-in the bag.
It's worth noting that the expandable zipper doesn't unzip all the way around. It goes around the left side, the bottom, and the right side, which means that really only the bottom part is expandable (You can see how it works in the picture above.)
Also, the zipper head on the expandable zipper is the only non-metal zipper head on the whole suitcase, which makes it easier to remember which one is the expandable zipper.
Retractable, Top, and Side Handles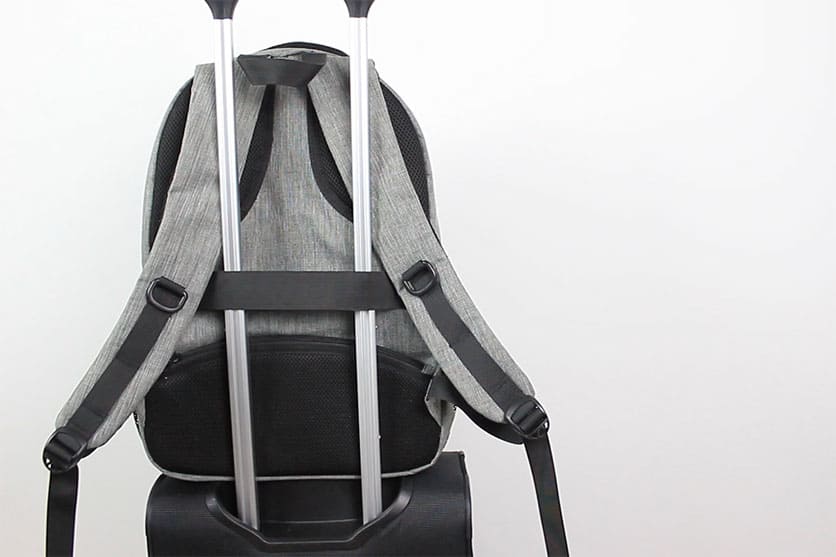 On the top, the Maxlite 5 is fitted with a retractable handle, that locks in 38 and 42.5 inches from top to bottom. I'm 6 feet 0.5 inches in height (184 cm), and I most commonly use the lower setting. Overall, the retractable handle feels really well made, and it doesn't wobble too much.
It's also narrow enough to fit backpacks with rear straps on top, as seen in the picture above. I do this a lot, especially in public transport or when going through the airport. It's just easier because you don't have to carry the backpack on your back.
This carry-on also has regular handles on the top, the bottom, and on the right side. The top and side handles are nicely padded, and it looks like they're properly stitched to the frame. The bottom handle is less of a handle, and more of a fabric extension/sleeve, which is okay because you won't be using it that often anyway. It's great that they've included the bottom handle because it's useful when you need to take out the carry-on from the overhead compartments on planes.
Spinner Wheels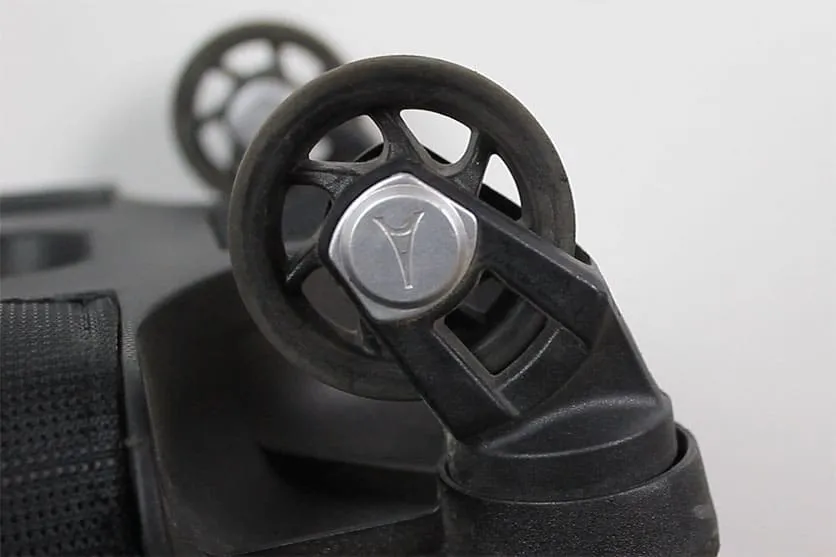 On the bottom, this carry-on is fitted with four regular spinner wheels. Of course, double spinner wheels would have been better, but it's not a big deal, because the Maxlite 5 is so affordable.
From a smoothness/moveability perspective, I'm kind of surprised how good these wheels roll. At first glance, they look pretty basic, but when you try them out, you understand that they're actually pretty good.
I've used them on gravel, cobblestone streets, and smooth surfaces, and so far they've held up great. The rubber coating on the wheels is a little bit worn off, but it's quite thick, so they still should last a few years at least.
Other Exterior Features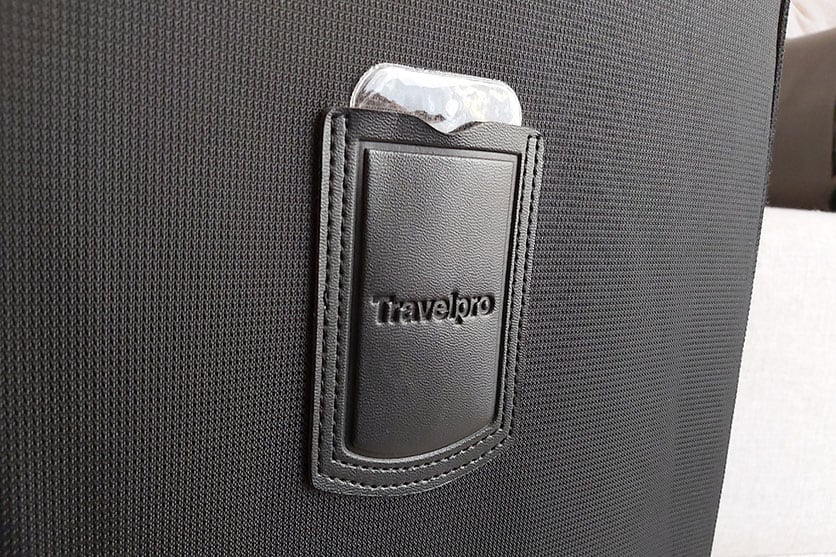 On the back, the Maxlite 5 has a built-in luggage tag. Because it's built-in, it won't fall off, unlike regular luggage tags that are attached to the handles with a strap.
It blends it really nicely, and it looks like the pocket is made out of leather. Inside, it has a regular paper luggage tag, that's protected by a transparent plastic cover.
You'll also find two pockets on the exterior, for storing all the smaller, quick-grab items. Both of the exterior pockets are pretty basic and don't have any smaller pockets or compartments inside for organizing pens, sunglasses, keys, e.t.c.
The larger one is large enough to fit a 15-inch laptop inside, which is great if you're traveling with your laptop and your personal item doesn't fit one inside. And the smaller one is pretty thin and could hold only a wallet, or a passport.
The Main Compartment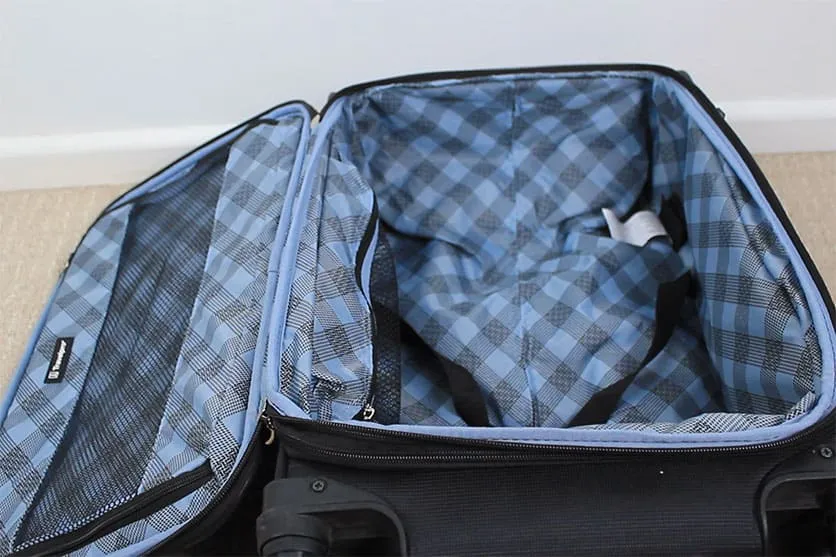 Now because this carry-on is so cheap, the interior is pretty simple. It opens up from the front and it's quite spacious. It's fully lined with a nice diamond-like pattern, which makes the interior feel a bit more high-end.
For organization, it's fitted with a large pocket on one side for storing shoes, books, laptops, or any larger items, and another smaller one that is great for storing chargers, adapters, cables, and other smaller items.
The interior zippers definitely aren't as durable as the ones on the exterior, but at least they zip/unzip fairly smoothly.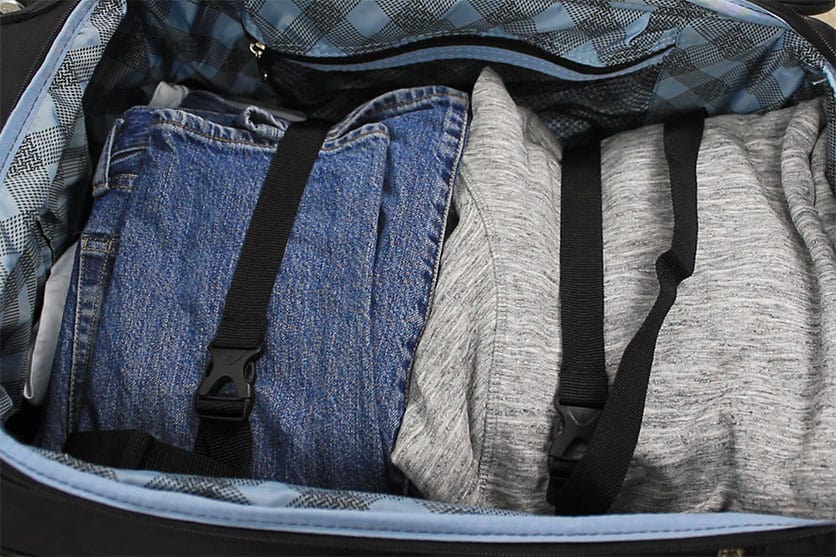 The main compartment is also fitted with two compression straps. Both of them have plastic clips, and you can adjust the length of the straps. They don't feel too durable, and they're kind of hard to adjust, but they do the job just fine.
That said, personally, I like to use three or four packing cubes for organizing my clothes and keep the compression straps dangling at the bottom.
With compression straps, my clothes end up with much more wrinkles after a few days, because of all the packing/unpacking in the hotels. But with packing cubes, they're neatly tucked away, everything is organized in separate packing cubes, and it's much easier to pack/unpack in the hotels.
Warranty
The Maxlite 5 International Carry-on is protected by their limited lifetime warranty. It's not the best warranty out there, but it's still a good one. It covers manufacturing defects for a lifetime. For example, they'd fix a broken zipper, if you could argue that it was caused by improper workmanship. This is a pretty broad term though, and they could easily deny your claims.
However, not all hope is lost, because, for the first year, they cover any airline damage, and the shipping costs to and from the repair center are covered. Essentially, the warranty is good for the first year, and then it becomes pretty mediocre.
Value
Overall, I strongly believe that the Maxlite 5 carry-on is the best affordable fabric carry-on that's currently available on the market. There are other options from Delsey, Samsonite, or others, but they aren't as good as the Maxlite 5.
It's incredibly lightweight, very durable, and backed up by a nice warranty. For the price that it's retailing at, it's hard to find a better deal. Sure, you could get something cheaper, but I believe it's worth it paying a bit more for the improved durability.
Check Price on Amazon
Video Review
Subscribe to our Youtube channel for our latest videos.