Traveler's Choice is a popular luggage brand that sells well-made suitcases in the medium price range. But is their durability any good? And aren't other more-popular brands, like Samsonite or Travelpro, better choices?
In this Traveler's Choice luggage review, we'll find out. We'll determine how durable they are, how well they're reviewed, what their warranty is like, and compare them with similar alternatives from different brands. All to find out if Traveler's Choice is worth it or not.

On CleverJourney's Best Luggage Brands, Traveler's Choice gained 82 points. This places them at 7th place on our leaderboard. In the middle-class, Traveler's Choice took 5th place, right next to Ricardo Beverly Hills and just behind Delsey Paris.
Here you can see how we determined the total score. We'll go into more detail on each category further down into the review.
The Good
Packed With Impressive Features. Traveler's Choice suitcases usually come with TSA-approved locks, expandable zippers, awesome organization features, double spinner wheels, and a few innovations on their premium models. While these can be found in other brands, none of them offer such features at Traveler's Choice's prices.
A Solid Warranty. Although their warranty terms are pretty weak (on paper, they only cover manufacturing defects), the situation is much better in real life. Many of their customers said that they got brand-new replacements even when the damage wasn't supposed to be covered by the warranty.
Affordable. We classified Traveler's Choice as a medium-class brand when, in reality, they're somewhere between the medium-class and the affordable-class. When you take into account the durability, features, and warranty, we think that their suitcases are well worth it.
The Bad
Not made for frequent travelers. Although their quality is far from being bad, it won't be enough for regular travel. That being said, they'll be excellent for semi-frequent and leisure travelers. People reported that their suitcases usually last five to ten years of moderate use.
The warranty claim process is complicated. To fill the warranty claim, you'll have to take three pictures, provide the original receipt, write a detailed description, and provide any additional details for future responses. After that, you'll have to wait for days or weeks to get a reply, but once you do get a hold of them, they're usually friendly and forthcoming.
The Verdict
Traveler's Choice is a rock-solid option if you're looking for an affordable and durable suitcase. Although they won't withstand frequent travel and a rough beating, they'll last for five to ten years of moderate use. They're priced really affordably and packed with many impressive features that would usually come with a bag that's $20-$100 more expensive. Although their warranty is bad on paper, most people actually reported that it's pretty good.
If you're traveling for leisure, we believe that Traveler's Choice is a pretty good option. That being said, if you're looking for something that withstands frequent travel, you should go with Travelpro, Chester, or Samsonite.
Top-Rated Traveler's Choice Suitcases
Full Review
Key Facts About Traveler's Choice
Traveler's Choice Travelware Inc. was established back in 1984, Los Angeles, California. They started out as just a simple private label luggage brand, but now they've grown into something bigger.
Although their main offices are located in the U.S., their products are manufactured in China and other countries by outsourced suppliers. Nowadays, almost everything is outsourced, and it doesn't necessarily mean that their products are less durable. In fact, Traveler's Choice suitcases are actually pretty well-built; they're made from durable materials and can even be used for frequent travel. Under the same company, they also house other brands, like Prokas luggage, U.S. Traveler, Travel Select, Pacific Gear, and Beverly Hills Country Club Luggage. That said, Traveler's Choice is by far their most popular brand.
In addition to luggage, Traveler's Choice also offers duffels, backpacks, and other travel accessories. They've also got a pretty wide selection of unique suitcases. For instance, they offer shelf/trunk luggage, which is rectangular and houses customizable shelves inside, smart suitcases, transparent suitcases, and suitcases with personalized prints.
Reviews (24/30)
On average, Traveler's Choice suitcases are reviewed between 4.0 -4.5 stars. A few other luggage brands are a bit better-reviewed, such as Samsonite and Travelpro, but overall, it's a really good result. We didn't find any of their models below 3.7 stars, which is good. A lot of luggage brands have a few 'failed' models with very low scores, but that's not the case with Traveler's Choice. It means that they've got pretty high durability standards for all of their models, not just a few select ones.
Out of all the reviews that we read, here are the most common points that people pointed out:
Usually, their carry-ons are within the 22 x 14 x 9 carry-on limits, making them a good choice for international flights.
Their warranty claims are challenging to fill out and often take a while to reply.
Once you do get a reply from the warranty, there's a high chance that you'll get a new suitcase shipped to you free of charge, not just a few replacement parts.
After a year or two, some people started experiencing defects with wheels, handles, and zippers.
Some people said that the main compartment on some of their models could be better organized.
Sometimes, their models have outdated pictures, and you might receive a slightly different case.
Here's a short review from one of their customers:
Quality (15/20)
As you could expect from a private label brand that manufactures their suitcases in third-world countries, their durability isn't perfect. That being said, Traveler's Choice suitcases aren't actually that bad. Many people said that the previous models lasted five to ten years, and some even said that they didn't experience any problems when traveling frequently (10+ times per year).
Most of them are built from somewhat durable materials. Although the cheapest models are made from polyester or ABS (less-durable materials often used in affordable luggage), their more expensive models are usually made from polycarbonate or ballistic polyester, which are much more durable materials and often used in premium suitcases.
However, we noticed that a lot of people complained that a few durability issues started to pop up after a while. For instance, sometimes, the zippers will begin to get stuck, or a side handle may come off, or a spinner wheel could get stuck or break off completely. Often these issues will get fixed by the warranty, but you have to understand that Traveler's Choice isn't the most durable brand out there, and some problems are to be expected.
We wouldn't recommend them to business travelers or people who travel a few months at a time. They'll be durable enough for semi-frequent travelers and people who travel for leisure. When traveling 5-10 times per year, you can expect their bags to last 3-5 years. But you could stretch that out to ten years if you'd travel one or two times per year.
Here's a video that shows how durable one of their suitcases is.
Features (14/15)
Even though Traveler's Choice suitcases are priced on the affordable end, they're packed with quite impressive features.
On some of their more-pricier models, they've also implemented a few innovations, like transparent materials, spherical wheels, T-shaped handles for maximized packing space, USB chargers, personalized prints, and more.
Double Spinner Wheels on Most Models
Most Traveler's Choice suitcases come with double spinner wheels instead of regular ones. Eight wheels are better than four because they roll smoother, get over little bumps more smoothly, and are more durable, so it's nice to see these in almost every bag that Traveler's Choice offers.
They've also made a few improvements on the concept, making them in a spherical shape. Samsonite has done something similar on their newer models, and this system is supposedly more durable and better for rough surfaces because the wheels are ball-shaped. You'll find spherical wheels only on their latest models, like the Traveler's Choice Silverwood or the Traveler's Choice Barcelona.
Here's a quick video that explains the concept:
Expandable Zippers and TSA-Approved Locks Even for Affordable Models
Usually, TSA-approved locks aren't offered in suitcases that cost below $80. Traveler's Choice includes them even in their $60 models, which is nice. The TSA-approved combination locks essentially allow you to lock your luggage while making sure that TSA security agents will still be able to get inside.
Smart Charging on Premium Models
Some of their newer models, like the Silverwood 2 or the Millenial, come with USB ports for charging your electronics. Although a battery pack isn't included, they sell a 10 000 mAh power bank, which fits perfectly in the dedicated pocket.
Transparent Suitcases
Their newest addition, the Millenial carry-on is made from a transparent polycarbonate frame.
Although other brands have tried something similar, the Traveler's Choice option also comes with charging ports and overall looks reasonably minimalistic. In fact, the Millenial carry-on was one of the winners of the 2019 RedDot design awards, which is the most prestigious award for product design.
Suitcases With Built-in Shelves
Traveler's Choice also offers a few models of "Trunk luggage", which essentially are rectangular-shaped, have more space, and are quite a solid choice for checked luggage. Athletes usually use them because of the increased space and protection.
Their "trunk luggage" models have separators that look like shelves and are moveable. For instance, you can set up one compartment in the ideal size for a few pairs of shoes, another for your clothes, and the third one for your camera gear.
Suitcases With Personalized Prints
If you check out their website, you'll find quite a few options for customizable bags. For instance, on this hardside carry-on, you'll be able to print just about anything – company logos, group or team initials, or something personal to present as a gift.
Design (13/15)
Aside from a few of Traveler's Choice's most basic affordable models, pretty much all of their suitcases look good. They have enough models for business people as well as someone who's looking for more color.
We believe that the Traveler's Choice Maxporter II is the best-looking choice for the business class. It's professional, sleek, and modern, which is really everything a business suitcase needs to look like.
Another good-looking suitcase is the Traveler's Choice Bell Weather in rose gold, navy, or silver metallic colors. In fact, there are only a few other rose gold suitcases out there, and this is one of the best-looking ones. Usually, their models are available in 3-6 color options, not just one or two, so their selection is quite good.
Warranty (6/10)
Although Traveler's Choice's warranty isn't that good on paper, in reality, it is. Their warranty terms are pretty weak and subjective, but people have said that their experiences were the opposite – usually, they'll offer to send a new suitcase free of charge.
Traveler's Choice Warranty Terms
Their bags come with a five or a ten-year warranty, depending on which one you get.
Only manufacturing defects are covered.
A receipt or an invoice is needed.
The warranty doesn't cover normal wear and tear, accidents, and transportation damages, especially on zippers and wheels.
For a warranty claim, you'll need to submit three photos.
Usually, replacement parts aren't provided. Instead, they'll send you a new suitcase.
Their staff is slow to respond but usually helpful and friendly.
We didn't find any people who said there were additional fees for handling or shipping. So it's pretty safe to assume that shipping costs are covered.
Usually, we wouldn't give more than five points for a warranty with these terms. But in reviews, we found countless people who said that often they'd replace suitcases, even if the damages were made from airline use. For instance, if you'd have a broken handle, wheel, or a crack in the hard shell, the chances are that you would get a free replacement.
Price (10/10)
Although we categorized Traveler's Choice as a moderately priced brand, they're definitely on the affordable end. The features and durability that they offer usually come with pricier bags, so we believe that Traveler's Choice is a valuable purchase.
Here's what prices you can expect:
Softside carry-ons: $70-$110.
Hardside carry-ons: $55-$160.
Checked suitcases: $70-$200.
Luggage sets: $90-$450.
By the way, we notice that their prices are often manually jacked up. For instance, usually, you can see carry-ons that 'normally' cost $300, but now are available only for $80. It's actually only a trick because they're on sale all the time.
When considering the durability, warranty, and features, not only price, Traveler's Choice suitcases are actually a pretty good deal. From other brands, you'd find a similar suitcase priced $20-$50 more.
How Does Traveler's Choice Compare to Other Luggage Brands?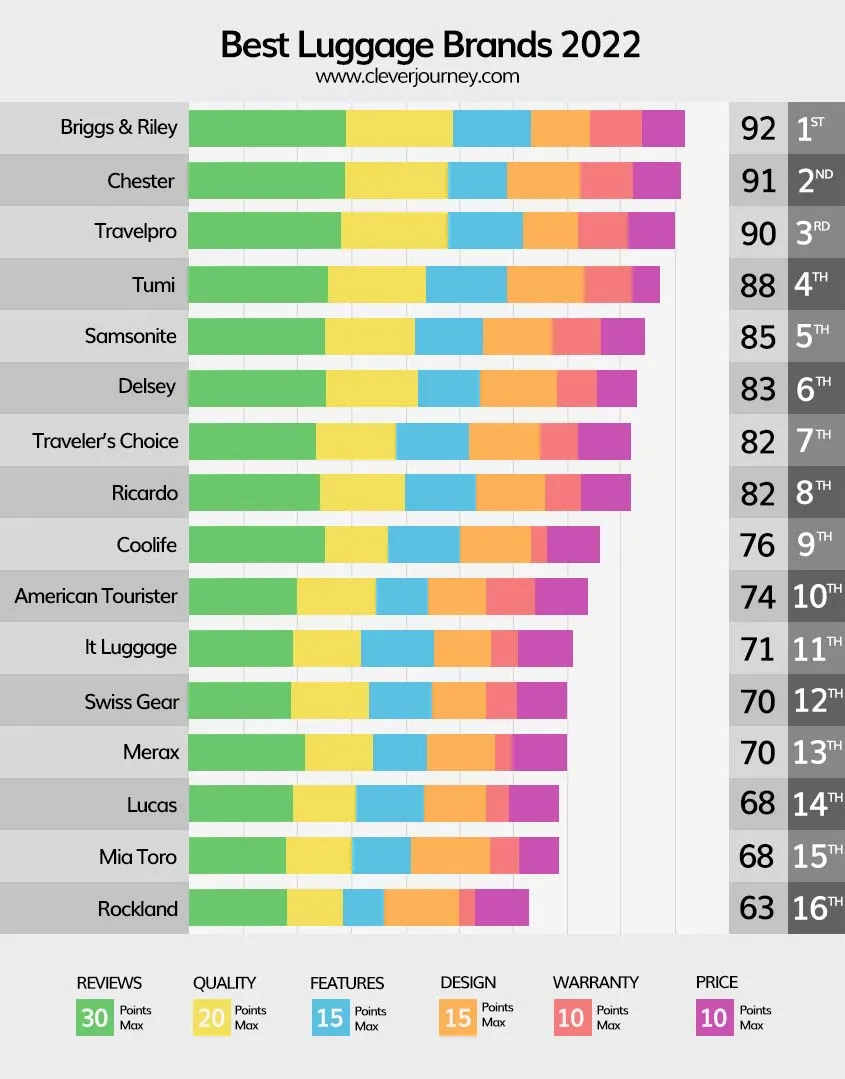 Traveler's Choice offers the best value for your money out of all the medium-priced brands. Ricardo Beverly Hills offers similarly-priced suitcases but they lack in durability and features. Samsonite, Travelpro, and Chester all offer slightly more expensive suitcases.
In terms of features, Traveler's Choice does a really good job due to spherical wheels, innovative materials, customized prints, and more. It manages to surpass brands like Samsonite and Chester and ranks similarly to Travelpro and Delsey Paris.
In warranty, Traveler's Choice places behind Samsonite, Travelpro, and Chester. This is because their warranty terms are too vague and cover only manufacturing defects. In fact, you'd find similar terms for most affordable brands. For a brand that's competing in the medium price range, we'd like to see better warranty terms.
Overall, Traveler's Choice is a great option for those who are on a tight budget. If the brand would offer better warranty terms and increase the quality of its suitcases, they'd rank much much higher.
Individual Traveler's Choice Suitcase Reviews
Best Softside: Traveler's Choice Birmingham Carry-On
If you're looking for an affordable fabric suitcase, the Traveler's Choice Birmingham carry-on is a pretty good choice. Its design is rather unique for a softside suitcase, and it comes in two colors – red and black. Both of them have accents of different colors (gray and orange, respectively) that add a great stylish touch.
It's pretty rare to see a suitcase below $100 that's made from anything else than 600D or 800D polyester. The Traveler's Choice Birmingham is made from 1680D polyester, which is much more durable, but also heavier. 1680D nylon would be even better, but these are usually seen in $200 suitcases. So, essentially, you shouldn't worry about tears in the fabric because this material can take a beating.
Because this bag comes with two skate wheels instead of four spinner wheels, it has a slightly larger capacity than a spinner carry-on. It's also made just slightly below the most common 22 x 14 x 9 carry-on size limit, which makes it perfect for international flights. It is neatly organized, with quite a few pockets inside in addition to two exterior compartments. It's also expandable, which is nice for those return flights where you've bought too many souvenirs and snacks.
The only issue people had with this bag is that the retractable handle sometimes gets stuck, and the side handle isn't properly attached, so it may come off after a while.
But, other than that, the Traveler's Choice Birmingham carry-on is easily the best value for money softside suitcase on the market. Another similar suitcase to this one is the Ricardo Beverly Hills Malibu Bay 2.0 20-inch carry-on.
Most Popular: Traveler's Choice Tasmania Carry-On
The Traveler's Choice Tasmania is probably their best-selling hardside and is frequently mentioned on other sites as one of the best choices for hardside suitcases. Its design is pretty generic, but it looks great nevertheless. It comes in three colors – black, dark brown, and purple. These are all pretty dark colors, so it might be difficult to spot your suitcase on the luggage conveyor belts.
The bag is selling so much for a reason – it's got decent durability and features, and is priced really cheaply. Essentially, you'd expect to pay at least $150 for a good-looking polycarbonate suitcase with double spinner wheels, expandable width, and TSA-approved locks. But this one costs less, which is one of the reasons why it's so popular. Although it's slightly wider than 14 inches in width, many people said they managed to pass the "box test" at airports, making it a good choice for international travel.
Inside, the Tasmania carry-on is neatly organized, with two x-shaped tie-down straps and several zippered compartments for storage. If you tend to overpack, it's also good to know that this carry-on is expandable by an additional two inches, which results in around 25% more packing space. We love the interior of this suitcase because you can easily fit in clothes and toiletries for a one-week trip.
Overall, if you're looking for a durable and affordable hardside suitcase with all the essential features, the Traveler's Choice Tasmania is one of the first choices that we would recommend. However, if you're willing to spend a few more bucks, the Travelpro Maxlite 5 hardside carry-on is a slightly better choice.
Best Hardside Checked: Traveler's Choice Pagosa Medium Checked
The Pagosa collection is an incredible hardside collection by Traveler's Choice. The medium checked Pagosa is the best hardside checked suitcase that Traveler's Choice has to offer. Its design is simplistic, but it's better than having a plain bag with no design, and it also comes in a few colors, including navy blue, baby blue, black, and pink.
This suitcase is made from polypropylene, which isn't the most durable plastic, but it's much better than ABS. Most carry-ons at this price point are made from ABS or a mix of ABS and polycarbonate, and polypropylene is more durable than both. The Pagosa bag features four double spinner wheels, a sturdy retractable handle, and three handles on the suitcase's top, side, and bottom.
In the interior, you'll find several zippered pockets, where you could keep different types of clothing or toiletries, and there's the main compartment which can still fit large pieces of clothing, like jackets. The suitcase is also expandable, which is great for fitting in more clothes, but it makes the zippers more prone to getting destroyed, as most customers have said.
Overall, the Pagosa checked suitcase is an excellent hardside bag. If your budget allows it, you should also take a look at the Delsey Cruise Lite 2.0 medium checked suitcase, which is a more durable alternative to the Pagosa.
Best Hardside Carry-On: Traveler's Choice New London II Carry-On
The New London II is easily the best hardside carry-on by Traveler's Choice. It might not look cool in the pictures, and its design is pretty basic, but the textured finish on it adds a much-needed stylistic look. Unfortunately, the bag only comes in gray and navy colors.
It's made of 100% polycarbonate, which is very surprising considering that it's incredibly cheap (it goes for less than $100 on Amazon), and its corners are reinforced, so it will rarely get damaged. But, as some customers have stated, it's prone to scratches, even though it's supposed to be scratch-resistant. It also comes with a top handle, a retractable handle, and eight spinner wheels. Nearly no complaints were made about these, which is great to see.
The interior is pretty basic. While the Pagosa collection features many pockets that give you more packing options, the New London II has the classic main compartment and zippered mesh pocket, with a U-shaped pocket on the inside of the lid for toiletries. But, you can still fit quite a lot of clothes inside, so you won't need to worry about that.
Overall, the Traveler's Choice New London II is very well-reviewed, affordable, and a solid choice for a hardside carry-on. A similar suitcase is the Ricardo Beverly Hills Mojave 20-inch carry-on.
Best-Looking: Traveler's Choice Maxporter II Large Checked
The Maxporter II checked suitcase by Traveler's Choice is one of the best-looking suitcases we've seen. While the design is nothing too special, the textured finish is incredible, and the red accents on the wheels, zippers, and handle are stunning. It only comes in black, dark green, navy, and gray, all of which look pretty similar.
The exterior is made of rugged polycarbonate, meaning that it's water-resistant and very durable. The entire suitcase has a plethora of handles, including ones on the front, the side, the top, and the bottom. There's also a retractable handle, which has been said to be reasonably durable. The double spinner wheels are also great, and maneuvering the suitcase around is fun and easy.
Inside, you'll find a compartment for anything you need. There are three slots for different types of clothing on the main compartment, and there's a large mesh pocket under two pockets for your shoes or dirty clothes. You can also fit your toiletries in any of the zippered pockets or the U-shaped pocket on the inside of the lid.
Overall, the Traveler's Choice Maxporter II is one of the best-looking large suitcases we've reviewed. The only one that we liked similarly to this one is the Ricardo Beverly Hills Beaumont 28-inch suitcase.
Best 2-Piece Luggage Set: Traveler's Choice Dana Point 2-Piece Luggage Set
The Dana Point 2-piece luggage set is the best 2-piece luggage set that Traveler's Choice offers. The design of both suitcases is pretty sleek, and we love it. It might not be as extravagant as what others offer for the same price, but it keeps a simple, elegant, yet professional look. It comes in a variety of colors as well, including rose gold, blue, and lavender.
The luggage set is made from ABS, which is the cheapest plastic on the market. But, this is also why this set costs less than $200, and, in fact, it costs nearly half of what the Maxporter II large checked suitcase costs. Both Dana Point suitcases feature double spinner wheels and retractable handles. Each bag also comes with a top handle and the checked one comes with a side handle as well.
The interior of the bags is very simple and traditional. They feature a main compartment where you usually pack all your clothes and a zippered mesh pocket where you can fit laundry, toiletries, shoes, or anything else that fits. The carry-on also has a USB port so that you can charge your phone or any other device you've brought along, like your laptop or e-reader. Unfortunately, none of the two bags has a TSA lock, so you'll need to purchase one separately.
Overall, despite not being the most durable or innovative luggage set on the market, the Traveler's Choice Dana Point 2-piece luggage set offers great value for your money.
Best 3-Piece Luggage Set: Traveler's Choice Sedona 3-Piece Luggage Set
The Traveler's Choice Sedona luggage set is an excellent 3-piece luggage set. It's been around for nearly a decade, so there are tons of reviews about it online. The design of each suitcase is superb and glossy. Despite featuring a very common design pattern, every suitcase still stands out because of the vibrant colors they come in, including black, red, and blue.
The luggage set is made from polycarbonate, which is the most durable plastic on the market. It's what we expected when we took a look at the price tag, and we weren't disappointed. Each bag has a retractable handle and double spinner wheels. We didn't find many complaints about these two components, which is odd since they're usually the first parts to break. That being said, many customers complained about the zippers, which most commonly aren't durable in expandable suitcases.
The interior of each bag is relatively simple. You'll be getting the main compartment along with a zippered mesh pocket below two zippered pockets, where you can fit most of your essentials, like toiletries, underwear, and shoes.
Overall, the Traveler's Choice Sedona 3-piece luggage set is an excellent choice for a long trip. At that price point, we'd also suggest checking out the Samsonite Winfield 2 3-piece luggage set.
Other Luggage Brand Reviews