Travelpro is well-known for being the top choice for luggage by airline crews. So, it's not a surprise that the Crew Expert carry-on is such a big hit with travelers worldwide. It comes in two sizes (international and domestic carry-on) that meet even the strictest carry-on restrictions, and it's one of the most durable suitcases offered by Travelpro.
In this Travelpro Crew Expert carry-on review, we'll find out why so many people adore this bag and whether it has any significant flaws. We'll also compare it to other carry-ons from Travelpro and similar alternatives from other brands.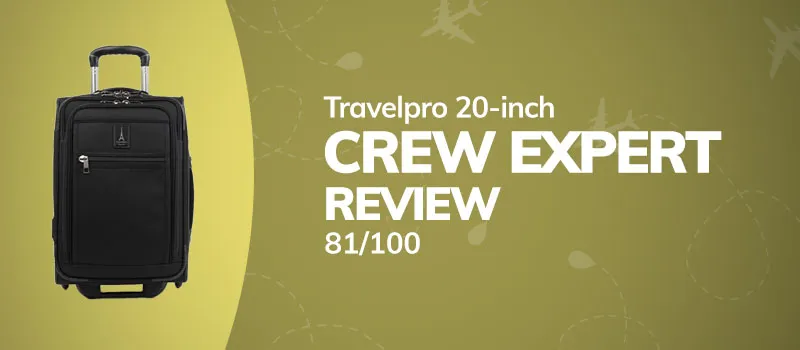 The Good
Extremely durable
Great design for business travelers
Comes with one of the best warranties on the market
The Bad
One of the heaviest suitcases from Travelpro
The main compartment could be more spacious
Comes with basic features
Quick Take
The Crew Expert carry-on is one of the most durable softside carry-ons that Travelpro has to offer. It's a bit larger than most international carry-on restrictions, but you shouldn't have an issue using it as a carry-on. Even if you check the bag, it's durable enough to withstand any misuse from baggage handlers.
That said, the bag doesn't have any significant features, and its packing space is a bit narrow. Also, its skate wheels could be improved, but most customers said that they roll smoothly.
The Travelpro Crew Expert 20-inch suitcase is a great option for frequent travelers that are looking for a durable carry-on that will last them for decades and not break their bank.
Full Review
Dimensions & Weight (7/10)
The Crew Expert 20-inch carry-on doesn't measure at 20 inches with wheels and handles included. Its actual measurements are 21.5 x 14 x 9 inches (55 x 35.5 x 23 cm), which meets a big part of airlines' carry-on restrictions because most require carry-ons to be under 22 x 14 x 9 inches.
While the external dimensions won't be an issue, the interior packing space of the Crew Expert is underwhelming. You'd expect most carry-ons to be able to have enough room for at least five days or even a week. Most owners of this bag stated that they could only fit 3-5 days of clothes in it. There were also a few complaints about the bag toppling over if you overpack it while it's expanded. If it's not expanded, it won't topple even if you overpack.
One of the flaws of this carry-on is that it's very heavy. It weighs 8.8lbs (4kg), which is heavier than most other Travelpro carry-on models.
Also, many people confuse the two Crew Expert models, and they end up buying the 21-inch one, which is larger than most carry-on restrictions. So, keep that in mind before you place your order.
Materials & Water-Resistance (14/15)
The bulkiness of the Crew Expert is justified once we dive deeper into its durability. The bag's frame is much wider than other suitcases, which is why it's heavier. But, the bulkier frame adds a lot of durability to the suitcase.
It's also made from ballistic nylon which is the most durable fabric on the market – better than regular nylon and much more durable than polyester. It's worth noting that out of hundreds of reviews online, none complained about rips or tears in the fabric, which is always good to hear.
The fabric of the Crew Expert is coated with DuraGuard, just like most other Travelpro bags. DuraGuard has water-resistant properties and provides the suitcase with abrasion resistance as well. While it isn't as water-resistant as a hardside bag, the mix of ballistic nylon and DuraGuard will ensure that your belongings stay dry. Unless you find yourself in the middle of a thunderstorm in a tropical rainforest, of course.
Durability (19/20)
The Crew Expert carry-on is one of the most durable suitcases we've reviewed. We couldn't find any reviews that mentioned any significant defects in the bag. In fact, most people were praising the durability of the bag.
We'll talk about the wheels more below, but their durability is excellent. Many owners of the Crew Expert mentioned that they rolled the bags through cobblestone, and the wheels held up perfectly. The same can be said for the retractable handle, which is like new after several trips.
The zippers are also very durable. While zippers are the one part that usually fails in suitcases, we couldn't find anyone complaining about them. The case of the bag is also extremely durable, mainly because it's made from ballistic nylon.
The only complaint that we found was that the interior lining is weak. But, other than that, the suitcase should hold up well for several years and thousands of miles. Also, the top handle on one customer's bag had a small tear, but that was probably from misuse during the delivery of the suitcase.
Moveability (11/15)
Two skate wheels are harder to move around compared to four spinner wheels because the suitcase needs to be tilted and can be pulled only in one direction. But, despite being less mobile, the Crew Expert's wheels are very smooth. There were no complaints about the moveability of the bag; in fact, many said that they love how smooth the wheels roll.
The Crew Expert carry-on also has several handles, which should help you lift it around. It's great to see that Travelpro added a top, side, and bottom handle to the suitcase once you consider how heavy it is. Plus, all the handles are made of leather for added grip. The bag also features a back strap with a hook, which should hold an extra personal item on top of the carry-on. Some customers said that the hook isn't a great addition and it's harder to put a bag on top.
Additional Features (7/10)
The Crew Expert doesn't have a lot of additional features. The only part on the outside that's worth noting is the fact that the corners are reinforced. This adds some extra durability to the bag and protects its corners from tears. It's also worth noting that the suitcase has several pockets – you'll find two front pockets, one of which can hold a laptop. The other is mostly there for documents, like passports or airplane tickets.
The interior of the Crew Expert is much more interesting in terms of features. It's nice to see a TSA-compliant toiletries bag inside and great compartmentalization. More specifically, there's a lid pocket alongside the main compartment, where you could place all your laundry or some souvenirs. The main compartment features butterfly-style compression straps that'll keep everything in place.
So, while it might not have any luxurious features, the Crew Expert carry-on has a few noteworthy features.
Design (6/10)
The Crew Expert is undoubtedly made for business travelers and airline crews. While you could use it as a leisure traveler, its design is definitely targeted toward those who travel for business. The carry-on's design is very minimalistic, with Travelpro's logo right in the center.
However, it's really unfortunate to see that the bag only comes in black. This isn't to say that it doesn't look beautiful in black, but it would be nice to have at least a couple of different colors to choose from.
Warranty (9/10)
Travelpro is well-known for its warranties. Whether it's their limited lifetime or their worry-free one, the brand always cares for its customers. The Crew Expert's warranty is different from all other Travelpro models we've reviewed.
The carry-on comes with the "Limited Lifetime Warranty", just like most affordable Travelpro suitcases. However, if you register the suitcase within 120 days of your purchase, you'll get a "Worry-Free" enhancement for 5 years. This means that your bag will surely last for at least 5 years. And, if any part breaks off, you'll get a replacement from Travelpro, even if the airline is at fault.
Also, if you don't like something about the suitcase, you can return it within 100 days of your purchase, and Travelpro will give you a full refund. Plus, Travelpro will cover all the shipping costs if you return the bag or make a warranty claim.
Value (8/10)
No matter how much a suitcase costs, knowing its actual value is essential. Several suitcases cost less than $100 and will last you for a decade, and others that cost more than $300, which might break after a few trips.
With the Crew Expert 20-inch carry-on, you'll be getting great value for your money. Even though the bag costs close to $200, it has a lot of good things going for it. While it might not be full of fancy features and doesn't have the best wheels on the market, it excels in its durability, and the Travelpro's warranty is unmatched at this price point.
So, despite there being several cheaper options from other brands and Travelpro themselves, the Crew Expert is definitely worth the extra few bucks.
How Does the Crew Expert Compare to Similar Suitcases?
When we compare the Crew Expert 20-inch carry-on to other Travelpro suitcases, the most similar ones are the Platinum Elite carry-on and the Crew Versapack carry-on. All three bags are very similar in terms of their features. However, the Crew Expert is much heavier than the other two Travelpro bags. While this isn't optimal, the Crew Expert is also a bit more durable than the other two suitcases.
But, both the Platinum Elite and the Crew Versapack have a couple of additional features, like a USB port. They also have models that come with spinner wheels, but they're a bit more expensive. Speaking of prices, while the Crew Expert and the Crew Versapack are similarly-priced, the Platinum Elite is more expensive than them. This is because the Platinum Elite comes with a Lifetime Worry-Free warranty.
Most notable similar alternatives from other brands include the Traveler's Choice Birmingham and the Samsonite Solyte DLX. The Crew Expert is, generally, better than the two other bags. But, it's also much more expensive than them. More specifically, the Solyte DLX is made from polyester, and it comes with a few extra features like a USB port. It also costs a bit less than the Crew Expert, but it doesn't offer as great of a warranty.
On the other hand, the Birmingham is widely regarded as an excellent bag for nearly $100. It's made from ballistic nylon and has very similar compartmentalization to the Crew Expert. But, its warranty is basically useless. Still, it's a great affordable alternative to the suitcase from Travelpro.
Our Verdict
The Travelpro Crew Expert 20-inch carry-on is an excellent choice for international travelers who want a suitcase that will last them at least a decade. It's very durable and it's backed by an amazing warranty from Travelpro.
But, the carry-on has a few drawbacks. It's on the bulkier side, and it's reasonably heavy for a carry-on. We also expected it to have a few more features or a couple of extra color options. And it would be nice if the bag had a bit more packing space.
Nevertheless, you can probably fit enough clothes for a 5-day trip inside the Crew Expert. You should also check out the Traveler's Choice Birmingham, which is a very affordable alternative to the Crew Expert. But, if you want to stay with Travelpro, a very similar bag to the Crew Expert is the Crew Versapack, which is almost as durable, but with better features and a bit cheaper.