Are you looking for a good budget luggage set? Or maybe a cheap hardside carry-on? Well, then you should look into Merax, which offers many luggage sets and carry-ons at affordable prices. Merax also sells suitcases under the brand "Flieks", which are basically identical only named differently.
In this Merax luggage review, we'll compare their suitcases to other luggage brands, evaluate their durability, customer reviews, features, warranty, and prices. All this to determine whether Merax is a good choice or not.

On CleverJourney's Best Luggage Brands, Merax got 71 points. This means that it takes 11th place on our leaderboard. In the affordable range, they took 3rd place, right behind Coolife and American Tourister.
Here you can see how we determined the 71 points. Later down in the full review, we'll go into more detail on each category, and explain why they gained that specific score.
The Good
Affordable. Even in the affordable range, Merax has more affordable luggage sets and carry-ons than most other brands. Most carry-ons can be bought for less than $60, and most luggage sets can be found for less than $150, which is usually the price for a medium-priced carry-on.
Well-reviewed. It's not uncommon to see affordable brands gain a following and acquire great reviews, but Merax is one of the best-rated luggage brands in the affordable range. Most of Merax's luggage has obtained more than 4.4/5 stars on Amazon and Luggage Factory. We believe that customer reviews are the best way to gauge whether a brand is good or not, so Merax is undoubtedly one of the best in its price range.
The Bad
You shouldn't count on their warranty. Although they say that their products are backed by a 5-year warranty, there are no warranty terms to be found online, and they can be only contacted through Amazon. While some people said that they've successfully gotten refunds, you shouldn't count on that, and if your suitcase breaks, it's better to get a new one.
Not built for frequent travelers. You really can't expect a $50 suitcase to last when used frequently. They're made from cheap materials, and after a while, will start to show signs of wear. Having said that, we believe that their quality will be good enough for people who travel 2-5 times per year at which rate they should last at least 2-5 years. So, if you're a leisure traveler, Merax might be your best option.
Comes with only the most basic features. You won't find any advanced packing features on Merax, like expandable zippers, toiletry pouches, laundry bags, e.t.c. Sometimes, even their combination locks aren't TSA-approved. Then again, you can't expect too many features from affordable luggage brands; otherwise, they wouldn't be offering their luggage at such low prices.
The Verdict
Merax is very similar to Coolife, both of which are popular on Amazon and are incredibly cheap. However, when put side by side, Merax is essentially a dumbed-down version of Coolife because they're made from slightly worse materials and offer fewer features, which is why they're priced around $10-$30 less. You could say that Merax is to Coolife what American Tourister is to Samsonite, albeit the latter being part of the same brand, so the only real difference can be found in the quality and the features offered.
Merax is one of the best choices in the affordable price range, right behind Coolife and American Tourister. All three brands are pretty solid, affordable choices, with only minor differences in their durability, the features they offer, and their designs.
However, if you decide to get a Merax suitcase, remember that their durability won't be enough for frequent travel and that their warranty is essentially useless.
Top-Rated Merax Suitcases
Full Review
Key Facts About Merax
Comptree Inc was established back in 1994, Los Angeles, California. Merax is the only brand that Comptree uses for branding its products. In this review, we'll be focusing only on Merax Travel, but they also use the same brand for home, office, fitness, pets, and kids products. This is usually not a great sign, considering that almost every other brand we've reviewed manufactures luggage exclusively.
Comptree is likely a Chinese company with offices in the US, considering that most other brands at that price point are doing the same. They're a private label company, which means that all the manufacturing is done in China, and their US facilities only serve for sales and distribution purposes. They also have some offices outside of the US and China, including some in Japan and Germany.
Merax sells its suitcases on Amazon and Luggage Factory, despite mentioning that they're also sold on Walmart and Home Depot on their website. You'll find around 20-30 of their listings for hardside suitcases and hardside luggage sets. Despite being a tiny luggage brand, their products have received pretty good reviews and are pretty popular, which is why we decided to review them.
A few of their suitcases are sold under a different name – Flieks. They're very similar to Merax, with only a few changes in the looks. In this review, we're taking a look at both brands – Merax and Flieks, because they're basically identical. The answer to why they'd sell the same luggage under a different name is yet to be answered.
Reviews (23/30)
On average, Merax suitcases are reviewed at roughly 4.3 – 4.8 stars out of five on Amazon, which is really high. From all the affordable luggage brands we've reviewed, Merax scored second place in customer reviews, right behind Coolife. That's pretty impressive, considering that Coolife is the best affordable brand on the market.
That being said, there was one model which was reviewed slightly worse – the Merax Travelhouse luggage set. It's their cheapest luggage set, and it's made from the least durable plastic in suitcases, ABS. People complained about broken zippers, handles, wheels, and cracks in the hard shell. It looks like this is their only "bad apple" because every other model has only received great reviews.
Here are the most common things that people mentioned in the reviews:
Their suitcases are really lightweight.
They look even better in real life.
On some models, the combination locks aren't TSA-approved, which makes them pretty much useless.
The handles, zippers, and wheels can break pretty easily when checked in.
Cracks can start to appear in the hard shell after a while.
Some people said that even their cheapest luggage sets had lasted 2-3 years without any issues.
Sometimes, the dimensions are incorrect, and the smallest piece in their luggage sets is slightly too large to be used as a carry-on.
Quality (13/20)
It shouldn't come as a surprise that Merax suitcases aren't made to last. They're great as a short-term alternative but shouldn't be used for frequent travel. If you want luggage that will last you a long time, you should take a look at medium-priced brands, like Samsonite or Travelpro.
Most of Merax's luggage is made from PET or ABS, both of which are cheap luggage plastics and get cracks when bent under pressure. Ideally, you would want your suitcase made from polycarbonate or a polycarbonate/ABS mix, which would be much more durable. However, these types of suitcases usually cost much more.
There were some complaints about broken handles, zippers, and wheels. But, those were far and few, with most customers stating that they were more than happy with their new Merax suitcases. Some customers even mentioned that they've regularly used the suitcases for 2-3 years without any issues. People said that their suitcases don't look cheap in real life, with the first impression usually being that they're well-made and will probably last a long time.
Having said that, we wouldn't recommend Merax for business travelers and other people who travel frequently. Because they're so affordable, they're made from cheap materials and will most likely break when used often. Their durability will be good enough for people who travel 2-5 times per year and at that rate should last anywhere from 2-5 years.
As a cheap short-term alternative, Merax is a rock-solid choice. However, if you're looking for something for frequent travel, especially if you're traveling for business, we'd recommend investing more and getting a suitcase from Chester or Briggs & Riley.
Features (10/15)
Because Merax is so affordable, their suitcases are pretty basic and don't come with too many features. You shouldn't expect much from cheap luggage brands, but having said that, Merax's luggage is still equipped with all the essentials you might need.
Lightweight Construction
Although Merax isn't the most lightweight brand out there, they're pretty light. They aren't as light as the luggage offered by It luggage or Lucas, but they're still lighter than most other affordable brands.
Essentially, they're so lightweight only because they're made from cheaper, lightweight plastics – ABS and PET. Most other well-reviewed brands offer suitcases made from polycarbonate, which tends to be slightly heavier, but it's much more durable than both materials.
Innovative Choice of Materials – PET Plastics
Merax is one of the few brands that use PET plastics in hardside luggage. Most commonly, manufacturers use ABS or Polycarbonate. PET is very similar to ABS, with both materials being cheap and used in affordable hardside suitcases. However, PET is more flexible and less likely to crack.
The best thing about PET, though, is that it's also more environmentally friendly than ABS and made from non-toxic materials. People often complain that ABS suitcases have a chemical smell for the first weeks, which isn't the case with PET suitcases. Plus, you're saving the environment by opting for more eco-friendly materials.
TSA-Approved Locks Only on Some Models
Up to 2019, all of Merax's suitcases came with regular combination locks that weren't TSA-approved. These were essentially useless because you couldn't use them when checking in your bag. If a bag is locked with a regular lock, the TSA agents are allowed to break the lock without any consequences. To put it simply, your suitcase could get destroyed if the TSA agents think you're carrying something suspicious, and you wouldn't be able to receive a refund for it.
However, because people were not that happy about non-TSA-Approved locks, they recently started implementing TSA-approved ones. For instance, they updated the Merax P.E.T. 20-inch carry-on's description to add that all orders placed after 10.06.2019 will have TSA-approved locks. Two years later, most Merax suitcases come with TSA-approved locks.
So make sure to read through the description and confirm that their combination locks are TSA-approved.
Basic Packing Features
Unfortunately, Merax suitcases come with only the most essential packing features. The main compartments are usually quite spacious and come only with tie-down straps and one or two pockets for organization.
Essentially, that's how they keep their prices so low since adding more advanced packing features, like expandable zippers, suiter compartments, TSA-approved toiletry pouches, laundry bags, e.t.c., would leave them with no other option but to raise the prices by at least $10-$50.
Design (13/15)
Merax suitcases look modern, sleek, and business-oriented. They usually come in roughly 5-8 singular color options. In our opinion, they look quite good. In real life, they don't look cheap and usually look pretty professional and well-made. In this style, we think that the Merax P.E.T. 20-inch hardside is one of their best-looking models.
They've got a style for just about anyone, and none of their models look bland or cheap, which is why we've given them a reasonably high rating in the design category – 13 out of 15 points.
Warranty (2/10)
Unfortunately, Merax doesn't offer a solid warranty for their suitcases.
In the product descriptions, they say that their suitcases are protected by a 5-year warranty. However, we looked everywhere, and we weren't able to find their warranty terms and contact information, so, even if they do have a warranty, it probably covers only the most basic defects and is highly subjective.
That being said, many people reported that they successfully got refunds or new suitcases when contacting Merax through Amazon. (If you're stuck, here's a guide on how to contact a seller on Amazon.)
It appears that most of the time, they won't ask you to send the old suitcase back. They'll just send you a new one or issue a partial or full refund. However, many people also said that their warranty was declined by Merax representatives, so you should keep that in mind.
To sum up, we would highly encourage you to not count on Merax warranty working. If their suitcases break, sure, you can try to contact the seller on Amazon, but you'll most likely have to get a new suitcase.
Price (10/10)
Out of all the affordable luggage brands, Merax is probably the cheapest option, right next to Rockland.
Here's what you can expect to pay:
Hardside carry-on: $50-$60.
Hardside checked suitcase: $70-$90.
3-piece luggage set: $100-$150.
If you're looking for a really cheap luggage set, you probably won't find anything better at those prices. However, because they're so cheap, their suitcases are usually packed with only the essential features and built from the most affordable materials.
Merax really reminds us of Coolife. Essentially, you can get a Coolife suitcase for roughly $10-$30 more, which will be better. But if you're okay with getting a simpler, dumbed-down version of Coolife, you can get a Merax for slightly less. Whichever brand you choose, both are incredibly cheap, and both are solid choices for a short-term option.
How Does Merax Compare to Other Luggage Brands?
Merax is one of the best affordable luggage brands on the market. While it ranks behind Coolife and American Tourister overall, the brand offers great quality for its price, and it's also well-reviewed. Let's take a more thorough look at what Merax has to offer compared to similarly-priced brands.
Starting out with the reviews, the brand is right behind Coolife, which is the best-reviewed affordable brand, so they have a pretty large following. Merax is the best value for your money when it comes to luggage sets and carry-ons, with them ranking higher than most other brands in that aspect.
When it comes to Merax's durability and warranty, it ranks right in the middle in the affordable range. Brands like SwissGear and It Luggage offer similar quality and warranties, while American Tourister provides the best warranty terms out of every affordable brand.
Merax lacks features compared to SwissGear, Coolife, and Lucas, while it's better than most other affordable brands, including American Tourister and Rockland. Speaking of Rockland, Merax is the only brand that comes close to Rockland's design score.
So, overall, Merax is an excellent option if your budget is tight and you travel a couple of times a year.
Individual Merax Suitcase Reviews
If you're looking for a really cheap carry-on that's durable, the Merax P.E.T 20-inch carry-on is a very good choice.
The suitcase features a simple yet professional design, and it comes in six different colors. Some colors, like the Red and the Gold color, are more vibrant than the rest, giving off a more elegant vibe.
The hard shell is made of P.E.T plastic, which is very similar to ABS, which is commonly used at this price point. However, it is slightly more durable and flexible than ABS, meaning that it will last longer than ABS. According to Merax, one of the durability tests for this carry-on included a 2-ton truck driving over it, with no cracks on the shell. We'll let you decide if that's true or not. That being said, P.E.T isn't as durable as polycarbonate or aluminum, so don't expect this suitcase to last for decades.
The carry-on was fitted with TSA-approved locks in 2019, which will eliminate any hassle you'd have to deal with the TSA. It isn't expandable, which is sad to see, but it does feature four spinner wheels and a retractable handle for added maneuverability. The main compartment is as expected; it's very spacious and minimalistic, with tie-down straps to keep everything stable.
Overall, the P.E.T 20-inch carry-on is a solid choice. If you're looking for a carry-on that's more durable and costs a few more bucks, then you should opt for the American Tourister Moonlight 21-inch carry-on (full review).
Just like almost every other affordable brand, Merax offers a lot of luggage sets. As we mentioned above, Flieks and Merax are the same company, and it just so happens that Merax's best luggage set is under the Flieks name.
This luggage set is pretty cheap, and you can usually find it on sale for under $150. Keep in mind that a medium-priced carry-on costs more than that, and a premium one can sometimes cost more than double that amount. This set won't allow you to be too creative with its design, but it offers a few different colors to choose from, with the yellow one being extra vibrant.
It's made of ABS, which isn't the best news for its durability. That being said, this set features an 'enhanced ABS', which should add some extra durability to it. It also comes with four spinner wheels on each suitcase, along with top handles on every piece and side handles on the checked suitcases. TSA-approved locks are also present on every part of the set, which is necessary for checked luggage.
The interior isn't really unique, as it features a main compartment with tie-down straps and a separate mesh pocket where you could place some souvenirs or gifts.
Overall, this set is the best choice from Merax (or Flieks in this case). But, if you're looking for something that's more durable for a few more dollars, then the Coolife 3-piece polycarbonate and ABS luggage set is the perfect option.
Another luggage set by Merax is the Travelhouse 3-piece set. We've already mentioned this set above, where we said that it'd received a few bad reviews, most of which mention defects like broken handles and wheels as well as cracks on the shell. We didn't mention that this set is Merax's most popular luggage set, so it's only normal for a popular product to have a few bad reviews.
The set is nearly identical to the Flieks 3-piece set we mentioned above. But, it's pretty clear that this one is mainly geared towards a casual audience than a business one since this set costs less and it comes in six vibrant colors.
Every suitcase of the set is made from ABS, which is to be expected because of its low price tag. There's no corner padding on any of the suitcases, but each comes with a 3-level retractable handle, a TSA-approved lock, a top handle, and four silent spinner wheels. The two checked bags also have side handles, and all three are expandable.
One thing we noticed is that the carry-on is advertised at 20 inches and 22 inches. Some customers had an issue with that, but you'll usually not have any problems with your airline. The interior of each bag is spacious and comes with a garment bag and tie-down straps.
Overall, this set is pretty good for its price. Another similar set that is priced a bit higher is the Rockland Melbourne hardside 3-piece set.
It's not really common for affordable luggage brands to offer softside carry-ons, let alone entire luggage sets. So, it's nice to see that Merax offers a pretty good 3-piece softside set. Not to mention that it's sold for the same amount as the hardside sets we mentioned above. The set comes in three different colors, which is a bit of a disappointment considering that most other Merax luggage has double the colors.
The entire set is made of a so-called 'Oxford fabric', which is a fancy way to say polyester with water resistance. But, this doesn't mean that Oxford fabric is bad because it is reasonably durable and lightweight. Each suitcase has corner guards, which offer some extra protection. Staying at the exterior, the three bags have TSA-approved locks, which we've rarely found in affordable softside luggage sets. The four spinner wheels on each suitcase look a little bit worse than the hardside luggage because they aren't covered.
Just like most softside luggage, each bag has two pockets on the front which are usually there for essentials, like tickets, passports, and IDs. The interior is similar to the one that the hardside sets have, and it's fitted with tie-down straps.
Overall, we were surprised by how great this set is. It's really odd to see something like the Lucas Designer 3-piece luggage set being priced much higher than this set.
This hardside luggage set is one of the best that Merax has to offer. It's priced similarly to the other sets we've reviewed, meaning that you'll be able to purchase it for a bit less than the price of a medium-priced carry-on. It comes in six different colors, with some being more vibrant and others more down-to-earth. So, you'll undoubtedly find a color that fits you best.
The entire set is made of P.E.T, which is more durable than ABS, as we mentioned above. It's also eco-friendly, and it doesn't smell bad like ABS usually does. It's not usual for luggage brands to construct their luggage from P.E.T, so it's always nice to see a brand take a more eco-friendly approach.
Each suitcase comes with TSA locks, so you won't need to fear anyone getting their hands on your belongings, four spinner wheels, and retractable handles for extra maneuverability. Every bag also features top handles so that you can lift them with ease.
The interior is identical to the one of the P.E.T carry-on since it's the same product in different sizes. So, you'll get a spacious main compartment and a mesh pocket to place your luggage on each bag.
Overall, this set is one of Merax's best, so we'd definitely recommend you buy it. If you're looking for a 2-piece set, which is more durable than this one, you should check out the SwissGear 7910 hardside 2-piece luggage set.
While Merax offers tons of different designs, we believe that this one is by far the best. This luggage set not only looks amazing but it's priced relatively low, just like most of Merax's luggage sets. It comes in six different colors, with our favorite being the purple one (the one pictured above), and the red one, both of which are really vibrant and stylish.
The bags are made of ABS, which is sad to see, considering how nice their design is, but it's what we expected at that price point. The set is very similar to the rest of the luggage sets we've reviewed both on the exterior and the interior. Each suitcase comes with top handles and a retractable handle, and the two checked bags come with side handles. The spinner wheels on the bags are great when it comes to their durability, as customers have mentioned.
The interior features a large main compartment with tie-down straps, a mesh pocket that can hold all your gadgets or souvenirs that you bring back home, and a garment bag.
Overall, this would be the winner if we had to pick a Merax luggage set based on looks.
The final Merax luggage set that we reviewed is pretty great. This set costs a few more bucks than the rest of Merax's luggage, but the difference isn't that big. It also comes in six different colors, which are the same colors you can find on most other Merax luggage sets.
Every bag is made from ABS, which is fairly odd because their design is the exact same as the P.E.T carry-on. But, according to Amazon, this set is made from ABS. The extra cost of the set is probably because of the reinforced corners, which can't be found on any other Merax hardside luggage set. These are always great to see, especially when the bag is expandable since it lowers the chances of cracks in the shell.
The rest of the exterior is pretty much what you expect from Merax. Four spinner wheels, TSA-approved locks, top handles, and a retractable handle are all present. The interior is also the exact same as the one featured on the P.E.T carry-on, so you'll be getting a fairly spacious main compartment to fit in all your clothes, which will be kept in place by the tie-down straps.
Overall, this set isn't the best that Merax has to offer, but it offers some extra durability which is needed at these price points.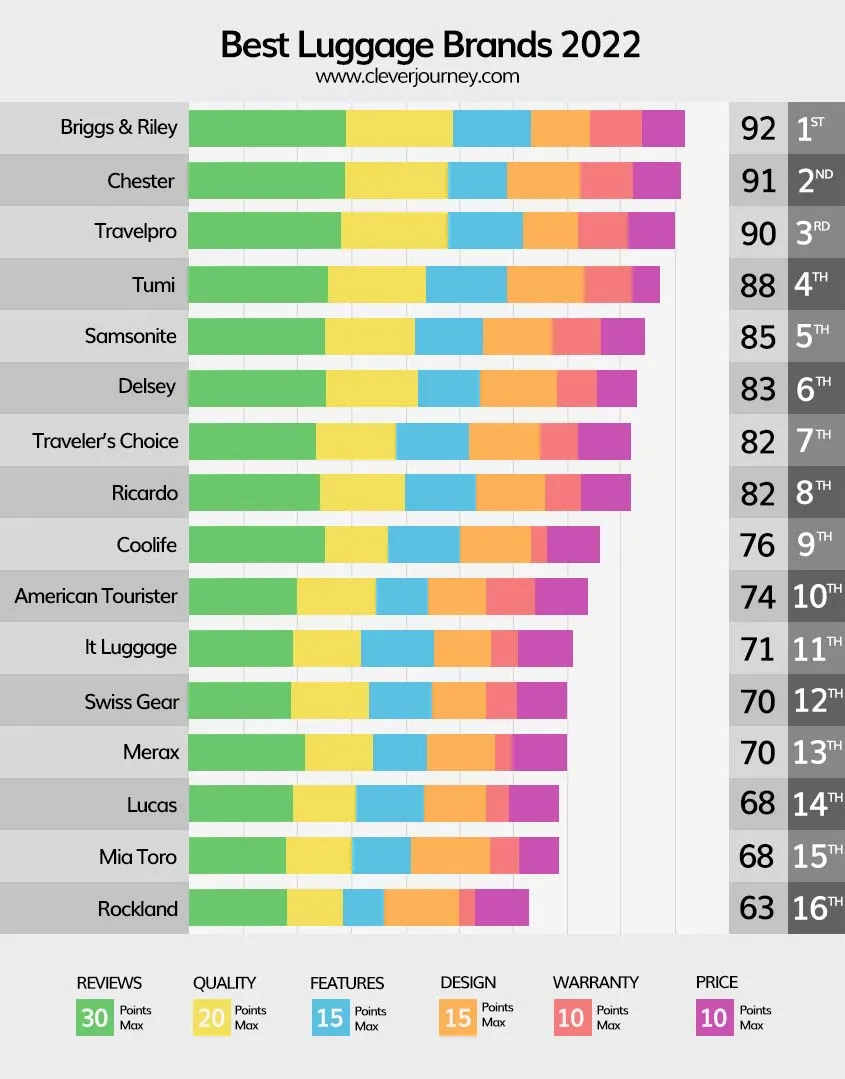 This post is also available in:

English