The Travelpro Maxlite 5 collection is widely regarded as one of the best luggage collections on the market. It's one of the most affordable and lightweight underseat suitcases out there.
In this Travelpro Maxlite 5 Underseat carry-on review, we'll find out how durable it is, what features it comes with, and compare it to similar underseaters from other brands.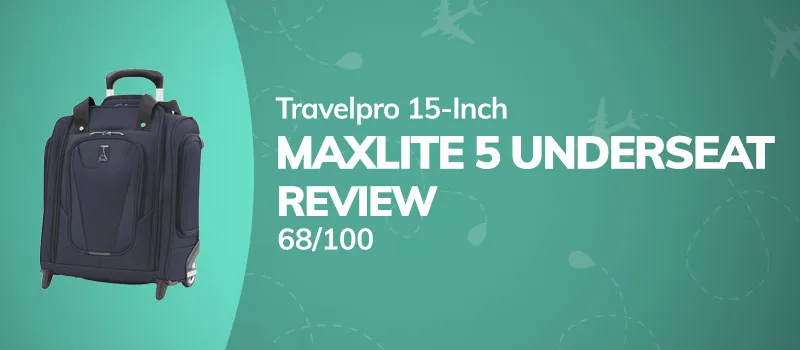 The Good
Lightweight
Durable enough for frequent travel
Rolls very smoothly, despite having only two skate wheels
The Bad
Slightly above most underseat size restrictions
Comes with basic features
Quick Take
The Travelpro Maxlite 5 underseater is one of the lightest and most durable underseat carry-ons you can buy. Despite being a bit larger than most underseat carry-on restrictions, you should not have any problem using it as an underseater.
That said, the bag lacks in its features and its interior has been criticized by some customers. Its wheels are also not the best, but they roll smoothly.
Overall, it can be a great addition as a personal item, alongside the Maxlite 5 21-inch carry-on, as you will be able to fit any documents or gifts into it.
Full Review
Dimensions & Weight (6/10)
The Travelpro Maxlite 5 Underseat carry-on is advertised as a 15-inch suitcase. But, in reality, its dimensions are 17.5 x 14.5 x 8.5 inches (44 x 37 x 21.5 cm), which makes it a bit larger than most underseat carry-on restrictions. Most airlines require underseat luggage to be under 16 x 12 x 6 inches (40 x 30 x 15 cm).
As for its weight, this underseat carry-on weighs 5.5lbs (2.5kg). It's very lightweight compared to carry-on suitcases, and its weight is similar to other underseaters from Travelpro and other brands. On average, a fabric underseat suitcase weighs 5.78 lbs (2.62 kg), which means that the Maxlite 5 is just below the average weight.
Many reviews stated that the interior could hold enough clothes for 2-3 days and an extra pair of shoes. However, if you overpack, the bag might not fit under the seat, depending on the airline. Some customers said that they couldn't access anything from the bag during the flight, because they couldn't pull it out from under the seat due to its above-average size.
Materials & Water-Resistance (10/15)
The Maxlite 5 underseater is made from polyester. While we'd like something that's more durable, like ballistic nylon or even regular nylon, the polyester that Travelpro uses is durable enough for moderate use.
And that's exactly what most customers mentioned concerning the durability of the Maxlite 5 underseater. Its customers complained about various aspects of the bag, but none of them had anything bad to say about its durability.
It's also coated with DuraGuard, which adds water and stain resistance to it. It's not as water-resistant as a hardside suitcase or other premium softside ones, but your belongings will stay dry in a light drizzle.
Read Next: Olympia Fashion Rolling Shopper Tote Review
Durability (14/20)
In terms of durability, the Maxlite 5 underseater is one of the best options on the market. The complaints about the quality of the bag's parts are far and few. Most customers said that the suitcase is well-constructed and its quality is above-average.
But, as with every other bag, the Maxlite 5 underseat carry-on had a bit of criticism. For starters, the zippers had the most complaints in terms of their quality compared to all other parts of the bag. Some customers mentioned that the zippers broke after a few trips, while others stated that they lasted for a few years before breaking off. Still, we couldn't find any reviews saying that the zippers broke in the first few trips.
Apart from the zippers, the retractable handle is said to be a bit faulty after a few trips. But, the rest of the handles and the wheels of this underseater are great. As I mentioned above, the case will last for a long time, and it's very well-constructed.
Moveability (9/15)
While we've praised the Maxlite 5 underseater so far, its moveability is one of its flaws. The bag comes with just two rolling wheels. Thankfully, most customers said that the wheels roll very smoothly, and they can go over any surface with ease. But, the mobility of the suitcase would be much better if there were four wheels instead of two.
Even though the bag's wheels aren't the best, it comes with a couple of handles which should help out. Along with the retractable handle, the suitcase has a bottom handle that will allow you to place it and take it out from the overhead cabin if you decide to use it as a carry-on.
There are also two straps that can be velcroed together, and they'll act like a regular top handle. However, a few customers complained that they're difficult to use. Also, there's a back strap, which you can use to place the underseater on top of a carry-on.
The positive thing about this suitcase is that it's not too hard to move around, because it's very light. But, overall, there are definitely some improvements that can be made by Travelpro, like better wheels or an extra handle.
Read Next: 10 Best Wheeled Underseat Suitcases in 2022
Additional Features (6/10)
The Maxlite 5 underseat carry-on has a few features that most similar bags offer, as well as a few that stand out, like a toiletries bag. For starters, the bag has a lot of pockets which is great in terms of compartmentalization. But, these have been heavily criticized by the owners of the suitcase.
As many pointed out, if you add a bunch of stuff inside the front pocket, then you'll have less space in the main compartment. The side pockets are also not great, as some customers stated that it couldn't be an alternative to a bottle holder. While the main compartment features a padded slot, you can't fit most laptops or iPads.
However, the main complaint that almost every owner of the bag has is the inclusion of velcro straps on the bag. If these straps catch on to specific pieces of clothing, they can destroy them. A great alternative to these would be regular compression straps, which will keep everything in place without worrying about destroying any belongings. Also, most stated that the toiletries bag takes up too much space, and they refrained from packing it up.
Design (7/10)
While it's not the most functional of suitcases on the market, the Maxlite 5 underseater looks beautiful. Its design is simple and relatively similar to other Travelpro bags. This also makes it an excellent option for both leisure and business travelers.
It comes in several colors, including vibrant ones like Azure Blue and Rose Pink, as well as professional ones like Black and Navy. However, some said that the Pink one doesn't look as vibrant in real life.
Warranty (8/10)
The Maxlite 5 underseater comes with Travelpro's Limited Lifetime Warranty. This warranty only covers manufacturing defects, so if Travelpro thinks any damage was done due to misuse, you won't get a replacement.
But, if you register the bag within 120 days of your purchase, the warranty will be enhanced to a "Worry-Free" warranty for 1 year. The Worry-Free warranty additionally covers damage done by airlines.
Also, you can return the bag within 100 days of your purchase and get a full refund. But, keep in mind that for any returns or warranty claims, you'll have to take the bag to a Travelpro repair center. All shipping costs will be covered by Travelpro, though.
Value (8/10)
The Travelpro Maxlite 5 underseater is a very good underseat carry-on. It's slightly more affordable than most underseat suitcases, and it's more versatile. And, despite having some negative reviews, most customers love it.
That said, in terms of its value, it could see some improvement. That's because most complaints were about its interior and its dimensions, which are pretty important for underseat luggage.
Still, for less than $150, you'll be getting a suitcase that will not only last you a long time, but you'll also have the versatility to use it as a mobile office or a suitcase to store all your souvenirs and "can't live without" stuff.
How Does the Maxlite 5 Underseater Compare to Similar Suitcases?
When comparing the Maxlite 5 underseat carry-on to other Travelpro underseaters, like the Platinum Elite and Skypro ones, we see that the Maxlite 5 is fairly similar to the other two. The Maxlite 5 and the Skypro underseaters are almost identical. Their only differences are the Skypro's USB port and the bag's slightly different design and color options.
The Platinum Elite beats both bags in all aspects. It comes with a Worry-Free warranty, four double spinner wheels, a USB port, and a much better interior. But, you can probably buy both the Skypro and the Maxlite 5 at the price of the Platinum Elite.
Compared to underseaters from other brands, like the Delsey Hyperglide and the Samsonite underseat carry-on, the Maxlite 5 underseater lacks in a few aspects. Both the Hyperglide and Samsonite's underseater have spinner wheels, USB ports, and a much better interior. But, the Maxlite 5 is lighter than both of them. That said, the Samsonite underseater can be found at a cheaper price point than the other two bags.
So, while the Maxlite 5 underseater is the best underseat carry-on that Travelpro has to offer, it's not that great once it's compared to similar bags from other brands.
Our Verdict
The Maxlite 5 15-inch underseat carry-on is a great bag for a weekend trip. If you pair it up with the Maxlite 5 21-inch carry-on, you'll be getting the full value of the bag. It's durable, and it comes with a great warranty to cover any possible defects.
That said, it has a few flaws. The most notable ones are its interior, which is not large enough, and its moveability isn't the best. It's also slightly oversized, and it won't fit under the airline seats on some airlines.
This post is also available in:

English