Rockland is well-known for packing in loads of valuable features for a surprisingly low price, but that might leave you wondering whether you'll be able to get long-term use from this manufacturer's products. At a glance, the Journey softside 4-piece set appears to be a great bargain, but as with any luggage, you should consider several factors before finalizing your purchase.
In this comprehensive review, we've taken a closer look at the durability of the baggage, the materials it's made from, the warranty backing it, and much more. This will help you weigh the pros and cons and discern whether the Journey 4-piece set is the right fit for your travel needs.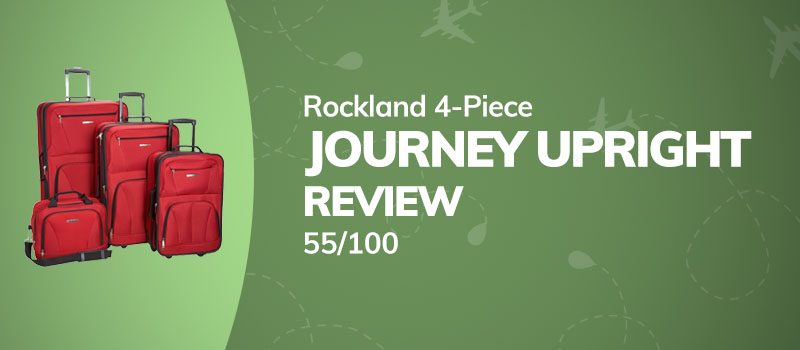 The Good
Bright and beautiful colors to choose from
Very well-priced
Spacious and lightweight
The Bad
Warranty is worthless
Flimsy wheels and zippers
The stability bar isn't effective
Quick Take
Rockland's Journey set is a great choice if you need luggage that is lightweight, with loads of room to pack, and brilliant colors to choose from at an insanely low price. The set comes with four spacious pieces that could easily provide packing opportunities for an entire little family – and fit in some snacks for the trip as well.
Unfortunately, with such a low price tag, there are bound to be some snags. While the fabric used on the exterior is quite durable, the materials used in some of the components are of low quality and may affect the lifespan of the luggage if it is handled too roughly. To add to this, Rockland's warranty is pretty much useless, so you'll need to be prepared for the worst-case scenario when purchasing this bag.
Ultimately, if you need something affordable to take on a family vacation, or simply want a few different-sized pieces at your disposal whenever you need to travel, the Journey 4-piece set may be the answer you're looking for.
Full Review
Dimensions & Weight (9/10)
Since there are four bags in this set, selecting the pieces that best fit your trip or that meet the size restrictions of the airline you're traveling with is easy. Here's a full breakdown of the dimensions and weight of each unit, including their wheels and handles:
19-inch: The smallest wheeled piece in the set measures 20 x 12.5 x 7.5 inches (73.7 x 31.8 x 19.1 cm) and can be expanded to 10 inches (25.4 cm) deep. It weighs 6 lbs (2.7 kg) when empty.
24-inch: The medium checked bag measures 24 x 16 x 10 inches (61 x 40.6 x 25.4 cm) and can be expanded to 12 inches (30.5 cm) deep. It weighs 8 lbs (3.6 kg) when empty.
28-inch: The large checked piece is 28 x 18 x 12 inches (71.1 x 45.7 x 20.5 cm) and can be expanded to 14 inches (35.6 cm) deep. It weighs 9 lbs (4.1 kg) when empty.
Tote: This carry-on measures 14 x 11 x 5 inches (35.6 x 27.9 x 12.7 cm) and weighs only a pound (half a kilogram) when empty.
Not only is the Journey 4-piece set considerably lightweight, but it's also perfectly sized to ensure that you won't be exceeding most airline restrictions. The tote is small enough to fit comfortably under the seat in front of you with room to spare, and you'll have no trouble getting the 19-inch carry-on into the overhead compartment of the plane. What's more, is that both checked pieces fall far below the airline-preferred 62 linear inch size restriction, so you can make use of the bags' expandability if you need to.
Materials & Water-Resistance (8/15)
Although the Journey 4-piece set is made from polyester, which is the most commonly used material in softside suitcases, Rockland has gone the extra mile by making use of its patented EVA-molded hi-count fabric. EVA-molding is a process that involves injecting rubber or other plastics into a fabric in order to increase its strength. Although polyester in itself is not necessarily a weak fabric, this addition goes a long way in ensuring the longevity of your luggage.
The high thread count also makes the luggage a lot more water-resistant. You should be able to keep the items in your bags safe from the elements and totally clean. However, because softside luggage is never completely waterproof, it's unlikely that your contents will remain dry if the bags become completely soaked in the rain.
Durability (10/20)
The Rockland Journey range is ridiculously low priced considering that it comprises four pieces of luggage, so it isn't too much of a surprise that quality is not its greatest selling point. The amount of use you get from this set will ultimately depend on how you treat it and how roughly it is handled by the airline you fly with.
The components that have been most badly rated by customers have been the zippers and wheels. The materials used to manufacture these fittings are of low quality, so it's of utmost importance that you take extra care to preserve them. Refrain from wheeling your suitcases over rough surfaces where possible and, in order to avoid placing strain on the zippers, be sure not to overpack your bags.
Read Next: Olympia Fashion Rolling Shopper Tote Review
Moveability (6/15)
The set is fitted with inline wheels that can be used to pull the bags behind you as you walk. Normally, this wheel type is quite a bit more durable than spinner wheels and they are known for effortlessly gliding even the roughest of terrains. However, based on the low quality of the wheels in this particular set, it would be wise to take this generalization with a pinch of salt.
Furthermore, suitcases with inline wheels are often fitted with a stability bar to prevent the bag from tipping over when it's not being held. While this is precisely the case with each piece in the Journey set, there have been reports that it isn't very effective, so it would be a good idea to try to balance the weight of your contents as much as possible.
On the plus side, lifting these bags won't be too much of a hassle. The wheeled suitcases are fitted with retractable handles that lock into place and the tote features a removable strap that helps you keep your hands free. The upright pieces also have fabric handles on the tops and sides, as well as a plastic notch on the stability bar that can be used to lift the bottom of the bag. The tote is designed to sit on top of the carry-on so that it doesn't have to be carried separately while you wait to board your plane.
Additional Features (5/10)
Because of its low price point, Rockland hasn't included too many added extras in the Journey 4-piece set. However, there are a few nifty things you can expect aside from the features that come stock standard:
Lock and Key
Higher-end suitcases often include a built-in lock that makes use of a three-digit combination to secure your belongings. Some even feature TSA-approved locks that make the check-in process a little easier. Since the Journey is a more cost-effective option, rather than leaving you with no means to secure your belongings at all, Rockland has thoughtfully included a lock and key for each wheeled piece of luggage in this set. Be sure not to lose your keys, though, or you'll find yourself in quite a predicament.
Read Next: Rockland London 3-Piece Luggage Set Review
Storage
Luggage is something everyone needs, but finding somewhere to store it when it's not in use can be a pain. In fact, that may be something that deters you from buying baggage that could potentially consume as much space as a 4-piece set would, but with the Journey, this isn't a concern at all. Each piece in this set fits snugly into each other like nesting dolls, so once you've packed it all together, you'll simply need to find a storage spot for the largest piece in the set.
Design (7/10)
Rockland suitcases always offer bright colors that make spotting your luggage among a sea of suitcases an easy feat. With the Journey 4-piece set, you can choose between 12 designs, including a unique camouflage print. On most models, the black zippers provide a striking contrast to the bright colors, however, there are two suitcases in the series that offer orange or yellow zippers too. All models are lined with a black fabric that fits well with the overall look of the set.
The one thing this set lacks is a contemporary feel. Although inline wheels provide great value for the mobility of your luggage, they are generally associated with older suitcase styles. This element combined with some of the more dull color choices in the Journey range may not leave you feeling very glamorous as you walk through the airport.
Warranty (1/10)
Unfortunately, Rockland products are manufactured by Fox Luggage Inc., a company that doesn't offer much value by way of a warranty. The Journey 4-piece set is covered during the first five years after purchase for manufacturing defects only, and to make matters worse, you'll have to jump through hoops to even have your luggage assessed in an attempt to claim this.
The set is not covered for any damage that arises as a result of accidents or wear and tear, and with some of the components being so flimsy, this could be a cause for concern. You won't have any control over the way your carrier handles your luggage once you've checked it in, so you'll have to bear the costs to repair or replace any breakages that arise this way. On the plus side, the set is extremely cheap, so it might not be the biggest financial burden to bear.
Value (9/10)
With this luggage set, you'll get the level of quality you're paying for, so it'll be up to you to take the necessary precautions to ensure that you make the most of your bags while they last. If having ample packing space is a priority, the set is a great fit. In fact, Rockland has included a helpful guide on the recommended items that can be packed into each piece. The 4-piece set has more than enough space to fit the contents of at least three people, which means you'll be getting even more bang for your buck.
You'll have control over how your carry-on items are treated in transit, but unfortunately, the checked suitcases' fate will be the luck of the draw. For the best possible outcome, consider wrapping your bag in plastic at the airport as this will provide a lot more protection and improve the chances of the luggage still being in one piece by the end of your trip.
Ultimately, the Journey 4-piece set set gets the job done. While there may be a few causes for concern when it comes to quality, the price you'll be paying for the set negates these.
How Does Rockland Journey Compare to Similar Suitcases?
Rockland 4-Piece Luggage Sets
Rockland has a range of 4-piece luggage sets to tickle every fancy when it comes to designs, patterns, and colors. The Polka set, as its name suggests, features polka dotted suitcases in three different colors, however, all four pieces are identical to the Journey in every other way. The same applies to the Fashion range, which features everything from peace signs to plaid, the Escape range fitted with chevron and tribal patterns, the Impulse range which boasts paisley and floral motifs, and the Jungle range featuring animal prints and cutesy owls.
The only 4-piece set made by Rockland that stands out from the brand's usual style is the Impact range, which offers 18, 22, 26, and 30-inch suitcases. All four units in the set are fitted with high-quality elements such as spinner wheels and ergonomically-designed aluminum telescoping handles. Furthermore, the exterior is made from 1680 Dernier polyester, which is a more durable form of the material. Although this set may be slightly more expensive than its counterparts in the Rockland suite, it's significantly superior and certainly worth a few more dollars.
Read Next: Rockland Fashion 2-Piece Upright Luggage Set Review
Travelers Club Midtown Hardside 4-Piece Luggage
If you're interested in venturing away from the Rockland Brand, Travelers Club offers a 4-piece set in a range of beautiful unique shades that can be suited to both business and leisure trips. The one drawback, unfortunately, is that the set is slightly more expensive, and comprises pieces that are far smaller than the suitcases in the Rockland Journey 4-piece set.
You'll receive 26-inch and 20-inch suitcases, both of which are kitted with spinner wheels. The set forfeits a third wheeled piece in favor of a small toiletry bag, however, the tote bag it includes is quite similar to the Journey. The major difference with this luggage is that the wheeled suitcases are hardside, which means that you'll benefit from a lot more durability.
Steve Madden 4-Piece Luggage Set
If you're fashion-forward, the Steve Madden designer set may be more to your liking. The set is made from polyester and is available in five exquisite colors, all of which are contrasted by brown leather and canvas trims and zippers. The spinner wheels have also been strategically placed to provide as much stability as possible and prevent tipping when the bag is packed to capacity.
The Steve Madden set is significantly more expensive than the Journey 4-piece, however, its quality is reflected in how well customers have received it. There have been very few complaints about the durability, which is good news since Steve Madden offers only a limited warranty on its products. Aside from this difference, the set comprises similar-sized pieces to the Journey, so your choice between the two will most likely come down to your affordability and personal preferences.
Our Verdict
If you're looking for luggage to last a lifetime, Rockland probably won't be your first choice. However, if you need something spacious that won't have you paying extra in baggage fees, you won't go wrong with the Journey 4-piece.
While some components of the bags in this set may not be the most durable, you should get sufficient protection from the tough polyester fabric. A little extra precaution with the wheels and zippers on your luggage could also make a world of difference when it comes to extending the lifespan of your luggage.
The Journey 4-piece set has a wonderful selection of bright colors to choose from that will set your luggage apart as accompanies you on your journey. You'll also be able to keep it completely safe with the locks and keys that have been included, and when the trip is over, storage won't be a hassle.
Ultimately, the Rockland Journey 4-piece set is a great choice for affordable softside luggage, but if you'd prefer a hardside suitcase for added protection of your contents, consider the Travelers Club Midtown 4-Piece instead.