Samsonite's USB-equipped Underseat Spinner is a great budget tool for the purely carry-on crowd. It qualifies as a personal item for most airlines and includes ample packing space for small laptop users who want easy access to their computers during flights.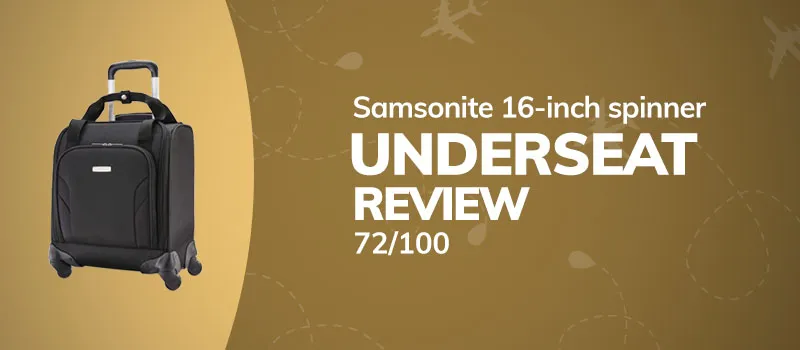 The Good
Pack more and avoid carry on fees

Great features for the price

4 Spinner wheels

Easily stackable
The Bad
Main compartment tough to access on-the-go

Doesn't fit most 15 inch laptops

No included battery bank
Quick Take
Samsonite has a winner here with one of the highest Clever Journey Consumer Scores we have seen this year. If you are looking to avoid baggage fees and also want to avoid paying a premium price on a piece of baggage, to begin with, this Underseat Spinner from Samsonite is an easy recommendation. If you are a weekend traveler with a small laptop this bag will serve you well.
Full Review
Dimensions & Weight
This Underseat Spinner from Samsonite measures 16.5″ × 13.75″ × 9″ for a total linear size of 39.2″ including wheels. The interior packing dimensions are roomy at 15″ × 13″ × 8″ and the empty bag weighs a svelte 5.6 lbs
This bag will qualify as a carry-on everywhere. Most bags we review that are classified as a carry-on, often fail to meet the requirements of half of all airlines. People are rarely penalized for this but for those of us that like following the rules this bag is actually an appropriate carry-on.
Where it gets more dubious is in its distinction as an underseat bag. While you won't have an issue at the baggage counter, this bag may not actually fit terribly well under your seat depending on the airplane.
Regardless it should qualify as a personal item for most airlines so it opens you up to having a second larger carry-on in the form of another rolling carry-on or backpack.
Materials & Water-Resistance
Let's talk textiles, this bag is made from 1680D Polyester. The D stands for Denier, which in textile terms is a measurement of the weight of the individual fiber that makes up thread. This unit of measurement is based on silk, which is a very fine and light fiber. A single fiber of silk has a Denier of 1. Any textile with a Denier below 1 is considered a microfiber. For polyester, common Denier sizes range from 420 to 6000.
Feel free to skip over this material science tangent and go straight to our verdict below, otherwise, let's talk a bit more about thread selection and the inherent advantages of polyester over something more expensive like Nylon.
Nylon is roughly twice as expensive as polyester and it has better strength, stretch, and abrasion resistance than polyester. However, nylon falls behind polyester once you move outdoors. Nylon is 10 times more moisture absorbent than polyester, it breaks down much quicker in the presence of UV radiation from sunlight, and it is vulnerable to acids and oils which polyester has a strong resistance.
All this simply means is that even though this bag is affordably priced, it should still hold up just fine rain or shine. Though if you do get caught in the rain be sure to recap your USB port.
Read Next: Samsonite Freeform 21-Inch Carry On Luggage Review
Durability
We haven't flown with this bag but the wheels moved effortlessly, both handles felt good, and the overall structural rigidity of the bag was in line with what we expect from cloth luggage.
Looking at our CJ consumer scoring criteria we see an unusually high score of 81 out of 100. This score reflects hand-vetted owner sentiment toward the bag with a weighted emphasis on durability looking at reported incidents of failure.
We don't often see scores in the 80 for luggage at this price category and this result shows that a longer warranty doesn't always mean a more reliable product. The fact that this bag is so compact and doesn't have a million pockets, which are potential points of failure, might explain the impressive real-world durability.
It doesn't hurt that this bag is by design kept far away from baggage handlers and crowded, shifting overhead compartments. We will have to review more underseater bags to see if this high score is consistent throughout the product category.
Read Next: Samsonite Solyte DLX 20-Inch Carry On Luggage Review
Moveability
Spinner wheels are what we like to see on luggage of all price points and this bag has them. It comes with four single spinner wheels which is not always the case with luggage at this price point or luggage this small for that matter.
The downgrade from Samsonites' more ubiquitous 10-year warranty to the 3-year warranty that covers this bag may suggest to some that the Manufacturer has less confidence in the longevity of this baggage and its wheels, but from our experience with them, they seem rock solid. Many people won't be using these wheels most of the time anyway as this bag is meant to be stacked atop your larger carry-on luggage by making use of the included smart sleeve located on the backside of the bag.
Additional Features
Let's talk about the USB port. Samsonite clearly views this as a headlining feature seeing as it's, well, in the product headline. It's pretty useless, it doesn't include a battery bank so you need to provide your own. If you already have your own battery bank you can just as easily route a cable out of the zippered compartment and charge your device, so the need for this dedicated port is up for debate. This is especially true if you want to use something like a USB C cable that is capable of faster charge rates.
That said, it does provide a cleaner way to charge your devices if you have a battery bank and you use a USB Type-A cable. But for the added weight, space, and presumably cost I think this USB port could have been scrapped. If you are going to go through the trouble of designing USB luggage, include a battery bank because if you don't most consumers will plug their device into the unpowered port and scratch their heads when it doesn't charge.
Design
The bag is divided, much like a laptop backpack, with one main compartment for clothes, shoes, or larger items with a dedicated laptop sleeve that functions as a divider of sorts. The sleeve should fit most slim 13-inch laptops.
Officially Samsonite lists this bag as supporting up to 14.2" laptops, I dunno anyone that makes a 14.2-inch laptop so I believe most of us will fall into the 13" or 15" club. Since laptops are classified by their diagonal screen size and NOT their physical width it's tough to make a blanket statement like all 13-inch laptops will fit and all 15-inch laptops will not. Because all bezels are not created equal and the actual size of any given laptop with a 13" or 15" screen will vary significantly.
For example, my 15" Dell Inspiron with its ample bezels measures 15.32″ (389mm) wide, whereas the new 17" Dell XPS has a smaller width of 14.74″ (374.45 mm) despite its larger screen-based size designation. This is to say that even though my 15-inch laptop did not fit in the laptop sleeve of this bag, it doesn't mean that yours won't.
For us larger laptop users it's not a total loss, my laptop still fits in the larger compartment which while not ideal, suits me just fine. And to be fair to Samsonite I doubt many folks with laptops as large as mine try to get work done on their tiny airplane tray tables. I get plenty of side-eye stares from my economy-class cohorts anytime I try to slip this 6 lbs behemoth from my bag to do some work.
Along with the main zippered compartment the bag has a smaller compartment on the front as well as one on the right side which includes a cable passthrough. The Samsonite USB Underseat comes in three safe basic colors; Black, Blue, and Purple.
Read Next: Samsonite Centric 24-Inch Checked Bag Review
Warranty
The Samsonite Underseat Spinner with USB is covered by Samsonite's Three Year Limited Global Warranty. It is worth noting that this warranty does not cover accidental damage or normal wear and tear. Their warranty is also not user transferable, it applies only to the original purchaser or gift recipient and specifically covers a replacement or repair in the event of, "manufacturing defects in material and workmanship".
To make a warranty claim Samsonite requires that you provide your receipt and you will be responsible for the cost of shipping to their repair center. Samsonite will cover the return shipping only if the damage is deemed to be covered under warranty. If after inspection they deny your claim you will be stuck paying for the repair out of pocket or paying for them to ship back your unrepaired luggage. For budget luggage at this price, one-way shipping is going to cost you a significant percentage of the total product price. So this warranty, while reassuring, is not something you will likely expect to use.
It's not the most comprehensive coverage in the business and it's a big step down from Samsonite's 10 Year Global Warranty which is common for most of their luggage. Additionally, we have seen an increase in reports of denied warranty claims in recent years but Samsonite still maintains a solid reputation even if it's getting stingier with repairs.
Samsonite keeps high consumer report scores for customer satisfaction for a reason. When evaluating company warranties it's important to look at more than what is strictly covered on paper. A comprehensive warranty that you have to jump through hoops and chase down support to exercise is not a great warranty.
Customer support is an integral part of any warranty and that requires support agents with fair judgment and the leeway needed to solve issues within reason. Samsonite has solid support and even when your issue falls outside the purview of their stated warranty coverage their customer service is worth getting in touch with.
Read Next: 10 Best Wheeled Underseat Suitcases in 2022
Value
There are some notable feature omissions and a few issues with this bag. The USB Type-A port is dated and requires you to bring your own battery bank. The placement of the Laptop sleeve is not ideal for quick in-airport access and it precludes usage with larger laptops. It also doesn't have TSA locks, but all these shortcomings are tough to complain about at this price point.
If you want an affordable stackable carry-on that fits shoes, electronics, and anything you don't want hidden away in an overhead bin this underseater provides that and it comes with 4 spinner wheels which is something you won't always find, even on more expensive underseater luggage.
Our Verdict
Underseat bags are a great tool for frequent flyers looking to avoid carry-on fees or just to maximize their carry-on capacity to avoid having to check any baggage and to this end, Samsonites underseat spinner does just that at an attractive price.
The compartment design may be divisive for some people, it allows for easy access mid-flight while it's laying flat under your seat but it does become a bit of a hassle to get something from the main compartment in the airport or anytime when the bag is standing upright. Those quirks make it a less than ideal solution for folks hoping this could double as a daily commuter bag but are forgivable when used as intended as a primary or secondary carry-on luggage.