Delsey Paris, as the name suggests, comes from the land of baguettes, cheese, and wine – France. They're best known for making good-looking and reliable travel gear. In fact, they're the third most popular luggage brand globally, just behind Samsonite and Louis Vuitton.
In this Delsey Paris luggage review, we'll get to know how durable their suitcases are, how satisfied their customers are, take a look at their features and warranty terms, and compare them with similar brands. All this to find out if they're a solid choice or not.

On Clever Journey's Best Luggage Brands, Delsey gained 85 out of 100 points. This places Delsey in 6th place on our leaderboard.
In the medium price range, there are five comparable competitors – Chester, Travelpro, Samsonite, Ricardo Beverly Hills, and Traveler's Choice. Delsey placed right after Travelpro, Chester, and Samsonite.
Here, you can see a general breakdown of the 85 points. We'll go into more detail on each section and why they've gotten that particular rating down below.
The Good
Great Durability. Delsey makes reliable suitcases, which are perfect for frequent travelers as well as leisure travelers. Even frequent travelers can expect their bags to last at least five to eight years. In terms of durability, they're somewhat comparable to Samsonite but not as good as Travelpro.
Satisfied Customers. Delsey has a loyal customer base who have stayed with them for decades. We know a lot of brands that have gotten worse over the years, but it seems like that's not the case with Delsey Paris.
Good-Looking French Designs. If you do decide to go with Delsey, you won't have a hard time finding your bag on the luggage carousel. That's because Delsey has pretty unique French designs that are aimed at the luxury class.
Great Innovations. Delsey features a series of innovations on its suitcases, such as new, innovative materials and smart packing features on specific models.
The Bad
No 'worry-free' warranty options. With the default warranty, Delsey only covers manufacturing defects. Some manufacturers have started offering 'worry-free' warranties for their premium models, which basically cover all damage, even from airlines. Unfortunately, Delsey isn't offering this option.
The packing features could be better. Even though Delsey has a lot of innovations on some models, in their most basic models, the main compartment is fitted with only a few pockets and compression straps, which is the most basic setup.
Some models don't really offer great value for your money. While some models like the Chatelet and the Hyperglide are stunning and durable, they cost more than what Travelpro and Samsonite are offering. That being said, these models go on sale quite often, but paying more than $300 for a softside carry-on like the Hyperglide (when it's not on sale) is outrageous.
The Verdict
Delsey Paris is a very popular brand among travelers, and we understand why. They're well-made, fashionable, and most of their models are reasonably priced. In the $100 – $150 price range, you can either choose Travelpro, Samsonite, or Delsey, and, to be honest, you really can't go wrong with any. They're all durable, have decent warranty terms, and have pretty good features.
But out of all, Delsey is the best-looking one while offering similar durability and features. We'd recommend Delsey for those who need a good-looking bag for leisure or frequent use because even when used frequently, the durability is good enough to last at least 3-5 years.
Top-Rated Delsey Paris Suitcases
Full Review
Key Facts About Delsey Paris
Delsey Paris was established in 1946 when Emile Delahaye and the Seynhaeve brothers combined their forces (DELahaye plus SEYnhaeve equals DEL-SEY).
At first, they were making leather cases for cameras and quickly became the market leaders in this industry. It was only in 1970 when they established a luggage department where they applied their experience in molded plastics to hardside suitcases. Their first line, "Delsey AIRSTYLE", which came out in the 1970s, took off right from the get-go.
In 2015, Delsey Paris had a global market share of 2%, which puts them in third place among all luggage manufacturers, right after Samsonite and Louis Vuitton.
Reviews (26/30)
In this section, we give a slight overview of how well (or bad) their customers think of their products. And overall, we can say that the customer reviews were pretty good.
Still, we did find a few rotten apples. For instance, you'd be better off skipping the Delsey Helium Shadow, as it's received pretty bad reviews from people who've owned it. On the Helium Shadow, Delsey hasn't done a proper job with the zippers, which has resulted in their customers spending too much time at the repair centers. But those are just a few examples of an overall solid review profile across their products.
Some models, like the Delsey Chatelet collection, and the Delsey Eclipse DLX collection, have received great reviews. And these aren't just a few good ones because 70-80% of their models are rated with at least four stars out of five. Most customers praise Delsey for its innovations and its stunning designs.
That's why we've rated their customer satisfaction score at 26 out of 30 points.
Quality (16/20)
In this section, we researched how well Delsey's suitcases are made. And based on our research, we can pretty safely say that they're built to last.
Using Especially Durable Materials for Hardside Suitcases
For hardside suitcases, the best choice of material is polycarbonate, which is more durable than ABS or polypropylene. Most of their hard shell bags, such as the Delsey Titanium, are made from polycarbonate, with a few exceptions, like the Delsey Lagos collection, which is made from ABS.
And for the fabric bags, it's usually better to choose nylon over polyester, as it's more abrasion-resistant and will last longer. Unfortunately, Delsey is using polyester for most of their fabric suitcases, which is cheaper and less durable. So our advice would be to go with Delsey's hardside bags instead of the fabric ones if you're looking for durable luggage.
Most Agree That Delsey is Durable
While researching how satisfied their customers are, we noticed a typical pattern. A lot of people have stayed loyal to Delsey for decades only because they know that they make properly-built suitcases. Most said that the quality has been consistent over the years and that Delsey's hardside suitcases will last around five to ten years.
If you want to see exactly how durable they are, take a look at this video, where Brian Fischer tested the Helium Aero by throwing a 15 Lbs dumbbell directly on the wheels and dragging the bag across a concrete floor numerous times (the testing begins at 06:55).
As you can see, the bag held up pretty nicely and performed similarly to the Travelpro Maxlite 5 19-Inch International carry-on, which we believe to be the most durable mid-tier (~$100) suitcase.
Features (14/15)
Some affordable collections and Delsey's premium models have a plethora of innovations that we're excited about.
Smart Organizers and Padded Laptop Pockets
On the Delsey Helium Aero International carry-on, you'll find a dedicated laptop pocket, which is especially handy for the newer generation. Suppose you're always carrying your laptop, two chargers, a power bank, an e-reader, and other electronic devices. In that case, this padded front pocket will make your life easier, especially if you're flying frequently.
The dedicated compartment is protected with a padded material and fitted with several smaller zippered pockets. It's not only good for your electronics, but also for storing your documents at hands-reach.
Securitech Anti-Theft Zippers
Did you know that most thieves can get inside your suitcase by pushing a regular pen through the zipper? It's enough to bust the suitcase open and grab all the valuables. Well, apparently, Delsey has fixed this issue with their patented Securitech zippers. According to Delsey, they're 2.5x times harder to penetrate by thieves. Combined with a TSA-approved lock, this system will prevent theft from those bag handlers who are looking for quick wins. Of course, they'll be able to get through with enough dedication, but it will be much more complicated.
According to Delsey, these zippers are also many times stronger than regular ones. Broken zippers and missing zipper pullers are the most common defects for suitcases (right next to broken-off wheels), which is why durable zippers are so important.
You can see how the system works in this video.
TSA-Approved Locks and Expandable Zippers
Nearly every Delsey hardside bag comes with a TSA-approved combination lock and expandable zippers. Nowadays, these two features should be expected with any suitcase, as they've become the industry standard.
Durable Spinner Wheels
You'll find spinner wheels on almost all of Delsey's bags. Although there isn't anything particularly innovative about their wheels (for instance, as opposed to the Samsonite's Spherical design), people have been saying that they're pretty durable and roll smoothly.
We'd suggest choosing double spinner wheels instead of regular ones. They'll roll more naturally and last longer.
Innovative Materials and Packing Options
Instead of using regular polyester, Delsey decided to use two different versions for the Sky Max 2.0 and Hyperglide collections. The first one features the MicroBallistec polyester, while the second one features the DuraTec polyester. Similarly, the Eclipse DLX and Cruise Lite 2.0 collections use a thermoplastic named Plenium. These two collections also feature a new packing feature, named MaxPack, which allows you to maximize your luggage's capacity.
Design (14/15)
Delsey Paris is better known for its good looks instead of features or durability. Their looks are heavily influenced by French culture, which clearly reflects on their bags. Many agree that the Chatelet collection, available in champagne and brown, wins in design by far due to its overall posh looks and beige leather accents. We'd argue that the Eclipse DLX in Harbor Gray is more stunning than the Chatelet, though.
Other bags, like the Helium Aero, are also pretty good-looking and will definitely turn some heads. At least, you won't have a hard time finding them on the luggage carousel between all the down-to-earth, black suitcases.
Warranty (8/10)
Delsey offers a 2, 5, 10-year, or lifetime warranty. They cover only manufacturing defects and won't cover any airline damages, defects that result from normal wear, and accidents. This is basically the standard warranty that most luggage manufacturers offer. Unfortunately, they don't provide any options that cover all damages, even for their premium models, as opposed to the worry-free warranties offered by Travelpro or Briggs & Riley.
Delsey's Warranty Terms
If you notice a defect in the first 30 days, you'll be able to send the bag to the warranty center for free. During this period, all shipping costs will be covered, even if the warranty does not cover the damages.
If, however, you do that after 30 days, you'll have to cover the shipping costs to the repair center – they'll only cover the return costs. The good thing is that Delsey has official dealers available in 110 countries, so you shouldn't have a hard time shipping it there. If the warranty doesn't cover the suitcase, they'll offer to repair it at a cost or ship it back to you for free.
Overall, the warranty is pretty okay, at least for the luggage industry standards. Most affordable brands manage to weasel their way out of any situation, but that's not how Delsey does it. If it's their fault, they'll fix the issue or replace the bag for free.
Price (7/10)
When compared to other luggage brands, Delsey is priced somewhere around the middle, similar to Travelpro and Samsonite. You'll find their cheaper bags starting at $70 and going up to $300. However, the most popular choices are priced at $100-$150, which is not too much for a decent, well-made suitcase.
Yes, you'll still find some premium models which are priced pretty high, like the Chatelet collection. But they're not necessarily overpriced, just made from better materials and offer more features.
How Does Delsey Compare to Other Luggage Brands?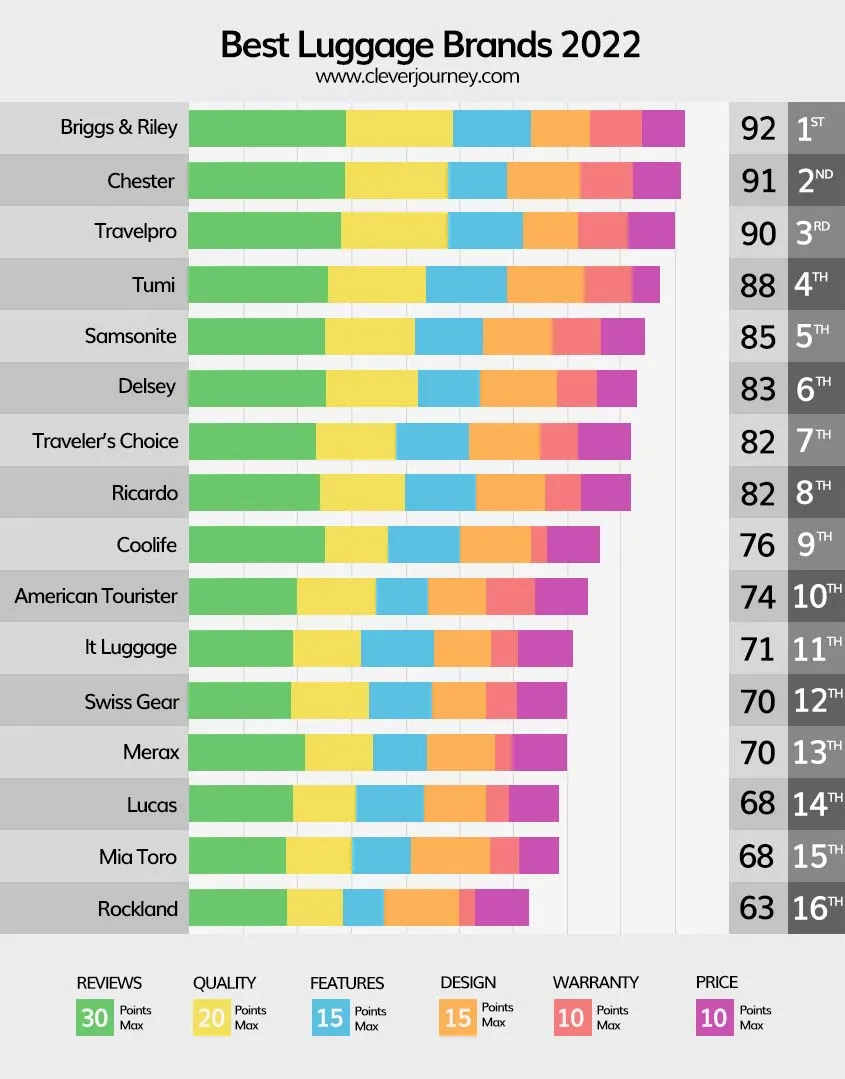 Delsey Paris is the most stylish and elegant medium-priced brand on the market. The only other brand that might be better in terms of design is Mia Toro ITALY, but Delsey's suitcases are much more durable. But, a suitcase is much more than an accessory to show off your style; otherwise, every affordable brand we've reviewed would be the best on the market. So let's see how Delsey compares to similarly-priced brands, according to our Best Luggage Brands list.
Starting off with the reviews of the brand, which represents how satisfied people are with their purchases, we can see that Delsey ranks right in the middle.
In terms of features, Delsey ranks pretty high alongside Traveler's Choice and Travelpro. This is due to their innovative choice of materials, their anti-theft zippers, and a few other useful packing features.
But that's where Delsey starts to lose some of its glory. The durability of Delsey's suitcases and the warranty that is offered ranks towards the lower end, with Samsonite, Travelerpro, and Chester ranking above it on both aspects. Delsey also loses a lot of ground when it comes to its value. That happens because most of its products, like the Chatelet, are overpriced, making it the worst-priced out of all the medium-priced brands.
Overall, Delsey is a pretty solid choice for medium-priced luggage. If the brand gave a bit more attention to its warranty and managed to reduce its prices without sacrificing much of its quality, it would rank much higher..
Individual Delsey Suitcase Reviews
Best Hardside Checked: Delsey Chatelet Medium Checked Hardside
The Delsey Chatelet 24-inch is hands-down the best-looking suitcase that Delsey offers. Although it's pretty expensive, it's durable, comes with a 10-year warranty, and offers better features than all other Delsey's bags.
The outer hardside shell is made from polycarbonate, which is considered the most durable plastic for hardside luggage. It's better than ABS and propylene when it comes to durability, but it's also more expensive. The Chatelet is available in champagne and brown finishes, but the champagne finish can get dirty pretty fast, so we'd suggest going with the brown option if it's available.
The Chatelet is fitted with four Japanese Hinomoto spinner wheels that can be locked down with a button that's located on the back of the suitcase. This is actually a unique feature that we've never seen anywhere else, except for Delsey's luggage. You'll also be able to secure the main compartment with a built-in TSA-approved lock, which is pretty nice.
The inner compartment is fitted with several zippered pockets for smaller items, tie-down compression straps, two pouches for laundry and toiletries, and a dedicated hanger. A solid packing setup that's way better than on most other Delsey's bags. It's different from what medium-priced brands have, but it's also a pleasant surprise.
Overall, the Delsey Chatelet is well-built, versatile, and equipped with useful features, and it's one of the best hardside checked suitcases on the market. It's not for everyone, though, because you'll have to pay pretty much for this French-inspired, posh-looking bag. But, it's truly one of a kind.
Full review: Delsey Paris Chatelet 28-Inch Checked Suitcase Review
Best Hardside Carry-On: Delsey Helium Aero 21-Inch Carry-On
The Delsey Helium Aero is the most popular model from Delsey. It's made for the average traveler and directly competes with Travelpro's Maxlite 5 and Samsonite's Omni 2 carry-on. The Helium Aero stands out with its good looks and the dedicated laptop pocket, where you'll be able to store up to a 15.6-inch laptop and some other electronics.
The outer shell is made from polycarbonate and coated with a glossy finish that's available in various colors, including the Blue Textured model, which has a different finish. Note that many customers have said that the glossy finish can get scratched pretty easily. This is the exact opposite of what is advertised by Delsey since the bag is meant to be scratch-resistant.
This bag basically comes with everything that you would expect – TSA-approved combination locks, an expandable zipper that gives an additional two inches in width, and double spinner wheels. What's more, the Helium Aero is priced fairly, and we've seen the price go as low as $70 in some local stores when on sale.
That said, the inner compartment is pretty basic. When you open the bag up, it's split into two equal parts. Inside, you'll find several zippered pockets and compression straps for keeping your items tied down. Not the most advanced setup, but for the affordable price, it's good enough. The Blue Textured model features a more classic main compartment because the pockets are absent. While it's more traditional, we're pretty big fans of the different pockets for different types of clothing, so we like the other models more.
Overall, the Helium Aero will be good for leisure and frequent travel. It's a solid carry-on that fits even the strictest of international size restrictions.
Full Review: Delsey Paris Helium Aero 25-Inch Checked Suitcase Review
Best Softside Checked: Delsey Sky Max 2.0 Medium Checked
The Sky Max 2.0 is the best softside checked suitcase that Delsey has to offer. Its design looks pretty basic but is fairly stylish on the front. It also comes in black, purple, and two shades of blue. We believe that you'll have no problem finding this one on the conveyor belt since it's easily distinguishable and it comes with an ID tag.
The Sky Max 2.0 collection is made from MicroBallistec, which is a type of polyester and is supposedly much more durable compared to regular polyester. The corners are reinforced so that the bag withstands any misuse from baggage handlers. It also comes with four spinner wheels, a retractable handle, and three handles – one top, one bottom, and one side handle. The retractable handle is the Sky Max's weakest point, as it tends to wobble after the first couple of trips.
The interior of the suitcase is superb. For starters, the Sky Max 2.0 comes with two front and one back pocket, alongside the main compartment. So, you could easily fit some essential documents in one of the front pockets and all your laundry in the back pocket. The main compartment is spacious, and it also features mesh pockets for your shoes and/or toiletries. The zippers aren't the best, especially since the bag is expandable, but the complaints about them were far and few.
Overall, the Delsey Sky Max 2.0 is a fantastic softside checked suitcase. If your budget isn't too tight, you could opt for the Travelpro Platinum Elite, which is a bit more durable and comes with a much better, worry-free warranty.
Best Softside Carry-On: Delsey Hyperglide Carry-On
The Delsey Hyperglide carry-on is an excellent softside carry-on, and it's the best softside carry-on offered by Delsey PARIS. Its design is similar to most other softside carry-ons, and it looks particularly similar to Travelpro's carry-ons. Unfortunately, it comes only in two colors – black and teal blue. The teal blue is really fancy, though, so if you're into more elegant suitcases, it'll be great for you.
Unlike the Sky Max, this one is made from DuraTec polyester, which makes it more lightweight but not as durable. Still, it's more durable than what most other medium-priced brands are offering. The suitcase comes with four double spinner wheels, which are notable for maneuverability, and a retractable handle. While most customers were happy with both of these features, we found some complaints about the wheels being less durable than expected. Also, the checked versions of the Hyperglide collection feature an overweight indicator, but that hasn't received the best response from customers.
The interior of the suitcase is similar to other Delsey luggage. The main compartment can fit enough clothes for a week, a large mesh pocket where you can fit your shoes, and two front pockets where you can keep some easy-to-get essentials. There's also a wet pocket which can come in handy if you're traveling somewhere where it rains a lot. However, customers have said that this suitcase barely passes the carry-on restrictions, so try not to overfill it just in case.
Overall, the Delsey Hyperglide carry-on is an excellent choice if you're looking for softside carry-ons. Another great and cheaper option is the Traveler's Choice Birmingham carry-on.
Best-Looking Checked: Delsey Cruise Lite 2.0 Medium Checked
The Delsey Cruise Lite 2.0 is a very innovative and beautiful piece of luggage. It's easily the best-looking out of every other Delsey checked suitcase… well, the Chatelet is a bit more beautiful, but we like the Cruise Lite 2.0 more. Its design is fairly simplistic, but the front and the back details add a lot of stylistic value to it. The variety of colors isn't great, with the suitcase coming in only black, blue, and platinum. It would have been nice to see a more vibrant color, like purple or orange, but the blue looks nice too.
The first innovation comes in Cruise Lite's material. The bag is made from a thermoplastic composite named Plenium, which is very lightweight and durable. Most customers had no issue with the hard shell, and some said that they bought both the carry-on and the checked model because of how durable it is. The suitcase features eight spinner wheels, a retractable handle, and three handles for easy moveability.
The second innovation comes in the interior of the Cruise Lite 2.0. The suitcase features the MaxPack innovation, which maximizes the main compartment's space and adds a fair share of packing organizers. The main compartment is split into two parts; the first one is the ordinary compartment where you place all your clothes and the second one features three pockets for your underwear, shoes, and toiletries.
Overall, the Cruise Lite 2.0 is the best-looking checked bag by Delsey. If your budget is tight and you want an extra suitcase, you should definitely look into the Traveler's Choice Dana Point 2-piece luggage set.
Best-Looking Carry-On: Delsey Eclipse DLX Carry-On
The Delsey Eclipse DLX carry-on is by far the most beautiful carry-on we've seen in the medium-price range. Well, apart from some of Mia Toro's models. The design is stunning, and this specific color that you can see above (Harbor Gray) is easily the most elegant and stylish one we've seen in quite a while. The suitcase also comes in black, red, and blue, but skipping on the Harbor Gray is a bad choice.
Apart from that, the Eclipse DLX is nearly identical to the Cruise Lite 2.0. Their main difference lies in their design, which is similar, but the ridges are different. The Eclipse DLX also has more colors. The exterior has the same features, including handles on all sides and double spinner wheels, while the interior features the MaxPack innovation.
Overall, the Eclipse DLX is an excellent carry-on alternative to the Cruise Lite 2.0. It's the best-looking suitcase by Delsey, and we believe that it surpasses the Chatelet in its stylish design. A similar suitcase is the Traveler's Choice New London II carry-on, which doesn't look as great but is more durable.
Best Underseater: Delsey Rolling Tote Bag
The Delsey rolling tote is an excellent choice for an underseat bag (personal item). It works very similarly to a backpack, and it fits most underseat lugagge size restrictions. The design is loved by most of Delsey's customers, and we believe that it's gorgeous. It comes in various colors, including burgundy, purple, black, and teal. While the interior on most of them is gray, the black and purple have a purple and yellow interior, respectively.
Speaking of the interior, it's very spacious. It can fit enough clothes for a weekend trip, as well as an extra pair of shoes. According to one customer, it can also fit a Macbook Pro, so you won't need to bring an extra laptop suitcase. There are also two pockets in the front of the bag where you can keep all your essentials.
It comes with two spinner wheels on the back of the bag, and it has a strap so that you can fit this underseat tote on top of a regular suitcase. Some customers have mentioned that the tote is too big to be pulled along with a suitcase, so keep that in mind.
Overall, the Delsey rolling tote is a great option for a weekend trip. Another equally-great option is the Ricardo Beverly Hills Mar Vista 15-inch tote.
Other Luggage Brand Reviews