The American Tourister 4 kix is the perfect option for a traveler looking to avoid those luggage fees. The under-seater bag provides the ideal space and size for personal items and fits nicely in the assigned spaces under the seat. The American Tourister 4 kix is a perfect packable bag; the main compartment comes with a large storage area that allows you to fit far more than you could in a handbag alone.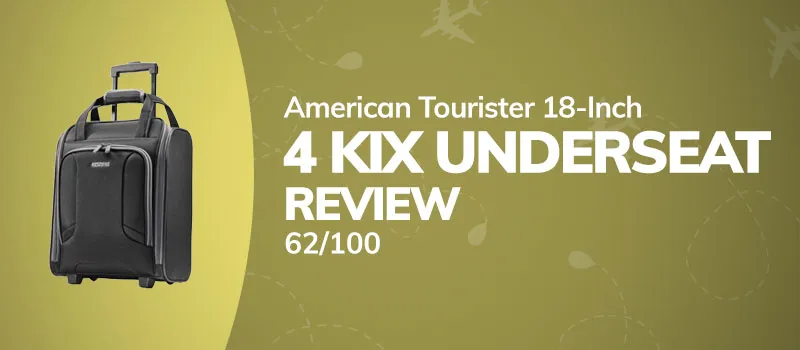 The Good
Functional and thoughtful design

Color pop interior (with cross straps)

Large diagonal blouse pockets

Easy soft grip (push-button handle)
The Bad
Difficult to zip and unzip around the curved edges

Cheap quality reduced durability

Lacks a designated laptop section
Quick Take
The American Tourister 4 kix is very light, weighing only 7 pounds, and it meets most airlines' luggage regulations and requirements. It also saves on cost since you do not have to pay any extra luggage fees. The bag is suitable for a two to three days travel adventure; it has a fair amount of room in the large interior compartment and comes with packing pockets on the outside.
The inline wheels give the very light bag decent maneuverability, making your travel through the terminal smooth. The 4 kix, however, has difficult zippers; the zippers are very stiff, and making it around the corners is a task. We could see this getting frustrating to deal with at security checkpoints. The zipper begins and ends at 1.5″, which causes a bend in the flap.
The 4 kix bag is relatively cheap but should hold up well to the low levels of wear and stress that a small carry-on like this is subject to. Read the full review below and decide if the American Tourister 4 kix is the right supplemental travel bag for you.
Full Review
Dimensions & Weight
The American Tourister 4 kix underseater has overall measurements of 18 x 14 x 8 inches. The interior packing dimensions are roughly 16.5″ × 13.8″ × 8″. The 4 kix comes in at a grand total of 40 linear inches, including the wheels; this positions the bag well under the standard maximum dimensions.
The 4 kix allows you to pack all the necessary personal items and a bit more, thanks to its outer pocket. The svelte size ensures it still fits under most airline seats, avoiding baggage fees but giving you room to bring a bit more than you could fit in your primary carry-on. Even if you pack this to the maximum, it should still fit under the seat.
The American Tourister 4 kix weight is on par with most underseater bags. An empty American Tourister 4 kix underseater weighs an average of 6.2 lbs. When full, this bag still fits the "personal item" weight limits for most airlines unless you are smuggling gold bullion. This back is a good compliment to those who live the no-checked luggage lifestyle but like the idea of packing an extra set of clothes, toiletries, and more without overstuffing your primary carry-on.
Materials & Water-Resistance
The American Tourister 4 kix is an easy-clean bag made from polyurethane and vegan leather. The bag is coated with a weather repellant, but it is not waterproof. This bag is not a tank, but it should withstand any weather, kicks, and bumps along the way while keeping your belongings safe.
To maintain this bag and ensure the long life of the product, American Tourister recommends cleaning with mild soap and water. For spot removal, you can use a foam-type cleaner like those used in car mats. If the bag has a foul odor, the manufacturers advise customers to use a vinegar-water solution or placing charcoal in the bag to absorb the smell.
Durability
After price, durability is the most important metric when assessing luggage value. Affordable is not synonymous with value, and you know that if you have had to replace a budget bag after two trips. Most often, durability shows itself in the wheels, seams, zippers, and handles of the bag. The American Tourister 4 kix underseater presents a zipper issue; many others have raised concerns about the zipper complexity. If this bag is going to fail, expect it to be at the zipper seam.
The American Tourister 4 kix has a broader handle to ensure the user has an excellent grip, and the multi-stage aluminum piping allows for extra weight savings.
The bag has no-fuss roller wheels; we see no cause for concern with these basic wheels. The bag is so small and lightweight that even if you do put the wheels in a compromising position it's unlikely to cause a break. Furthermore, it's an easily stackable bag in the event you are traveling with larger luggage, this bag's wheels may rarely be on the floor anyhow.
Other than the reports of tears from zipper difficulties, there are no other significant complaints levied against the durability of the American Tourister 4 kix underseater.
Moveability
Our underseater bag has not presented any wheel issues; we have no complaints about the handling of the American Tourister 4 kix. The functionality of these inline wheels is somewhat limited, but for the price, they meet expectations. The low-profile nature of the wheels lends them to occasionally getting stuck, but they are very unlikely to fail and break with so little weight bearing down on them.
Some underseater or secondary carry-on size bags don't even have wheels. Shoulder bags tend to get cumbersome quickly, even at lightweights, so it's nice to have options. We have heard isolated reports of airlines rejecting personal items that have wheels, but it's not something you are likely to encounter.
Read Next: American Tourister Stratum XLT 21-Inch Carry-On Review
Additional Features
The American Tourister 4 kix has a second zipper and outside packing pockets; these features give you additional space to cram in more things than you probably need. This bag can hold up to four sets of clothes presuming your destination is currently shorts and t-shirt weather.
The bag also comes with interior compression straps that ensure clothes remain neatly packed and stationary during travel.
The zipper pulls facilitate an easy and comfortable grip; the zippers contain an inset logo, while the two wheels are a single airflow inline design.
Design
The American Tourister 4 kick bag not only presents both a compact and a roomy design but also comes in the following colors:
Teal

Purple and Pink

Black and Grey

Pink
Pink seems a bit overrepresented here, but if you are a boring schlub like me, you will just be buying black anyway.
The bag opens up 180 degrees and has a clothing compartment with straps on one side and another mesh compartment on the inside. The mesh compartment allows you to navigate through your items a bit more quickly. However, the mesh compartment isn't as protective as a nylon pocket and divider. I wouldn't advise you to store any sunblock in the mesh compartment.
The bag has a carrying handle made of two straps connected with Velcro. Velcro does not last forever; it begins to wear out and detach as sand, dirt, and debris inevitably cling to it. You have to pull the two straps apart to unzip your bag; it is annoying and potentially further reduces the Velcros lifespan.
The interior cross straps are a bit thin, but there isn't a lot of tension even the most aggressive over-packer could put them under.
Read Next: Olympia Fashion Rolling Shopper Tote Review
Warranty
Samsonite products come with a ten-year warranty. American Tourister is owned by Samsonite, and so this too comes with American Tourister's limited 10-year global warranty. American Tourister offers different warranty periods for their luggage, the 10-year limited warranty found here is their most common, but they also have a 3-year and lifetime warranty available with other luggage lines.
Warranty claims are only accepted if the problem is directly caused by defects in the manufacturing process, material, and workmanship only. Accidental damage or normal wear and tear of the luggage is not covered under warranty. This means that if the damage is caused by some mishandling along its journey, which you aren't responsible for, the warranty doesn't have you covered. Should something like the zipper fail to open, though, or the handle pulls right off, then there is a reasonable claim for an exchange or free repair. The warranty would not apply to you if you bought the luggage second-hand, as it only covers the original purchaser or, in the event that it was a gift, the original gift recipient.
You will be responsible for the cost of shipping your luggage to American Tourister's authorized repair center. Even if you take it to a company store, you will still pay them to ship your luggage to their repair store. An inspection of your luggage will be made by the repair center, and if your claim is denied, you still have the option to repair your luggage if you agree to foot the bill. The other option is to have it returned to you or have it disposed of. Just remember that in all scenarios, the cost of shipping is your responsibility.
Value
This bag is quite well-liked and has many consumer reviews to attest to its value. The bag has features that supersede others in this price and size category. The bag's price is reasonable and frankly cheap, given its durability, compartments convenience, and potential cost savings.
Our Verdict
The American Tourister 4 kix underseater is a great little bag. Small but mighty, it allows you to pack maximum capacity for carry-on-only flights. It fits most airlines' regulations and sizing, and though it presents some zipping challenges, we believe the product is worth its price. If it can save you from checking a bag, it's paid for itself in one trip.