American Tourister is well-known for its affordable hardside suitcases, and the Stratum XLT is an excellent example. It looks great, rolls well, and won't cost you a fortune.
In this American Tourister Stratum XLT 21-inch carry-on review, we'll find out whether it's a good choice or should you instead get something more expensive. We'll look at its value, durability, warranty, additional features, and more. We'll also rank it against other American Tourister carry-ons and similarly-priced suitcases from Rockland and Coolife.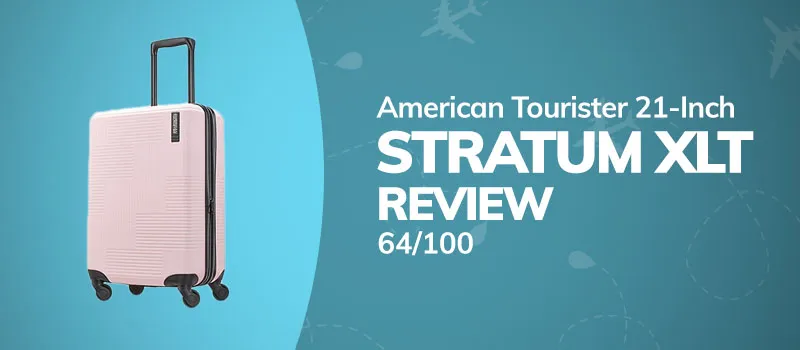 The Good
Affordable
Lightweight
Smooth-rolling spinner wheels
Good-looking
The Bad
Not very durable
Could be equipped with better features
Not enough handles
Quick Take
The American Tourister Stratum XLT is great for its price, and it's also pretty lightweight for a carry-on that's made from ABS plastic. Its wheels roll very smoothly, and its design is better than most similarly-priced suitcases. On top of that, it's backed by the brand's reliable limited 10-year warranty. However, the carry-on lacks features and durability, and it could use a couple of extra handles.
For under $100, the Stratum XLT carry-on is an excellent choice for leisure travelers who will use the bag a few times per year. If you take good care of it, the carry-on can last for many years.
Full Review
Dimensions & Weight (9/10)
The Stratum XLT measures 22 x 14 x 9 inches (56 x 35.5 x 23 cm), meaning it's within the common airline carry-on restrictions. Though, it's advertised as a 21-inch carry-on (without the wheels), which can be misleading. The suitcase is also expandable, so it will be two inches wider when fully expanded; this could be an issue if the airline staff checks it since it'll be larger than most carry-on restrictions. Some customers who expanded the bag ended up checking it.
In terms of packing space, it can hold up to 5 days of clothing. Many praised it for its spaciousness, even when it wasn't expanded, so it's safe to say its internal packing space is great.
The Stratum carry-on weighs 6.3 lbs (2.86 kg). Several customers mentioned that the bag felt lightweight, and they were right; according to our research, the average weight for ABS suitcases is 6.78 lbs (3.08 kg). This means that it's great for travelers who have back problems because it's lighter than most other similarly-sized hardside carry-ons.
Materials & Water-Resistance (7/15)
The Stratum XLT carry-on is made from ABS. It's the least durable plastic used in luggage, and it's usually coated with a shell of polycarbonate to be more durable. That said, it's also the cheapest material in hardside cases, which is why American Tourister opted for it. Many customers noted that Stratum's ABS is very flexible, while others criticized it for having the quality of a plastic shopping bag.
Hardside suitcases are generally water-resistant. The same is true for the Stratum XLT since the ABS case prevents water from penetrating inside. However, water can still pass through the seams, especially when the bag is expanded. Our experience with affordable hardside suitcases has shown that they'll keep your clothes dry in light rain; this isn't true in a thunderstorm.
Durability (12/20)
The American Tourister Stratum XLT has received quite a few complaints about its durability. People were criticizing various aspects of the bag, including its wheels, handles, zippers, and hard shell.
Because it's made from ABS, it is more likely to develop cracks. Most customers mentioned that their bags got dents and chips within the first few flights, with some customers receiving their brand-new suitcases with big dents on them. As we inspected the bag, we found its shell much thinner than other hardside suitcases, which explains why it's prone to damage. Also, the case doesn't have a scratch-resistant coating, and the scratches on it will be visible right after your first flight.
However, most complaints were about the handles and wheels. We reviewed several instances of destroyed wheels within a few trips, with some customers stating that a wheel on their bag broke before its first flight. The retractable handle is also very flimsy, as is true for most American Tourister suitcases.
We couldn't find many complaints about the zippers, inner lining, or stitches. These are usually the first parts to malfunction in a bag, so it's good to see that they're durable.
Moveability (10/15)
The American Tourister Stratum XLT comes with four spinner wheels. Spinner wheels are great for smooth surfaces, like pavements, city roads, and airport terminals. The wheels on the American Tourister bag roll very smoothly, despite not being double spinners.
Considering that the suitcase is geared towards leisure travelers, we think that inline wheels would have been better. Inline skater wheels are the best for rough terrains, like cobblestone or dirt roads, since the spinner wheels can get stuck on these. However, spinner wheels will be better in most cases, and even if they get stuck on certain roads, the Stratum XLT carry-on is pretty lightweight, so you won't have an issue lifting it.
The bag comes with two handles – the top and the retractable one. Despite not being the most durable, they work great when moving the bag. However, the bag also advertises a side handle, which isn't present according to the customers. The pictures that show the carry-on with that handle are the checked versions of the Stratum XLT.
Additional Features (3/10)
Like most American Tourister suitcases, the Stratum XLT doesn't have many additional features. The bag is expandable and has internal packing features – a mesh pocket, a garment bag, and X-shaped compression straps. We didn't expect much from it – it's a very affordable carry-on, after all. However, it would have been nice if it featured an extra pocket for laundry or shoes.
Those are the only extra features the bag comes with. We'd have loved to see a TSA-approved lock, a couple more handles, or double spinner wheels; however, these are nowhere to be found.
Design (8/10)
The Stratum XLT looks stunning. It's very fancy, so it's safe to assume that it's mostly for leisure travelers. It's available in blue, black, purple, and pink. We love the pink version because it's the most vibrant of the four colors; the black one looks very professional, so you could use it for business trips.
That said, we would have liked more color variation. Brands like Rockland and Coolife have tens of colors for their suitcases, and they're similarly priced to American Tourister's bags. Though compared to other suitcases from the brand, the Stratum XLT is among the best-looking ones.
Warranty (7/10)
Ever since American Tourister was bought by Samsonite, it has offered the same warranty terms for its suitcases. This is great since Samsonite's warranty is very reliable.
The Stratum XLT is covered by American Tourister's 10-year warranty. This covers normal wear and tear and manufacturing defects, like faulty zippers, stitches, and handles. Any damage deemed as misuse or caused by airline handling isn't covered. Thankfully, it's not likely that you'll ever have to check the Stratum XLT carry-on.
The major drawback of the warranty is you must be the original owner, and you'll have to cover the shipping costs to and from the repair center. You could take it to the repair center yourself to avoid shipping costs. Or, if you bring it to a Samsonite store, they'll ship it for you for $10. That said, if the company thinks that the damage was done due to mishandling, they won't repair the suitcase.
Value (8/10)
The Stratum XLT carry-on is very affordable. While it has some flaws, the bag is well-reviewed, and most customers have had no issue with it after many flights. Once you consider that it usually sells for under $100, it's evident that it's a great value.
However, the carry-on's durability needs to be improved. Even though customers love the bag, there were plenty of complaints about dents on the case and broken wheels. There's no use in buying an affordable hardside suitcase if it breaks after a few trips.
Overall, the Stratum XLT is excellent for its price, as long as you take extra care of it.
How Does the Stratum XLT Compare to Similar Suitcases?
We found two American Tourister carry-ons similar to the Stratum XLT: the Belle Voyage hardside carry-on and the Moonlight carry-on.
The Stratum XLT is the lightest of the three bags; however, the other two carry-ons are larger than 22 x 14 x 9 inches, which is the most common carry-on restriction. That said, while the Belle Voyage is made from ABS, the Moonlight is made from a PC/ABS mix, which is more durable and not too much heavier. All three bags are expandable and have similar features, including their packing feature.
However, the Belle Voyage uses a split mesh pocket, so you can organize your clothes better. Furthermore, it's the most beautiful one of the three suitcases, despite the Moonlight having much more color (and pattern) options. Overall, considering that the Stratum XLT is the cheapest and complies with carry-on restrictions, you should opt for that one; otherwise, you could get the Moonlight for extra durability.
Similar alternatives to the Stratum XLT from other brands include the Coolife PC/ABS carry-on and the Rockland Melbourne carry-on.
All three suitcases are really affordable, and each one offers something unique. The Stratum XLT has the most stunning design and is the lightest, while the Melbourne comes with double spinner wheels and is available in several colors. The Coolife carry-on is the most durable since it's made from a PC/ABS mix, and it also features a TSA-approved lock.
While these two suitcases might sound better, their warranties are worthless. And even though the Stratum XLT isn't the most durable suitcase out there, ones from other affordable brands are usually even less durable. So, the Stratum XLT is the best choice if you want something more reliable.
Our Verdict
The American Tourister Stratum XLT is an affordable carry-on that rolls well and looks great. It's great for leisure travelers, who take a few trips yearly, and it should last for quite a while. However, if you don't take care of it, the bag will get destroyed within the first couple of flights. If you want a more durable hardside carry-on at the same price point, you should check out the Coolife PC/ABS carry-on.
The Stratum XLT is for leisure travelers who want a fancy-looking carry-on without breaking the bank.