If you're considering purchasing a suitcase made by Rockland, you'll undoubtedly be spoiled for choice when it comes to colors, patterns, and designs. The Fashion 2-piece softside set is also very reasonably priced, making it a popular choice for those looking to save a few bucks.
However, the aesthetic value and cost are not the end-all and be-all when it comes to luggage, since you'll need to be certain that your suitcases are capable of withstanding your journey.  To make sure you aren't compromising on other important features, we've taken a closer look at factors like the set's moveability, durability, materials, and much more, so you'll remain confident in your final purchase.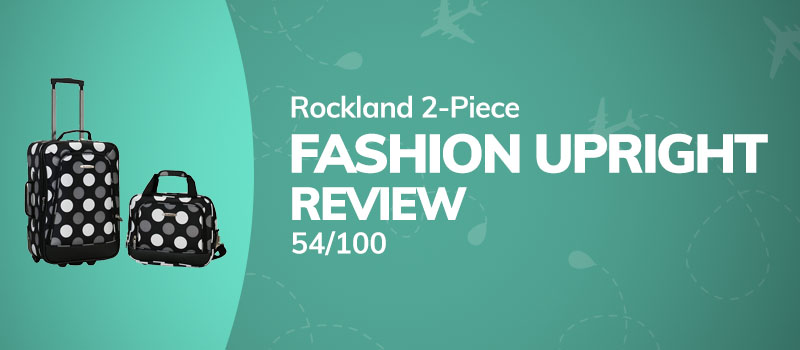 The Good
Beautiful colors, patterns, and designs to choose from
Extremely lightweight and compact
Incredibly well-priced, making it an affordable choice
The Bad
Low-quality materials
Badly-designed wheeling system and stability bar
Rockland's warranty is pretty much worthless
Quick Take
When buying a suitcase this cheap, it's bound to come with its fair share of problems, however, most of the time, you should be able to get in a good few trips before it can no longer be used. The Rockland Fashion 2-piece is no different.
This set is practically-designed with loads of compartments for optimal packing, all encompassed in a compact lightweight way that allows you to save even further by taking both pieces as carry-ons. There are countless designs and patterns to choose from, making this a great choice for a fun getaway.
Unfortunately, with the cheap lining and badly-designed wheel and stability bar system, traveling with this set will not be completely painless. To add to this, claiming from the warranty in the event of breakages will not be an option, so you'll be forced to take extra care with your luggage if you have hopes of it remaining in a fair condition for as long as possible.
Full Review
Dimensions & Weight (10/10)
This set is ideally-sized for carry-on purposes, with the upright piece measuring 20 x 13 x 7.5 inches (51 x 33 x 19.1 cm) including its wheels, and the tote bag being 13.5 x 11 x 5 inches (34.3 x 27.9 x 12.7 cm). Your standing case should be able to comfortably fit in the overhead compartment of the plane while the tote tucks in under the seat in front of you.
Both bags combined weigh 6.54 lbs (3kg), and most customers have remarked on their incredible lightweight feel. This makes carrying your bags to and from the aircraft fairly easy – not to mention the time saved by not having to wait at the baggage reclaim carousel.
The Rockland Fashion 2-piece truly outshines its competitors in this category, as few brands have been able to match its low weight and compact dimensions. If you're someone who enjoys the art of packing optimally while traveling, this set will offer great value.
Materials & Water-Resistance (8/15)
This Rockland Fashion set is made from polyester – which is common for softside luggage – and features PVC backing. The great thing about buying a bag made from this material is that it's extremely lightweight, which means that you can pack a little more before hitting those airline limits.
The polyester used for this particular model is only 600 Derniers, which without getting into too much scientific detail, is on the lower end of the polyester durability spectrum. This is not to say that you'll experience rips and tears right away though since the material itself is relatively durable.
While the set may not be completely waterproof, the threads of the material provide added water resistance, which minimizes the chances of your items becoming totally soaked in harsh weather conditions.
Read Next: Rockland London 3-Piece Luggage Set Review
Durability (10/20)
Let's face it – for a luggage set this cheap, you wouldn't expect durability to be its top selling point. However, if it's handled correctly, the Fashion 2-piece set will more than likely last you a good few trips. Polyester tends to get a bad rap because it is associated with cheaper suitcases, however, it's unlikely that it would be so widely utilized by luggage manufacturers if it was going to fall apart within just a few uses.
The issue arises with the inner lining of these pieces. The fabric is undeniably cheap and will rip quite easily – especially if you overpack the bags. If you hope to get prolonged use from this set, it's advisable to take extra care when packing. If you're carrying one on your trip, consider lining the suitcase with a towel before placing your other items in to prevent jewelry or the zippers on your clothes from perforating the suitcase's lining.
Moveability (5/15)
While inline wheels may not be everyone's first choice, they are a lot less likely to become damaged while in transit. Unfortunately, the Rockland Fashion's upright piece has wheels that aren't rubberized, so while they should roll smoothly along most surfaces, they'll make an awful lot of noise while doing so.
To add to this, handling the upright piece may not be the most pleasant experience, since the balance bar does not provide much stability. There have been numerous complaints about the suitcase tipping over, so if this is something that will lead to frustration during your trip, you may want to opt for a more sturdy alternative.
On the plus side, the handles on both pieces make them easy to lift and maneuver as needed. You'll also be able to strap the tote bag onto the retractable handle of the upright piece for added convenience as you roll it behind you.
Additional Features (4/10)
Unfortunately, the luggage set's price point doesn't allow for too many bells and whistles, but there are a few notable features to consider.
Expandability
The upright piece in this set is only 7.5 inches (19.1 cm) deep when compressed, however, at full capacity, the expandability allows for an additional 2.5 inches (6.4 cm) of packing space – a considerable amount for a suitcase in this size category. It's important to be wary while filling your bag, though, as overpacking could rip the fabric of the inner lining.
Practical Design
If you're someone who enjoys keeping various item types separate while packing, you'll enjoy the design of the Rockland Fashion 2-piece set. The upright piece has a number of interior and exterior pockets you can use according to your preference, and the tote bag offers a decent amount of space for toiletries, snacks, or anything else you deem fit.
Design (8/10)
Rockland luggage always comes out on top in the category of design, even with its most affordable luggage pieces. The great thing about this is that you're bound to find a style you like regardless of whether you're traveling for business or leisure.
The Fashion 2-piece set comes in 38 different patterns and colors to suit any preference. You can choose between dotted, striped, floral, animal prints, and much, much more. Or, if you're more inclined to more solid colors, you'll have a few elegant options to consider too.
All embellishments and components that have been fitted are very well matched to the actual polyester design, which gives the luggage quite a sophisticated appearance. The only downfall may be that the fabric itself gives the bags a cheaper feel, however, this is to be expected for bags in this price range.
Read Next: Rockland Journey 4-Piece Upright Luggage Set Review
Warranty (1/10)
Rockland suitcases are manufactured by Fox Luggage, which extends a 5-year limited warranty to this particular 2-piece set.
If your luggage arrives with any obvious defects or if damages are incurred in a way that could potentially be a sign of poor manufacturing, you may be able to return it to Amazon. Unfortunately, there is no cover for any accidental damage or wear and tear.
However, in order to have the bags assessed, you'll need to bear the costs of sending your suitcases back and pay a $40 handling fee – even before your claim is settled or rejected. Since the price of a brand new set is comparable to the cost of attempting to claim from the warranty, it doesn't seem to be worth the time or the effort.
This is also quite subpar when compared to the guarantees being offered by the brand's competitors, some of which provide unlimited lifetime warranties. If you find yourself in need of assistance with a defect, you're likely to receive better support from Amazon itself.
Value (8/10)
Regardless of concerns over quality, this set does what it needs to for luggage in its price range. While this purchase may not last you a lifetime, it offers decent value and can be made to last a long time with the right care.
The set offers good packing space in both pieces, giving you ample room to maximize the number of items you take without paying for checked luggage. You'll also be able to select a design that you love, with the added benefit of being able to easily identify your bag when you take it out of the plane's overhead compartment.
While durability may not be this set's strong suit, the vast majority of people who've purchased it have given it a 5-star rating, which is a good indication that it has more pros than cons.
Read Next: Olympia Fashion Rolling Shopper Tote Review
How Does the Rockland Fashion 2-Piece Set Compare to Similar Suitcases?
While Rockland does not have any similar luggage sets on offer, the brand's competitors have a few good alternatives to consider.
U.S. Traveler Rio Rugged Fabric Carry-on Set
This set is very similar to Rockland Fashion, so your choice between the two will likely come down to your personal design preferences. The Rio Rugged is slightly bigger, with the upright piece measuring 13.5 x 7.5 x 21 inches (34.3 x 19.1 x 53.3 cm), and as a result, it's slightly heavier as well, weighing 7.24 lbs (3.9 kg).
One notable difference with this set is that you'll have the option to select between inline wheels and spinner wheels, with the latter being slightly more expensive. Although spinner wheels are more susceptible to breakage, they offer increased maneuverability when you are rolling your suitcase along.
With only eight options to choose from, the color and design selection is far more limited than what is offered by the Rockland Fashion 2-piece. If you are into bold and vibrant designs, the Rio Rugged set probably won't tickle your fancy.
Travelers Club Sky+ 3-Piece Set
If you prefer hardside luggage, the Travelers Club Sky+ 3-piece is similarly priced to the Rockland Fashion 2- piece – and it comes with a toiletry case for good measure. The ABS shell is not the most durable material out there, however, the corners have been reinforced, which offers a bit more peace of mind.
This set is also fitted with spinner wheels, which are known to offer a more smooth and functional rolling experience. You also won't need to worry about your luggage falling over when you leave it unattended. Although you'll be a bit more limited when it comes to color choices, the Travelers Club set is available in five gorgeous solid shades that exude elegance.
Overall, the Travelers Club Sky+ offers similar functionality with components that are slightly better made. However, you won't benefit from the exterior or interior packing compartments that the Rockland Fashion provides.
Our Verdict
If you're in need of super affordable luggage for a short trip, the Rockland Fashion 2-piece set offers great value. Both pieces are compact enough to meet airline carry-on requirements, allowing you to save on checked baggage fees. You'll benefit from decent packing space and enough compartments to organize your items efficiently. Furthermore, the advantage of choosing a color or pattern that matches your personality can really add to the excitement surrounding your next trip.
Unfortunately, the quality of the materials isn't this set's strong point, but if you don't travel very often and take a bit of extra care with your luggage when you do, you should be able to make it last a reasonable amount of time. If you'd prefer a solid warranty and more long-lasting luggage, consider the Travelpro Platinum Elite 2-piece set instead. You will need to pay a little more upfront though, so it will be up to you to decide which features are most important when making your final choice.
Also check out: Airplane fashion trends